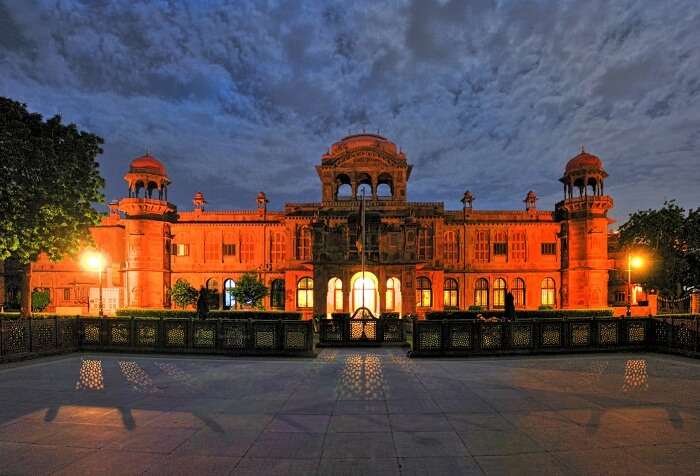 Bikaner is a cultural paradise and a traveler's haven. This city will hold you captive in its forts, mesmerize you with its scenic beauty, and astonish you with its glorious past. With extremely fascinating places to visit in Bikaner, the city will call you back time and again.
Easily accessible through air, rail and road, Bikaner boasts of a lot of tourist places that will interest history buffs and culture enthusiasts. Before we move on to the top tourist places in Bikaner, here are a few essentials that'll help you plan your trip to Bikaner.
Best Time To Visit Bikaner
No time is a bad time to explore the ethnic culture and history of Bikaner. But the pleasant weather during October – March makes the winter season the best time to visit Bikaner. And then there is the Camel Festival held in January every year that attracts the tourists during this time all the more.
Coming to top attractions, here are the must see places in Bikaner that give you insights into the grandeur of the city's kingdoms and their architectural excellence.
Must Read: 11 Places To Visit In Rajasthan: A Glimpse Of Rajputana Splendor
Forts & Museums: Historical Places In Bikaner
Here is a list of top museums and forts in Bikaner that you must explore if you want to take a plunge in the history of this beautiful place.
1. Junagarh Fort: A Blend Of Mughal & Gujarati Architecture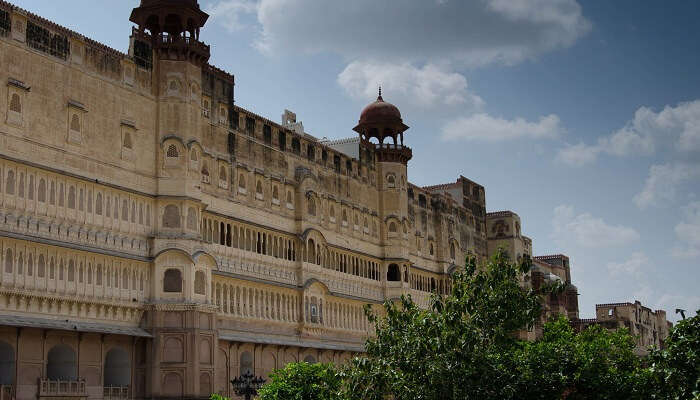 An undefeated and unconquered fort that still stands tall and narrates tales of the glorious past, Junagarh fort is one of the truly mesmerizing places to visit in Bikaner. The unique amalgamation of Mughal and Gujarati architecture makes this fort one of its kinds. Its soaring beauty and a picturesque surrounding provide photographers with a lot of options to capture.
Har Mandir a.k.a Royal Chapel: This temple was built exclusively for the royal family.
Karan Mahal a.k.a Public Hall: Considered to be the most tranquilizing place of this fort, it narrates the victorious tale of Karan Singh over Aurangzeb and highlights the aesthetic side of the royal family.
Anup Mahal: The erstwhile administrative block, it is beautifully built with Italian tiles, exquisite lattice balconies & windows, and the exceptional wooden work.
Chandra Mahal: A fine example of royal luxuries, the structure boasts of breathtaking luxurious rooms and mesmerizing gold work.
Fort Museum: Built in an attempt to preserve the tales of the past, the museum also exhibits royal jewels and costumes alongside paintings of the royal family. One can also see the arms and ammunition preserved here in the museum. The library boasts its collection of Sanskrit and Persian manuscripts.

Entry: INR 30 for Indians and INR 150 for foreigners
Opening days: Open all days of the week; 10 am – 5 pm

Prachina Museum: Nestled peacefully in the corner of Junagarh fort, Prachina Museum exhibits the cultural spirit of Bikaner. The museum showcases ethnic royal dresses, beautiful portraits of former rulers, religious sculptures, art works, preserved crockery & cutlery, and a beautiful collection of handcrafted rugs & carpets.

Opening days: Open all days of the week; 9 am – 6 pm

Location: Junagarh Fort Road, Bikaner, Rajasthan 334001
---
Rajasthan Holiday Packages On TravelTriangle
Explore Rajasthan, the land of Maharajas. Experience its royal cultural heritage, luxurious hotels, camel safaris, pristine lakes, and magnificent forts and palaces. Cover the best of Jaipur, Udaipur, Jodhpur, Jaisalmer, Pushkar and Ranthambhore at best prices with TravelTriangle.
---
2. Lalgarh Palace: In The Lap Of Luxury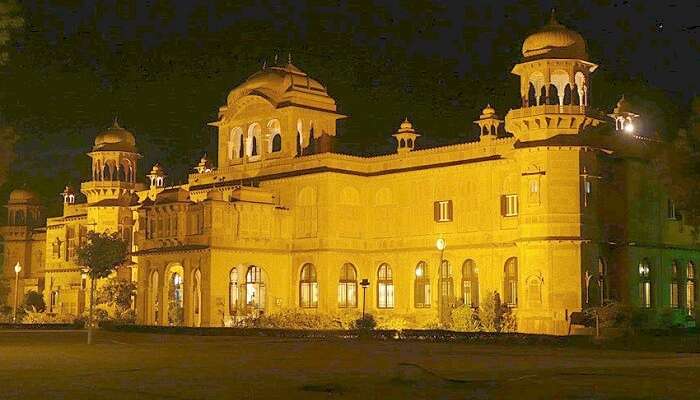 The beautiful red sandstone structure is one of the major tourist attractions in Bikaner. With a perfect blend of Rajput, Mughal, and European architectural style, this place is the true spirit of Rajasthan. Commissioned by Maharaja Ganga Singh in the memory of his father Maharaja Lall Singh between 1902 & 1926, the palace was later converted to Lallgarh Palace Hotel.
The palace now houses the following:
Sadul Museum: Located on the first floor of Lalgarh fort, this museum exhibits the heads of various animals and a collection of trophies of rulers of Bikaner. One also gets to see photographs and personal artefacts of the mighty rulers of this region.

Entry fee: INR 10 for Indians and INR 20 for foreigners
Opening days: Monday – Saturday; 10 am – 5:30 pm

Ganga Golden Jubilee Museum: Another museum within the fort, the Ganga Golden Jubilee Museum exhibits a fine collection of historical remains brought together under one roof. It also showcases the German artist Mueller's large oil paintings, sculptures of various dynasties, coin collection, and an amazing exhibition of remains of Pre-Harappan civilization.

Entry fee: INR 5
Opening days: Monday – Thursday, Saturday – Sunday; 10 am – 5 pm

Lallgarh Palace Hotel: It is a heritage hotel owned and run by Maharaja Ganga Singh Ji Charitable Trust.
Location: NH15, Samta Nagar, Bikaner, Rajasthan 334001
Suggested Read: Monsoon In Bikaner 2019: A Guide To Explore The Best Of This Royal City!
3. Laxmi Niwas Palace: Former Abode Of Maharaja Ganga Singh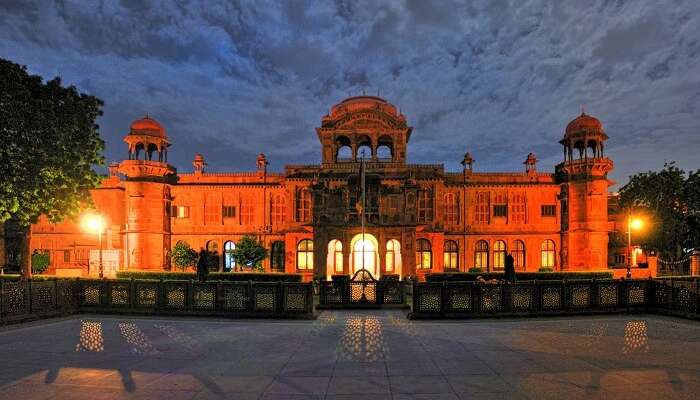 Laxmi Niwas Palace is the former residence of Maharaja Ganga Singh of Bikaner, built between 1898 & 1902 in an Indo-Saracenic style by the British architect Sir Samuel Swinton Jacob. The graceful red sandstone structure is one of the most popular places to visit in Bikaner. The palace was converted into a hotel and is now run by the Golden Triangle Fort & Palace Pvt Ltd.
Location: Lal Garh Campus, Dr Karni Singhji Road, Samta Nagar, Bikaner, Rajasthan 334001
4. Gajner Palace & Wildlife Sanctuary: The Blissful Getaway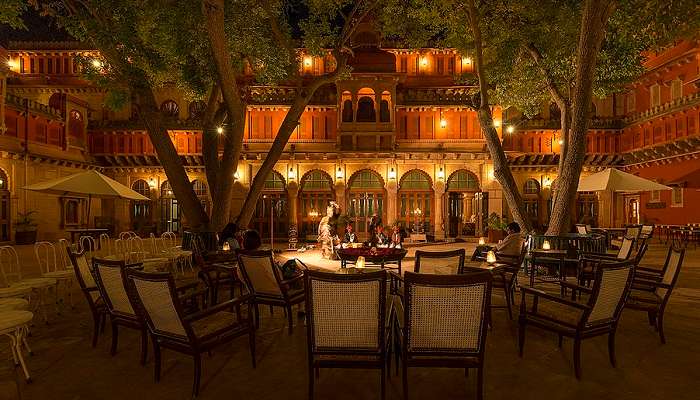 Located on the banks of the Gajner Lake, Gajner Palace is an architectural treat for visitors. The red sandstone structure is situated in the dense forest and one can spot flocks of migratory birds around the area. The beautiful architectural marvel is among the most amazing places to visit in Bikaner for a quiet weekend.
The property also houses the Gajner Wildlife Sanctuary that was a famous hunting ground of the royal family.
Location: Kolayat, Gajner, Bikaner, Rajasthan 334301
Entry fee: INR 100
Opening days: Open all days of the week
Also Visit: Gajner Temple and Gajner Lake
Suggested Read: 12 Historical Places In Rajasthan That Will Take You Back To The Glorious Past
5. Rampuria Haveli: Traverse Bikaner Lanes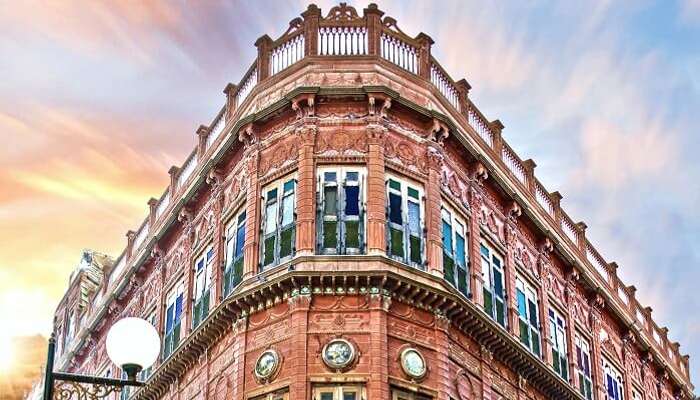 Bikaner is famous for its magnanimous havelis and houses that have been made with intricate carvings and jharokas that give a reminiscence of palaces itself. Rampuria havelis were constructed by the rich Bikaner merchants. A stroll in the lanes of this haveli will teleport you to hundreds of years back. So, miss out on this spot when exploring the top places to visit in Bikaner.
Location: Joshiwara, Old Bikaner, Bikaner, Rajasthan 334001
Timings: Open 24 hours
Temples: Religious Places To Visit In Bikaner
A visit to Bikaner is incomplete without paying a visit to these top religious places. Get more knowledge about the top temples here along with their locations.
6. Jain Temple Bhandasar: Red And White Wonder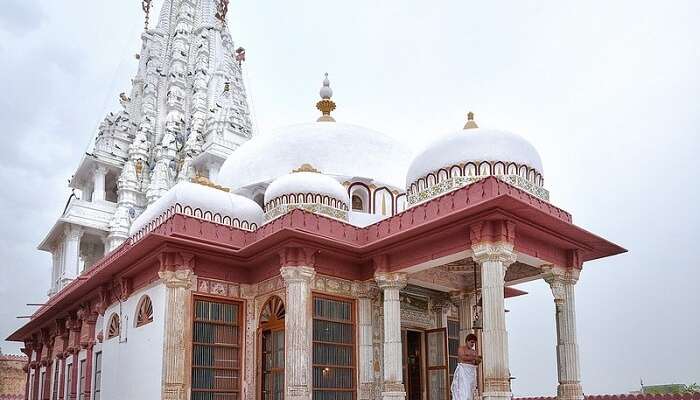 The Bhandasar Jain Temple is dedicated to Sumatinath, the fifth Tirthankara of Jainism. The beauty of this temple will leave you awestruck with its unique Rajputana architecture and intricate design. The blend of red sandstone and white marble, alongside the mesmerizing gold layer finishing, is what makes it one of the religious tourist places in Bikaner. The grandeur of this three-story temple is admirable and this should be on every traveler's list.
Location: Old Bikaner, Bikaner, Rajasthan 334001
Opening days: Open all days of the week; 5 am – 1 pm and 5:30 pm – 8:30 pm
Suggested Read: 10 Best Things To Do In Bikaner That Will Make Your Rajasthan Holiday One-Of-Its-Kind!
---
Planning your holiday in Rajasthan but confused about what to do? These Rajasthan travel stories help you find your best trip ever!
Real travel stories. Real stays. Handy tips to help you make the right choice.
---
7. Shri Laxminath Temple: One Of The Oldest Temples In Bikaner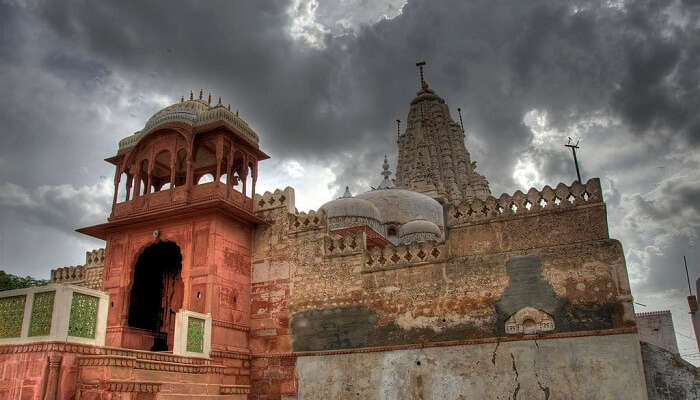 The famous temple dedicated to the sanctum of Goddess Laxmi and Lord Vishnu, Shri Laxminath temple is one of the oldest temples in Bikaner. What makes this temple stand apart is the intricate silver artwork and beautiful idols of various deities. The best time to visit is during the festive season as Shri Laxminath temple is famous for the celebration of Hindu festivals such as Diwali, Janmashtami, and Ramnavmi.
Location: Vaidya Mangaram Colony, Bikaner, Rajasthan 334004
Opening days: Open all days of the week; 5 am – 1 pm and 5 pm – 11 pm
8. Shiv Bari Temple: Home To Miniature Idols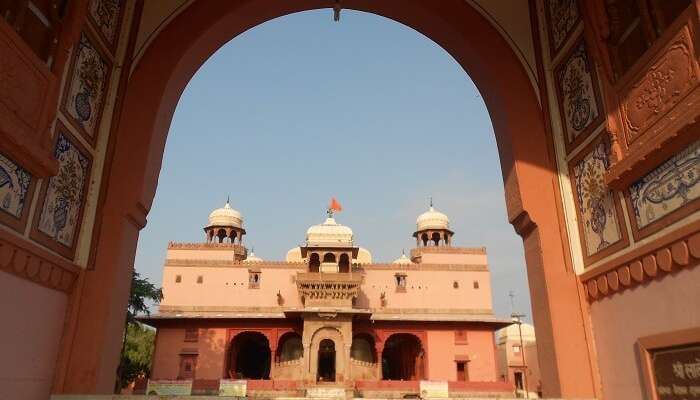 An architectural wonder, Shiv Bari temple is built completely of red sandstone. The temple dedicated to Lord Shiva is one of the best places to see in Bikaner. The major attraction of this temple is the miniature idols that beautifully showcases the culture of Bikaner. The serene and calm environment around the temple adds to the aura of this grand temple.
Location: Shivbari Rd, Shivbari, Bikaner, Rajasthan 334003
Opening days: Open all days of the week; 7 am – 7 pm
Suggested Read: Best Hotels In Bikaner That Will Leave An Indelible Mark On Your Desert Vacation
9. Karni Mata Temple: Where The Rats Are Worshiped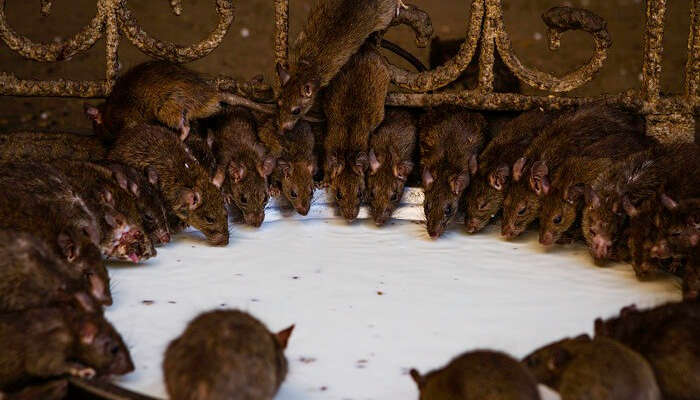 One of the unique places to visit in Bikaner, the Karni Mata Temple is dedicated to Karni Mata, an incarnation of goddess Durga. The temple is believed to be the abode of over 20,000 rats. The visitors worship these rats and offer prasad to them for they are believed to be the sons of Karni Mata. The silver gate and intricate marble carvings of the temple add to its charm.
Location: NH89, Deshnok, Bikaner, Rajasthan 334801
Opening days: Open all days of the week; 5 am – 10 pm
10. Kodamdesar Temple: Rao Bikaji's Creation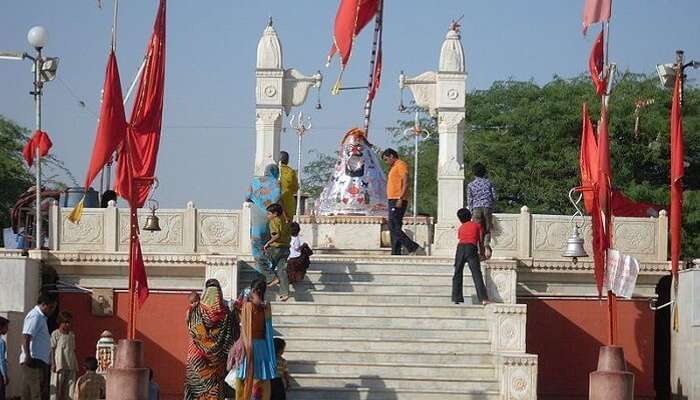 The founder of Bikaner city, Rao Bikaji, built an ancient building named as Kodamdesar Temple. The temple is one of the most religious spots for the locals of Bikaner. You will be surprised to find no proper doors and asymmetrical shape of the building, unlike typical temples. The temple resides the idol of Lord Bhairon who is one of the many forms of Lord Shiva. Local craftsmen come to take blessings in this temple during the Bhadrapad fair.
Location: Kodamdesar Village, Kodamdesar, Rajasthan 334305
Timings: 5 am – 9 pm
Suggested Read: Honeymoon In Rajasthan: 6 Things To Do And Attractions For Couple
Other Bikaner Tourist Places
Bikaner is full of tourist places apart from forts, museums, and temples. You can shop your heart out here or indulge in offbeat activities. Let's take a close look at these places!
11. Kote Gate: Shopper's Paradise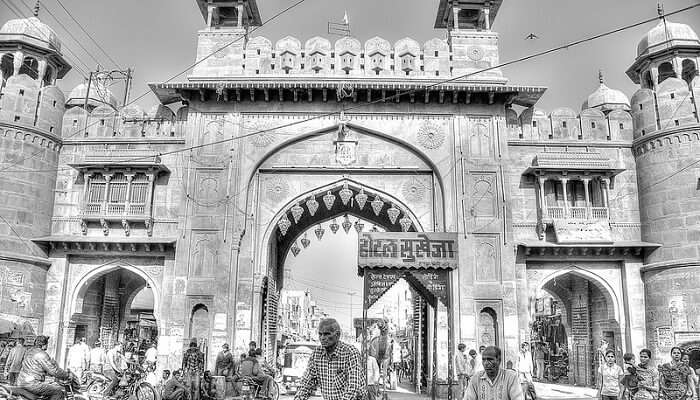 Standing tall like a guardian to the city, Kote Gate is the main entrance to the city and separates the new city from the old city of Bikaner. This site is an amalgamation of ancient forts and monuments and new urban civilization. The major attraction of this place is local shopping. One can find a variety of goods in this market – handicrafts, traditional clothes, utensils, artifacts made of Camel hide, or traditional open toed shoes. Apart from shopping, this place will also excite you with its abundant eating joints.
Location: Kote Gate, Bikaner, Rajasthan 334001
12. Thar Desert: Bikaner Camel Safari Day Tours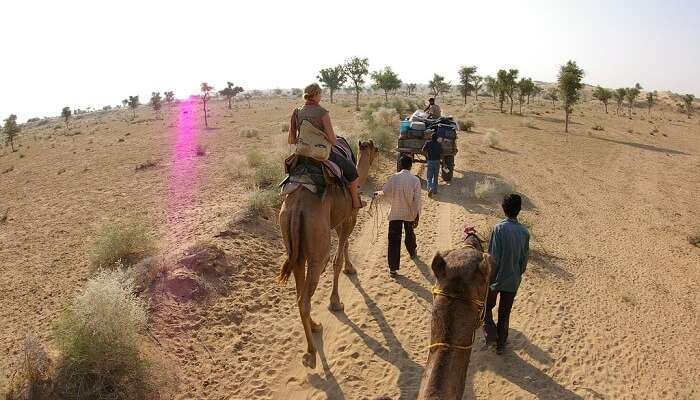 Explore the wilderness in the middle of the desert, and witness the mesmerizing beauty of the sand ocean at the Thar Desert. Camel Safari is a must-try for every traveler visiting Bikaner. With the top-notch facilities provided by the organizers, you get to experience nature in its crude form.
Location: Opposite Gopeshwar Temple, Gangashahar, Bikaner, 334001, Rajasthan
Suggested Read: 5 Resorts In Bikaner That Will Let You Experience The True Charm Of Rajasthan's Culture!
13. National Research Centre On Camel: Must Visit Once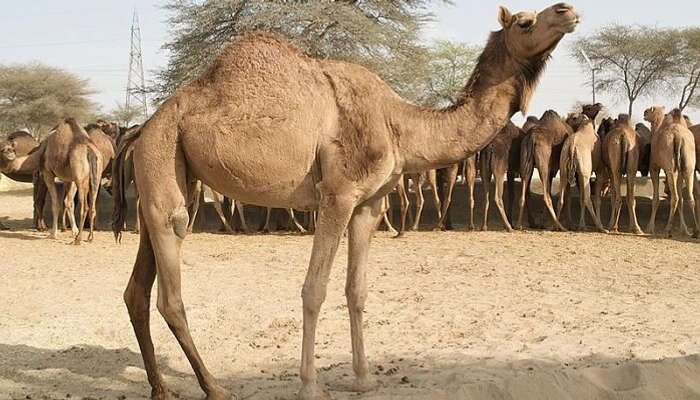 This centre is a breeding nursery of camels that is home to more than 230 camels now of three different breeds. A trip to this place will give you knowledge about the facilities and techniques used in the centre. You can also taste some samples of milk or lassis the on-site milk outlet. Apart from this, one can go through the small museum and opt for a camel ride at this centre that must be visited at least once in a lifetime.
Location: Jodhpur Bypass, Bikaner, Rajasthan 334022
Timings: 12 pm – 6pm
14. Devi Kund Sagar: Explore Royal Cenotaphs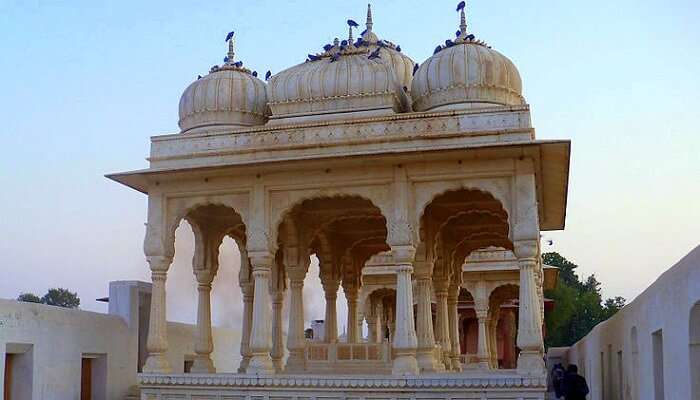 Devi Kund Sagar is one of the top ancient places to explore in the city of Bikaner. This place forms an important site for the history of Bikaner as the ruling family members of Bikaner is cremated here including Rao Bikaji, the founder of the city.
Location: Sharah Kajani, Rajasthan 334001
Suggested Read: 20 Things To Do In Rajasthan That Make It The Ultimate Vacation Destination
15. Sursagar Lake: Paddle In The Water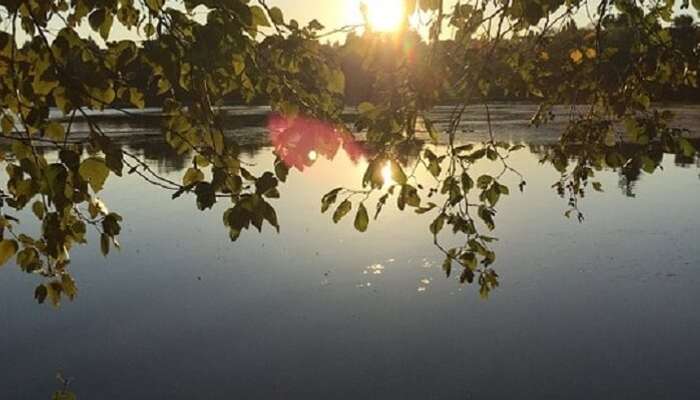 Initially, Sursagar Lake was constructed by one of the Kings in Bikaner for drinking facility in the city. But with time, the water got tainted and unsuitable for consumption. This made the place a sightseeing spot in Bikaner and later boating facility was added to lure more tourists to this attraction.
Location: Transport Nagar, Bikaner, Rajasthan 334001
How To Reach Bikaner
By Air
There are no airports in Bikaner. The nearest airport, Jodhpur Airport, is located 250 km from Bikaner.
By Rail
Regular trains ply between Bikaner and other major cities. Lalgarh Junction (2.6 km from Bikaner) and Jodhpur Junction (1.4 km from Bikaner) are the nearest railway stations.
By Bus
There are regular buses plying between Bikaner Bus Stand and other major cities.
Distance from Jodhpur: 250 km (4 hours 45 minutes)
Distance from Jaipur: 334 km (5 hours)
Distance from Delhi: 446 km (8 hours)
Further Read: Rajasthan Trip: The Royal Twist To A Normal Tale
Are you mesmerized just by the pictures of these places? Want to click your own pictures? Then wait no more, pack your bags and book your tickets because your next destination to explore is Bikaner. Do not forget to explore these places to visit in Bikaner and create new memories. Plan your holiday to Bikaner with TravelTriangle and share your amazing experience with us!
Frequently Asked Questions About Places To Visit In Bikaner
Q. What is Bikaner famous for?
A. popularly known as Rajasthan's royal city, Bikaner is famous for various things, varying from palaces and forts, or sweets and snacks. There are various tourist attractions in Bikaner that you must visit during your holiday.
Q. Is Bikaner worth visiting?
A. There's no doubt about the fact that the city of Bikaner is a must visit for all those who have a thing for culture and history. Some of the temples, forts, palaces, and monuments attract tourists in a huge number.
Q. What should I buy in Bikaner?
A. There are numerous things that you can buy in this city of Rajasthan, including mojaris made from camel leather, nokha razai, churan, sarees, bangles, Bikaner bhujia, etc.
Q. What is special in Bikaner?
A. There are various aspects that make the city of Bikaner special. There are various events as well for which this city is known across the state of Rajasthan – one of them being the Camel Festival. This festival is organized every year in the month of January.
Q. How can I reach Bikaner?
A. The airport located closest to the city of Bikaner is in Jodhpur, which is approximately 251 kilometers away. A bus or a taxi can easily help you reach Bikaner from this airport. The Bikaner Junction railway station is well connected with various cities and towns around. Buses from cities like Delhi, Jaipur, Udaipur, Ajmer, Agra, and more are also available.
Q. How can I reach Bikaner from Delhi?
A. Located at a distance of 475 kilometers from Delhi, the city of Bikaner can be reached from here via a Volvo bus or train. You can even call a cab to reach this city of Rajasthan from Delhi.
Q. Who found Bikaner?
A. The son of Maharaja Rao Jodha, Rao Bika was the founder of this royal city of Bikaner. Maharaja Rao Jodha was the founder of Jodhpur. Both of them belonged to the Rathore clan.
Q. How many gates are there in Bikaner?
A. The city of Bikaner has 3 big gates. These gates are breathtakingly huge and have been built using red stone.
---
Looking To Book A Holiday Package?
Book memorable holidays on TravelTriangle with 650+ verified travel agents for 65+ domestic and international destinations.
---
Comments
comments