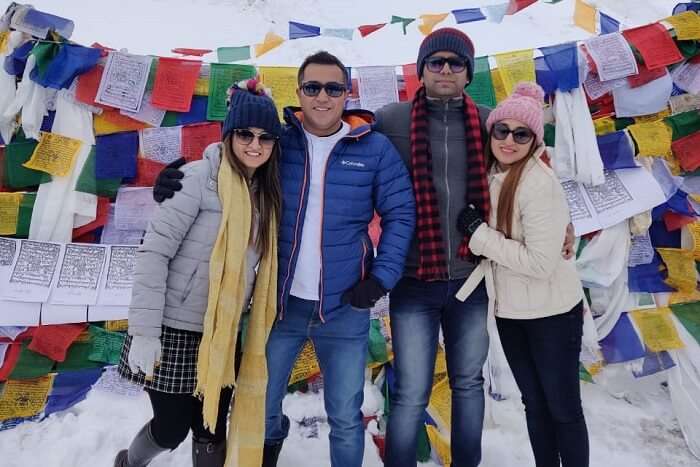 It's not always about the destination, it is about the journey too. Ladakh is such a place where you enjoy being on the road as much as the destination itself. The scenic views out your window keep your mind away from that 'are we there yet?' You take mental pictures of the landscapes. And, we have so many mental and digital memories of our Leh Ladakh trip.
We had heard a lot about Leh Ladakh's natural beauty. The harsh weather conditions in Leh Ladakh along with high altitude did not deter us from taking a trip to the top. This time, we were open for an adventure and explore the most beautiful place in India. So, we got in touch with TravelTriangle and booked a trip as per our customizations. The next thing we know, we were on our adventure in Ladakh.
Here is how we planned a trip to Leh Ladakh.
Table Of Content
Trip Details Of Leh Ladakh Trip
Trip Type: Family
PAX: 6 adults
Trip Duration: 7N/8D
Trip Cost: INR 197500
Trip Inclusions: Airport transfers, accommodation, meals, cab for sightseeing, service charge, miscellaneous
Trip Exclusions: Lunch, Camel Ride, Green Fee, Medical expenses, oxygen cylinders
Day-Wise Trip Itinerary
Day 1: Acclimatization in Leh
Day 2: Confluence of Zanskar & Indus
Day 3: Khardung La & Nubra Valley
Day 4: Hundar & Diskit Villages
Day 5: Pangong Lake
Day 6: Visit To Thiksey Gompa
Day 7: Sankar Gompa & Leh Palace
Day 8: Bye Bye, Ladakh
40 Best Things To Do In Ladakh That You Can't Afford To Miss In 2022!
Places We Visited On Leh Ladakh Trip
Here's a list of all the scintillating places to see in Leh Ladakh that we ticked off our list during our fun escapade. Take a look!
1. Sangam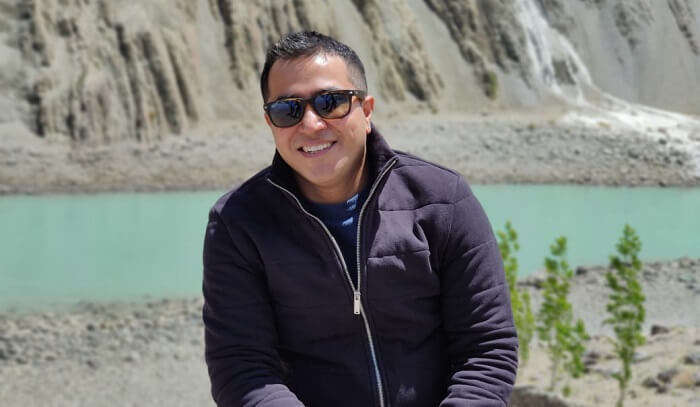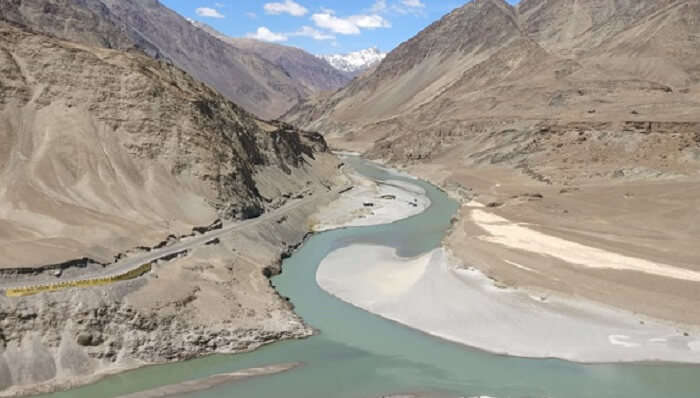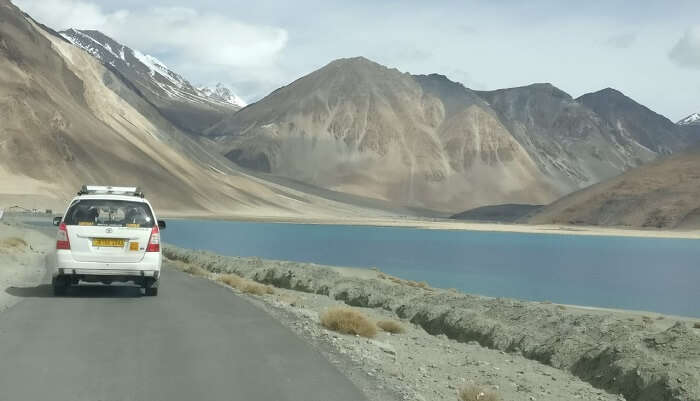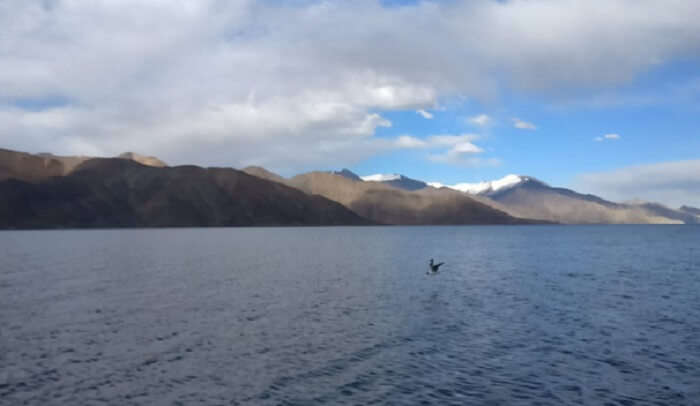 The confluence of Zanskar and Indus is one of the most beautiful tricks of nature. The barren mountains sprouted with shrubbery here and there overlook the river. The whole scenery was stupendous. The mental image is etched deep in my mind. We could clearly see the difference between the colors of the two rivers. It is almost magical how the waters mix together.
2. Khardung La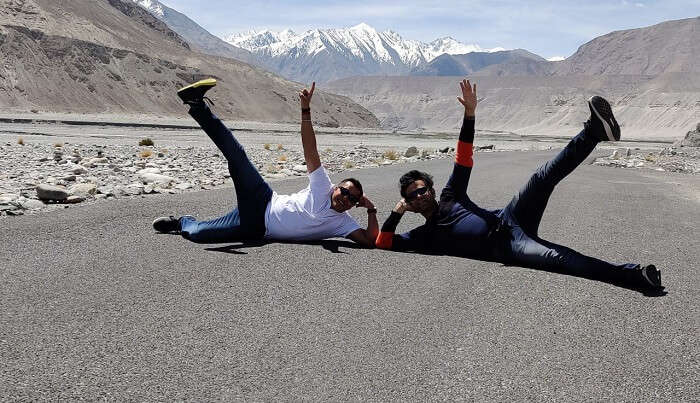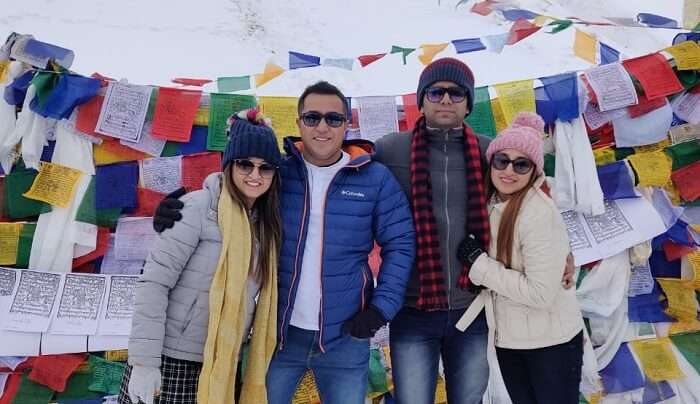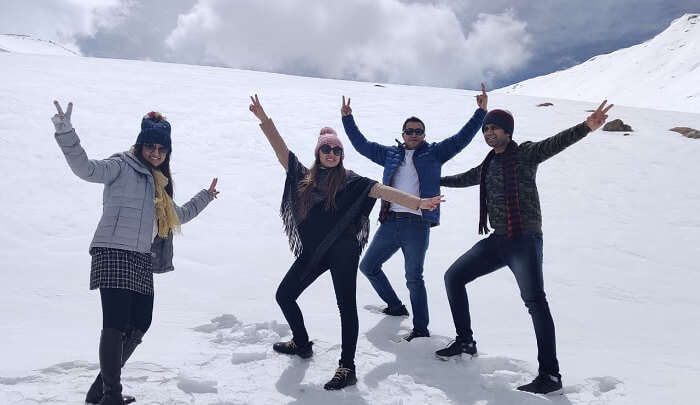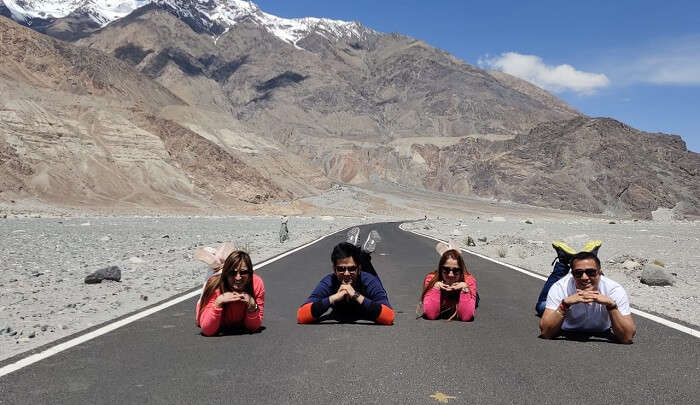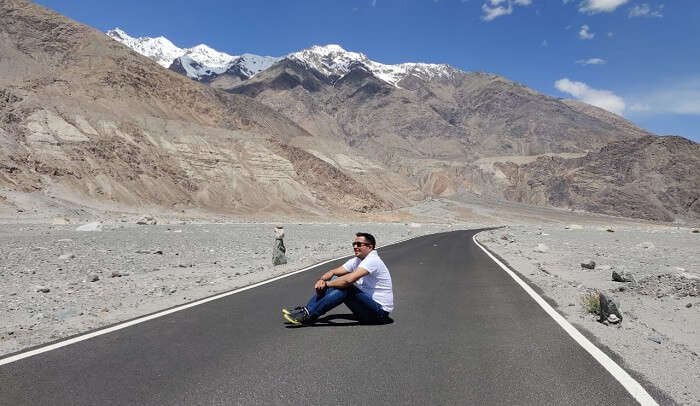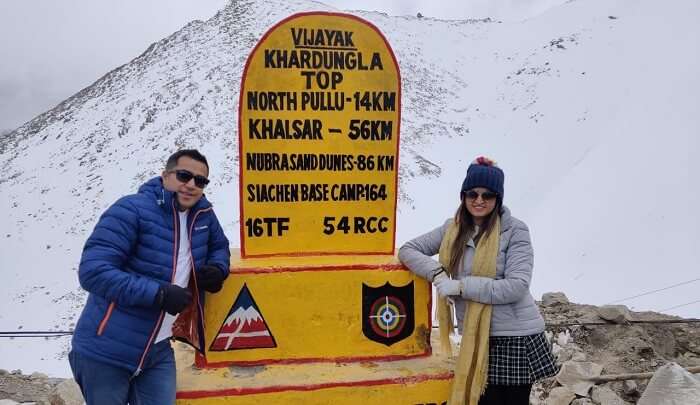 Because we had to ride all the way up to the second-highest mountain pass in the world! Since the weather in Leh Ladakh was still cold, the snow had not melted. There were snowclad mountains all around the pass. It was a feast to our eyes and the feeling of being at an altitude of 17,582 ft was amazing.
3. Pangong Lake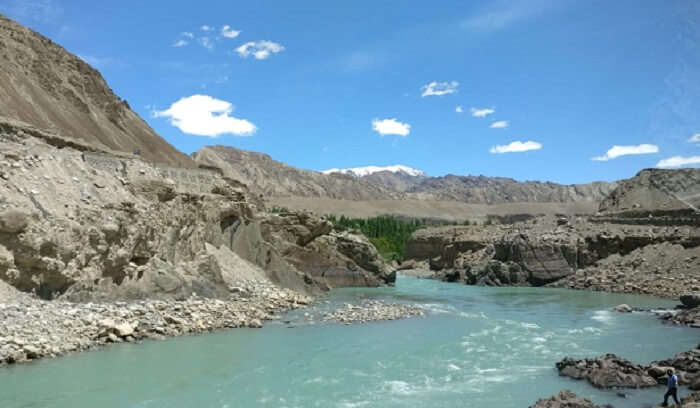 Pangong Lake was must to justify the best itinerary for Leh Ladakh. We had a lovely time by the lake and so many pictures by the lake, with that famous scooter from 3 Idiots too. The night was spent inside the tents by the lakes. It was truly a night to remember. Even the route from Nubra Valley to Pangong along Shyok River was astounding.
4. Druk Padma Karpo School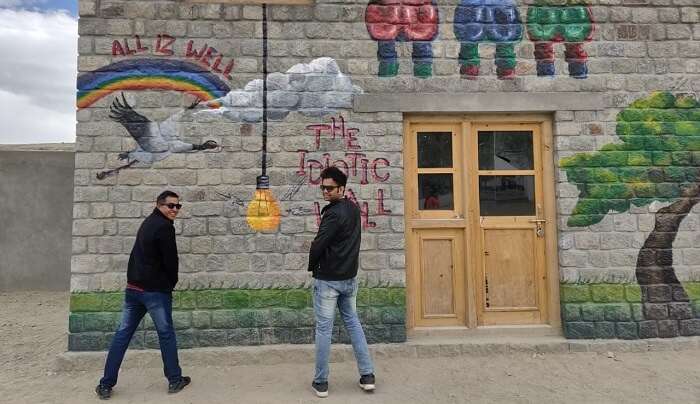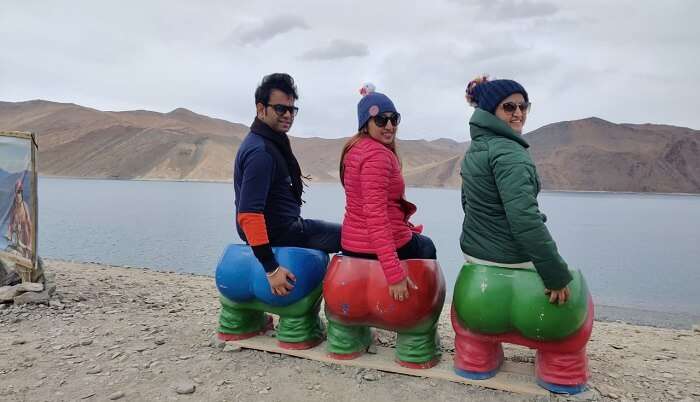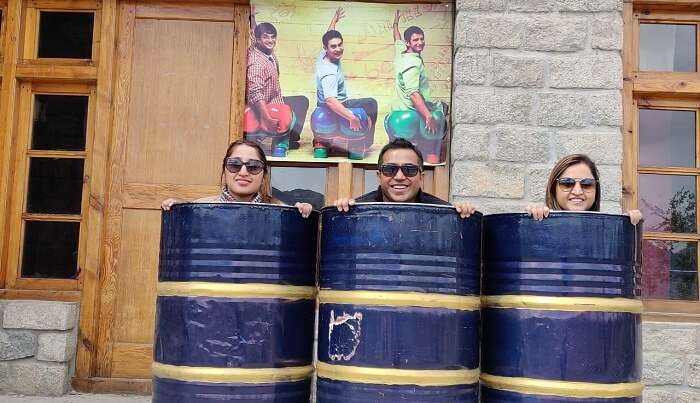 We even visited the school run by the person who inspired the character of Rancho from 3 Idiots movie. The school is located amidst beautiful scenery and the walls are decorated with colorful graffiti. I wish my school were like that.
Trip To Ladakh With Family Soon? Here's All You Need To Know Beforehand
Best Experiences From Our Ladakh Trip
Ladakh welcomed us with many surprises, some of which were unforgettable experiences to indulge in. Here's all what we did.
1. ATV Ride In Nubra Valley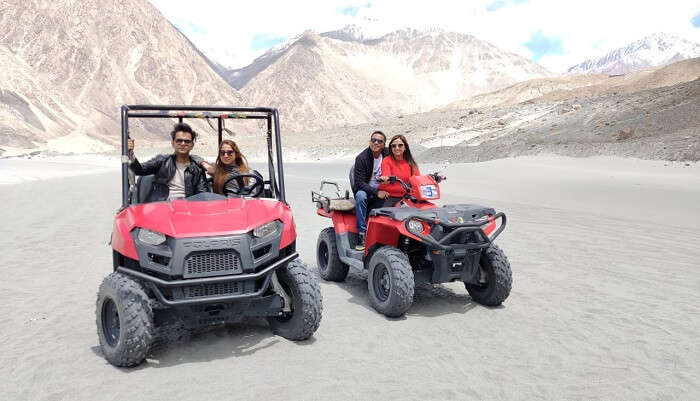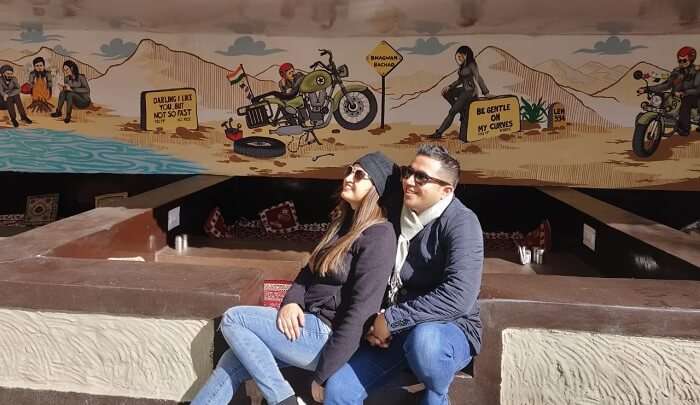 Raiding the sand dunes of the desert in Nubra Valley was definitely some experience. It was so much fun that I would suggest anyone who is planning a trip. The barren landscape all around made it even more special. I can easily say that it was one of the best experiences in life. If you want to plan a trip to Leh Ladakh, then you should definitely include this experience to your itinerary.
2. Camel Ride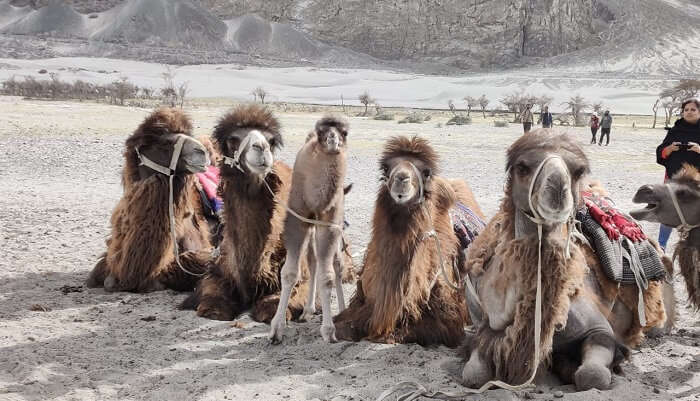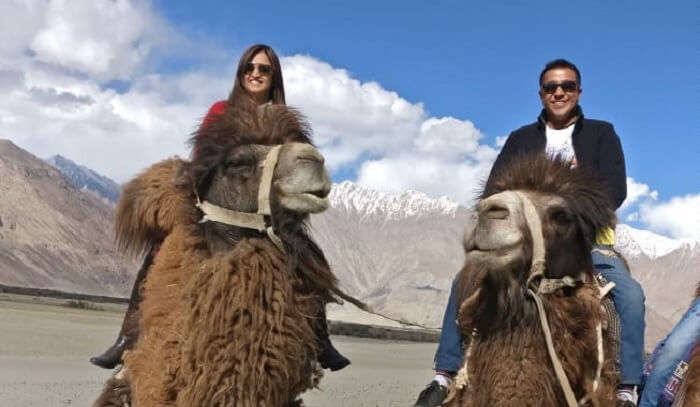 Another fun experience that we had in Nubra Valley was camel riding. The camels in Leh are different from what you see in the desert of Rajasthan. These Bactrian camels have not one but two humps. Riding on the back of these camels in the desert of Nubra was a cherishable experience.
12 Astounding Spots For Trekking In Ladakh That Need To Be On Every Hiker's Bucket List In 2022
3. Shopping in Ladakh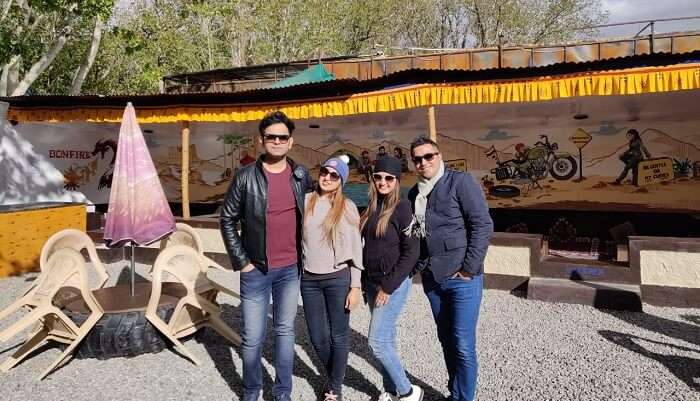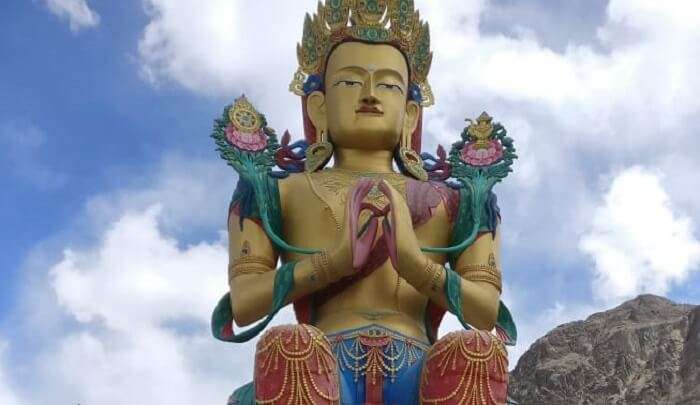 We found many shopping places in Ladakh from where we purchased Pashmina shawls, stoles and mufflers. These were quite expensive and you don't know which one is real Pashmina because of so many outlets selling different varieties of Pashmina. We found the prices of woolen items better than Ahuja Sons. We also purchased silver jewelry as there was a lot of variety there and we recommend fellow travelers to buy silver jewelry from Tibetan market instead of the main market.
Hotels To Stay In Ladakh
Here are all the best hotels to stay in Leh Ladakh that we had booked for our trip.
Day 1: The Grand Himalaya
In Leh, we stayed at the Grand Himalaya, one of the best hotels to stay in Leh. It was pretty good in terms of approachability since it was in the vicinity of Leh main market. The rooms had ample space with central heating which helped us to keep off cold and to acclimatize. The hotel service and hospitality were good.
Day 2: Nubra Ecolodge
In Nubra, we stayed at Sumur – Nubra Ecolodge for one night. The place was very clean and beautiful. We loved clean rooms and facilities to keep the room warm. It was quite peaceful during nights. We also enjoyed fresh food from local farms managed by property. It was very unique in itself.
Day 3: Hundar Sarai cottages
Next night we stayed in Hundar – Hundar Sarai cottages. The architecture and dome bed set up were unique. The hospitality was great there. Thanks to the hot water bottle facility to keep us warm throughout the night.
Day 4: Himalayan Inn Tents
The next night we stayed at Pangong – Himalayan Inn Tents. The tents were average but this was the only property available at that time because of the latest demolition by the local administration. The hospitality and food were great. The caretaker of the tents provided us with an extra blanket and warm water bottles on request.
Visit These 19 Monasteries In Ladakh For A Purifying Experience In 2022
Restaurants In Leh Ladakh
The places to eat in Leh Ladakh are few and not all cafes are lavish as one would expect. We visited Neha Restaurant in Leh Market and Cafe Cloud in Thiksey. If you want authentic food to eat in Leh Ladakh, then you should consider staying in a homestay where you will be pampered with local delicacies.
What To Pack For Ladakh
Comfortable and sturdy shoes
Sunglasses and sunscreen
Cotton clothing
A leather jacket or any other warm jackets
Essential medicines
A good quality camera
Dos And Don'ts In ladakh
Here are some do's and don'ts in Leh trip that you should abide by if you want to enjoy a hassle-free vacation in the region.
Do's
Do plan well in advance as this is not a luxury trip but an adventurous one.
Start practicing long walks to develop proper endurance and stamina of oneself. Ladakh will leave you out of breath.
Carry proper layer-based clothing so that you can adjust yourself as per ever-changing weather of Leh region.
Dont's
Do not litter. Try to avoid making use of plastic. Even if you need to resort to making use of plastic water bottles, keep accumulating the garbage and dump within proper dustbins rather than just throwing them anywhere.
Try to keep a steel bottle or flasks as a remedy against plastic bottles.
Don't rely too much on medicine to acclimatize. Gain elevation slowly. Try to sleep at lower altitudes to avoid catching AMS (Acute Mountain Sickness)
Tips For Leh Ladakh Trip
Keep these important tips in mind as these may come in handy on your Ladakh trip.
Take at least a day to acclimatize yourself when you land in Leh to avoid catching AMS. Don't rely on medicine.
Take Diamox only if you feel absolutely necessary.
Avoid using plastic bottles to keep the environment clean.
Instead of doing long road journeys, staying overnight over places to make your trip comfortable. Don't rush to cover much ground daily. Try to reach and settle before sunlight.
Most importantly, enjoy the journey as much as the destination.
Don't stay for long at Khardungla pass as it can impact your breathing due to low oxygen levels
Opt for ATV ride at Nubra as the scenery of sand dunes and mountains is stunning.
Overall Experience With TravelTriangle
Our overall experience with TravelTriangle was excellent. The entire trip was seamless and our requirements had been taken care of well throughout the trip. We got what we wanted.
The budget was fairly reasonable, however, we were seeking something more comfortable in Pangong as we opted for the Deluxe package but still looking with the state of affairs and the latest demolition by the local administration, we had to adjust with that finally.
Magnetic Hill In Ladakh: A Handy Guide To Unravel This Mystery In 2022
Sandeep's excursion to ladakh with his friends is full of exciting memories and experiences that it tempts you to call your friends and plan a trip to Ladakh. You are only one step away from witnessing the mesmerizing beauty and striking off the unique experiences from your bucket list.
Common Queries You May Have
Q. Which is the best time to visit Ladakh when all roads are open?
A. September to October is the ideal time to plan a road trip to Ladakh since mostly all the roads are open and are in perfect shape. So, you can easily plan your Leh Ladakh bike trip without any worries.
Q. How much does a trip to Leh Ladakh cost?
A. A trip to Leh Ladakh on average costs around INR 20,000 per person for a duration of 5 days and 4 nights. The cost, of course, varies depending on the type of accommodation you choose, the experiences you indulge in, and the mode of transport you choose.
Q. How many days do you need for Leh Ladakh?
A. An ideal time for acclimatization, exploring, and resting in Leh Ladakh is around 8 days. Within this duration, you can easily witness the natural beauty of Ladakh at your own pace and rest in nature's lap like never before.
People Also Read:
Family Trip To Jim Corbett Family Trip To Tawang Family Trip To Rajasthan
Comments
comments