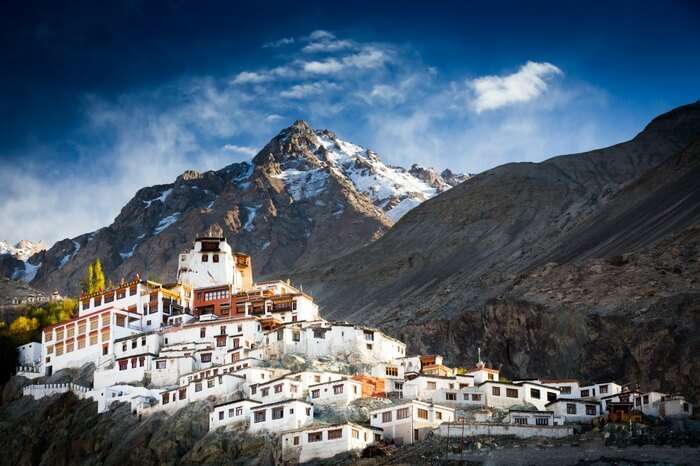 Monasteries in Ladakh are much more than religious centers. Located in heaven that Ladakh is, these famous monasteries are purifying havens where one can find inner peace. Include them in the itinerary as you plan a trip to Leh Ladakh to enjoy the splendid and spectacular topographical medley comprising snow-capped mountains, sprawling cold deserts, sparkling lakes, surreal glaciers, and serene mountain passes.
Ladakh has a surreal beauty that allures and fascinates everyone. Ladakh has an amazing history and sparkling heritage too. The monasteries in Ladakh, India are breath-taking and enchanting structures that still hold the Buddhist heritage alive and fresh.
Top 15 Monasteries In Ladakh
Here is the list of monasteries in Ladakh that you must visit on your vacation here to have a peaceful and soul-stirring experience.
Hemis Monastery
Thiksey Monastery
Diskit Monastery
Likir Monastery
Spituk Monastery
Stakna Monastery
Alchi Monastery
Phyang Monastery
Takthok Monastery
Sumda Chun Monastery
Lamayuru Monastery
Phugtal Monastery
Shey Monastery
Rizong Monastery
Matho Monastery
1. Hemis Monastery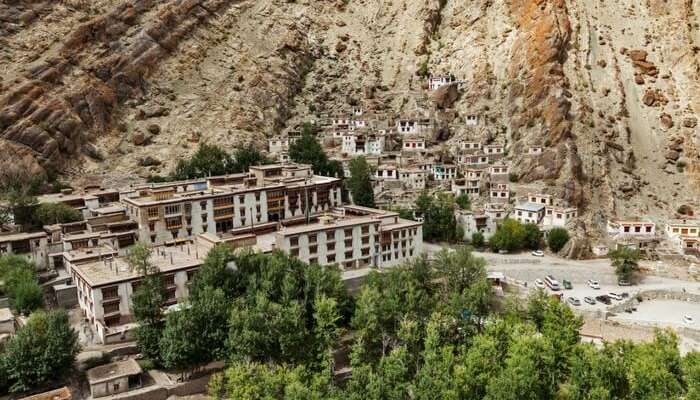 Built during the rule of the King Singge Namgyal, Hemis is one of the largest and most popular monasteries in Ladakh. This is also one of the wealthiest Buddhist monasteries in Leh and Tibet and shares its origin with Naropa- an Indian Buddhist who attained enlightenment here.
This is one of the most charming Buddhist monasteries in Leh Ladakh, managed and run by the Drukpa sect of Buddhism. Hemis monastery in Ladakh boasts of a spectacular copper statue of Buddha and beautiful paintings, Stupas, articles, and amazing Thangkas depicting various aspects of Buddhist culture. This is one of the most popular monastery in Nubra Valley.
Key attractions of Hemis Monastery: 12m long Thanka- which is largest in Ladakh and the Hemis Festival – celebrated during June-July. Dedicated to Lord Padmasambhava, the festival is best known for masked dance performances.
How to reach Hemis Monastery: It is 40 km southeast of Leh and takes about 1½ hours by a private cab. Taxis coming via Srinagar-Leh highway to Leh can be extended up to Hemis.
Traveling 122 km east of the Hemis will present you with the surreal view of Pangong Tso lake, one of the most exciting things to visit in Ladakh!
Must Read: 15 Places To Visit In Leh Ladakh For A Spell Binding Vacation In 2019
---
Looking To Book A Holiday Package?
Book memorable holidays on TravelTriangle with 650+ verified travel agents for 65+ domestic and international destinations.
---
2. Thiksey Monastery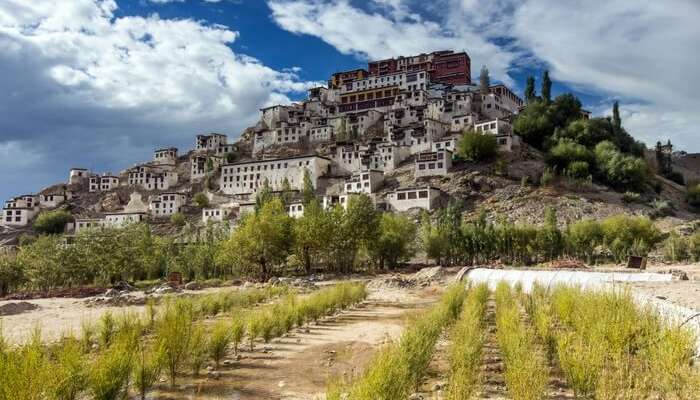 Resembling the Potala Palace in Lhasa, Tibet, Thiksey is one of the beautiful Buddhist monasteries in Ladakh. Snuggled at an altitude of 11,800 feet, this monastery is looked after by the people of Yellow Hat (Gelugpa) sect. It comprises a 12-storey building complex and houses more than 500 monks. Thiksey monastery in Ladakh has a large and precious collection of Buddhist books, journals, statues, scripts, stupas, swords, and Thangka paintings.
Thiksey is one of the monasteries to stay in ladakh if you wish to spend some time in peace and tranquil.
Key attractions of Thiksey Monastery: 49 ft statue of Maitreya Buddha- largest in entire Ladakh and Dukhang Karmo – a huge long assembly hall
How to reach Thiksey Monastery: It is 19 km from Leh and can be reached by a private cab. Frequent bus service is available during festivals and other times. These buses ply once a day in the morning.
3. Diskit Monastery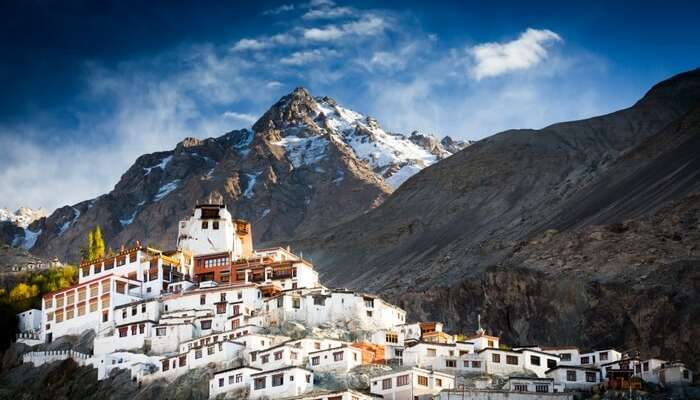 There are many Ladakh monasteries to stay at and the next is one of the best among them. Located in the beautiful Nubra Valley– Diskit is one of the most beautiful and the oldest Buddhist monasteries in Ladakh, founded in 14th century by Changzem Tsera Zangpo. It belongs to the Gelugpa sect (Yellow Hat) of Tibetan Buddhism and has various Buddha statues, images of other guardian Gods, and a huge drum.
Owing to the breathtaking location, this one of the famous monasteries in Ladakh offers solemn serenity and inner peace.
Key attractions of Diskit Monastery: Festival of Scapegoat or Dosmoche festival, mask dance during the festival, and Jampa Buddha statue. One must also experience the Morning Prayer ceremony held there.
How to reach Diskit Monastery: It is 150 km north of Leh in the Nubra Valley and takes about 4 and a half hours via Khardung La road in privately hired vehicles. The roads are dusty and bumpy and the drive is quite challenging.
Suggested Read: Ladakh In April: When Your Adventurous Heart Yearns For The Himalayas!
4. Likir Monastery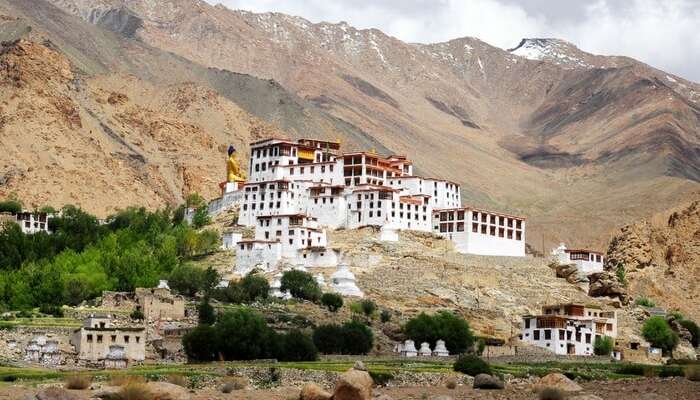 Likir Monastery, popular as Likir Gompa was founded by Lama Duwang Chosje in the 14th century. According to Buddhist mythology, this is the first construction by the Tibetan monks. The museum located inside the monastery showcases a wide array of Tibetan artifacts and relics.
Key attractions of Likir Monastery: Likir Dosmoche Festival- on the 12th month of Tibetan Calendar and preaching of Pratimoksha disciplines
How to reach Likir Monastery: Located 53 km west of Leh in the Likir village in the Indus Valley. Along with taxis, many buses travel between Leh and Likir from 5 in the morning to 3 in the afternoon.
5. Spituk Monastery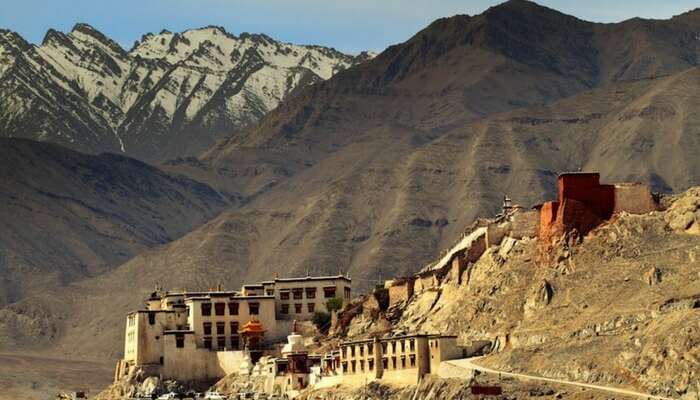 Image Source
Spituk Monastery was founded by Od-Ide in the 11th century. Today it is home to a hundred monks. Spituk has three-chapels namely Stok, Sankar and Saboo and consists of ancient memorials, idols, frescoes, statues and religious scriptures.
Key attractions of Spituk Monastery: A temple dedicated to Vajrabhairava Deity, which accessible to visitors only during Gustor Festival and sacred idol of Amitayus.
How to reach Spituk Monastery: 11 km from the main town of Leh and 3.4 km from Leh Airport, it is located in Spituk village. You can take a private cab from Leh or any of the locally available conveyance.
Suggested Read: 10 Hotels In Leh Ladakh For A Cozy Stay: Luxury And Budget Options
---
Planning your holiday but confused about where to go? These travel stories help you find your best trip ever!
Real travel stories. Real stays. Handy tips to help you make the right choice.
---
6. Stakna Monastery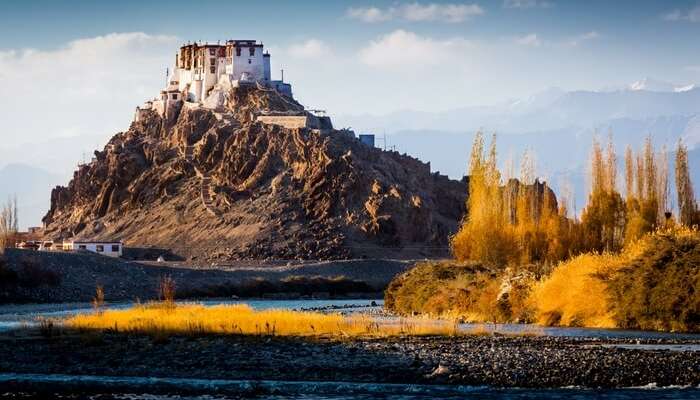 Stakna- locally known as Tiger's Nose is a small and serene monastery, founded during the reign of King Jamyang Namgyal in 1580. Located on the left bank of Indus River and perched on a hill, Stakna monastery in Leh Ladakh offers amazing and jaw-dropping views of the Indus valley.
Stakna is a Buddhist monastery in Ladakh which houses numerous paintings, idols, and Buddhist scriptures, and has many sister monasteries like in Zanskar-Bardan, Stakrimo, and Sani.
Key attractions of Stakna Monastery: Statue of Arya Avaloketesvara, Dukhang Assembly Hall with paintings of Sakyamuni, Tsephakmad, and Amchi, silver gilded chorten with Buddha picture and paintings of Bodhisattva, Tshong-san-Gompa, and Padma Sambhava.
How to reach Stakna Monastery: 25 km from Leh by the banks of Indus River, Stakna can be reached by boarding a local bus. Services are available on daily basis starting early morning.
7. Alchi Monastery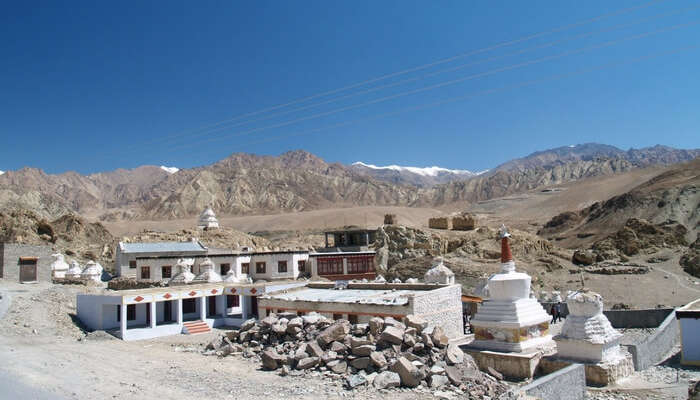 Alchi Choskor Monastery is a branch of Likir raised by Lotsawa Rinchen Zangpo. It is one of the largest and most reputed monasteries of Ladakh. Its complex comprises of three sections- Dukhang, Sum-tsek, and the temple of Manjushri.
Unlike others, Alchi is located on a plain land and boasts of ancient sculptures, books, paintings, and figurines. Alchi Monastery in Ladakh is ne of the most popular attractions here.
Key attractions of Alchi Monastery: Sum-tsek- three-story temple, four armed huge Bodhisattva statue, white Avalokiteshvara statue, an idol of Maitreya Buddha, and Jampe Lhakhang Temple.
How to reach Alchi Monastery: From Leh, travel towards the banks of Indus River off Leh – Srinagar road for 70 km to reach this age-old monastery. Private cabs are the best options.
Suggested Read: 11 Best Things To Do In Ladakh That You Can't Afford To Miss In 2019!
8. Phyang Monastery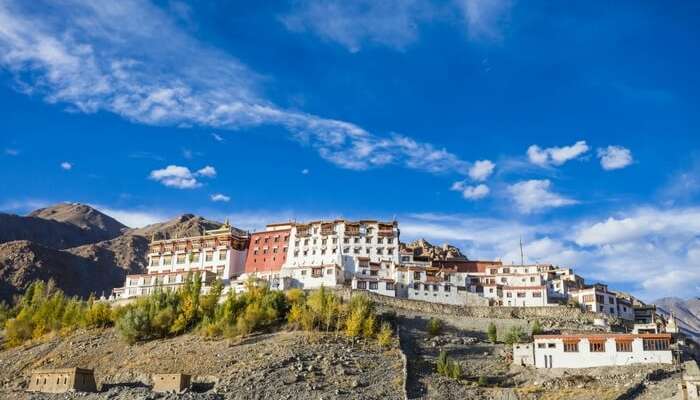 Phyang Gompa belongs to the red hat sect of Buddhism and is perhaps the most impressive monastery in Leh Ladakh. It is located on a hilltop and thus offers stunning views of the surrounding.
This white and ochre-colored structure is one of the must-visit monasteries in Ladakh and is an important hub of Digung teachings. The wall paintings at Phyang Gompa depict Buddhist culture and heritage.
Key attractions of Phyang Monastery: 900-year old museum depicting thangkas, different idols, Mongolian, Tibetan and Chinese weaponry and guns, Gang-Sngon Tsedup Festival, and Sacred Dance Festival
How to reach Phyang Monastery: 40 km from Leh, cabs take 1 hour 20 minutes to reach this monastery. From Leh, travel towards War Memorial, reach Spituk and then travel further 10 km to reach Phyang village.
9. Takthok Monastery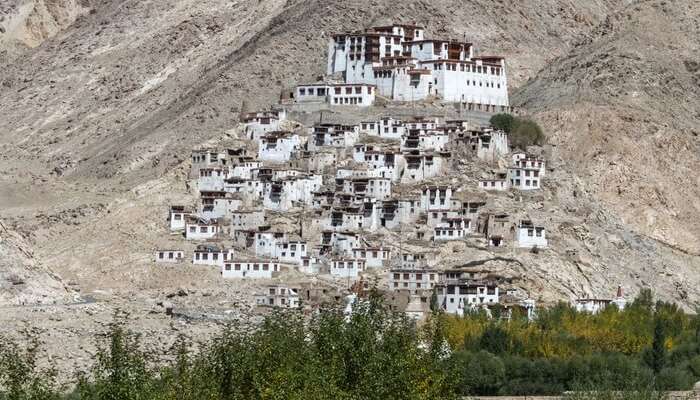 Located in Ladakh's Sakti Village- Takthok is the only monastery of the Nyingmapa tradition. It is one of the most famous monasteries in Ladakh and houses close to 55 lamas. It possesses an amazing architectural style with rocky walls and roofs, central courtyard, assembly hall, beautiful frescos, murals, and the holy throne of His Holiness Dalai Lama. The 108 volumes of Kandshur teachings of Buddha are preserved here.
Key attractions of Takthok Monastery: Meditation cave of Padmasambhava and Statues of Future Buddha, Dorje and Takposal.
How to reach Takthok Monastery: It is 50 km from Leh and can be reached by bus or a cab. Snowfall and bad weather may hamper the road travel.
Suggested Read: 10 Festivals Of Ladakh That Celebrate The Life In The Valley
10. Sumda Chun Monastery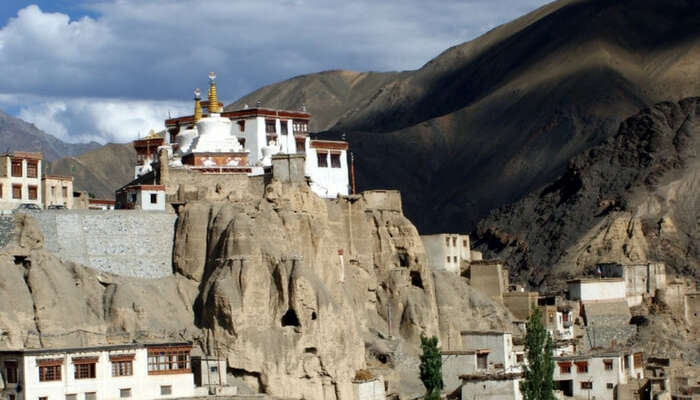 Again, one of the oldest monasteries of Ladakh – Sumda Chun Monastery was founded by Lotsawa Rinchen Zangpo. This vintage construction comprises of three temples and a huge assembly hall.
Key attractions of Sumda Chun Monastery: Image of four headed Vairocana and murals of Ratnasambhava, Akshobhya, Amitabha and Amoghasiddhi
How to reach Sumda Chun Monastery: 65 km away from Leh, Sumda Chun can be reached by private cabs only, as bus service is not available. However, the road is motorable up to Sumda. From there, the track is rugged and bumpy and descends along a stream to reach the gompa.
11. Lamayuru Monastery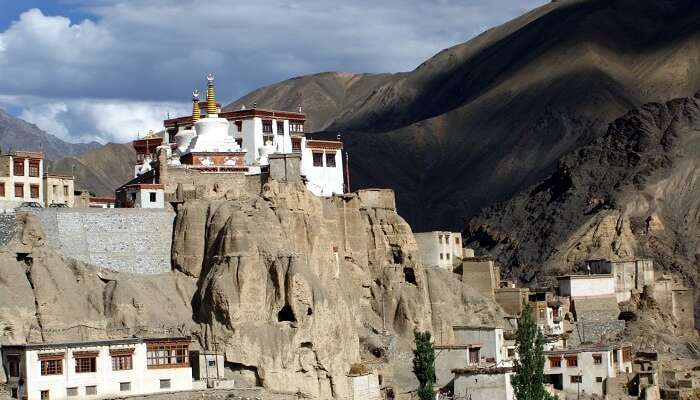 Image Source
Founded in th 11th century, Lamayuru is one of the oldest and largest Buddhist monasteries in Ladakh. The monastery is located on steep mountain, the monastery is renowned as 'Tharpa Ling' which translattes to the 'place of freedom'. Every 5th month of the Tibetan Lunar Calendar, a holy mask dance is performed by the monks inside the monastery which is a great spectacle.
Key attractions of Lamayuru Monastery: The first temple of Singhe Ghang and the picturesque Lamayaru Village
How to reach Lamayaru Monastery: It is 27 km away from Leh perched on a hilltop. The only way to reach here is to hire a cab. It can also be visited on the way to Leh from Srinagar.
Suggested Read: 5 Pristine Ladakh Lakes You Ought To Visit For A Tranquil Vacation!
12. Phugtal Monastery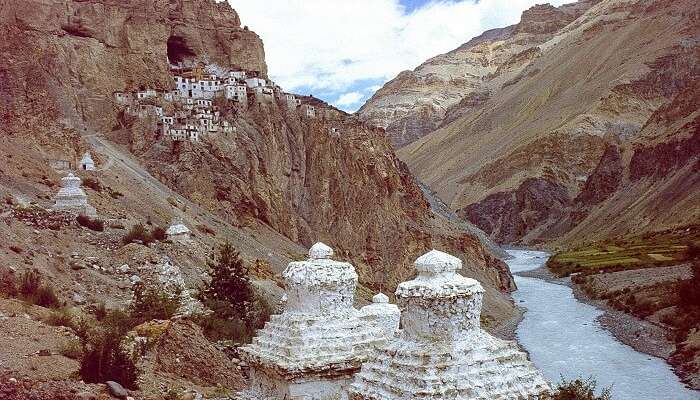 Image Source
It is one of the remotest Tibetan monasteries in Ladakh as it is located on a hilltop at the mouth of a cave. The drive alone to Phugtal Monastery is mesmerizing. The rugged and eerie structures of mountains will make you feel like you are driving through honeycomb. Along with having a library and prayer rooms, you will also find a natural cave here where many sages and scholars have meditated. The divine aura of this place will leave you speechless.
Key attractions of Phugtal Monastery: The natural cave and the astounding views of Lugnak Valley
How to reach Phugtal Monastery: Trekking is the only way to reach the top of the hill where the monastery is located.
13. Shey Monastery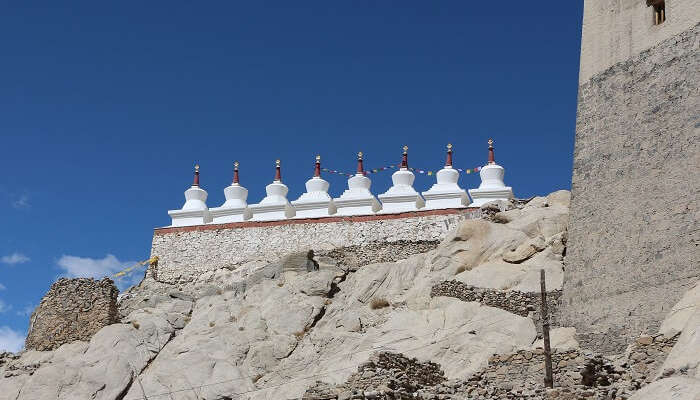 Image Source
The reasons why you should visit this monastery are plenty. The monastery currently houses the largest statue of Buddha made of gold as tall as three floors of a building. You will also find wax bowl in front of the statue which is lit for a year before it is replaced with the new one. The beautiful murals and paintings adorn the walls of the monastery. And, remember the Rancho School that became famous after the movie 3 idiots? Well, it is near the monastery.
Key attractions of Shey Monastery: The large golden Buddha statue, Rancho School, Buddhas carved out of rock
How to reach Shey Monastery: The monastery is located between the famous Hemis & Thiksey Monastery, just 16 km away from Leh town.
Suggested Read: Hemis Festival: Your Gateway To Enter The Magical Realm Of Ladakh
14. Rizong Monastery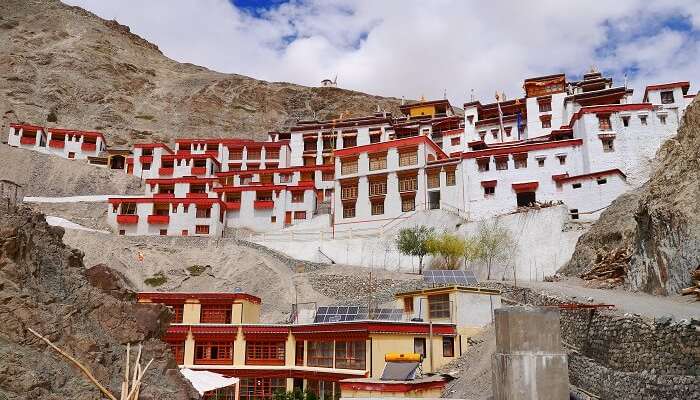 Image Source
It is believed that Guru Padmasambhava along with his disciples meditated in isolation in a cave near Rizong where they survived with only a meal in a day. Overlooking the breathtaking Indus Valley, this place is known as a paradise for meditation. The monks spend a life of abstinence living with a strict lifestyle.
Key attractions of Rizong Monastery: There is also a nunnery or Chomoling where females worship and conduct chores like spinning wool, milking, and getting oil for worship.
How to reach Rizong Monastery: It is located 73 km from Leh and can be reached by car.
15. Matho Monastery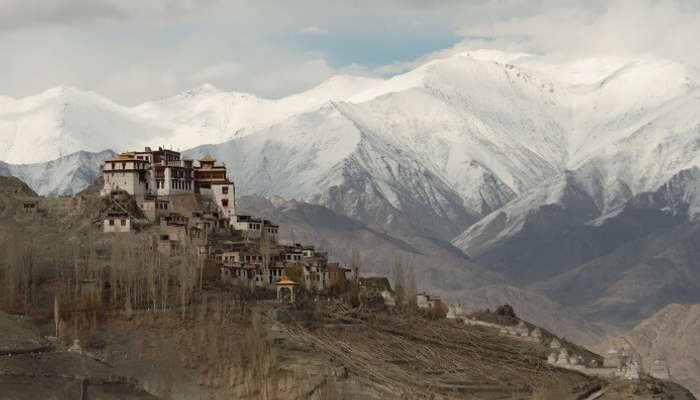 Image Source
Situated on the banks of Indus River, this is the only monastery which follows Sakya Sect of Buddhism. The monastery was constructed 500 years ao and you will find an impressive collection of ancient Thangas and statues. The walls of the monastry are adorned with beautiful paintings and murals.
Key attractions of Matho Monastery: Nagrang Festival, acts of oracles and Cham dances.
How to reach Matho Monastery: It is easily accessible by car.
Further Read: Travel To These Buddhist Monasteries In India To Find Inner Peace
With so many Buddhist monastries, Leh ladakh is your ultimate stop to seek salvation and meaning in life. If you have missed these heavenly abodes during last Ladakh vacation- do include them in the next trip to Ladakh. These monasteries in Ladakh are surreal, serene and absolutely stunning.
Frequently Asked Questions About Monasteries In Ladakh
Q. Which is the oldest monastery in Ladakh?
A. Lamayuru is the oldest monastery in Ladakh.
Q. What is the altitude of Ladakh?
A. The altitude of Ladakh is 3,500 m.
Q. Which is the capital of Ladakh?
A. Leh is the capital of Ladakh.
Q. When did Ladakh become part of India?
A. Ladakh become part of India in 1947.
Q. Which is the largest monastery in Ladakh?
A. Dikshit Monastery is the largest one in Ladakh.
Q. How many monasteries are there in Ladakh?
A. There are over 100 monasteries in Ladakh.
Q. What is Ladakh famous for?
A. Ladakh is famous for its picturesque beauty, unique culture, Buddhist monasteries and exciting adventure spots.
Q. What is Gompas in Ladakh?
A. Gompas is the local word used for monasteries in Ladakh.
People Also Read:
Ladakh Trip Experience Ladakh In Summer Monasteries In Bhutan
Comments
comments