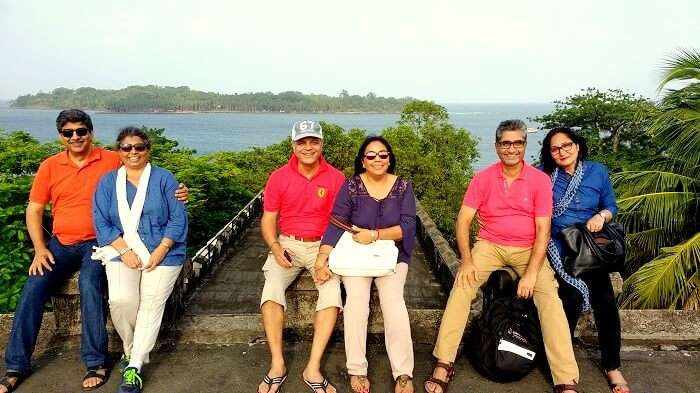 "My long cherished dream of visiting the Andaman & Nicobar Islands finally came true when my friends and I planned to celebrate my husband's 60th birthday in Port Blair. July was not the best of times to visit Port Blair because of the rains but as the Hindi song goes- 'Jahan chaar yaar mil jaayen wahin raat ho gulzaar'…"
Before any other plans could emerge, I pounced on the opportunity of planning a trip with family friends to Andaman. I could feel the excitement as my husband was probably going to have the best birthday of his life.
All I needed was an economical tour package that suited our dates perfectly. While searching about Andaman on Google, I landed on the TravelTriangle website where I got a lot of useful information about the islands. Pretty soon, I got to know that they created exactly the kind of customized trips I was hoping to find.
About our trip with family friends to Andaman
Trip Cost: INR 1,17,000
Trip Duration: 4 nights 5 days
Agent Name: Destiny Holidays
Inclusions: Transfers, accommodation, breakfast, water sports, sightseeing, and ferry tickets
Exclusions: Flights, meals, and other expenses
After a few days' back and forth, we finalized on an incredible tour package for our trip with family friends to Andaman. We were happy with the price and the inclusions we managed to insert in our package after negotiations with 'Destiny Holidays'. With that, we went ahead with making our bookings for our entire group ( me, my husband, and our friends).
13 Top Sea-Facing & Beach Resorts In Port Blair, Andaman
Between the time we booked our tickets through an agency called Travel Triangle and actually boarding the flight, we kept getting conflicting comments from all sides. Another agency told us that there we might have to forego a trip to Havelock due to rough. But what can dampen the spirit of die-hard wizened men and women who were hell bent on a 'destination birthday'.
So off we went to Port Blair on the designated day, excited like little children with a prayer on our lips for good weather.
Day 1: A bumpy flight to Port Blair
The flight to Port Blair wasn't smooth as we faced turbulence during the flight. We landed at Port Blair and were received by Durga, our driver on duty, who took us to our accommodation- Sinclair Bayview Port Blair. A lovely property with rooms that overlooked the brilliant blue waters of the Bay of Bengal. When we settled in our rooms, the ever smiling Eswar, our contact from Destiny Holidays, gave us the planned itinerary for our trip with family friends to Andaman.
Suggested Read: Best Experiences On A 6 Day Family Trip To Andaman
Our first stop of the day was the Samudrika Naval Marine Museum where we saw a variety of fish and corals. A quiet and beautifully maintained place, it gave an insight into not just marine life but also the history, and geographical information about the people (the various tribes) of Andaman.
Our next halt was the Cellular Jail. All my years growing up, I had read and heard a lot about Kala Pani. Images from all the patriotic Hindi films I had watched in childhood flashed before my eyes. I walked into the complex expecting to see a dark and dingy place echoing with anguished cries of all the people who were housed there for years. But what we walked into was a bright and shining courtyard with an occasional dark cloud crossing over.
Baratang Island: Nature's Secluded Retreat In Andaman
After the end of the sound-and-light show at Cellular Jail, we went to a restaurant for dinner and then followed that with a taxi ride back home.
Day 2 & 3: Unparalleled beauty of the beaches at Havelock Island
The next morning we checked out from the hotel and took a ferry to Havelock Island. I personally hesitated a little bit to board the ferry because of my fear of water. However, the ferry ride was smooth and by the time we finished breakfast, the ride was over and we were at the island pier.
At Havelock, we quickly grabbed our luggage and checked into the Havelock Island Beach Resort. The first impressions of Havelock were of a quiet island town that didn't offer much for sightseeing except for the beaches – Radha Nagar, Elephant and Kaala Patthar. However, there were plenty of adventure sports like scuba diving, snorkeling, and jet skiing.
23 Fascinating Hotels In Havelock For A Wondrous Holiday In Andaman
On the second afternoon of this trip with family friends to Andaman, we visited the crown jewel of Andaman- Radhanagar beach. The beauty of that beach wasn't just limited to white sand and blue water. Radhanagar beach was so clean and the sand was so comfortable that we ended up just walking bare feet on the beach with the water swirling around our ankles.
The next morning, we were supposed to visit Elephant Beach, but unfortunately, it was closed. That automatically gave us more time explore and enjoy at the Kaala Patthar beach. After that came a round of water sports like snorkeling and jet skiing at the same beach.
A Spur Of The Moment Trip To Andaman That Turned EPIC With Friends
My fear of water began to take shape again as my mind was being reminded of the fact that I did not know how to swim. But ultimately, I am glad I gave in to my husband's encouragement and tried snorkeling. Watching marine life at such close quarters was an out of the world experience as we came back feeling overwhelmed. We were wondering if it was so beautiful near the shore, how much more amazing it would be a little deeper into the sea.
Day 4: The birthday boy completes 60 in Port Blair!
The next day, we checked out of the resort at Havelock Island. The ferry ride back to Port Blair was a bit bumpy as this time, as we were sailing against the waves. We were partly to blame for the uneasiness in our stomachs because we had stuffed ourselves with a heavy breakfast before getting on to the ferry.
We felt a bit queasy as everyone else was enjoying the ride! I don't know if I have ever loved land as much as I did that day when after two long hours, our ferry docked in Port Blair. However, the embarrassment was over as we quickly proceeded to check into the Sinclairs Bayview Hotel.
Top Things To Do In Jim Corbett With Family For A Refreshing Holiday Experience
At that point, I put everything aside and focused on how to make the day special for my husband and fulfill the main reason of us coming on this lovely trip with family friends to Andaman (this day was his 60th birthday). In the evening, all of us celebrated my husband's birthday with a cake, some drinks, and a delicious dinner at the hotel.
Day 5: Farewell Port Blair
On the final morning, we got up a little early to pack our stuff and then eventually check out from the hotel for our flight back to Delhi.
Five days later when we were sitting at the airport and waiting for our return flight, all of us looked back at what an amazing holiday experience we had. Our thoughts centered around how our love for travel and mutual admiration has grown many folds during this once-in-a-lifetime adventure of ours.
High points:
Celebrating my husband's 60th birthday at such a beautiful place felt incredible.
Overcoming my fear of the water to an extent was an amazing achievement for me.
Low point:
The food quality at the hotels we stayed was consistently poor.
Tip to travelers:
Do not travel on a ferry right after eating a heavy meal.
Want a similar experience? A perfect family vacation awaits in Andaman. Book your Andaman tour package with TravelTriangle and strengthen your family bonds over a memorable vacation!
People Also Read:
Andaman Trip From Kolkata 5 Days Andaman Tour Itinerary Andaman With Kids
Comments
comments