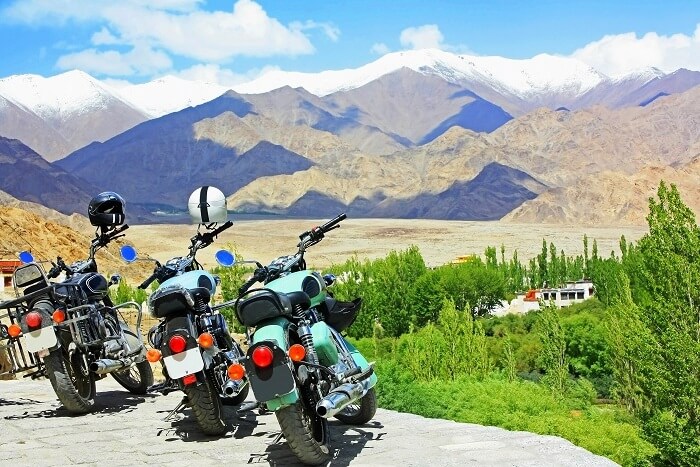 Every biker, irrespective of the gender, dreams of going on a Leh Ladakh bike trip once in their lifetime. While they dream of a flawless journey, the reality does come into contact with a lot of shortcomings. Having understood that bikers are bound to stumble upon a few barriers on a rugged landscape like that of Leh and Ladakh, we've put in our best efforts to collate every information in this blog that will help them encounter any such difficulties on the way.
ABOUT LEH LADAKH BIKE TRIP
The old saying "there's beauty everywhere, all you have to do is just look around" is true to the core when it comes to the mesmerizing Leh Ladakh travel.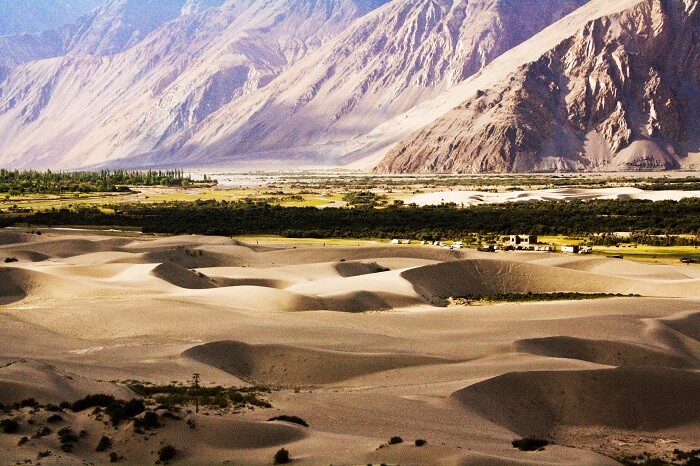 Suggested Read: 9 Places To Visit In Leh Ladakh For A Spell Binding Effect
Offering scenic vistas of one of the best landscapes in India, a trip to Leh Ladakh India is all about the feel of snow-clad mountains, rugged landscape, soaring peaks, dangerous routes, and roaring bike engines. In short, going on a Ladakh bike tour is all about the good vibes and the undying spirit of a rider.
Best Time To Visit Leh Ladakh On A Bike Trip
The best time to go on a bike trip to Leh Ladakh is from the months of June to September. These months enable the bikers to enjoy the best of Ladakh, as much as they enjoy their bike trip to Lahaul & Spiti. However, most of the riders love to kick-start their new year with this crazy bike trip as Ladakh offers magical vistas which can be cherished round the year except for monsoon season.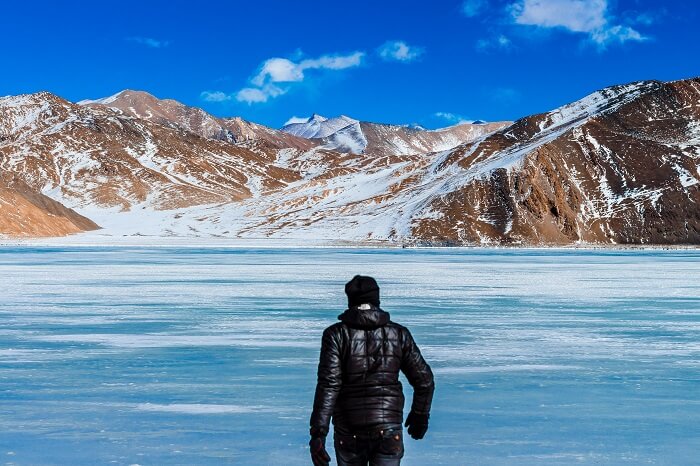 Suggested Read: Head To Ladakh In Winter For An Adventure Of A Lifetime
IDEAL DURATION FOR A BIKE TRIP
Depending on a lot of factors like the route you've taken, your entire schedule, and mainly the weather conditions, an ideal duration for a Leh Ladakh bike tour would span over a period of 15 days or more. Also, this duration is apt when one opts for Manali to Leh bike trip from Delhi.
LEH LADAKH TRIP COST
A lot depends on the vehicle you are selecting for your journey and the Leh Ladakh road trip cost would also vary on the accommodation and kind of food you choose to eat. Still, an average budget can be arrived upon considering basic factors such as accommodation, meals, and fuel. Hence, under normal circumstances, you will end up spending approximately INR 35000 for a trip to Leh Ladakh on bike for 15-days. This also includes the cost of permits and miscellaneous expenses for the Leh Ladakh bike trip.
BEST BIKES FOR LEH LADAKH BIKE TRIP
Talking about the first things first, every biker must give his or her total attention to their first love, which is their bike. One must be very careful and picky when it comes to choosing their Leh Ladakh road trip bike. So whenever you're choosing a bike for any road trip, make sure you go for suitability more than popularity. Consider it one of the most vital aspects of your Leh Ladakh trip plan!
Opting for the kind of bikes that one can easily handle and are easy to maintain, has always proven to be safe, and helpful for the riders for journeys like Leh Ladakh bike trip. Hence, the five best bikes for Leh Ladakh bike trip are:
Royal Enfield – A powerful bike with an engine of either 350 CC or 500 CC is enough to be a lifesaver on road trips.
Royal Enfield Himalayan – With a strong engine of 400 CC, Royal Enfield Himalayan will make your ride smooth and hassle-free on any rugged trail and offbeat roads.
Bajaj Pulsar – By far, no bike has been a hit in the Indian market when compared to Bajaj Pulsar. Being the most favored bike after the Bullets, Pulsar offers variants of 150CC, 200CC, and 220CC, either of which can be your trustworthy partner on any of the adventures.
KTM Duke – Being a featherweight bike can be advantageous on roads like that of Ladakh. With the series of new engine variants of Duke 390, and Duke 250, KTM can be a good choice for a bike trip to Ladakh too.
CBR 250 – This bike from Honda is indeed a stunner except for its Contigo tyres which can be a little tough to handle on Ladakh's terrain in case of a change in weather. On the bright side, if the tyres can be replaced, one can put the bike's torque and fi technology to great use, and a greater purpose.
Other bikes that the association of bike rentals in Ladakh has taken into consideration are that of Yamaha Fazer, Bajaj Vikrant, Yamaha FZ, and Hero Impulse. Though these bikes are not so heavy on the engine, they can surely pick up some speed (without breaking any rules) on the go.
BIKE RENTALS
No bike. No worries. The bike rentals at Delhi and Manali are ever willing to offer you a ride on rent provided you submit all the required documents. In Delhi, Karol Bagh is the hub from where you can rent a bike for INR 900 per day. All you have to submit is a valid photo id proof, your driving license, INR 10,000 as the security deposit, and a consent letter from your parents in case you're still under 25, and you are all set for a bike trip to Leh Ladakh from Delhi.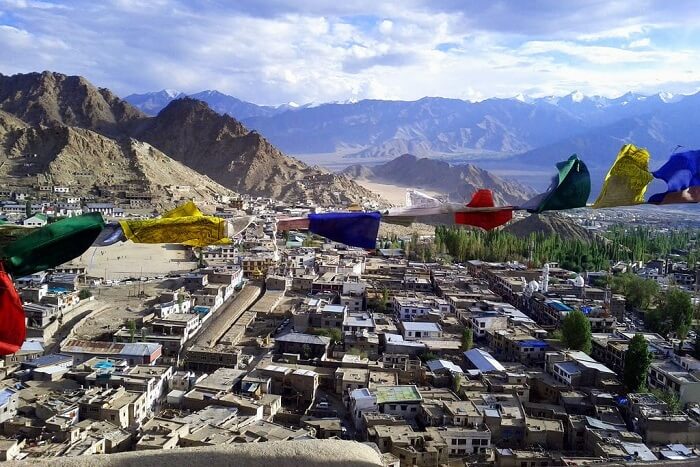 Suggested Read: 7 Bullets Narrating Our Tales Of Ladakh
In Manali, the per day rent charges range from INR 1000 to INR 1800 whereas the security deposit is between INR 12,000 to INR 18,000 along with the original copy of valid ID proofs.
Other than this, you can also hire a mechanic to take on the basis of daily wage for the entire duration of Leh Ladakh bike trip. Also, don't forget by mistake also to run the bike through a test ride and test its abilities beyond limits to be on a safer side during the bike trip.
BEST ROUTES FOR A ROUND TRIP
Considering Delhi as a base for the Ladakh trip by bike, Srinagar to Leh and Manali to Leh are the two main routes that offer the best road conditions and picturesque views. While the first route doesn't overlap and forms a complete circle from end to end, the second route encircles the rugged mountainous landscapes, offers better views, increases the level of difficulty, and the level of danger.
Route 1: Srinagar To Leh & Back
Route Map: Delhi → Jalandhar → Jammu → Srinagar → Kargil → Leh → Karu → Sarchu → Manali → Delhi
Distance Covered: Approximately 2,295 kilometers
Route 2: Manali To Leh & Back
Route Map: Delhi → Manali → Sarchu → Leh → Khardung La → Nubra Valley → Kargil → Srinagar → Delhi
Distance Covered: Approximately 2,569 kilometers
Basic Expenditure On Leh Ladakh Bike Trip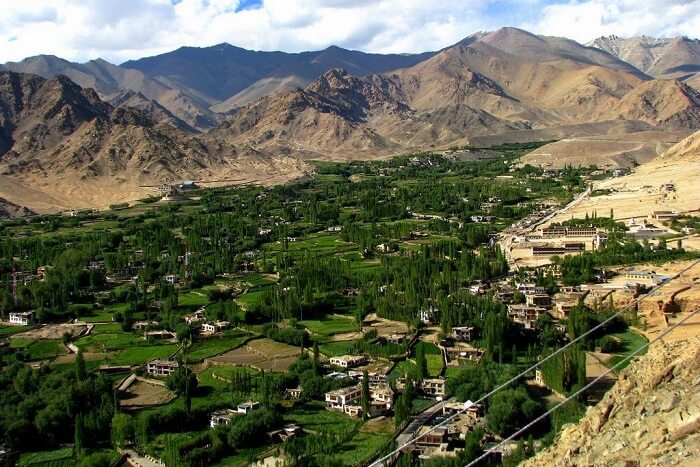 Suggested Read: 7 Secrets Of Ladakh That Only The Hills Whisper
Petrol
Keeping petrol as the priority for a bike trip, at an average, you'll be covering a distance of 3500 kilometers. Of all the bikes that have been considered, the average mileage is that of 35 kilometers per liter. This means that you'll be needing somewhere around 100 litres of petrol for which, you will roughly need an amount of INR 7000 to INR 8,000.
Accommodation
There are a lot of budget hotels in Ladakh wherein one can find easy accommodation options within the range of INR 500 to INR 2,500 per person, on a double-sharing basis, and including taxes (as per booking.com).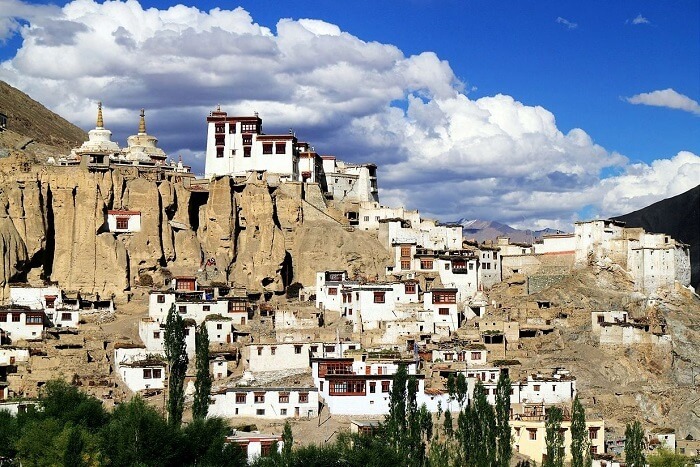 Hence, the rate for an average accommodation with the best of amenities, comfort, and ratings, can cost you INR 500 to INR 2,500 per night per person depending on whether you want a budget hotel or luxury. Considering the lower limit, a 15-day trip will cost you a rough figure of INR 7,500 for accommodation. Let's round it off to INR 8,000 per person.
Meals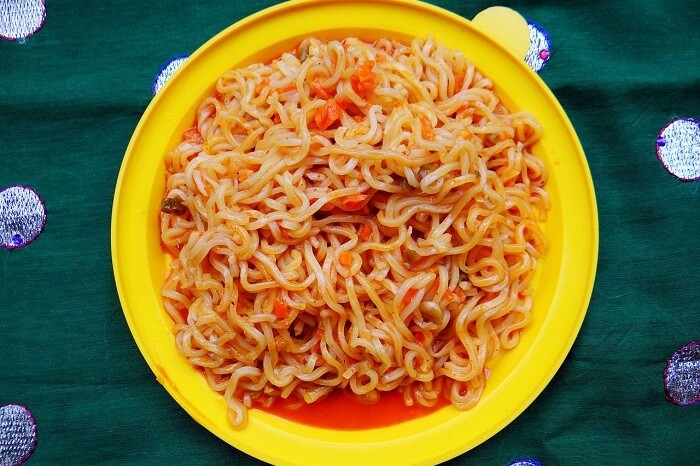 Similarly, the cost of food depends on the choice of the rider whether he or she prefers to eat at a dhaba or a restaurant. Eating at a dhaba may cost you INR 100 to INR 150 whereas dining at a normal and a bit upbeat restaurant may cost you about INR 400 to INR 500 per person on your tour to Leh Ladakh. Considering the lower limit, you'll be spending close to INR 2,250 to INR 6,000 on meals. At an average, you can keep INR 3,500 aside for meals.
Miscellaneous
It is a must to keep some amount of money aside for emergency purposes, shopping for souvenirs, or for permits. Thus, an amount of INR 2,500 to INR 5,000 is a must for every biker to spread it across the luggage or pockets and save it as a backup.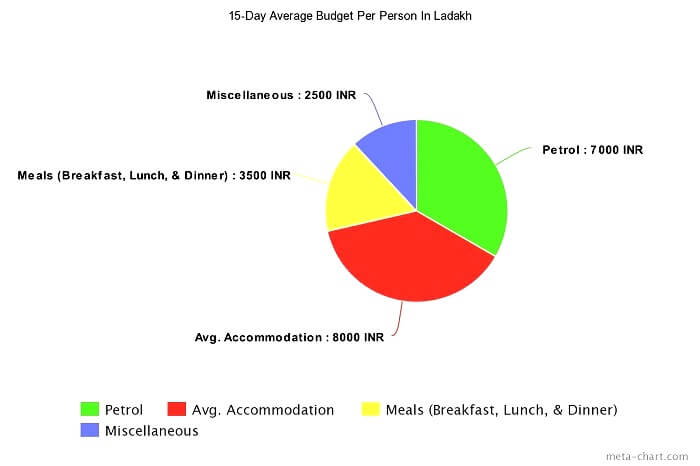 Suggested Read: Trip To Ladakh: When In Ladakh, Always Expect The Unexpected!
Average Budget = Petrol + Accommodation + Meals + Miscellaneous = 7000 + 8000 + 3500 + 2500 = INR 21,000/-
Thus, considering all the lower limits, an average budget for a 15-day Leh Ladakh bike trip would be INR 21,000 per person.
Please Note: We're assuming you have a bike of your own as the budget doesn't include the cost of bike rental. Hence, in case you plan on renting a bike, the budget would exceed by a minimum of INR 13,500 to INR 15,000 per bike for a minimum of 15 days.
PLACES TO VISIT
1. Pangong Tso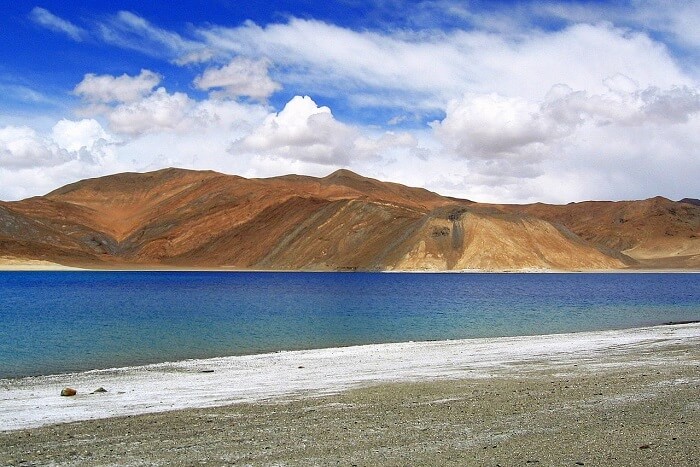 Popularly known as the Pangong Lake, this natural marvel set in the lap of Ladakh is a must visit tourist attraction on your Leh Ladakh bike trip. Located in the heart of Himalayas, the lake stretches at a distance of about 134 kilometers offering scintillating views in sync with the rustic mountains.
2. Namgyal Tsemo Gompa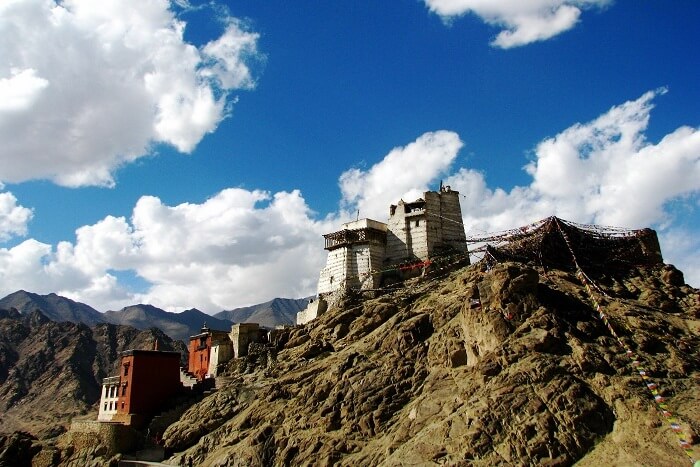 Much famed to be one of the famous monasteries in Ladakh, Namgyal Tsemo Gompa or Namgyal Tsemo Monastery is located right in the heart of Leh district. It is believed that Ladakh's King Tashi Namgyal founded the monastery in 1430, that serves as a home to the famous golden statue of Maitreya Buddha.
3. Zanskar Valley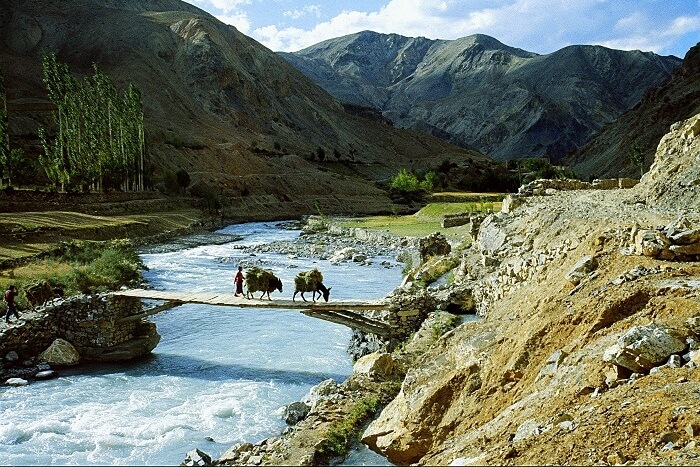 Suggested Read: 10 Festivals Of Ladakh That Celebrate The Life In The Valley
Hues of soothing blue and beautiful brown can only be witnessed at the famous Zanskar Valley which is surrounded by the massive snow-clad peaks on all sides. One visit to the bustling Valley is sure to leave you charmed forever.
THINGS TO DO
4. Experience The Magic Of Nubra Valley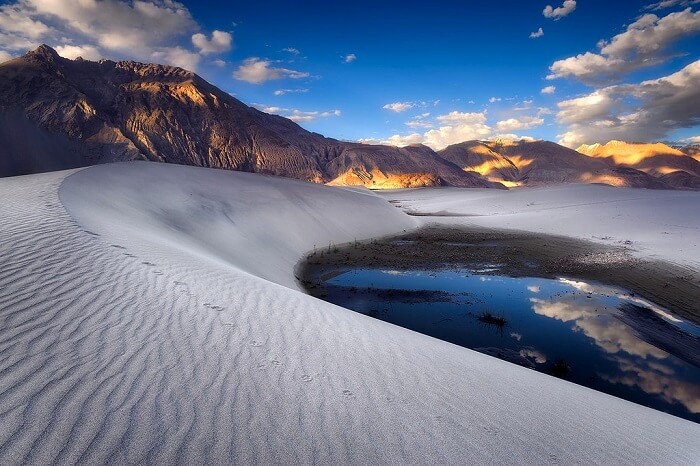 Serenity is what strikes one's mind on reaching the renowned Nubra Valley. The valley is popularly known as "the valley of flowers" referring to the beautiful and colorful blooming flowers that are worth a visit to the Nubra Valley.
5. Find Solace At The Shanti Stupa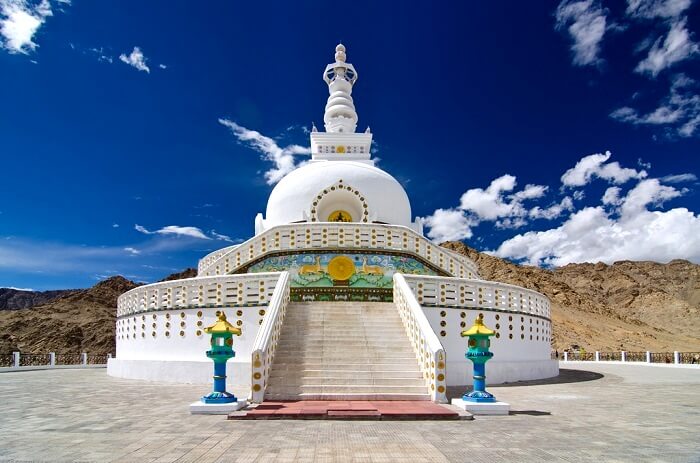 Perched atop a hill, the famous Shanti Stupa is set at an elevation of whooping 4267 meters. Offering panoramic views of Leh, it is a must for the bikers to witness either sunrise or a stunning sunset from the Shanti Stupa.
6. Test Your Riding Abilities At The Khardung La Pass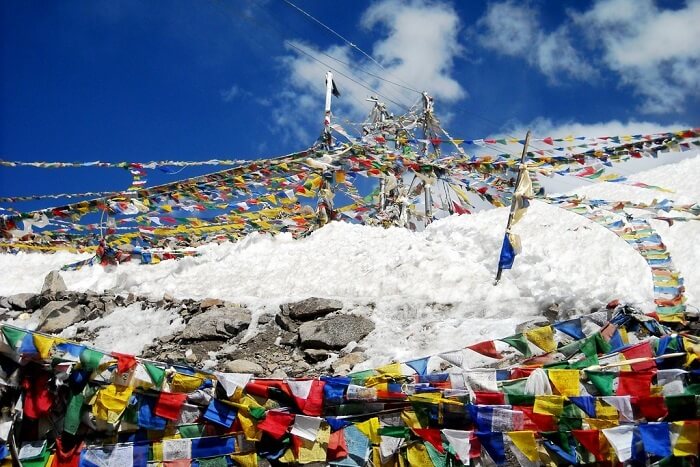 Set at a heart-wrenching height of 18,379 ft. and located at a distance of about 40 kilometers from Leh, Khardung La Pass is one of the most dangerous motorable roads in India. Challenging the bikers and the drivers in the face, your Leh Ladakh bike trip is incomplete without experiencing a ride through the "Pass of Lower Castle".
MUST EXPERIENCES
7. Royal Leh Palace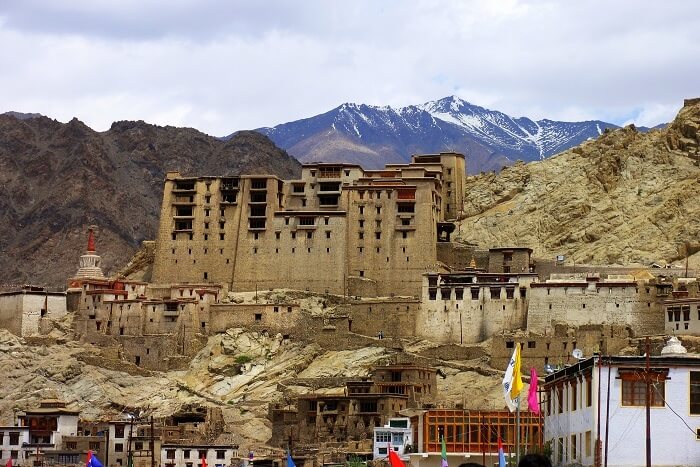 Suggested Read: 11 Best Things To Do In Ladakh That You Can't Afford To Miss!
Considered to be a gem in the heart of Ladakh, the 17th-century royal Leh Palace was built by the famous King Sengge Namgyal. Standing tall at a height of about 9 stories, you can soak in the natural beauty of Leh's whole town, Stok Kangri, Zanskar ranges, and Indus Valley from the roof of this elegant yet rugged palace.
8. Magnetic Hill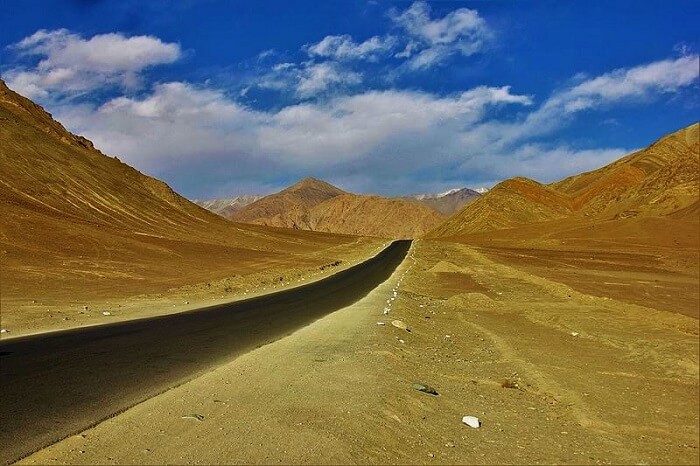 Magic and Magnetic Hill go hand in hand. Encircled by the Sindhu river on all sides, Magnetic Hills rise to a height of about 14,000 ft. and possess a unique kind of magnetic force that pulls the bikes and cars uphill. Sounds magical, isn't it? Try it for yourself!
9. Drass Valley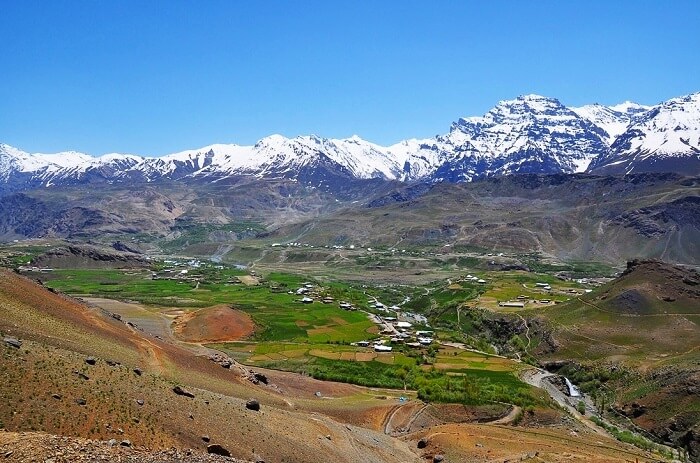 Famous for its natural hot springs that are blessed with medicinal benefits, Drass Valley is located in the heart of Kargil district, Jammu & Kashmir. Renowned to be the second coldest inhabited region in the world, Drass Valley strikes a perfect balance between the lush greens, soothing blues, and bold browns.
WHAT TO PACK
Going on a bike trip is like hard-core backpacking through the roughest of mountains. It is an adventure trip to Ladakh which needs packing to be light yet all the basic requirements need to be carried along.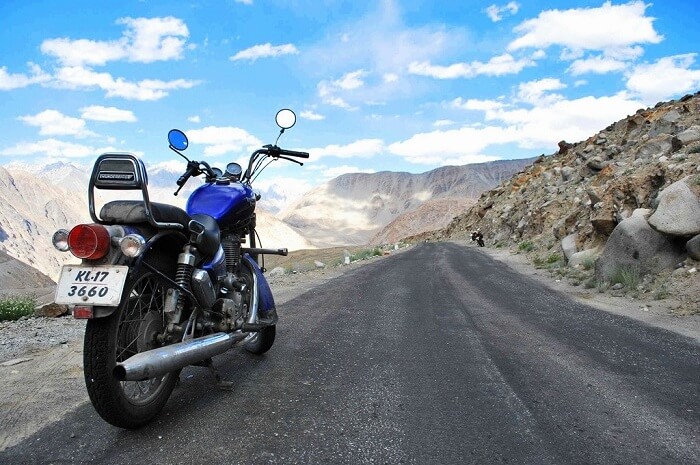 An intelligent head on strong shoulders is a matter of life and death for everyone. Hence, carry a sturdy helmet and put it to use all the time while you're riding.
Valid photo identity proofs and not to forget your driving license.
One or two leather jackets are a must to glide through wind and beat the breeze.
Carry sweatshirts, tees, jeans, shorts, shirts, tracks, inner-wear, socks, towels, handkerchiefs, and other clothing items that you may feel necessary.
Carrying an extra pair of sturdy trekking shoes or leather boots will keep you away from cold feet.
Match your shoes with an extra pair of gloves.
Riding goggles to protect your eyes.
It is a must to carry a first-aid kit for yourself and a tool-kit for your bike.
You'll be equipped with GPS for sure but then carry a physical map for better navigation and clear routes.
Charger, power banks, bluetooth headset, batteries for backup, etc. are few other necessities to carry.
Keep a torch with you, even if you think you don't need it. You never know when a need may arise.
A good-quality camera would be a necessity too to capture the breathtaking landscapes.
Carry a Swiss Army Knife for self-defense since traveling on a bike increases the level of danger automatically.
Camping tents, cooking utensils, sleeping bags, and other camping equipment can be easily rented whereas one can carry them as per their level of comfort.
Carry basic toiletries of toothbrush, toothpaste, shampoo sachets (to save a little space and easy disposability), face wash, liquid soap, moisturizer, cold creams, etc.
Last but not the least, carry loads of sunscreen with maximum SPF to protect your skin from direct sunlight.
TIPS
It is believed that rules are meant to be broken and some of you may get the feeling of "your life, your rules" but then it is not at all advised to go on a bike trip with a wrong attitude.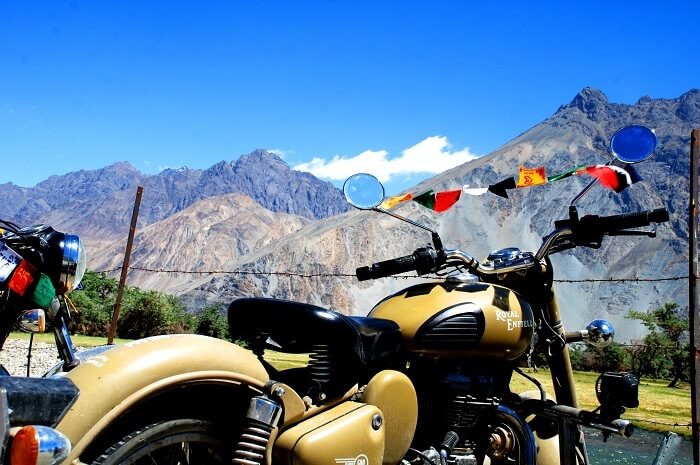 Suggested Read: 9 Astounding Treks In Ladakh That Need To Be On Every Hiker's Bucket List
Breaking the rules on one of the most dangerous and highest motorable roads can be dangerous as death itself. Hence, for your own sake and safety, abide by the rules and follow them wisely.
If you're taking the route of Manali to Leh, it is recommended to carry extra jars of petrol apart from the full-tanks as there are only two petrol pumps on this route. On the contrary, the route from Srinagar to Leh has plenty of petrol pumps.
It is advisable that you learn how to change a bike tyre in case your bike suffers any punctures. For the rest of the times, one can find many mechanics along the way on both the routes.
Carry necessary medicines with you in case you, your partner, or your friends with whom you're traveling suffer from altitude sickness.
It is important to note that Leh only has connectivity from the leading operators of Airtel, BSNL, & Aircel. Riders who don't have these connections do not have any other choice other than standing in the long queues of over-crowded STD booths or getting a connection from one of the above-mentioned operators.
Though there are several ATMs at Leh, carry enough cash with you as the ATM you'll find on Manali to Leh route is at Keylong.
Applying for an Inner Line Permit will only cost you INR 200 and will give you an access to remote places like that of Tso Moriri, Chushul, Merak, Loma, Mahe, Hanle, and more. One can apply and get this permit from the Deputy Commissioner's office in Leh from 9 am to 3 pm.
And that's a wrap from us. Also, other than the bike tours, one can also explore this natural marvel by customizing amazing Ladakh tour packages with TravelTriangle. As you embark on your journey, we hope you enjoy a safe and sound bike trip to Leh Ladakh.
Cheers!
Comments
comments