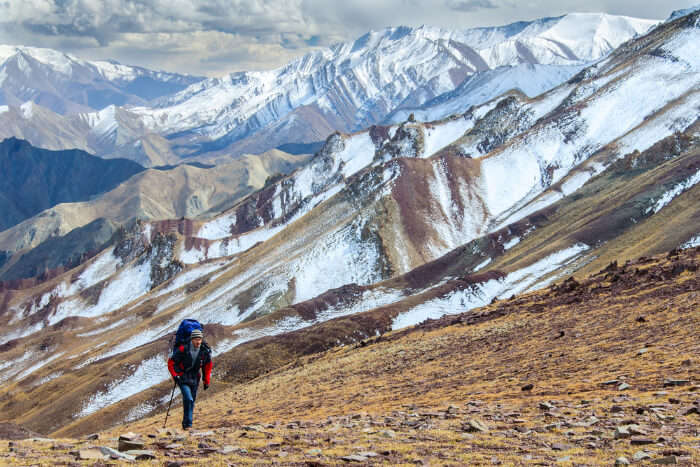 Trekking in Ladakh is every hiker's dream. Walking past the desert mountains into the narrow passes, over the highest roads, the Ladakh trekking experience is arguably the best in the country, if not in the world. Truly a paradox of nature, this landscape of extremes has a myriad of beautiful elements of nature–from the desert to blue waters, burning sun to freezing winds, and from glaciers to sand dunes. If you are the adventurous kind, missing these treks in Ladakh is a sin. So, make sure you plan a trip for trekking in Ladakh, India this year after picking your adventure from below.
Easy Treks: Trekking In Ladakh For The Beginners
If you are planning a family trek in Ladakh, or intend to go trekking on a corporate outing, it is important to choose wisely. For beginners, we recommend the four easiest treks in the Ladakh region.
1. Lamayuru To Alchi Trek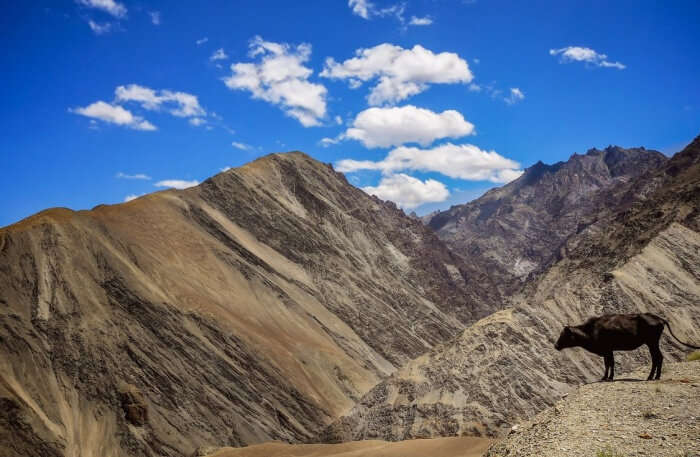 What makes this experience of Ladakh trekking so famous amongst the trekkers is the short duration and the chance to interact with the inhabitants of the remotest villages. Also, the presence of a large number of monasteries on this route makes the experience of Ladakh trekking all the more special. So, if you're planning for adventure trekking in Ladakh, give this one a shot and you would not regret it for sure.
Maximum altitude: 17,178 ft
Duration: 5 days
Best season: May-November
Highlights: Lamayuru monastery, Indus river, Sham valley, Alchi monastery, Ladakhi culture, Remotest villages
Say Good-Bye To Your Virtual Society: 7 Places For An Internet Free Vacation
2. Ripchar Valley Trek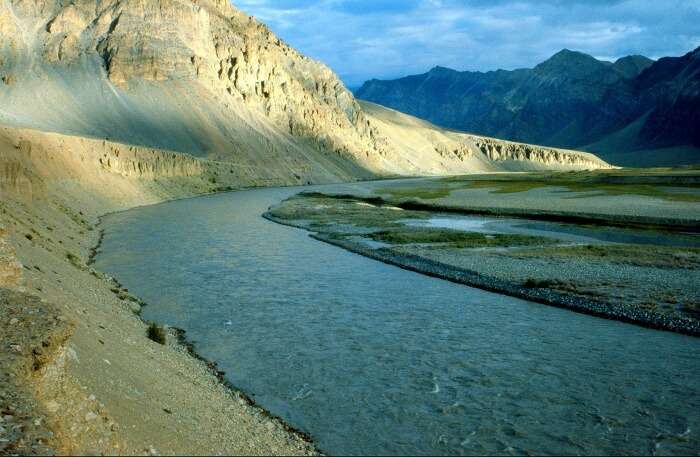 This Ladakh trek begins at the Lamayuru monastery. It is one of the most intriguing treks of the region and is dotted with a number of small villages and pasture lands, making your trekking in Ladakh experience all the more thrilling and scenic. The irrigated crop fields of the Zanskar and Karakoram Range, and the valleys blooming with flowers in July and August are a treat for the eyes of the trekkers.
Maximum altitude: 17,060 ft
Duration: 9 days
Best season: June-September
Highlights: Parallel mountain ranges, Ladakhi culture, famous village Hinju, isolated villages, chilling valleys
3. Padum To Darcha Trek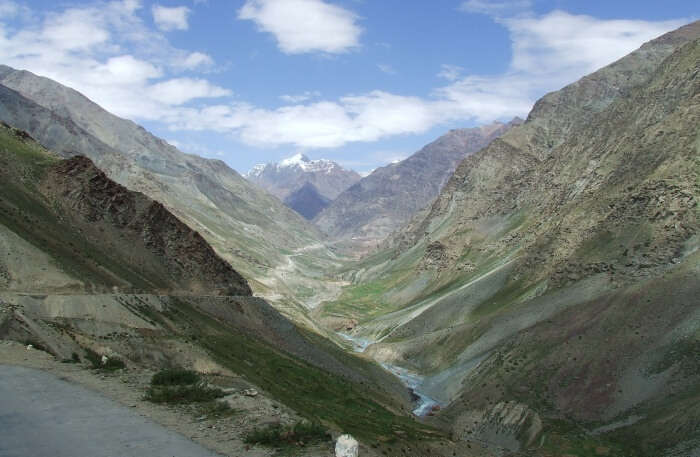 Trekking in Ladakh is an amazing experience with treks like the Darcha-Padum, which passes through a number of regions with varied topography. It extends from the Padum region of Zanskar valley, passing through Tokpa, Chalang, Ramjak, and Lakong, and up to the Darcha region of Himachal Pradesh. Another reason for the popularity of this trek is that the trail that leads to one of the most famous regions in Ladakh – Kargil.
Maximum altitude:16,568 ft
Duration: 12 days
Best season: June-September
Highlights: Manali, Kargil, Mulbek, prayer wheels
The Spell Binding Effect: 50 Places To Visit In Leh Ladakh
4. Lamayuru To Darcha Trek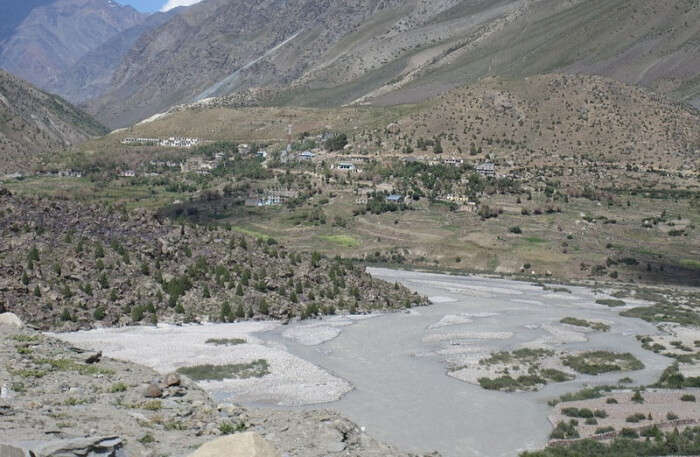 Tagged as one of the world's most desirous trekking grounds, Lamayuru To Darcha trek is well connected to the Zanskar valley. The Ladakh monasteries, such as Lamayuru, Phuktal, and Lingshed, lift up the spirit of the trekkers on this route. Making it pretty much the longest trek in Ladakh, this is an experience worth adding to your bucket list. Though it's slightly difficult and is best suited for professional trekkers with good stamina, it still is counted amongst the most fun experiences of trekking in Ladakh owing to all it provides.
Maximum altitude: 16,404 ft
Duration: 18 days
Best season: July-September
Highlights: Zanskar river, lush Photang, green fields and village of Lingshed
Moderate Treks: For Those With Trekking Experience
The two subsequent Ladakh treks offer the scenic view of the valleys and mountains. However, first-timers be warned. These treks are recommended only for those with prior experience of trekking in Ladakh.
---
Planning your holiday but confused about where to go? These travel stories help you find your best trip ever!
---
5. Markha Valley Trek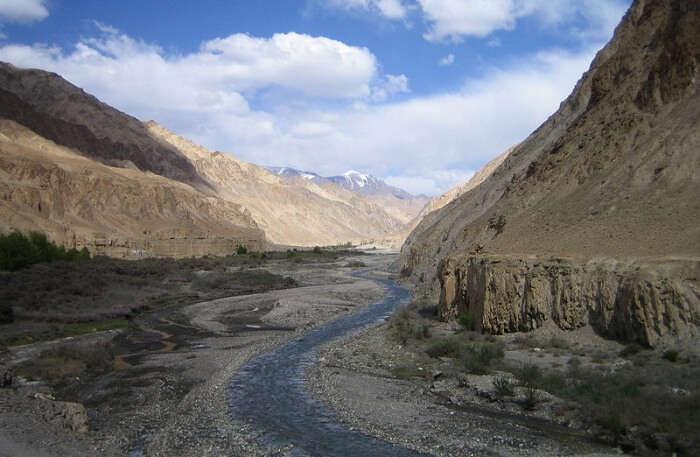 The scenic landscapes, green oasis in and around the region, and the Kongmaru La pass at 5000 m above level make this experience of trekking in Ladakh all the more special. The Hemis National Park with its amazing biodiversity is another major attraction. If you can't wait for the winter to come, this is where you need to venture out.
Maximum altitude: 17,060 ft
Duration: 8 days
Best season: June-September
Highlights: Stunning view of Kang Yatze peak, Kongmaru La pass, Rumbak village trail, Leh Palace, Markha village, Hemis National Park and Green Oasis.
Don't Tell Yourself You've Been To Ladakh If You Haven't Done These Things
6. Lamayuru To Stok Kangri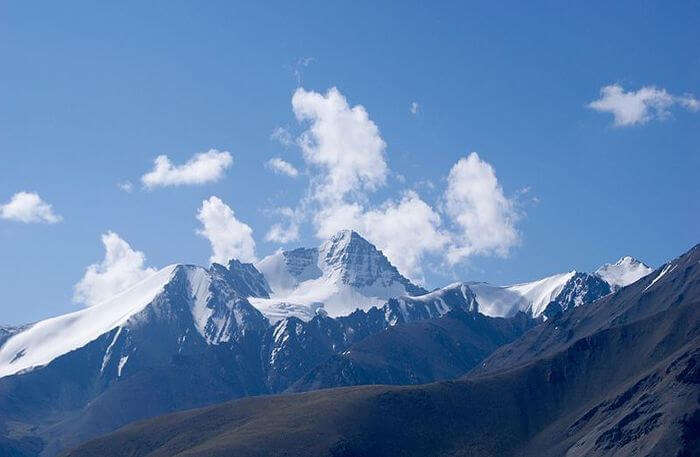 One of the most famous treks in Ladakh, the trek to the Stok Kangri summit is popular for the view of the Stok summit and the sunlit Zanskar and Karakoram peaks. Offering gorgeous views of the Himalayas, this is the most soul-stirring adventure in the region. If you wish to see the places unseen, pick this particular trekking in Ladakh experience for your trip.
Maximum altitude: 20,177 ft
Duration: 12 days
Best season: Mid June-September
Highlights: Ursi village, Rumbak valley, Lamayuru monastery, Stok summit
7. Lamayuru Stok Kangri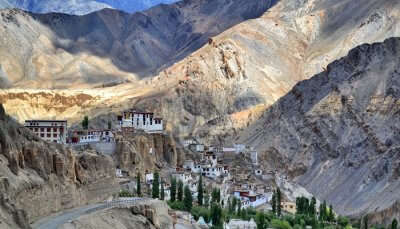 Image Credit: 2Backpackers for Wikipedia
The Lamayuru is an old and ancient monastery that rests at a distance of 120 km from Leh. This is one of the base points from where the trek to Stok Kangri begins. There is no doubt that this trek is very beautiful to experience and difficult at the same time. In this trail falls the places like Wanla, Konzke La, Dundunchenia, Chilling, and Ganda La. All these places let the trekkers experience the best views of the landscapes along with barren lands and green meadows.
Maximum altitude: 20,187 ft
Duration: 12 Days
Best season: June-October
Difficulty: Moderate
11 Adventure Sports In Ladakh For A Thrill 2022 Vacay In The Hills!
Challenging Treks In Ladakh: For The Pros Only
Trekking in Ladakh can be highly challenging as well. The following three treks are for professional trekkers and for those who want to push their limits. The terrains are steep and require preparation- both mental and physical –before pursuing these treks. These Ladakh trekking expeditions need constant acclimatization to the unsettling temperatures.
8. Chadar Trek Ladakh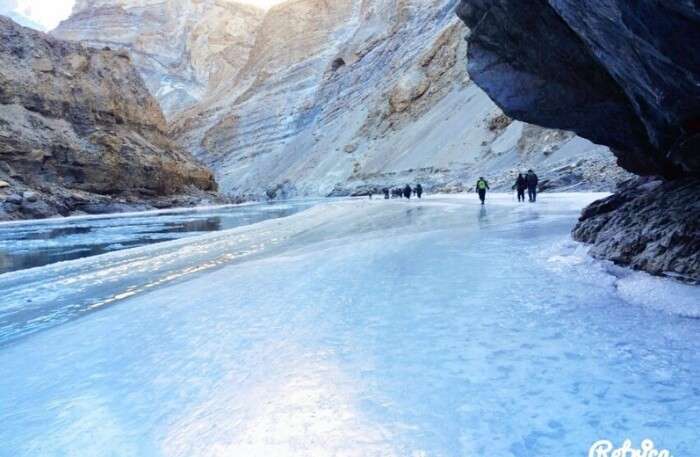 At temperatures as low as -35 degrees Celsius, the Zanskar river (Tsarap River) freezes and forms a sheet of ice, making the whole Zanskar trek a fun feat. Walking on the river at times feels like sliding on ice and is pretty difficult. But the chilly experience, and beautiful sights of the frozen river and the Shanti Stupa makes this experience of trekking in Leh all the more exciting. However, the Chadar Trek in Ladakh should only be undertaken by those who are physically fit and can withstand extreme temperatures.
Maximum altitude: 11,123 ft
Duration: 9 days
Best season: Mid January-February
Highlights: Shanti Stupa, Walk on a frozen river
What Makes It Difficult?
Walking on the frozen river is very difficult. At times, trekkers need to climb icy rocks and boulders. Then, the temperatures are very low during the daytime and uncomfortably freezing at night.
9. Jhunglam Hemis To Padum Trek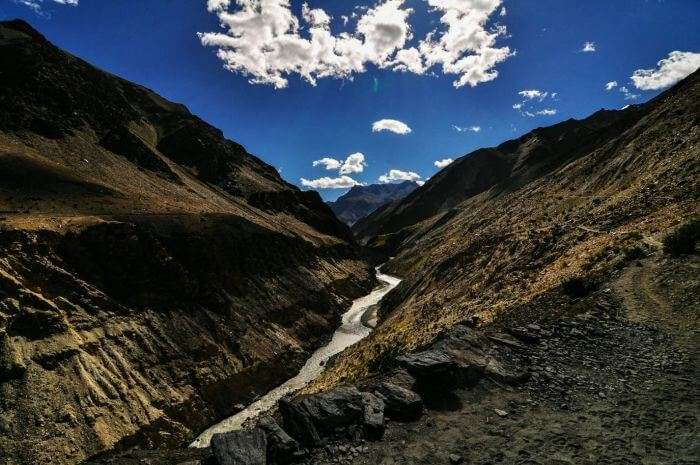 This trek goes via the beautiful monastery of Hemis and Latza Kongmaru and then passes through Zalung Karpo La, Tilat Sumdo, Zangla sumdo, and then finally ends at Padum. For trekking in Ladakh 2022, this experience is a must-have if you've got ample time for treating the adventurer within.
Maximum altitude: 11,100 ft
Duration: 12 days
Best season: August-October
Highlights: Kargil, Markha Valley, Hemis Monastery, river crossings
What Makes It Difficult?
Walking on the frozen river is very difficult. At times, trekkers need to climb icy rocks and boulders. Then, the temperatures are very low during the daytime and uncomfortably freezing at night.
12 Festivals Of Ladakh In 2022 That Celebrate The Life In The Valley
10. Kang Yatse and Dzo Jongo Trek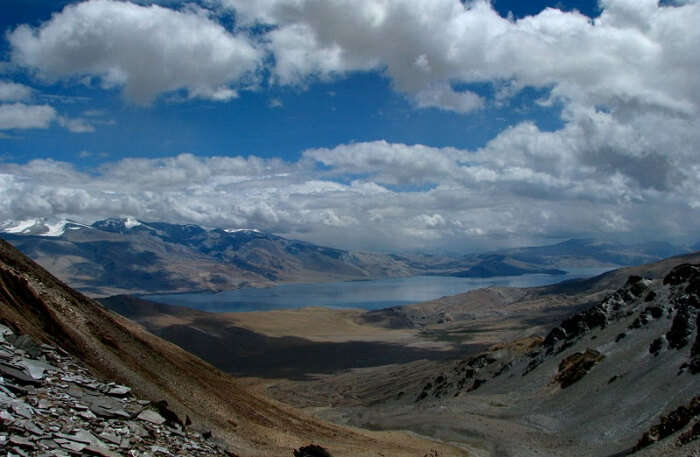 To enjoy the true thrill and adventure of Ladakh trekking, this 13-day trek is a must-do for professional trekkers. The spectacular views of Zanskar and Stok range from the Ganda La pass, the camping en route, the view of the wildlife at Hemis National Park, the hike through valleys, and visiting monasteries makes this trek a wonderful experience for trekkers indulging in this particular feat of trekking in Ladakh.
Maximum altitude: 20,341 ft
Duration: 13 days
Best Season: July-September
Highlights: View of the Karakoram and Zanskar ranges, Hermis National Park, Stok Range, and Zingchen
What Makes It Difficult?
In addition to the difficult terrain, this Ladakh trekking tour requires a lot of acclimatization. Hence, the first 6 days of this 13-day trek is dedicated to acclimatization while on the move.
11. Snow Leopard Trek

If you are planning for trekking in Ladakh 2022 and have frequently hiked up the rough terrains that venture into the wild, the Snow Leopard Trek is an experience you ought to add to your list. Starting and ending at Leh, the base camp of this trek is Zingchen. Letting you walk on the frozen paths amidst the vibrant flora & fauna, this popular winter trek will give you that much-needed adrenaline rush.
Maximum altitude: 19,850 ft
Duration: 8 days
Best season: Mid November-Mid March
Highlights: Snow leopards, sights of snow-covered Himalayas, frozen pathways
What Makes It Difficult?
The rugged mountains and stretches of terrains that takes one through the Hemis National Park, in the world of wild make this trek difficult.
Losar Festival Ladakh: A Cultural Sojourn In The Land Of Mystic Lamas!
12. Stok Kangri Trek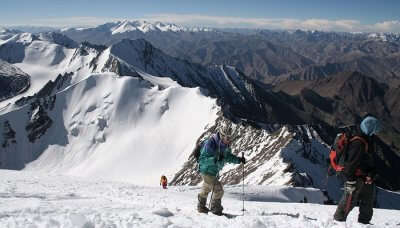 This is quite a challenging trek and gives a chance to the trekkers to enjoy something beyond unusual. Stok Kangri trek is one of the most rewarding treks in Ladakh which can be completed by someone who has excellent physical stamina and mental endurance. No matter how tough the trek is, it is considered to be one of the best treks in Ladakh which gives an enigmatic view of the landscapes. Alongside that there from the peak of the mountain one can witness the K2, Indus and also the Zanskar Valley.
Altitude: 20,080 ft.
Duration: 9 Days
Best Season: Mid July to Mid September
Difficulty Level: Difficult
Tips For Trekking In Ladakh

Wear layers and layers of thermals and warm clothing. Do not underestimate the weather.
Keep a tab on the weather forecast at all times. Cancel immediately even if there is the slightest chance of a storm or blizzard.
Make sure you only rely on quality gear and equipment from top brands.
Try and opt to be accompanied by a guide.
Pack light.
Tread slowly on icy terrain and muddy paths.
Pack knick-knacks and snack items that will keep you warm.
Carry two bottles of water and refill wherever possible.
30 Unpredictable And Non-Clichéd Places To Visit In Your 20s
So, what are you waiting for? The scenic sights of the Ladakh valley call you to come and experience the thrill of Ladakh trekking through these 10 treks. Let us know your favourite by commenting in the comments section below because we would love to know which is the best trekking in Ladakh that you have done or wish to experience.
For our editorial codes of conduct and copyright disclaimer please click here.
Frequently Asked Questions About Trekking In Ladakh
Which is the best trek in Ladakh?
The Frozen River Trek in Chadar is the most interesting trek in Ladakh, followed by Stok Kangri Trek, Snow Leopard Trek, Markha Valley Trek, Lamayuru to Chilling Trek, The Great Lakes of Kashmir Trek, Ripchar Valley Trek, and Lamayuru to Darcha Trek.
What are the best places to visit in Ladakh?
There are numerous beautiful places to be explored in Ladakh. However, if you are looking for the best places to visit in Leh Ladakh then the following are the attractions you must not miss out on while holidaying here- Zanskar Valley, Pangong Tso Lake, Kargil, Khadung-la Pass, Nubra Valley, Magnetic Hill, Spituk Gompa, Hemic National Park, Shanti Stupa, Royal Leh Palace, Chadar Trek.
What is the temperature in Ladakh in November?
Ladakh experiences cold weather in November with temperature ranging between 7 degrees Celsius to -6 degrees Celsius. All the highways to Ladakh are closed during this month and the plane is the only mode to reach Ladakh during November.
What clothes to wear in Leh in October?
You surely need warm clothes if you are travelling to Leh in the month of October. It is advised to wear a full-sleeved sweater with a windproof jacket. You can add more clothes as you feel cold. Don't forget to carry your gloves, socks, caps, muffler, etc. to protect yourself from cold.
What mainly attracts tourists to Ladakh?
Ladakh is known for numerous beautiful experiences that include scenic beauty, serene and illuminating culture, enormous mountain passes, romantic valleys, endangered wildlife species, majestic religious places, and daring expeditions.
Which are the top-rated monasteries in Ladakh
Hemis Monastery, Thiksey Monastery, Diskit Monastery, Likir Monastery, Spituk Monastery, etc. are some of the best monasteries in Ladakh where you can indulge in tranquil moments.
What can I buy from Ladakh?
There are numerous interesting things that you can buy from Ladakh such as Tibetan Handicrafts, ornaments made up of silver and stone, Pashmina shawls, rugs and carpets, and dry fruits.
Is it safe to drink alcohol in Leh?
Consumption of alcohol is not prohibited in Leh. However, liquor may cause dehydration in your body which may cause headaches and nausea while staying in Leh.
---
People Also Read