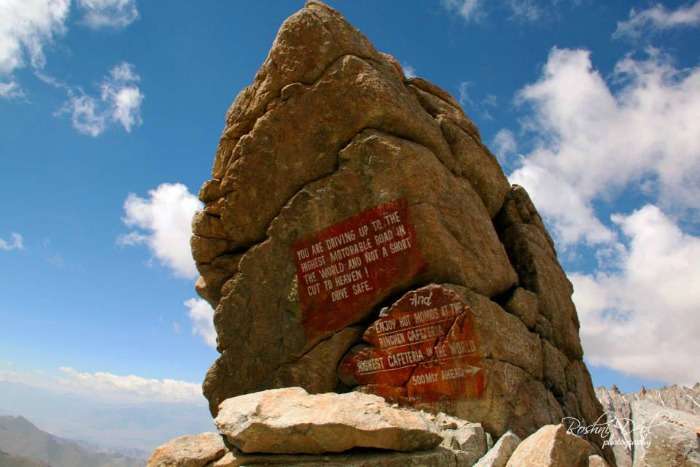 Ladakh is known for its unique culture and awe-inspiring landscapes. The snow-clad high peaks, cold deserts, and massive glaciers define the topography of the region. And then there are some breathtaking lakes & rivers that captivate the visitors and offer ample opportunities for rafting. Other than river rafting and taking a sightseeing tour of the beautiful places to visit in this region, there are some of the things to do in Ladakh that you simply cannot miss. These tourist attractions and activities ensure a joyful and exciting trip to Ladakh.
17 Best Things To Do In Ladakh
If you're going to Ladakh for the first time, make sure to indulge into these fascinating activities and explore the culture and traditions of the place.
1. Hemis Festival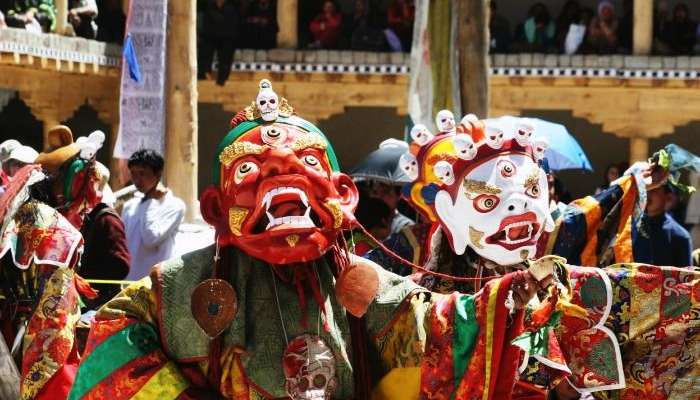 One of the best things to do in Ladakh is seeing the Llams perform the colorful Chhams. You haven't felt the spirit and true magnetism of Ladakh if you haven't seen the dance drama flaunting vibrant clothes and formidable masks. Attend the Hemis Festival or Ladakh Festival to be mesmerized by the colourful dances.
Where: Hemis Monastery
When: 11th July to 12th July 2019
Highlight: the Chham Dance is quite famous; people dance wearing masks and the dance is symbolic of good winning over bad
Must Read: 38 Most Colorful Places In India That Will Make Your Heart Skip A Beat
2. Spot A Snow Leopard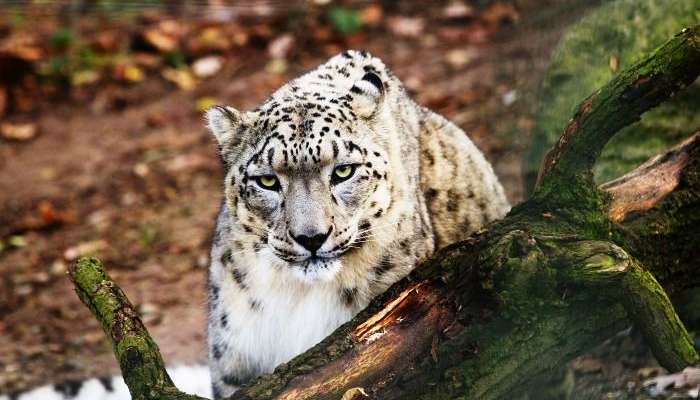 Image Source
There is nothing as breathtaking as looking at a Snow Leopard seen in only a few places in the entire world. Spot the beautiful animal on the snow leopard trek in one of the popular Ladakh attractions – the Hemis National Park, home to more than 200 snow leopards which can be seen only in the winters.
Where: Hemis National Park
Must Read: 13 Places You Need To Visit For The Best Wildlife Experience in India
3. Bactrian Camel Safari At Hunder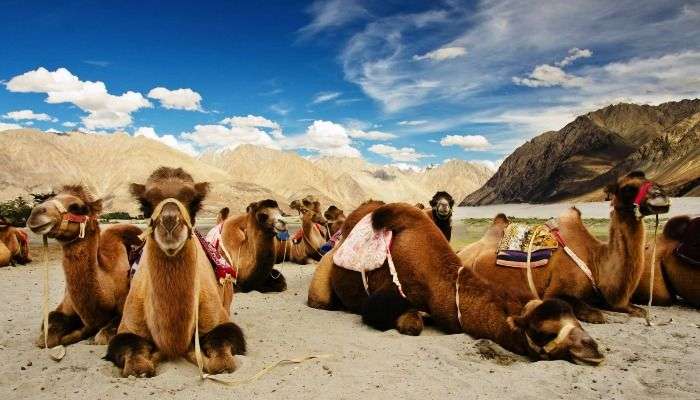 A ride on the double humped Bactrian Camels at the sand dunes of Hunder is number three on our list of things to do in Ladakh for its terrain along the breathtakingly beautiful Shyok and Nubra River. This is the integral part of the caravans that used to travel on the ancient trade route.
Where: Hunder
When: during the summer months of June to September
Highlight: the scenic beauty that you'll witness during your ride from Hunder to Turtuk
Must Read: The Ultimate List of Adventure Holidays In India for Summer
4. Highest Cafeteria In The World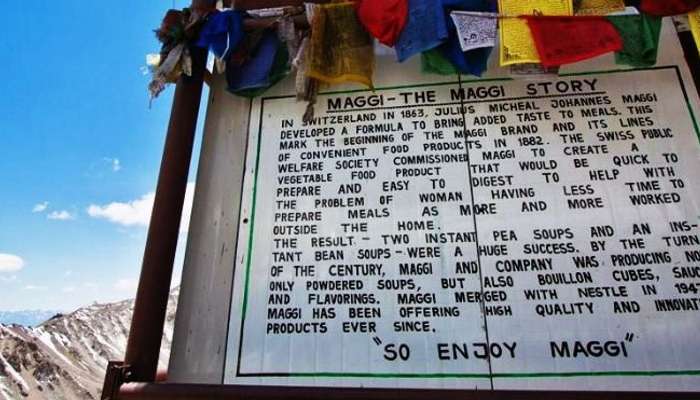 One of the unique Ladakh attractions is the Maggi point at the highest cafeteria in the world. You may have eaten this noodle everywhere possible, but you have not truly enjoyed it till you savor the 2-minute noodle overlooking the Himalayan ranges at Khardung La Pass, one of the highest motorable passes in the world.
Where: Khardungla Pass
When: the best time to visit Khardungla Pass is from April to June as well as September to October
Highlight: the fact that Khardungla Pass is the highest motorable road in the world is enough to give you a reason to visit this place
Must Read: 9 Astounding Treks In Ladakh That Need To Be On Every Hiker's Bucket List
5. Try Yak Cheese And The Yak Cheese Momos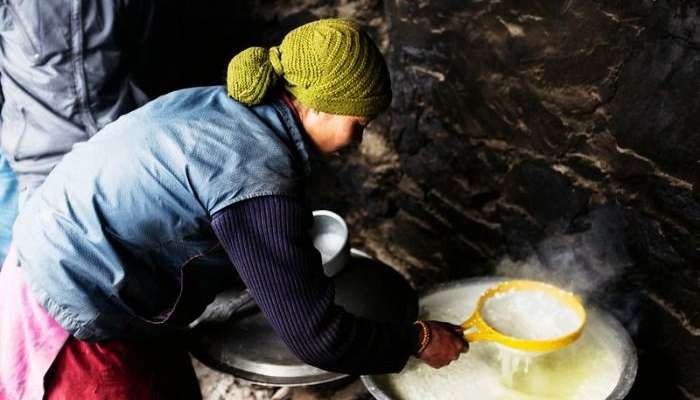 Image Source
The wish-granting yak gives the nomads milk, butter and meat for the table and in absolutely no other part of the country are you going to get the chance to try out cheese made from the milk of Yak. Also called Chhurpi, try it in its local form or as the delicious Yak cheese momos. This definitely has to be on your list of things to do in Ladakh.
Where: Gesmo restaurant, Opp. Hotel Yak – Tall Fort Road Leh Jammu and Kashmir, 194101
Suggested Read: 10 Offbeat Trekking Spots in The Himalayas
6. Hang Out With The Monks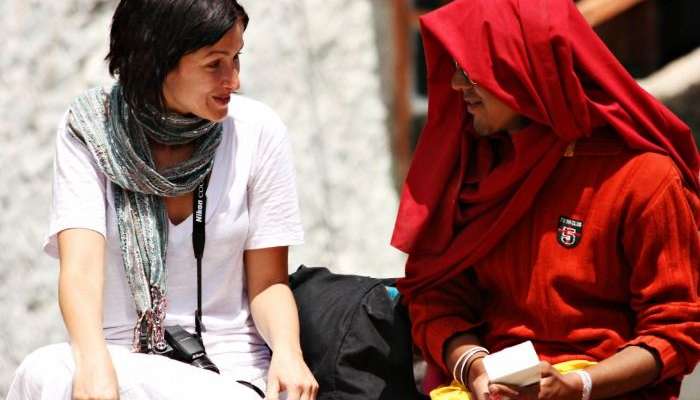 While connecting with the tourists and the locals on your trip is fun, but nothing can beat the magical aura of these Buddhist monks in the valleys of Ladakh who can be seen roaming around and meditate at the monasteries. Hung up on a monk strolling at a monastery and stay set to interact with him on his wise, divine experiences.
Suggested Read: 9 Types Of Girls You Would Love To Meet While Traveling
7. Morning Prayer At A Monastery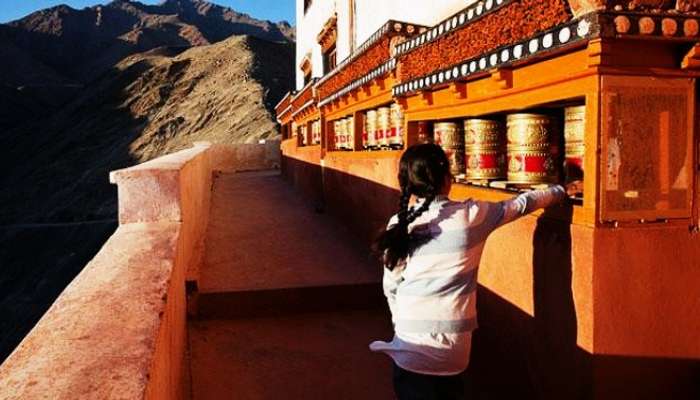 Don't just visit the popular Ladakh attractions but also make sure to visit the beautiful Buddhist monasteries, instead stay overnight at the one! Enjoy a stay at Hemis monastery overnight which enables you to attend early morning prayers, a moving rejuvenating experience and we strongly recommended it.
Where: Hemis Monastery
When: 8:00 AM
Highlight: Morning prayers will be a mesmerising sight to see and will prove to be a great experience
Suggested Read: 12 Festivals Of Ladakh In 2019 That Celebrate The Life In The Valley
8. Adventurous Roads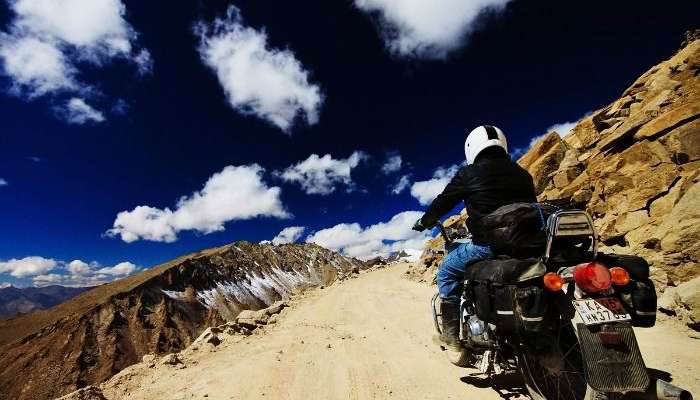 To all the adrenaline junkies out there, a bike ride on the narrow & rocky terrains has to be on your list of adventurous things to do in Ladakh. Your trip is incomplete until you have driven the lonely but beautiful roads on a motorbike with nothing but the clouds above and the formidable mountains around. And if you are really in the spirit then drive to the Khardung-La pass, which at an altitude of 5,602 m is one of the highest motorable passes in the world.
Where: Khardung-La pass
When: if you want to experience the best of this pass, then make sure you plan your visit here in the months of April to August and September to October
Highlight: it is considered to be the world's highest motorable road
Must Read: 7 Bullets Narrating Our Tales Of Ladakh
9. Eat Hot Butter Tea And Local Brew Chang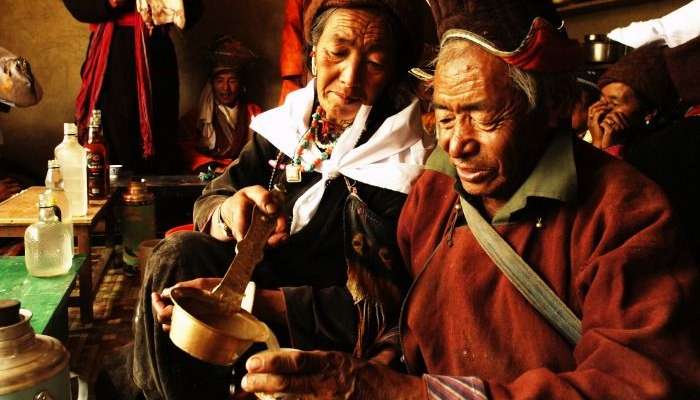 You might have had chai on every other place in the country, but when in Ladakh you have to try out the local Butter tea and if you are in for a good time then try out Chang, the local brew made in a cylindrical porcelain pot by fermenting miller. For the tea lovers this is a must thing to taste while in Ladakh.
Highlight: the best thing about the two beverages is that they give you a fair idea about the local culture of Ladakh
Suggested Read: 10 Insane Adventure Destinations in India for a Mad Vacation With Friends
10. Stay With The Locals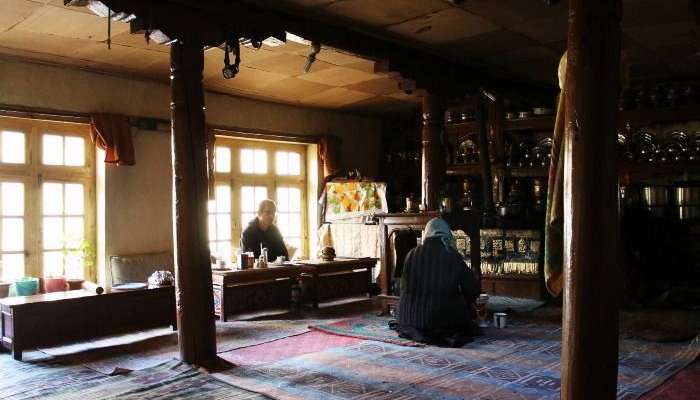 Hotel stays are great but it isn't a trip to Ladakh if you don't experience life in the mountains. Get a whiff of the local culture first hand as you stay with a native Ladakhi family. Feast on the Ladakhi cuisine prepared right at home for an unparalleled experience.
When: NA
Highlight: if you'll stay with the locals, you'll get a better idea of their lifestyle and their place will be like a home away from home
11. Old School Mills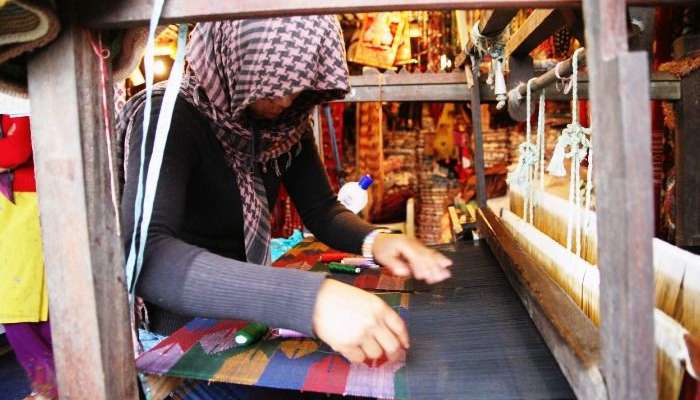 See how one the most expensive handlooms in the world – the Pashmina is crafted only at these old school mills in Ladakh. You can haggle over prices in your city but this is one of the places you can actually see the magic at work. Extra points if you can find a Pashmina goat to pet. You will wish you could take one home.
Highlight: a Pashmina will give you an idea about the history as well as artistic aspect of Ladakh. It will also throw a light on the skills of artisans that live here
12. Spituk Gompa Trek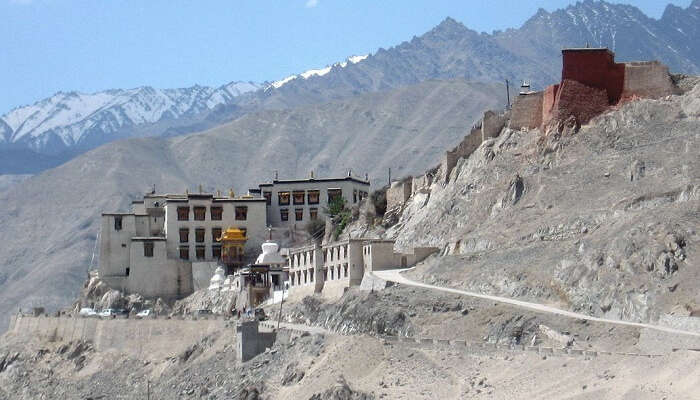 Spituk Gompa is a magnificent ancient monastery resting at the top of a hill. One of the unique monasteries in Ladakh, it is quite a great place to explore by the adventurous souls. This location looks quite a vantage point along with the uneven mountains surrounding the place.
Where: Leh, Jammu and Kashmir 194104
Highlight: standing here one can enjoy a beautiful view of the entire landscape while enjoying the silence in the air
13. Zanskar Valley Tour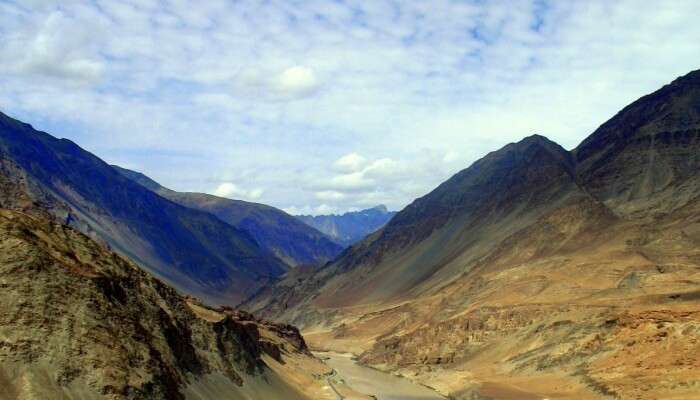 This valley lies in the secluded region of Ladakh and is one of the most-visited places owing to its breathtaking view. This valley is considered to be a part of the Tethys Himalayas. There are cave monasteries and trekking trails enveloped within an awe-striking natural setting. You can even come to this side for enjoying thrilling river rafting.
When: the best time to visit Zanskar Valley is considered to be July to September
Highlight: come to this valley if you want to undergo an unparallelled sightseeing experience
14. Tso Moriri To Chill And Rejuvenate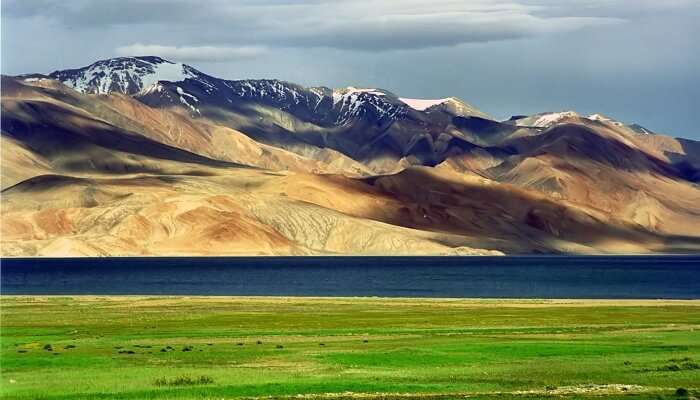 If you're looking for a place where you can just sit and chill and enjoy the breathtaking views around, then picnicking at Tso Moriri can be a great idea. This lake is not that popular amongst the lakes of Changtang Wildlife Sanctuary. However, it is considered to be quite similar to the much-famous Pangong Lake. This lake is around 100 feet deep and is surrounded by the majestic hills.
When: during the winters, this lake freezes and therefore the summer months of May, June, July, and August are considered the best for visiting this lake
Highlight: apart from the hills, you can witness some unique species of flora and fauna here
15. Magnetic Hill For A Startling Experience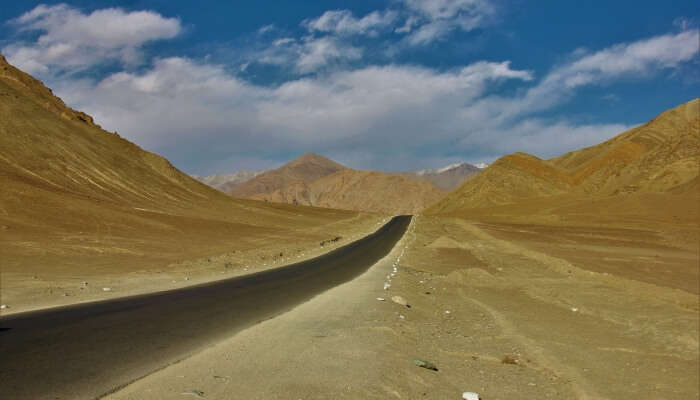 This hill is famously considered as the anti-gravity hill, as you'll see that the vehicles don't seem to move according to the force of gravity at this place. If you want to see the proof, park your vehicle and watch it move uphill on its own. Leh is at a distance of 30 kilometers from this hill and it is a must visit when you're out to explore the magnificent tourist attractions!
When: the best time to visit this place is considered to be between the months of July and September
Highlight: there are some mythical stories attached to this hill which makes it all the more worthy to explore
16. Namgyal Tsemo Monastery For A Cultural Insight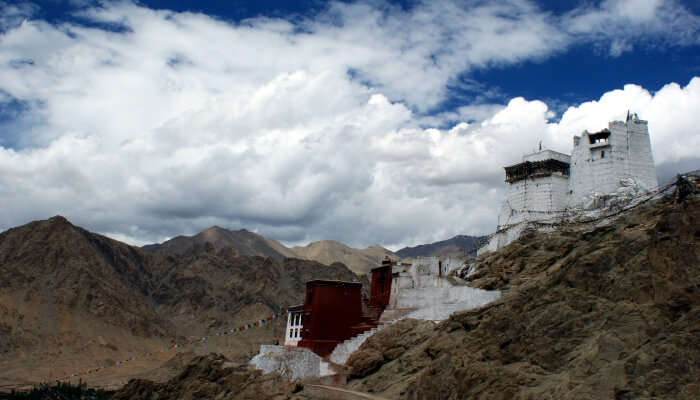 If you want to get closer to the spiritual aspect of Ladakh, then a visit to this monastery is a must. Traveling to this monastery is itself an experience you will cherish. On your way, you'll witness the beautiful mountains, making the whole experience more mesmerising. Many people come to this monastery to seek knowledge of Buddhism.
Highlight: the vibes at this monastery are quite amazing, making it one of the best places to visit
17. Lamayuru For Stargazing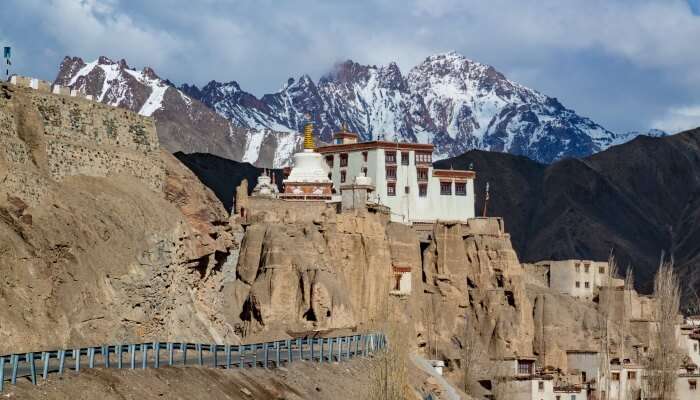 If you want to watch the stars twinkling while sitting amidst the beautiful mountains, then this is the place for you. Popular by the name, Moonland of Ladakh, Lumayuru is a hamlet that lies at the Srinagar to Leh highway, at a distance of 100 kilometers from Leh. This place is essentially famous for the Tibetan Buddhist Monastery. This is the place where you'll see the nature at its best. People from different regions come to this spot to enjoy the nature's best gifts!
When: you can visit this village in the summer as well as monsoon months. However, it is suggested that you must stay careful during the monsoons as the chance of landslides are quite high
Highlight: stargazing at this point would be a delight and an experience that you'll never forget
Further Read: 7 Most Beautiful Villages in India That You Must Visit Before You Die
So, hurry up, it's Ladakh calling! If you can't keep your adrenaline rush at bay and want to experience the best sightseeing around this pristine land, then make sure to indulge into these fascinating activities. But before that make sure to plan your Ladakh vacation with TravelTriangle!
Frequently Asked Questions About Things To Do In Ladakh
Q. What is famous in Ladakh?
A. Ladakh is famous for its scenic beauty, Buddhist monasteries, unique culture and exciting adventure spots. It is also known for its amazing trekking routes. Leh, Ladakh's administrative capital, is also popular among tourists because of its beautiful surroundings and monasteries.
Q. Which is the best time to visit Ladakh?
A. April marks the start of tourist season in Ladakh and it is the best time to visit Leh Ladakh. However, June is also considered one of the best times of the year to visit Leh by bike. Visiting Leh Ladakh is still a cherished trip for many. If you wish to see the snowy roads and mountains this is the best time to go for a holiday. By mid-June, the snow begins to melt and therefore some of the most beautiful lakes in Ladakh is a treat to eyes.
Q. What attracts tourists to Ladakh?
A. The several places to visit in Leh Ladakh is surely an experience of a lifetime. The beautiful landscape, and the monasteries, Buddhist culture attracts tourists from all across the globe. Adventure activities like skiing, trekking and more also attracts travellers from far off.
Q. What food is famous in Ladakh?
A. Thukpa, Chutagi and Tapu are some of the famous food in Ladakh. These are the signature dishes of Ladakh which are worth drooling over.
Q. What are the main activities in Ladakh region?
A. Ladakh is famous for its adventure activities. It offers incredible opportunity for white water river rafting, camping, trekking and the exciting motor biking experiences. The Buddhist monasteries reflect the rich art and culture of the region and is one of the must-visit in Ladakh.
Q. What should I shop in Ladakh?
A. There are numerous things to shop in Ladakh. Some of the must-buy include Tibetan handicrafts and wares, silver and stone jewellery, pashmina shawls, other woolen items and Kashmiri carpets.
Q. What is the most important part of the people of Leh?
Q. What is the most important part of the people of Leh?
A. The most important part of Ladakh for its people is the Indus. The reason is that the most major historical and current towns namely Leh, Basgo, Shey and Tingmosgang are located close to the Indus River.
People also read:
Ladakh in winter Places to visit in Leh Ladakh Magnetic hill in Ladakh
Comments
comments