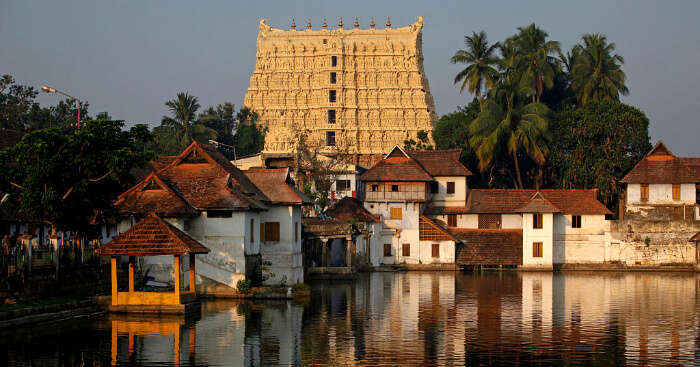 Explore the rich culture, heritage, and undying devotion of the people of Kerala. Temples in Kerala are a beacon of hope for devotees who come to visit them from all across the world. Some of the famous temples in India are among the world's richest temples, and they should be on your bucket list. Other than being divine places, these temples are also architectural wonders.
Here's the list of famous temples in Kerala you must visit
1. Sree Padmanabhaswamy Temple, Thiruvananthapuram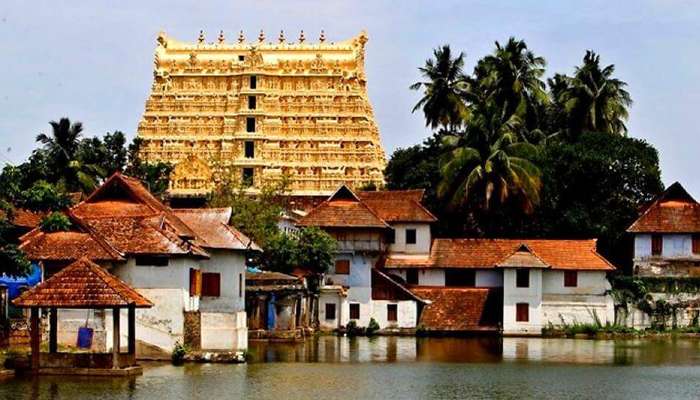 Image Source
Dedicated to Lord Vishnu, Sree Padmanabhaswamy temple, is one of the most famous temples in Kerala. Built in Dravidian style architecture, this temple dates back to 8th century and is considered as one of the oldest Vishnu temples in the country. The idol here reclines on Anantha- the eight-hooded serpent God. The beautiful temple structure, stone carvings and murals pull tourists round the year, but maximum footfall of devotees is seen during Alpashy festival in October and November and Panguni festival in March and April.
Opening hours: Darshan is allowed between;
3:30 Am-4:45 Am (Nirmalyadarsanam); 6:30 Am- 7: Am; 8:30 Am- 10 Am; 10:30 Am – 11:10 Am; 11:45 Am- 12 noon; 5: Pm -6:15 Pm; 6:45 Pm- 7:20 Pm
---
Kerala Holiday Packages On TravelTriangle
A holiday in Kerala will fill you with memories. Witness pristine backwaters with comfortable houseboats, lush green hill stations, waterfalls, and plantations of tea and spice. Indulge in an ayurvedic massage or taste exotic cuisines. Book a Kerela holiday on TravelTriangle. Best prices guaranteed.
---
2. Attukal Bhagavathy Temple, Thiruvananthapuram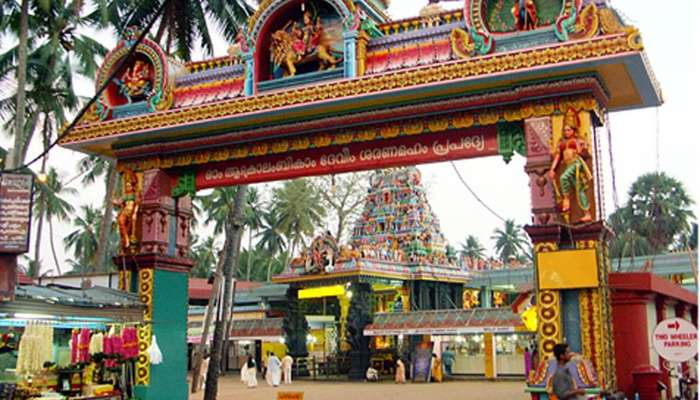 Image Source
Located close to Padmanabhaswamy temple, Attukal Bhagavathy is another popular temple in Kerala. The temple is dedicated to Kannaki- an incarnation of Parvati, who is also considered as Supreme Mother and creator of all living beings on Earth. This temple is famous for Attukal Pongala Festival, held every year in February or March. Millions of women from various parts of India participate in this 10- day long festival and cook Pongala- an authentic sweet dish made of rice, jaggery and coconut for the Goddess. Attukal Pongala Festival is enumerated in Guinness Book of World Records as the largest gathering of women for a single religious event, which make sit among the top 10 famous temples in Kerala.
Opening hours: 4:30 Am to 8:30 Pm. Nirmalyadarsanam starts from 5 Am. Usha Puja at 6:30 Am, Ucha Puja at 12 noon and Athazha puja at 7:30 Pm
3. Udiyanoor Devi Temple, Thiruvananthapuram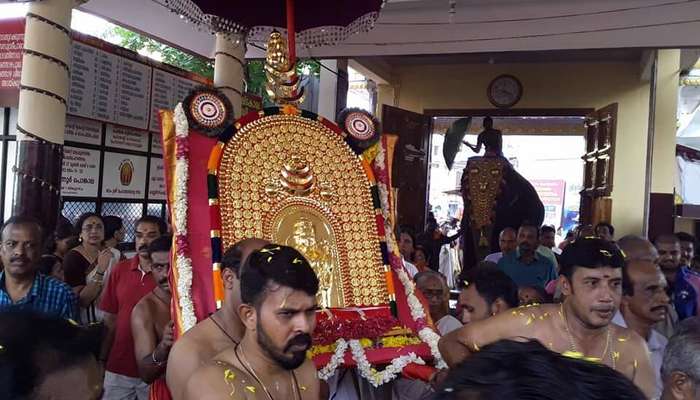 Image Source
Udiyanoor Devi Temple is another place of worship in Thiruvananthapuram. It is a famous Shiva temples in Kerala for Hindus. The shrine of Udiyanoor Devi has four hands, holding weapons with the gesture of Shiva and Vaishnava together. Other deities worshipped in this temple are Lord Ganesha, Nagaraja, Dharma Sastha and Sri Madan Thampuran. This is perhaps the only temple in Kerala, which faces north direction. The major festivals celebrated here are Urootu Mahotsav, Pongala Mahostsav and Thrikkodiyettu. Built 1300 years ago, this is one of the oldest temples in Kerala.
Opening hours: 4:30 Am to 8:15 Pm. The temple is closed for darshan between 12 noon to 5 Pm.
Suggested Read: These 9 Mysterious Temples Of India And Their Weird Rituals Will Amaze The Hell Out Of You
4. Tali Temple, Kozhikode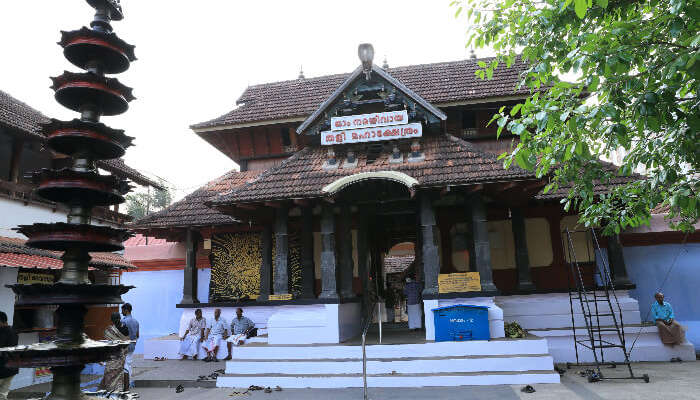 Image Source
Kaduthuruthi Mahadeva Thali Temple, locally called Tali Temple was constructed in 14th century. This temple is dedicated to Lord Shiva and is considered as one among the two Brahmanical royal temples built by Zamorin. The is one of the best temples in south India, which is a perfect amalgamation of laterite and wood and brass work, brass carvings and statues are absolutely stunning. Located at the heart of the Kozhikode town, on a hill top near Karamana River, this is one of the oldest temple in Kerala.
Opening hours: 5 Am to 12 noon and 4 Pm to 9 Pm
5. Sivagiri Temple, Varkala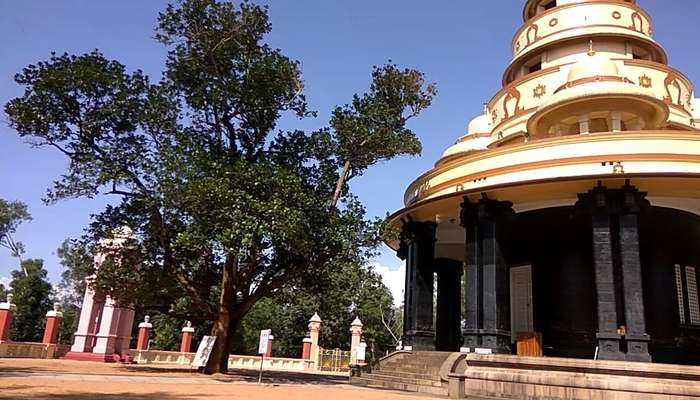 Image Source
Enshrining the tomb of Sree Narayana Guru; Sivagiri Temple is another most visited Kerala temple. The pilgrims in yellow outfit, visit this scared place round the year, particularly between Dec 30 and January 1st. The temple is situated on a huge sprawling land and the samadhi is placed on a hillock. The residence of Sree Narayana Guru is also located in the same premise, where the personal belongings of Guruji is displayed. Guru puja is performed here every day in the afternoon and lunch is offered to all devotees after Guru puja at INR 50.
Opening hours: 5: 30 Am to 12 noon and 4:30 pm to 6:30 Pm
Suggested Read: 12 Tranquil Hill Stations In Kerala For A Rejuvenating Experience In 2019 Summer
6. Ettumanoor Mahadeva Temple, Kottayam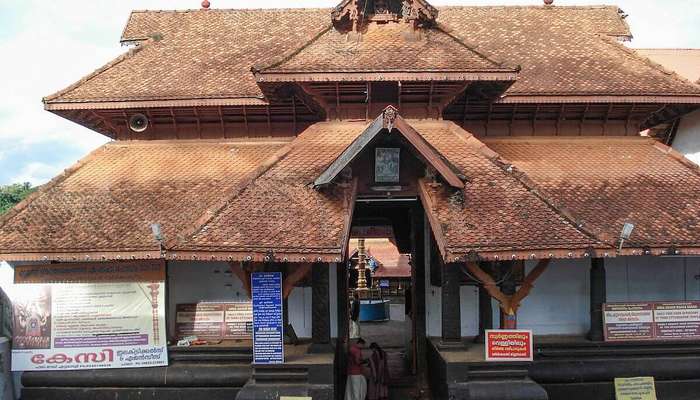 Image Source
One of the most prominent Kerala temples, Ettumanoor Mahadeva Temple is dedicated to Lord Shiva. Known for splendid Dravidian architecture, murals and paintings, this temple attracts maximum pilgrims during Arattu festival in February and March. The fresco of Dancing Shiva on the walls of the temple is one of the finest artworks in entire south India.
Opening hours: 4 Am to 8:30 Pm. The temple is closed from 12 noon to 5 pm.
7. Chottanikara Devi Temple, Ernakulum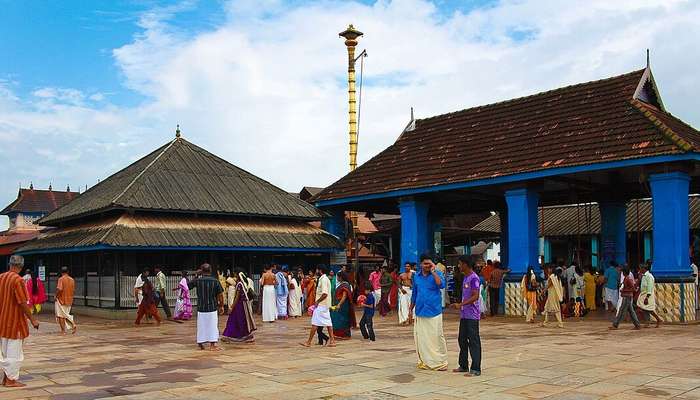 Image Source
Located atop a hill, Chottanikara Devi Temple is one of the most famous devi temples in Kerala, devoted to Goddess Bhagawati. This temple is famous for its idol. The golden idol is 4 to 5 feet tall and is believed to have curing powers for any kind of ailment. Moreover, the most interesting part of this idol is that, it is worshiped in three different ways. The same idol is worshiped as Saraswati in the morning, as Laxmi in the afternoon and as Durga in the evening. If you're in search of famous bhagavathy temples in Kerala, you search ends here.
Opening hours: 4 Am to 12 noon and 4 Pm to 8:45 Pm. On Fridays and Mandalam occasions, the temple opens at 3:30 Am.
Suggested Read: 23 Best Places To Visit In Kerala For An Enchanting Holiday
8. Mannarasala Nagaraja Temple, Mannarasala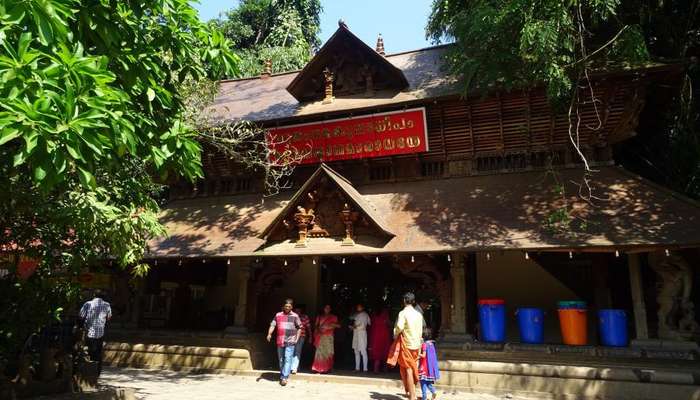 Image Source
As the name suggests, Mannarasala Nagaraja Temple is dedicated to serpent Gods., This is undoubtedly one of the most mystical temples in Kerala, surrounded by sprawling groves to facilitate the movement of serpents. The temple corridors and walls are decorated with more than 30,000 images of snake Gods. This temple is popular for Uruli Kamizhthal- a special ritual done by the childless couple, to seek blessings for a child. Once they are blessed with an offspring, the couple donates an image of snake God to the temple, as thanksgiving ritual.
Opening hours: 5 Am to 12 noon and 5 Pm to 7:30 Pm. The morning darshan and puja time is extended up to 1 Pm on Sundays.
9. Lokanarkavu Temple, Kozhikode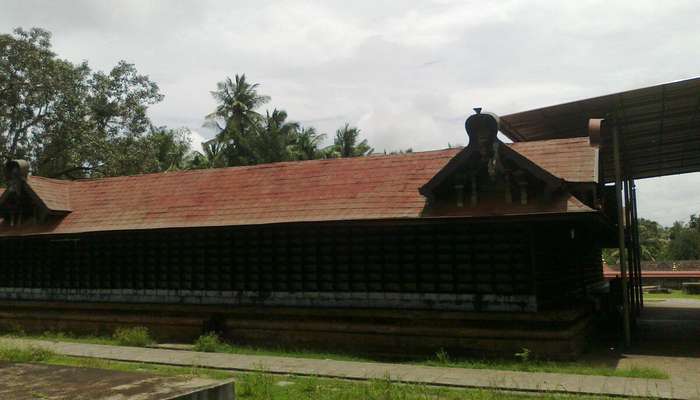 Image Source
Historically Lokanarkavu Temple is believed to have built by Aryans, Brahmins and Vaishnava, together. Not one, but this temple complex of Lokanarkavu comprises of three separate temples of Durga, Shiva and Vishnu. The shrine is often referred in the ballads of North Kerala, as Thacholi Othenan- a legendary martial hero. This is one of the most visited and most famous temples in North Kerala.
Opening hours: 4 Am to 9 Am and 5 Pm to 7 Pm.
10. Vadakkunnathan Temple, Thrissur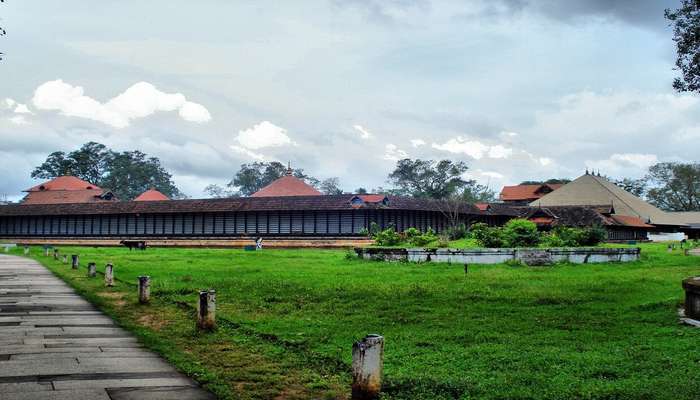 Image Source
Declared as a National Monument under AMASR Act, Vadakkunnathan Temple is believed to be the first temple built by Parasurama- the 16th incarnation of Vishnu. Dedicated to Lord Shiva, Lord Rama and Vishnu, Vadakkunnathan Temple boasts of splendid structure, murals and decorated pillars. Thrissur Pooram is celebrated with great zeal and vibrancy here in the months of April and May. During the festival, the temple premise is decorated with ornated elephants and colourful umbrellas and sounds of traditional drums and chants make the ambience not only divine but also mesmeric.
Opening hours: 3 Am to 8:30 Pm. Morning darshan is between 3 Am to 10:30 Pm and evening timing for darshan is between 4 Pm to 8:30 Pm.
Must Read: 20 Churches In Goa That Are Prestige Of Its Glorious Past
11. Sabarimala Sastha Temple, Pathanamthitta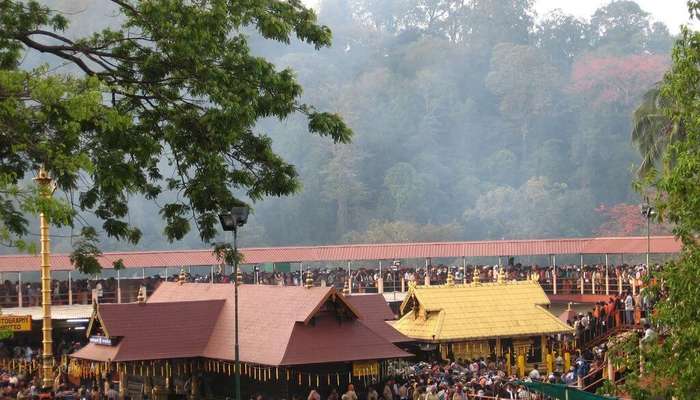 Image Source
The temple is dedicated to Lord Ayyappan, son of Lord Shiva and Mohini. Lord Ayyappan is also one of the incarnations of Lord Vishnu. Located atop a hill and surrounded by dense forests of Periyar Tiger Reserve, this temple is unique in many ways. Only male devotees are allowed here. Woman below the age of 10 and above 50 are permitted to enter the temple. Devotees visiting Sabarimala Sastha Temple, need to trek uphill, wear blue and black dress, smear Chandan on their forehead and remain unshaven until darshan.
Opening hours: The temple is open for darshan and puja between 3 Am to 11:40 Pm. The temple is closed for couple of hours between 1 Pm to 3 Pm in the afternoon.
12. Ambalapuzha Srikrishna Temple, Ambalapuzha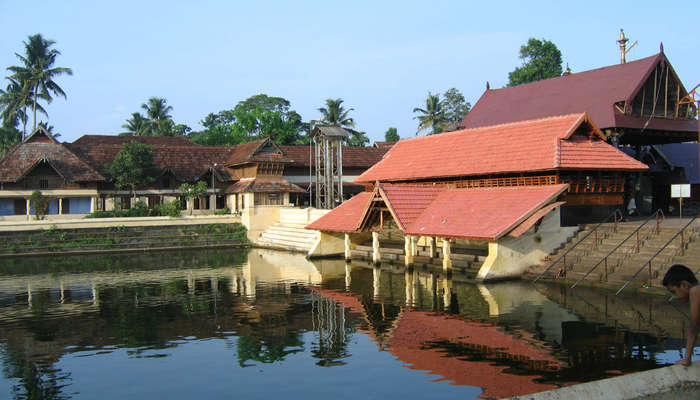 Image Source
In Ambalapuzha Srikrishna temple, Lord Krishna is worshipped as 'Unni Krishna'- his child form. This temple was built in 17th century and is famous for Amabalapuzha Temple Festival in July and Aaraattu festival in March and April. Palpayasam is the main prasadam here, offered to all devotees. This is a delectable sweet dish made of milk, sugar and rice. The deity of Unni Krishna is believed to be transported from Guruvayoor, during Tipu Sultan reign, in order to save the shrine from political unrest.
Opening hours: 4 Am to 12:30 Pm and 5 Pm to 8 Pm
13. Ananthapura Lake Temple, Ananthapura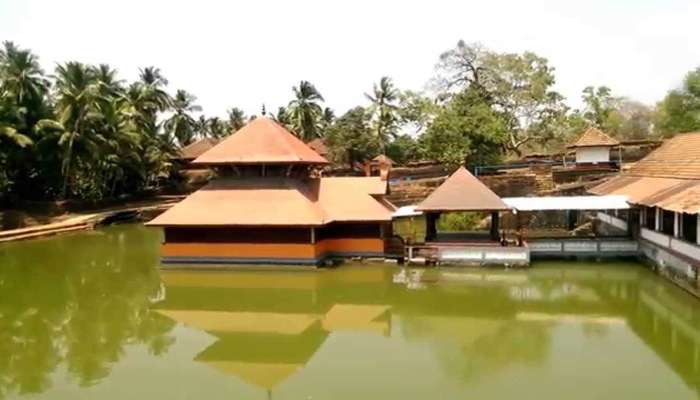 Image Source
This is the only lake temple in Kerala, located at the southernmost tip of the state. The temple is located amid a beautiful lake, supplied with fresh spring water. Babia, the temple guardian is a vegetarian crocodile, that resides in the lake. Lord Ananthapadmanabha- the deity of Sree Padmanabhaswamy Temple in Thiruvananthapuram, is worshipped here. The temple is considered to be the moolasthanam- original abode of the Lord.
Opening hours: 5:30 Am to 12:30 Pm and 5:30 Pm to 7:30 Pm. Morning puja is performed at 7:30 Am, noon puja at 12:30 Pm and evening puja at 7:30 Pm.
14. Sree Parassinikadavu Muthappan Temple, Parassinikadavu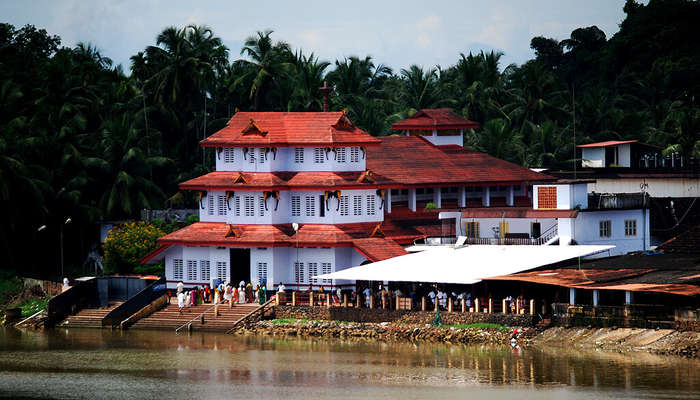 Image Source
Among the most spectacular Hindu temples in Kerala, Sree Parassinikadavu Muthappan is located by the banks of Valapattanam River. Featuring spectacular architecture, murals and carvings, this temple is dedicated to Lord Muthappan. The temple is unique in quite a few ways. The temple is open for people across all castes, creeds and faith and it can be a shock for many, to know that, devotees offer alcohol bottles to the God. This is the only temple in Kerala, with dog statues on the entrance gate, hence the temple even allows dogs to enter the premise. Sree Parassinikadavu Muthappan Temple provides free meal and accommodation to all its visitors.
Opening hours: 5 Am to 8 Am and 6:30 Pm to 8:30 Pm
15. Guruvayur Temple, Guruvayur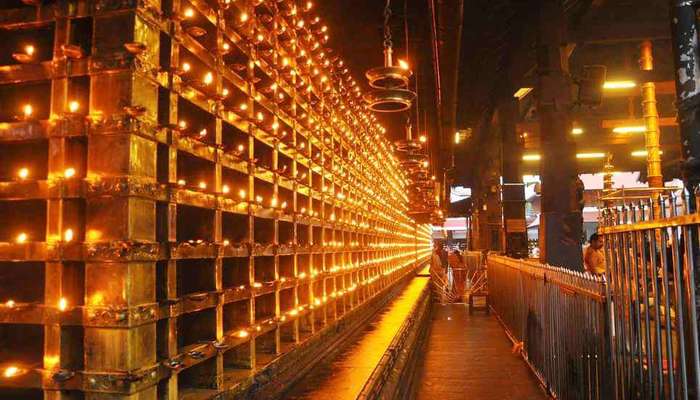 Image Source
The list of famous temples in Kerala is incomplete without Guruvayur Temple. Popular as Guruvayur Sri Krishna Temple, this place is one of the most visited temples in Kerala. Here, the idol of Sri Krishna had been carved out of Patalanjana stone, known for medicinal and therapeutic values. Though numerous devotees visit this temple, every day, but Guruvayur Temple is more famous for marriages and rice feeding ceremonies.
Opening hours: 3 Am to 9:30 Pm. The temple remains closed for darshan between 1:30 pm to 4:30Pm
Planning a trip to Kerala anytime soon? If so, let us help you prepare a perfect customized tour package for you right away!
Further Read: 20 Beautiful Places To Visit In North India
---
Looking To Book A Holiday Package?
Book memorable holidays on TravelTriangle with 650+ verified travel agents for 65+ domestic and international destinations.
---
Comments
comments