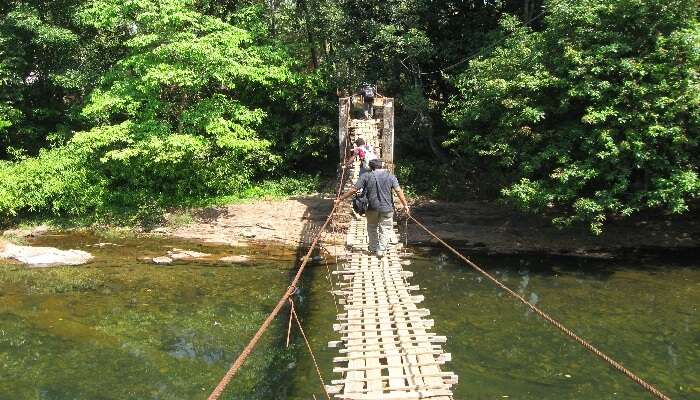 The city Kannur is considered as the crown of the paradise called Kerala. As soon as you enter the city on the Malabar coast, you are greeted with the refreshing and breathtaking scent and sight of nature, historic forts, ageless folk arts, and more. This is the place where you can enjoy a quiet time amidst nature and get a chance to learn the rich history at forts, old shrines, and museums. You can also get a taste of its world-famous spices and lots more. While there's so much to explore, naturally there'll be numerous places to visit in Kannur. Each place in Kannur reflects the essence of the city that will leave you simply mesmerised.
Top 28 Places To Visit In Kannur
Kannur is home to numerous places, be it temples, trekking trips, or thrilling experiences. We have curated a list of some of the best places to visit in Kannur that are not to be missed. Scroll through to know which ones are these!
1. Payyambalam Beach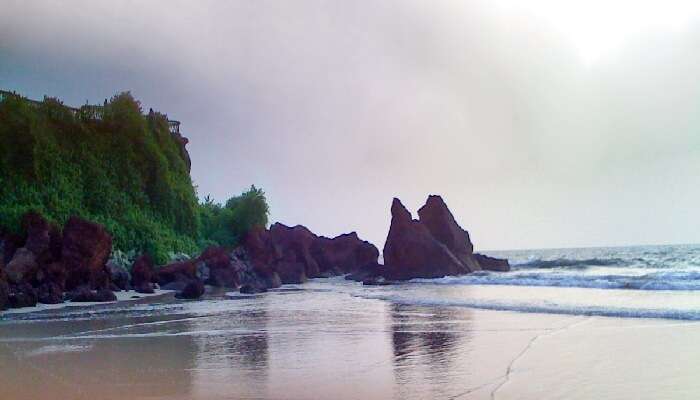 Image Source
Payyambalam Beach, a popular tourist spot in Kannur, makes one feel like the world has just started! It is a secluded beach that shines without any signs of human damage or spoilage. It has beautiful golden sand that sparkles like pearls under the sun. It merges foamy and white water. It won't be a surprise if you find yourself each evening of your visit on this calm beach. This beach also lets you enter the adventure mode when you are done relaxing in its peaceful lap. Go swimming, boating, skiing, parasailing, etc. in its inviting currents.
Location: Payyambalam, Kannur, Kerala 670001
Timings: Open 24 hours
Kerala New Year Celebration: 8 Exotic Places To Bring In The New Year
2. St. Angelo Fort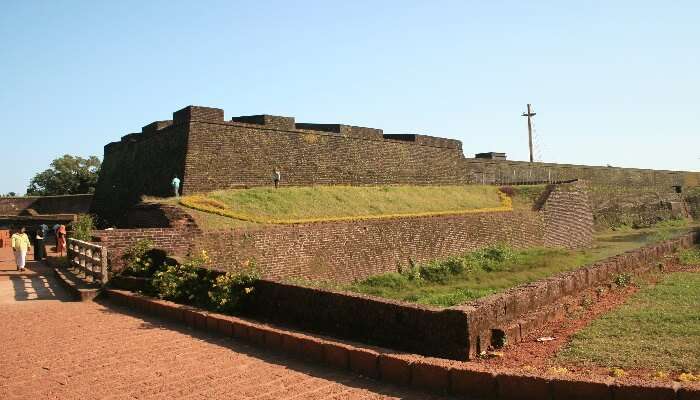 Image Source
Situated on the coast of the mesmerising Arabian Sea, St. Angelo Fort is more than just a remarkable structure. A world heritage site, it is brimming with stories about battles to conquer it by the Portuguese and Dutch. When you are at the fort, you can enjoy a breath-taking view of the sea, natural harbour Mopilla Bay and Dharmadam Island. Inside the fort, there are beautiful, well-maintained gardens. The aura of the whole location is very relaxing. Visiting this fort is one of the best things to do in Kannur.
Location: Near Cannannore Cantonment, Burnacherry, Kannur, Kerala 670017
Timings: 8 AM – 6 PM
3. Muzhappilangad Drive-In Beach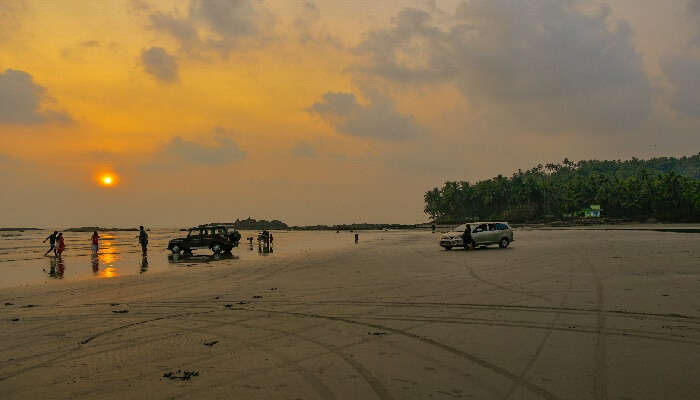 Image Source
There are many reasons to visit Muzhappilangad Drive-in Beach. It is the beach offering the longest drive-in in India. It is the cleanest beach in Kannur. And it is counted amongst the best drive-in beaches in the entire Asian continent. Rev up your vehicle and drive it along the scenic 4 km stretch of this beach, enjoying the waves, the fresh sea breeze and the scenery made dream-like by visiting birds. The beach is also open to must-try-once-in-a-lifetime adventures like parasailing, paragliding, powerboating and many more. It is truly one of the best places to see in Kannur. 
Location: Muzhappilangad Beach Rd, Muzhappilangad, Kerala 670663
Timings: Open 24 hours
Winter In Kerala: 11 Best Places To Visit For A Blissful Vacation
4. Aralam Wildlife Sanctuary

Image Source
One of the must-visit Kannur attractions, Aaralam Wildlife Sanctuary is simply unmissable for a nature lover. This forest is home to exotic species of birds and animals that turn more distinctly wondrous as you move deeper into it. If you love trekking, you can enjoy it here on its landscape that reaches a height of 1145 metres. It is one of the best wildlife sanctuaries in Kerala. 
Location: Kannur, Kerala 670674
Timings: 8 AM – 6 PM
5. Parassinikkadavu Snake Park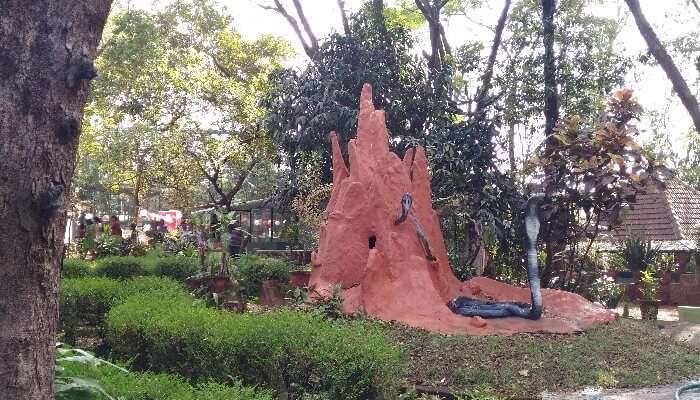 Image Source
This is an unusual and one of the best Kannur sightseeing locations. This one-of-a-kind park houses all kinds of snakes- poisonous and non-poisonous, endangered, exotic, etc. You can view them from behind their glass cases. The park also has other reptiles and birds. The park also offers great amount of information about the kept animals and birds. There is information about their origin, qualities and even fun tidbits like their mood and habits. This is a great place to visit with family, especially those with kids.
Location: Parassinikkadavu – Mayyil Rd, Dharmasala, Parassinikadavu, Kerala 670563
Timings: 8 AM – 6 PM
Kovalam In December: Explore This Touristy Seaside Town In Kerala
6. Arakkal Museum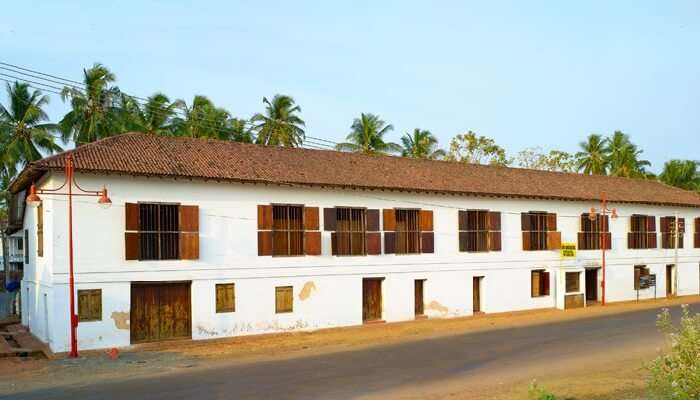 Arakkal Museum is dedicated to the only Muslim royal family of Kerala, Arakkal Ali Rajas. The museum is located inside the Durbar Hall of the palace where the royal family lived and conducted gatherings with kings and nobles. Get an insight into their culture and lives through furniture, art, weapons and more displayed in the museum. Even if you are not a history buff, this place is among the best things to see in Kannur because of the palace. It has a majestic grandeur and elegance that immediately takes you in the past. The palace never fails to cause wide-mouthed wonder to its visitors.
Location: Ayikkara Government Hospital Road, Ayikkara, near District Hospital, Kannur, Kerala 670013
Timings: 10 AM – 5 PM, Monday closed
7. Kavvayi Islands

Image Source
If you are wondering when will Kerala's famed backwater lakes feature in the list, here they are! Head to Kavvayi, a group of small islands that together form the largest backwater island in Kerala. Kavvayi islands, also called as Kavvayi Kayal are spread over the districts of Kannur and Kasaragod. Enjoy a heavenly ride on a boat on the beautiful waters with cool breezes lifting up your spirits. Nothing more can be written on this. You simply need to sit on that boat ride and experience the bliss for yourself.
Location: Kannur, Kerala
5 Amazing Zoos In Kerala To Witness The Captivating Wildlife In God's Own Country
---
Planning your holiday in Kerala but confused about what to do? These Kerala travel stories help you find your best trip ever!
---
8. Madayipara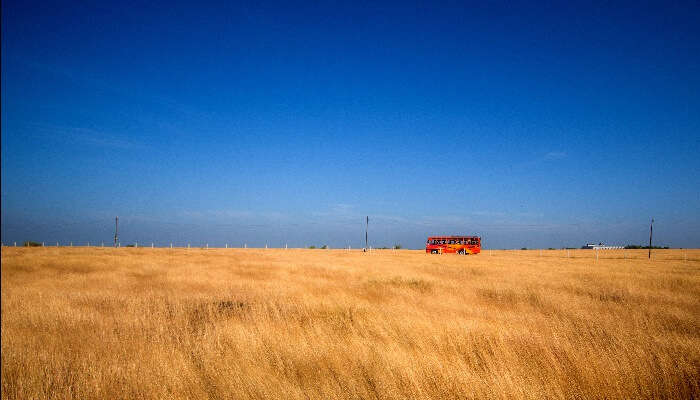 Image Source
A variety of flowers blooming on a large green canvas. What a sight it would be. Find out by visiting the land of flowers, Madayipara! This place is famous for being one of the most picturesque places in the entire Kerala. And one can see why. Located on a hillock near Pazhayangadi, the bed of flowers grabs the attention of even the most impatient souls and makes it lose itself in the wild yet manicured beauty. And what's more charming is that the blossoming landscape looks different every season.
Location: Kannur, Kerala
9. Dharmadam Island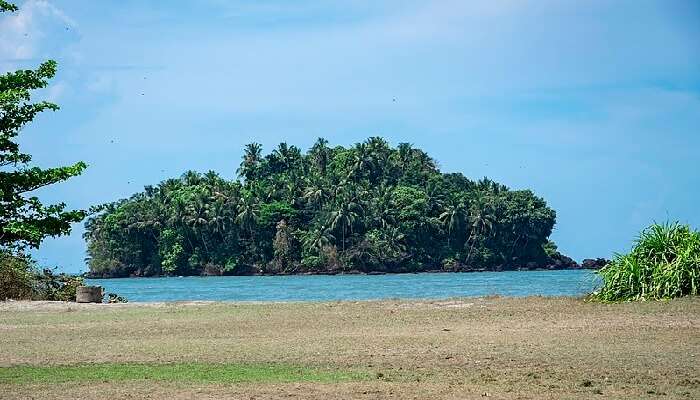 Image Source
This is an untouched place in Kannur. If you are looking for some solitude and an escape from the hustle and bustle of the city, you must give Dharmadam island a visit. In fact, if you are visiting Kannur for a break from your busy life, you might spend it entirely lazing around in the island. The island is surrounded by three rivers and the Arabia Sea. Enjoy the view of the Anjarakandy and Thalassery Rivers confluence, tall coconut trees and bushes lining the beach and the attractive and pleasing feel of the place.
Location: Thalassery, Kannur District, Kerala 
Kerala In January: A Guide For A Memorable Vacation In This Southern State
10. Kannur Lighthouse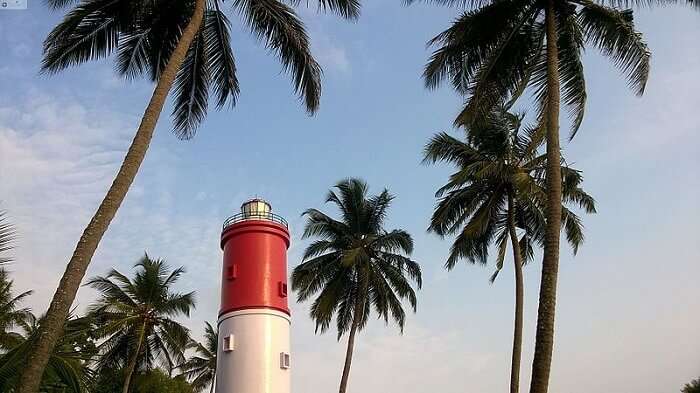 Here is a trivia: this lighthouse in Kannur was the first lighthouse to be established in Kerala. Hence, it is one of the most recommended places to see in Kannur. Even though it is merely a red cylindrical tower, it is still a pretty big deal in Kannur. The scenery in which it is set is stupendous and worth seeing with your own eyes. It is located on Payyambalam Beach and lies adjacent to Sea View Park. Before you ask, yes, the lighthouse is still very much active. This place is also surrounded by some of the best hotels in Kannur. 
Location: Burnacherry, Kannur, Kerala 670013
Timings: 10 AM – 1 PM, 2 PM – 6 PM, Monday closed
11. Baby Beach

Another one of the best places to visit in Kannur, Baby Beach derives its name from being tiny. Yet it is one of the most picturesque spots in Kannur and offers splendid views of the Arabian Sea. Locals come here to enjoy day picnics. The beach is fringed with huge black rocks where people like to sit and contemplate life as they gaze at the ocean. An extension of Payyambalam Beach, it is one of the most peaceful places in Kannur.
Location: Kannur, Kerala
Timings: Open 24 hours
7 Best Kannur Homestays For A Luxurious Stay Amidst Tranquility
12. Sundareswara Temple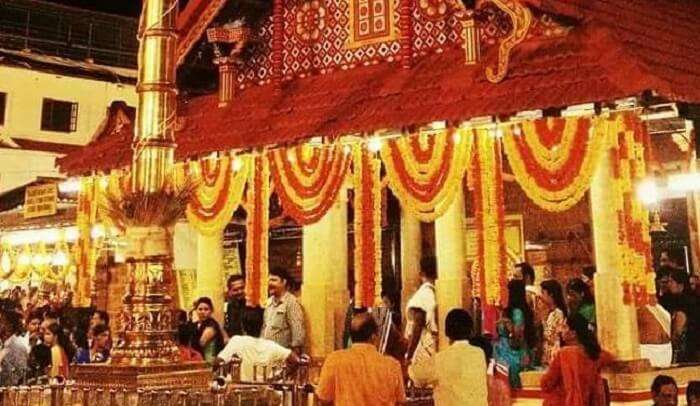 One of the two prominent temples, Sundareswara Temple is one of the most important tourist places in Kannur. The temple was consecrated by Sree Narayana Guru Devan who started a spiritual revolution in the society to demand entry of backward people inside the temple in Kannur. An eight-day annual festival is also celebrated at the temple which is worth being a part of. A large procession is carried out.
Location: Talap, Kannur, Kerala 670002
Timings: 5:00 AM – 12:00 PM & 5:30 PM – 8:00 PM
13. Meenkunnu Beach

One of the most beautiful places to see in Kannur is Meenkunnu Beach. Apart from being a fishing spot, it gives out laidback vibes and is perfect for chilling out. The beach is characterized by a sandy crescent frame of rocks, cliffs, and tree-covered rocks. One could go swimming on the beach when the tides are low. The solitude on the beach is perfect for some contemplation. You could also taste spicy treats from the beach shacks.
Location: Kannur, Kerala
Timings: Open 24 hours
Embark On Your Journey Of A Lifetime At These 15 Best Hotels In Ooty For Honeymoon
14. Ezhara Beach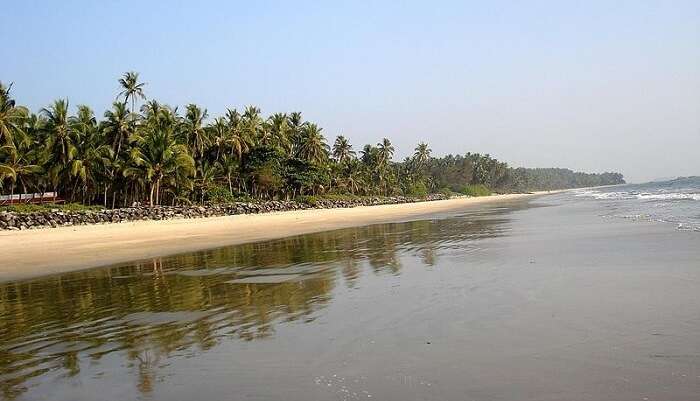 A secluded spot in Kannur, Ezhara Beach gives all other beaches a run for their money. The beach is fringed with palm trees and rock giving it a beautiful appeal. Another charming aspect of the beach is the little mosque by the end of the beach. Enjoy peace and solitude by the beach as you enjoy the views of the Arabian Sea. The enticing views of the sea will definitely entice you to visit this beach in Kannur.
Location: Kannur, Kerala
Timings: Open 24 hours
15. Thottada Beach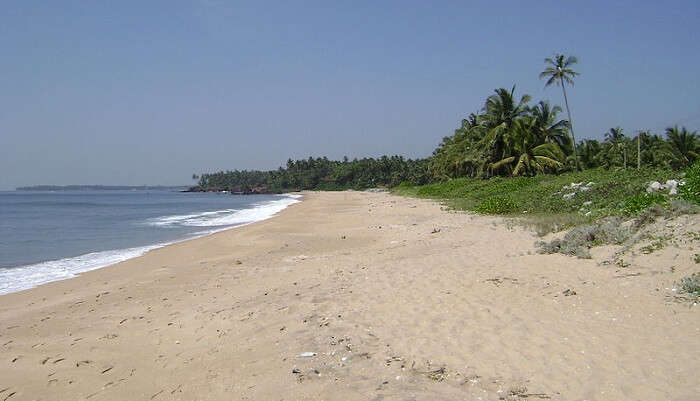 Located on Kannur-Tellichery highway, Thottada Beach is another tourist spot in Kannur that you should add to your list if you like beaches. The beach is located in the quaint Thottada village. It is an idyllic spot for swimming and sunbathing. If you wish, you could even spend a night in one of the guest houses on the beach. Thottada River flows into one end of the beach and the whole scenery looks so picturesque.
Location: Kannur-Tellichery highway
Timings: Open 24 hours
6 Temples In Kollam To Soothe Your Senses On A Trip To Kerala
16. Mapilla Bay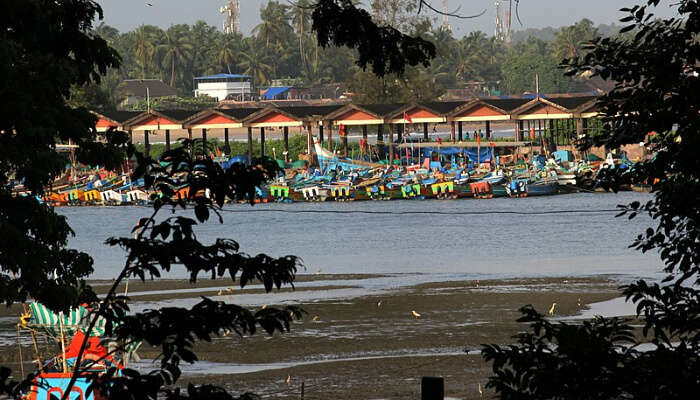 Image Credit – Sanu from Wikimedia
Looking for the best Kannur tourist places? Mapilla Bay is a natural harbor situated in Kannur town serving as a major port. Surrounded by colonial-era architecture, Fort St. Angelo is located on one side of the harbor while the other side is the Arakkal Palace and Museum. The Mapilla Bay also known as Mopila Bay is mainly a fishing harbor. There are boating facilities available wherein you can enjoy a boat ride that will take you on a harbor tour. 
Location: Burnacherry, Kannur, Kerala 670013
Timings: 1 am to 11 pm
17. Mridanga Saileswari Temple

Image Credit – Vinayaraj from Wikimedia
Mridanga Saileswari Temple is a famous Hindu temple and one of the best tourist places in Kannur. It is dedicated to Goddess Durga and is one among the 108 temples dedicated to Durga in Kerala. The deity is believed to have been established by the sixth avatar of Lord Vishnu. It is visited by pilgrims throughout the year and especially during the Navratri and Pooram Mahotasavam festivals. 
Location: Mridanga Shaileswary Temple Rd, Muzhakkunnu, Kerala 670703
Timings: 5 am to 12.30 pm and 5 pm to 8 pm
35 Charming Places To Visit In Alleppey, Kerala For A Perfect Vacay
18. Pallikunnu

Image Credit – Kaitha from Wikimedia
Pallikannu is another major town and one of the best places to see in Kannur. It is known for its ancient temple, Shree Mookambika Temple. Devotees come in large numbers to seek Goddess blessings during Navratra Festival. One of the other popular attractions of the city is the Kanathoor Maha Vishnu temple.
Location: 3 km from Kannur
19. Ezhimala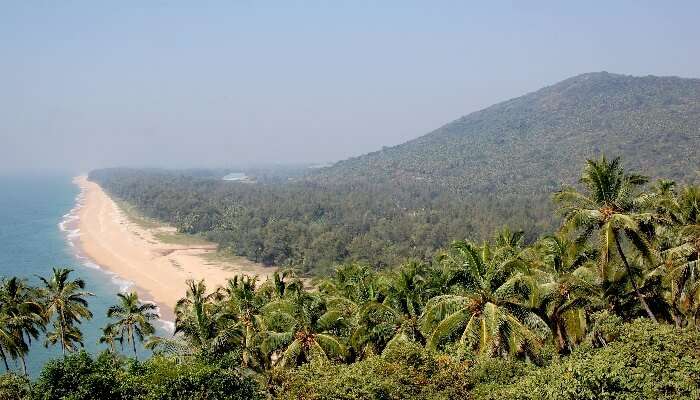 Image Source
Visually stunning, Ezhimala is one of the best places to see in Kannur. It is located at a height of 286 meters and offers the best view of the nature below and around and clear blue skies with clouds above. This hill is believed to be the place where the battle for Chola-Chera wars were held. It is also believed that Lord Buddha once visited this place, making it significant for Buddhists.
Distance from Kannur: 34 km
Location: Kerala
6 Unusual Yet Exciting Things To Do In Ernakulam On Your Next Kerala Trip
20. Muthappan Temple

Parassini Kadavu is a small temple town is famous for Muthappan Temple. The presiding deity is considered to be the manifestation of Lord Shiva. Dogs are considered to be diving beings on the temple since Lord Muthappan was accompanied by a dog throughout his journey. Many rituals and festivals are celebrated in the temple. One of the most-revered Kannur destinations, a lot of people come to visit the temple during the time of festivities. Attending the celebration would be a unique and vibrant experience for you.
Distance from Kannur: 19 km
Location: Parassinikadavu, Kerala 670563
Timings: 5.45 AM to 9.30 PM
21. Palakayyam Thattu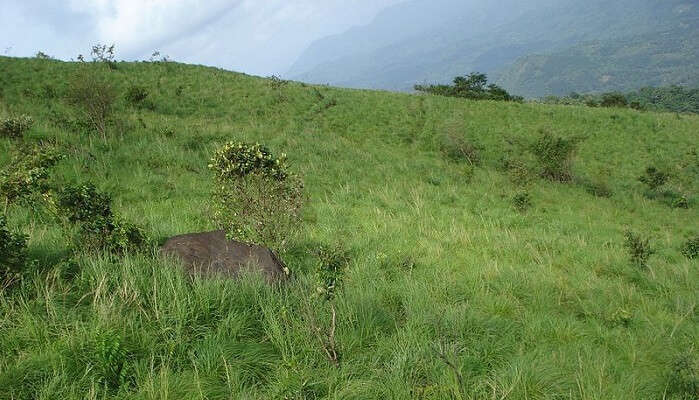 A beautiful hill station in New Naduvil, Palakkayam Thattu is regarded as one of the most popular Kannur tourist places. Located in the western ghats, the lush greenery of the hill station near Kannur will leave you invigorated. Since it is located at quite an altitude, the clouds floating around make it a magical place. If you are an adventurous person, you would love to explore the trekking trails. If not, then you can just sit back and admire the views while sipping on hot tea. If you are looking for things to do in Kannur that involves the nature or outdoors, this is the place to be. 
Distance from Kannur: 48 km
Location: Karuvanchal – Vellad, Chadikundu-Mavumchal, Palakkayam, Thattu, Kerala 670571
Timings: 5 AM – 9 PM
12 Best Places Near Murudeshwar To Rejuvenate Your Vacation Time
22. Paithalmala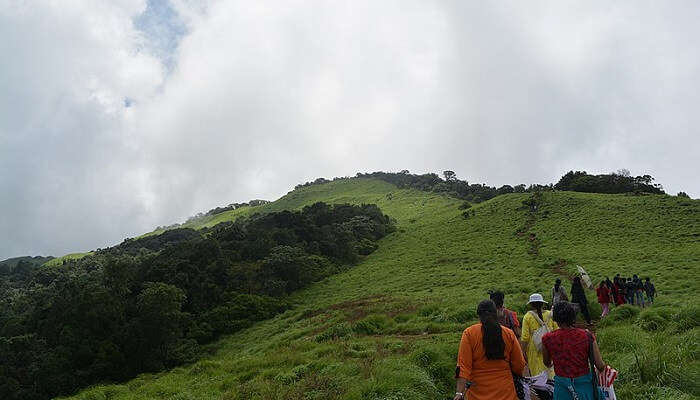 One of the most popular Kannur destinations, Paithalmala is where the highest geographic peak in Kannur is located. If you enjoy trekking, then you would love to visit this place as it welcomes you with numerous adventures. It is also a famous spot for nature lovers and photographers. June to March is the best time to visit this place for trekking and photography. If you are visiting the state of Kerala in November, you can also enjoy guided wildlife tours to enjoy the local nature. 
Distance from Kannur: 60 km
Location: Kudiyanmala, Kerala 670582
Timings: 9 AM – 4 PM
23. Peralassery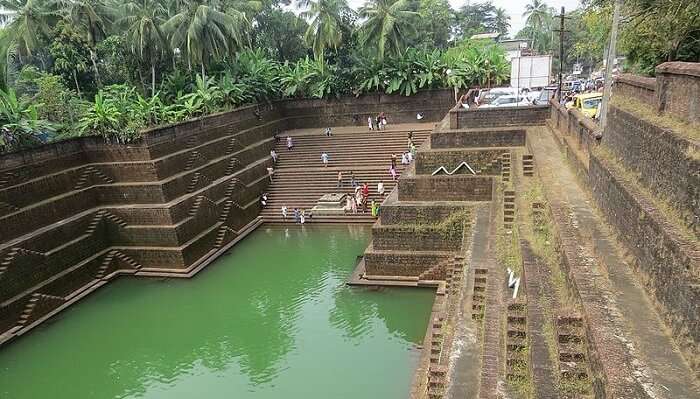 Situated on the bank of Anjarakandy River, Peralassery is one of the best sightseeing places in Kannur district. It looks like one of those villages mentioned in Malgudi stories. If you want to experience rural panchayat, then your visit to Pealassery will be a huge success. Do not miss the hanging bridge at Peralassery which is the most prominent attraction of the town.
Distance from Kannur: 12 km
Location: Kerala
37 Amazing Things To Do In Kerala For An Incredible Holiday
24. Vismaya Water Theme Park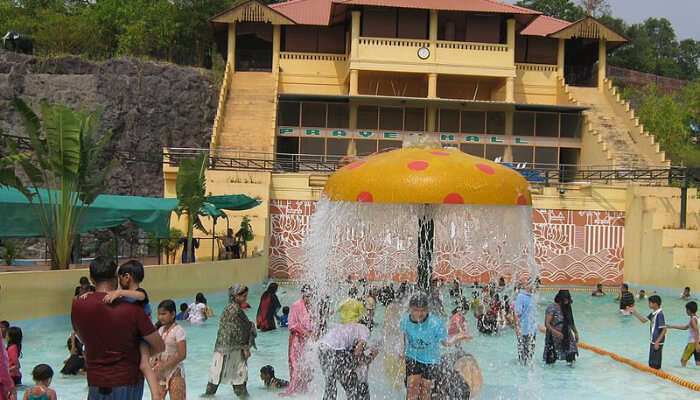 Image Credit – Shareef from Wikimedia
Vismaya Water Park is a water themed park located near Taliparamba in Kannur. It is filled with thrilling rides, artificial waterfall and water sports making it a perfect entertainment place for families. Besides, the park also boasts of other facilities like prayer halls, restaurants, conference hall and casual shops. It is among the best places to visit in Kannur. 
Distance from Kannur: 17 km
Location: Kannur, Parassinikadavu, Kerala 670563
Timings: 11AM – 6 PM (Monday to Friday) 10.30AM to 6PM (Sundays and other holidays)
25. Taliparamba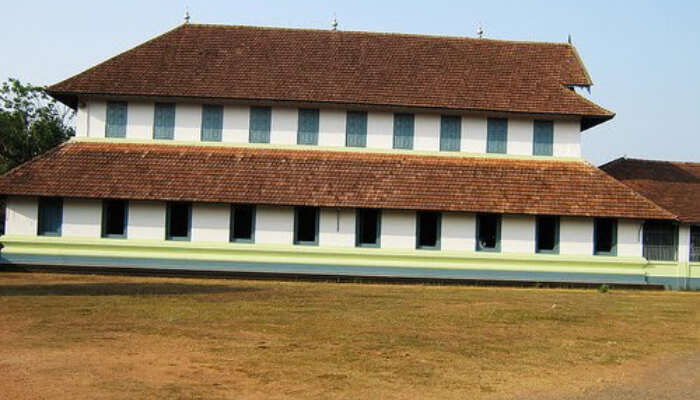 Image Credit – Anazcp from Wikimedia
Taliparamba is one of the small cities in Kerala and one of the famous Kannur tourist places. The city is surrounded by lush green fields making the place even more peaceful and perfect for a getaway. There are numerous temples, churches and mosques. The most frequently visited temples by the tourists is Taliparamba Sree Krishna Temple. Being a place offering peaceful vibes, this small city near Kannur is a must-visit. 
Distance from Kannur: 21 km
Location: District Kannur
12 Best Resorts In Kannur For A Cool & Cozy Beach Vacation
26. Pappinisseri

Image Credit – Ks Mini from Wikimedia
Pappinisseri is a small town located in the Kannur district. It is one of the best tourist places in Kannur and a perfect getaway from the hustle and bustle of modern city life. Spend a few days surrounded by nature's beauty, lovely hills and enjoy the gorgeous scenic views. 
Distance from Kannur: 12 km
Location: District Kannur
27. Kizhunna Beach

If you are looking for a crowd less experience from the main beaches of Kannur, Kizhunna Beach located around 11 kilometres from the city centre is the escapade you need. Come for the crimson sand and pristine beaches that surround this part of the coastline and stay for scenes of the small fishing hamlet in nearby Kizhunna. 
5 Cottages In Kannur For A Stay That Are All About Luxury And Comfort
28. Sadhoo Merry Kingdom

Whether you are looking to splash through the joys of spending your day at an adventure park or just want to enjoy the lively adventures that come with thrilling rides, Sadhoo Merry Kingdom is located at Chala Hills, just 8 kilometres from the town centre. It is one of the best places to visit in Kannur for one day trip.
Location: Chala Hills, Kannur, Kerala 670007
Timings: 10:30 am to 5:30 pm
This was all about the top 26 best places to visit in Kannur. We hope you'll be able to choose the ones for your itinerary and make the most of your travel experience in South India. Plan your visit to the Land of Looms and Lores as you head to Kerala for a holiday.
For our editorial codes of conduct and copyright disclaimer, please click here. 
Frequently Asked Questions about Places to Visit in Kannur
What is Kannur famous for?
The beautiful city of Kannur is famous for a lot of things. It is famous for its scenic and solitude offering beaches, ritualistic folk arts, weaving industry, spices, etc. Its specialties have given the city a popular name- Land of Looms and Lores.
How did Kannur get its name?
The word Kannur is a mixture of two Malayalam words- Kannan and Ur. Kannan means Krishna and Ur means place. Thus the name Kannur means the place of Lord Krishna. There is a legend or belief popular in the city supporting the origin of the name.
Is it safe to visit Kannur during covid times?
The Government of Kerala prioritizes public health, hence, have issued some safety guidelines such as social distancing, using face masks, applying hand sanitizers, and washing hands frequently, which must be adhered to by all visitors. Tickets should be booked online for contactless entry. Also, in some places for accommodation, visitors should provide their vaccination details for both doses for a hassle-free stay.
How can I go to Kannur?
In order to reach this scenic city, you can take a direct flight to Kannur. The train is another convenient mode of transport. If you wish to travel by road, many AC buses ply on the route and take around 1 day or so depending on your departing location.
Kannur is ideal for which kind of holiday?
Despite its irresistible beauty, Kannur is yet to make it to the popular holiday destination list. It could be due to the lack of enough advertisements and awareness about it. Because of its peaceful, uninhabited feel, this place is the best break or escape holiday or for couples on their honeymoon.
What are the popular locations to book places to stay in Kannur?
In Kannur, you will find many homestays near the railway station, which are quite popular due to their proximity to several attractions. You can also find many homestays and hotels near popular attractions like Arakkal Museum, Pallikunnu, St. Angelo's Fort, etc.
What are the must-try delicacies of Kannur?
Another most popular feature about the Land of Looms and Lores is its Malabar cuisine. Some of the must-try dishes of Kannur include Thalassery biryani, Unnakkaya, Neypathiri, and Chatti Pathiri.
Which are the best hotels in Kannur?
Some of the most popular hotels in Kannur are:
1. The Malabar Beach Resort
2. Mascot Beach Resort
3. Malabar Residency
4. Orionis Kannur
5. Asokam Beach Resort
6. CLUB7 Beach Resort
7. Manshore Bay Resort
---
People Also Read
Places to visit in Bikaner Places to visit in Visakhapatnam Places to visit in Chail