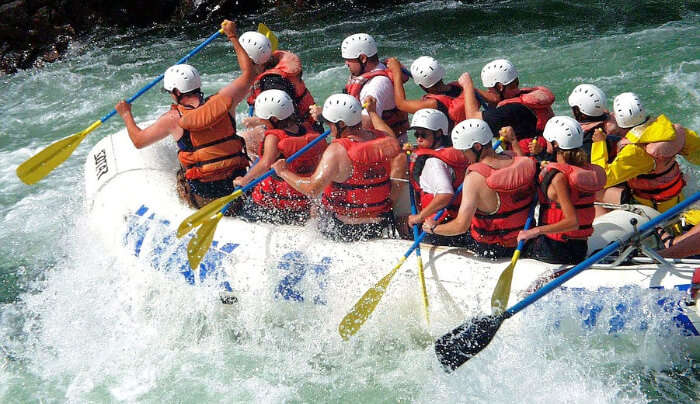 Kerala is one of the most visited destinations in the Indian subcontinent. Being "God's Own Country", the state of Kerala is blessed with immense natural wonders, flora and fauna. From stunning waterfalls to the crystalline backwaters you will get to see and experience everything in this beautiful state. The state is also famous for its sunny beaches and quaint hill stations scattered all over the territory. The Kovalam Beach, Kumarakom, Munnar, and the Silent Valley National Park are some of the most popular tourist attractions in Kerala.
Apart from nature lovers and casual holiday goers, Kerala is also one of the best places to visit if you are an adventure freak. Parasailing, snorkelling, scuba diving, surfing, cycling and white water rafting are the best ways in which you can pump some adrenaline into your body during your visit to Kerala. River rafting in Kerala has become increasingly popular and hundreds of tourists are taking part in this water sport every year.
Best Time For River Rafting In Kerala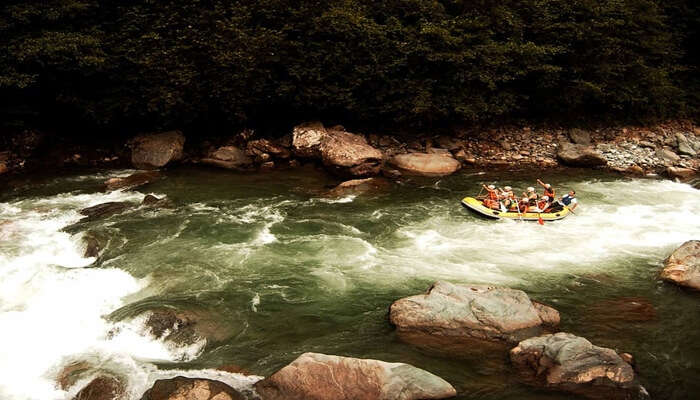 Kerala is an all-season and year-round travel destination. But, each season in this state brings a completely unique experience to the tour. For those who are more inclined to engage in different adventure activities, the months of September, October and November are the best time to visit this state. These are the three months of the year when you can experience a wonderful and something whether all around with less humidity to worry about. The climate is cool and comfortable, making it possible to go for all the adventure sports you want to enjoy.  The average temperature during these three months in Kerala, is usually between 18°C to 28°C, with warm mornings and cool nights.
With the offset of the monsoon, the entire state decks up in lush natural vegetation and fauna. Due to the heavy rainfall during the months of the monsoon season, the rivers from September to November are gushing with high-intensity currents and rapids. Hence, you will be in for a thrilling ride down the stream when you plan for water rafting in Kerala during these months. Also, this is the peak season in Kerala which ensures that you will have no problem in finding a good river rafting or tour agency for guidance.
Best Places For River Rafting In Kerala
In Kerala, there are different places where you can start your river rafting trip. These are the top places where you can enjoy a fantastic experience of river rafting in Kerala. You can head to this place during the months of September to November for the best thrill. Take a look at some of the most popular of them all.
1. Chalippuzha Jungle River Rafting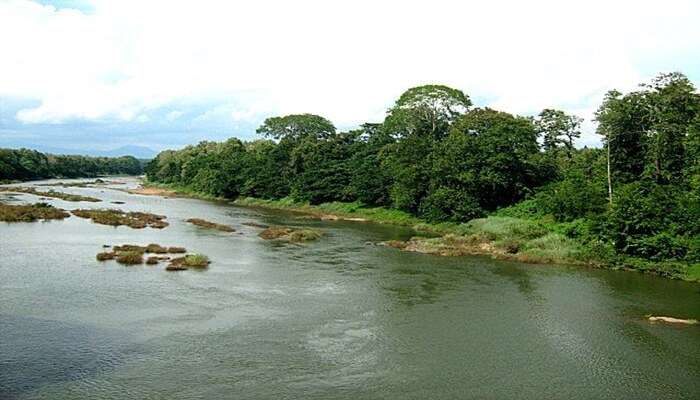 If you are a novice and this is your very first river rafting trip, then head to the Chalippuzha Jungle for the safest and easiest river rafting experience. This is the ideal place where young people from the age of 14 can learn river rafting as well. From medium-sized rapids to small meanders, this wonderful jungle rafting will be a great lesson. Chalippuzha is a tributary of the Iruvanjippuzha river and it originates from the Thusharagiri waterfall. The rafting route is about 4 km long and roughly takes over an hour to complete. This route has been ranked in the Class II/III category.
Must Read: Why You Should Visit Kerala In Spring? Here Are The Beautiful Reasons That'll Get You Going!
2. Iruvanjippuzha River Rafting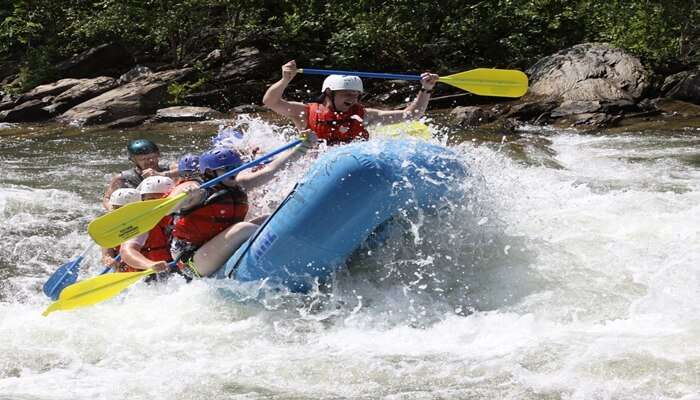 For a bit more of adrenaline rush and excitement, Iruvanjippuzha River Rafting is a fantastic choice. The rapids have been categorized as Class III and above, which clearly tells that beginners should be avoiding this rafting route. This one is only meant for experts and skilled river rafters. The thrill of this white water rafting experience on the Iruvanjippuzha River cannot be expressed in words and you will need to participate in it to understand how it feels. Always remember that white water river rafting is a team sport and that is why you will need to make sure you have good communication with all the team members. The Iruvanjippuzha river is the perfect place for water rafting in Kerala without any doubt.
Suggested Read: 13 Charming Lakes In Kerala To Visit In 2022 Away From The Cosmopolitan Allure!
3. Bamboo Rafting In Wayanad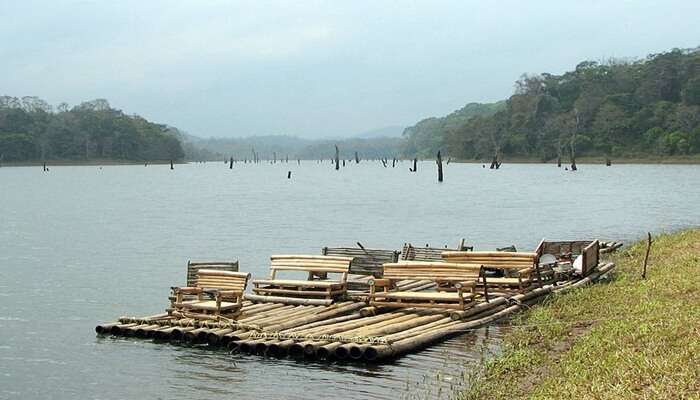 Wayanad is an exquisitely beautiful place to visit in Kerala, especially if you have a knack of water rafting. Bamboo rafting in Wayanad is one of the best activities that you can take part in. As the name suggests, in place of the modern-day rafts, you will be heading downstream on a bamboo raft. The Kabini River is not very violent and is usually calm with small rapids and meanders. Just sit back and relax until a rapid comes in front. The backdrop of this trip will provide you with an unforgettable experience. The river passes through lush forests, waterfalls and scenic landscapes that are a real treat to your eyes.
Suggested Read: 9 Exotic Places To Visit In Kerala In July One Must Definitely Go And Explore!
4. White Water Rafting In Kannur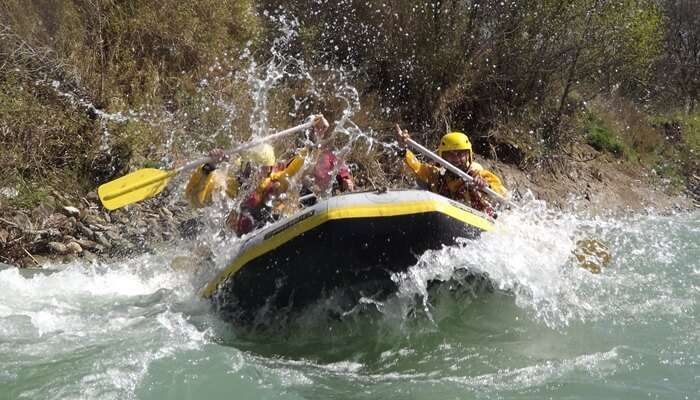 With so many different places from where you can head out for a rafting trip in Kerala, Kannur is also one of the popular places to do so. Situated beside River Tejaswini or Cherupuzha, Kannur is the perfect destination for thrill and adventure for everyone. Keep in mind that this river is fast-flowing and has some of the most astonishing rapids in the whole of Kerala. That is why this rafting trip is not recommended for beginners and novices. There are two major routes in the river – upper Tejaswini and on the lower Tejaswini. If you are a beginner with little or no experience, then the Upper Tejaswini route is still manageable. But, the Lower Tejaswini route is only meant for experts with Class III and above rapids and meanders. Cherupuzha river rafting is going to pump a lot of adrenaline into your veins.
Further Read: Indulge In Shopping In Thekkady And Carry The Culture Of Kerala Back Home!
Average Cost Of River Rafting In Kerala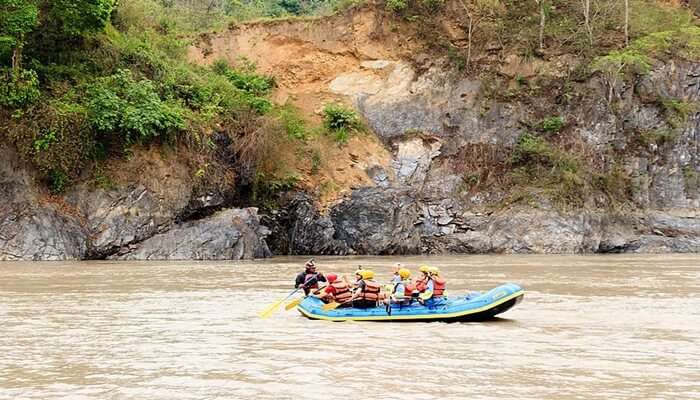 Image Source
There are a lot of places in Kerala where you can go for a river rafting experience in Kerala. Each of these places has their own unique features and that is why the prices for rafting are variable. But on average, an hour-long white water rafting will cost you anywhere between Rs.2000 to Rs.2500. Whereas a 30 minutes ride can be priced at Rs.1200 to Rs.1800. The prices can also vary according to the season you are visiting, and the overall duration of the trip. Reputed charge you more because of their highly experienced rafters and high-quality equipment.
Tips For River Rafting In Kerala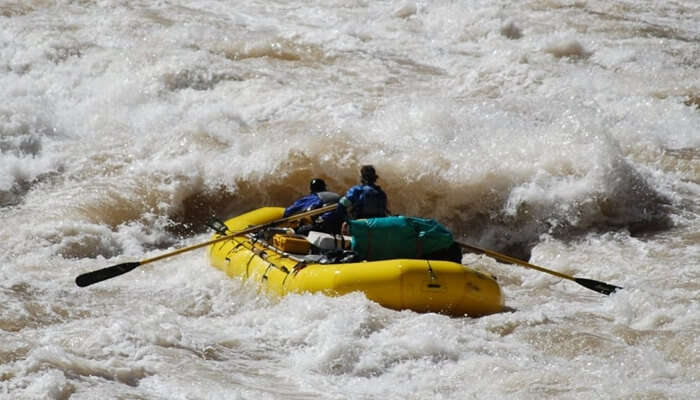 Image Source
If you have made up your mind to go for a river rafting trip in Kerala, then you need to remember a few important tips that will really help you.
Always listen to your guide at all times. Before you start rafting or do any other thing, always ask the guide. Or else, in no time you are going to be in the deep waters before you can even understand.
Remember to hold tightly to the ropes that have been tied at the edge of the raft during the time you are not rowing. Failing to do this, you can easily topple over to the side and into the river.
Double-check that both your life jackets and helmets are fitting comfortably. Tell the guide to change the size in case you think they are too tight or loose. You cannot compromise on the safety gear.
Wear comfortable clothes, probably half sleeved t-shirts and small shorts. Do not wear slippers because they are slippery. Instead, you can wear a pair of waterproof sneakers or hiking boots as well.
Never stand up on a sailing raft suddenly. This can easily make the raft topple over and capsize it. It leads to the loss of balance and that is why you mustn't do so. Always inform the guide beforehand.
What To Pack For River Rafting In Kerala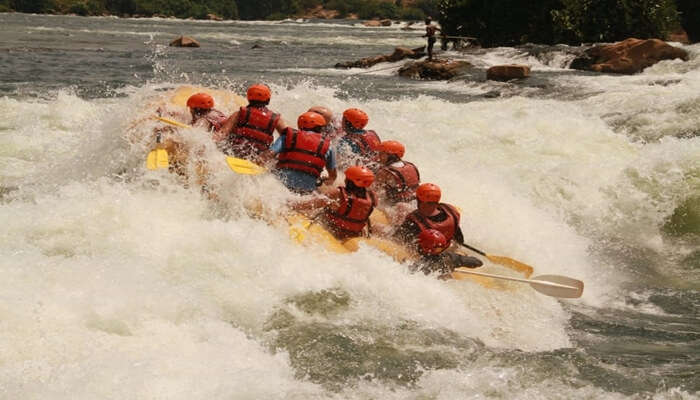 Image Source
You need to pack some simple yet really essential items before you plan for a trip of river rafting in Munnar. Pack a two set of clothes – one that you will be wearing during the rafting trip and the second set for another time. Carry comfortable clothes like small shorts and t-shirts for the rafting trip down the river. This will help you feel more convenient and cosy at all times. Make sure to carry a shoe that comes with good grip and is probably waterproof. Don't forget to take a bottle of sunscreen lotion, to apply before getting on the raft to keep your skin protected from the blazing sun when you are rafting.
So, these were some important tips that we would suggest you keep in mind in order to stay safe and have wonderful rafting experience on your vacation in Kerala. Make sure you experience river rafting in Kerala for an oh-so-awesome and thrilling experience.
People Also Read:
River Rafting In Coorg River Rafting In Kolad River Rafting in Rishikesh
Comments
comments