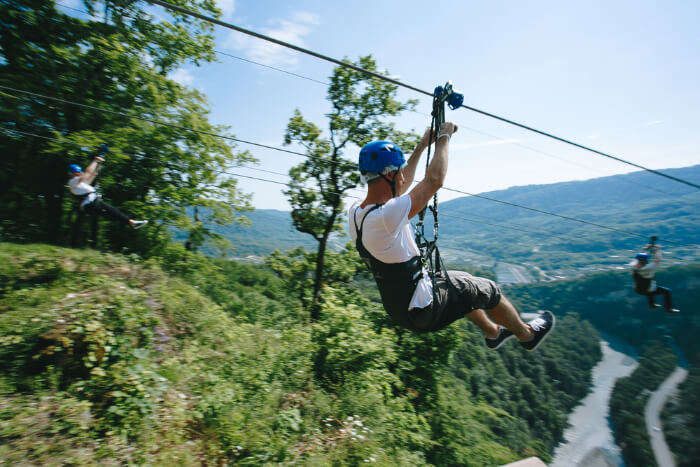 Located on Sentosa Island, Adventure Park – Singapore is one of the most popular places to visit in the 'Garden City'. The park is famous for MegaZip flying fox activity that it hosts. The MegaZip flying fox runs across 450 meters, experiencing which you will be flying at a speed of 60 kilometers per hour. You will be spanning over some of the most breathtaking scenic sights of Singapore including the dense jungle and sandy beaches of the Sentosa Island. And when hunger strikes after an exhilarating experience here, rush to these restaurants near Mega Adventure – Singapore.
About Mega Adventure Singapore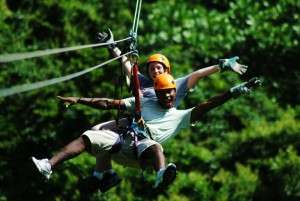 The Mega Adventure Park – Singapore situated on Sentosa Island is a place where you can indulge some of the most ravishing adventure activities in Singapore. MegaZip being the most popular among all is a must experience. 365 كوره The zip-line starts from the peak of Imbiah Hill and ends on the man-made island off Siloso Beach. The other thrilling activities include MegaClimb, MegaJump, MegaWall, and MegaBounce. MegaClimb is a three-level obstacle course which has aerial ropes that are installed around eucalyptus trees.
There are 12 obstacles at each level along with confidence gaps, horizontal ladders, and some mini flying foxes. MegaJump is a jump in which the participants jump from a 15-meter tall tower. Though they get the feel of a free fall, they are in reality attached to a power fan descender which ensures that they have a smooth and safe landing. MegaWall has one of the highest climbing walls in Singapore and is 16-meter high. The wall has three routes to reach the top and after reaching the top, people abseil back down. MegaBounce a trampoline that has an elastic power-cords system attached to it. This allows you to make higher and safe bounces even up to 10 meters.
About Singaporean Cuisine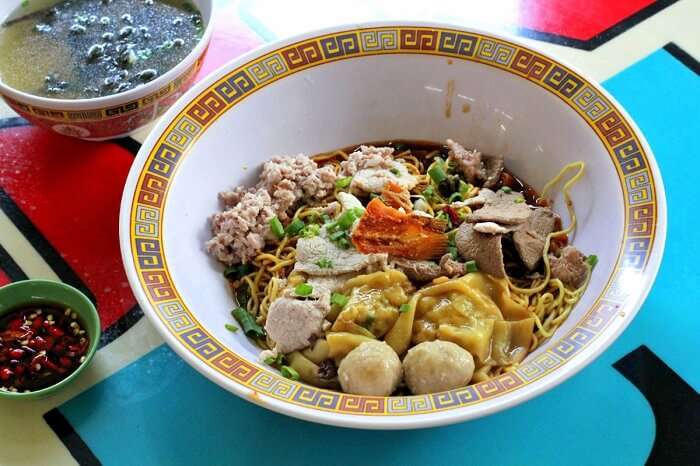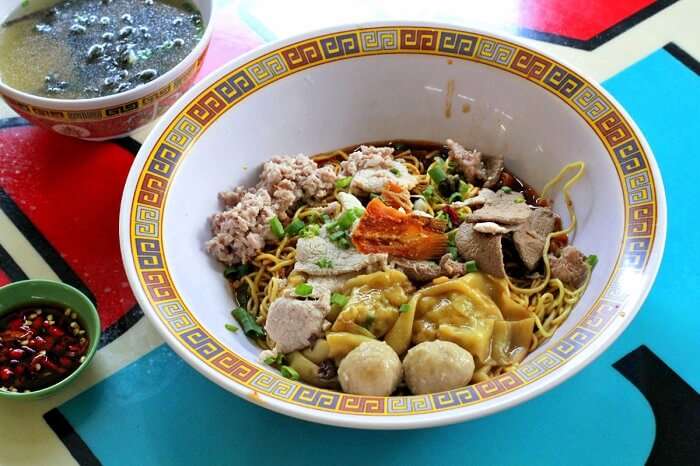 Singaporean food culture reflects the diversity of various ethnic cultures. The country has several different ethnic groups settled hear who had immigrated to this island nation many years back. Chinese, Malay, Indian, Indonesian and Peranakan being the major ethnic groups in Singapore. Chinese and Indian are the largest ethnic groups settled in Singapore. You would also find influences from the regions of Sri Lanka, Thailand, and the Middle East. Noodles, Rice and Seafood are the three most important elements of Singaporean cuisine.
In fact, rice and noodles find a lot of relevance in Asian food culture. The influence of Malayan culture had brought in the fondness for rice. Rice is usually consumed in steamed form, along with some spicy curry. The Chinese cultural influence has evoked the love for noodles. Noodles are consumed in various forms including steamed and cooked, fried or souped. Singapore is an island nation, and that explains the popularity of seafood. Some of the most popular seafood dishes include Chilli crab, Shrimp, BBQ Crayfish, Samal stingray, and Steamed bamboo clam. And on your next trip to Singapore, make sure you try Chilli Crab because it is the national dish of Singapore. العاب النت 2022
5 Restaurants Near Mega Adventure – Singapore
You are surely going to enjoy a day out at the Mega Adventure Park on Sentosa Island. These restaurants near Mega Adventure – Singapore are some of the best places to look forward to after a whole day of thrill and adventure:
1. Thai Village Restaurant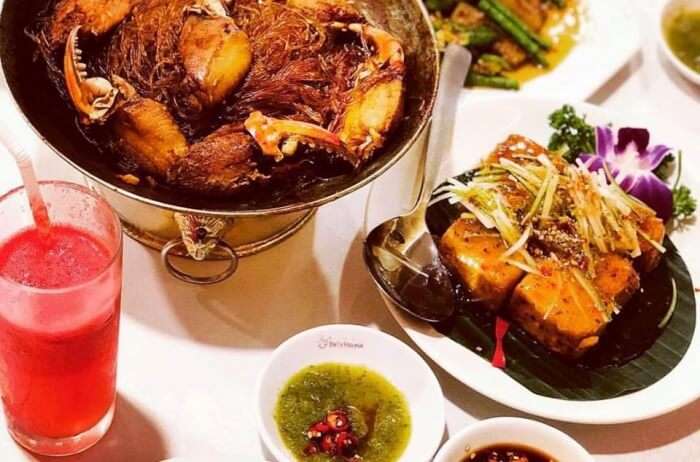 One can savour the mouth-watering delicacies from Chinese and Thai-Teochew cuisine at this Kallang restaurant. This restaurant opened its doors to all the food lovers in the year 1991 and since then it has been a favourite among all the visiting tourists as well as the Kallang locals. Their signature dish is the Braised Superior Shark's Fin Soup is a gastronomic delight which never fails to satisfy any food lover's taste buds.
Location: 2 Stadium Walk, #01-02/03 Kallang Indoor Stadium, Kallang, Singapore-397691
Cost for two: INR 9,500
TripAdvisor rating: 4.0
TripAdvisor reviews
Suggested Read: 10 Finger Licking Good Kallang Restaurants In Singapore
2. My Spice Affair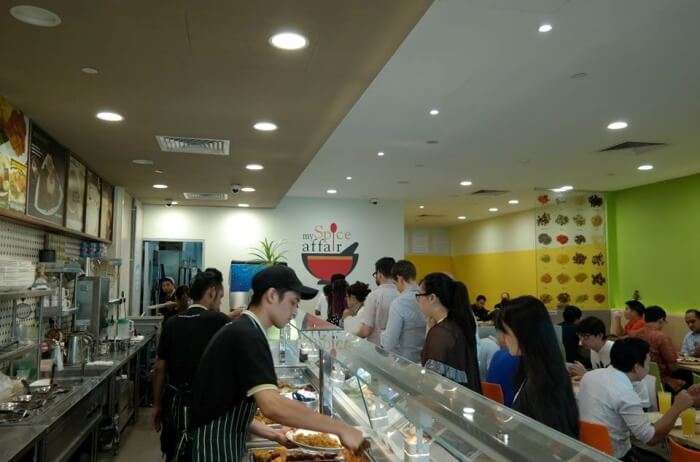 This restaurant first started as a street food joint serving food from the Malay cuisine. It was started by Madam Salmah in the 1970s. People loved the food here so much that this street food joint soon converted and established as one of the best restaurants in Kallang. The recipes and the cooking procedures were all given out by Madam Salmah and even though the presentation techniques have changed and improved over the years, the recipe and cooking techniques remain the same. Because of this, the authentic taste of traditional Malay food is still maintained at this restaurant.
Location: 12 Kallang Ave, Kallang, Singapore
Cost for two: INR 2,100
TripAdvisor rating: 4.5
TripAdvisor reviews
3. Di Wei Teochew Restaurant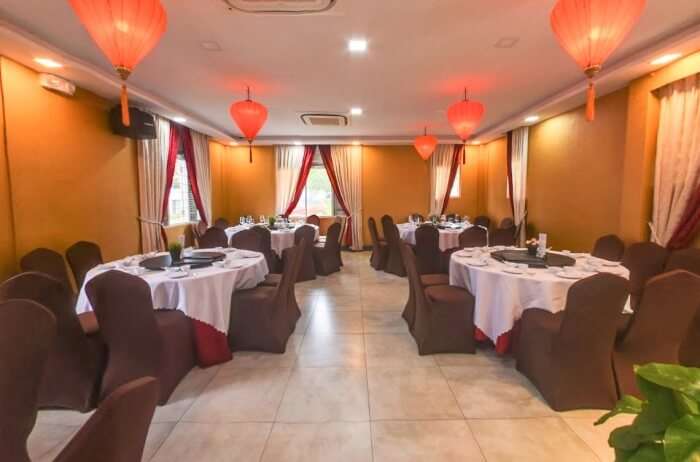 Di Wei Teochew Restaurant was founded by chef Khoo Tai Guan. This is one of the well-known Chinese restaurants in Seletar which serves incredibly tasty dishes from the Teochew cuisine. Teochew Cold Crab and Teochew Pan Fried Pomfret are the signature dishes of this restaurant and must be tried by every visitor who dines at this restaurant. Other dishes which taste just as amazing as the signature dishes are Crayfish Porridge, Honey Glazed Pork and Fried Noodles with Shrimp. This place has a flagship outlet which can host up to 140 people at a time and is the ideal place for social gatherings.
Location: 1 The Oval, Seletar, Singapore – 797859
Cost for two: INR 2,800
TripAdvisor rating: 4.5
TripAdvisor reviews
Suggested Read: 10 Best Seletar Restaurants For An Exquisite Fine Dining Experience
4. Shihlin Taiwan Street Snacks
Shihlin Taiwan Street Snacks is the most popular Taiwanese food chain in Clementi and has a lot of regular customers amongst the locals because of the authentic Taiwanese dishes like Handmade Oyster Mee Sua, Seafood Tempura, Crispy Chicken, and crispy Floss Egg Crepe.
Specialties: Crispy Floss Egg Crepe
Address: #B1 -K13 The Clementi Mall, 3155 Commonwealth Avenue West, 129588
Contact: +65 61001218
Suggested Read: 12 Clementi Restaurants You Will Love Visiting On Every Trip To This Town
5. Horizon Bistronomy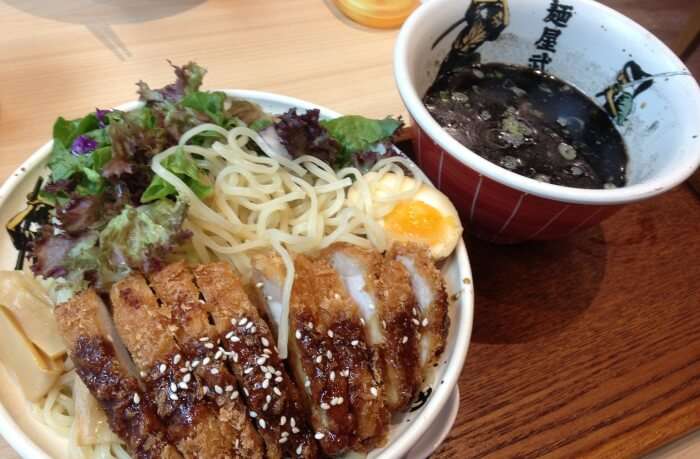 Now that we have focused more on the casual and comfort food in the last two options, it is time we take this to a whole new level with some over the top food found around in Punggol. The Horizon Bistronomy is run and managed by a 3-star Michelin chef which is definitely something you don't necessarily experience on a day to day basis. Every single masterpiece is created and made by Bruno Menard and emphasizes on French-style restaurant in Punggol. The best part of this restaurant is the fact that every dish that you have is reasonably priced, even with the circumstances surrounding it.
Ratings: 4/5
Location: 3 Punggol Point Road#02-04, The Punggol Settlement
Timings Daily: 6pm – 11pm
Suggested Read: 10 Best Punggol Restaurants Every Foodie Must Count On While In Singapore!
Mega Adventure – Singapore is a place where you one can spend a whole day indulging in some of the most thrilling activities. Make sure you also explore these restaurants near Mega Adventure – Singapore. Plan a trip to Singapore soon and embrace a plethora of adventure, great food, and cultural practices.
Comments
comments