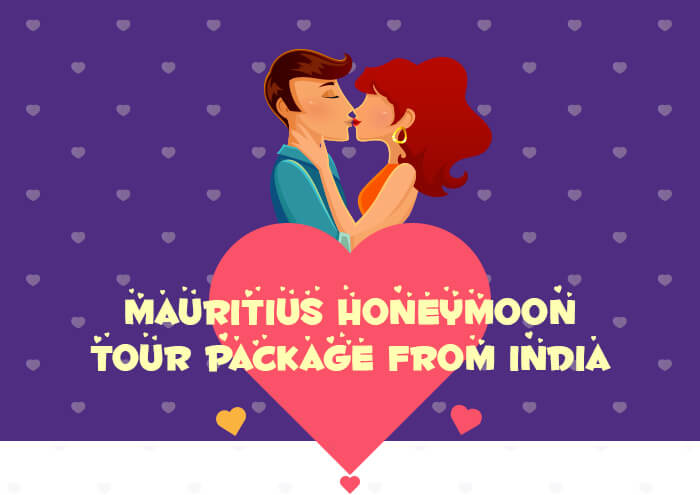 Mauritius continues to be a popular destination for honeymooners from around the world. It's beautiful beaches, azure sea, spectacular underwater world and luxurious resorts are the key draw. Whether you are looking for some time away from the world with your beloved, or want to dive into the deep blue for a spot of snorkeling, Mauritius is the perfect destination for you. The mere mention of Mauritius honeymoon packages create images of white sand beaches, deep blue sea, luxury, extravagance, and unlimited pleasure!
Take a look below to know all about planning the perfect Mauritius Honeymoon Tour Package from India, and everything else that goes with it.
Let's start with a few basic facts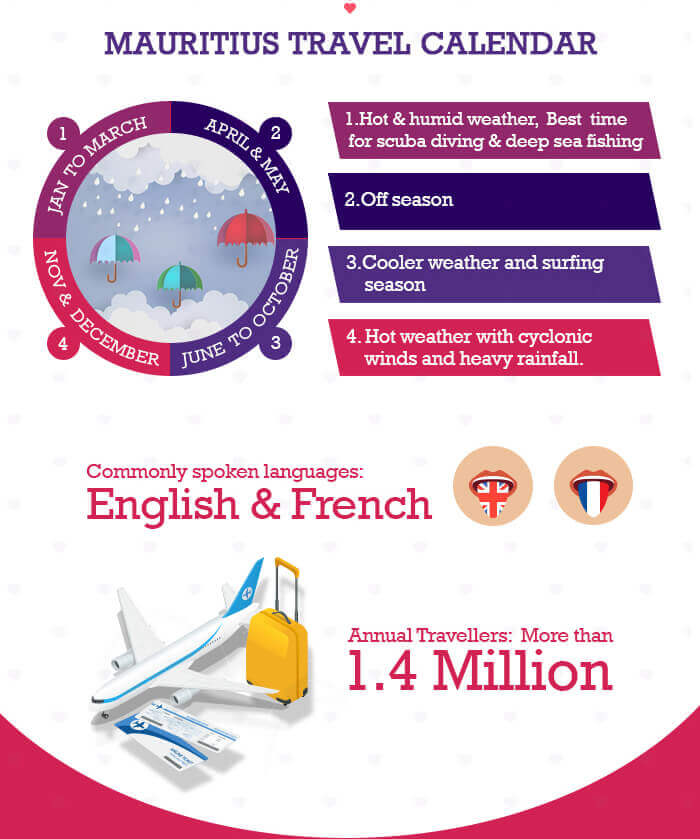 Geography: It is a volcanic island nation in the African Continent. The vegetation is characterized mostly by beaches, reefs and lagoons.
Climate: Mauritius enjoys a mild tropical climate, making it the perfect destination for visiting any time through the year.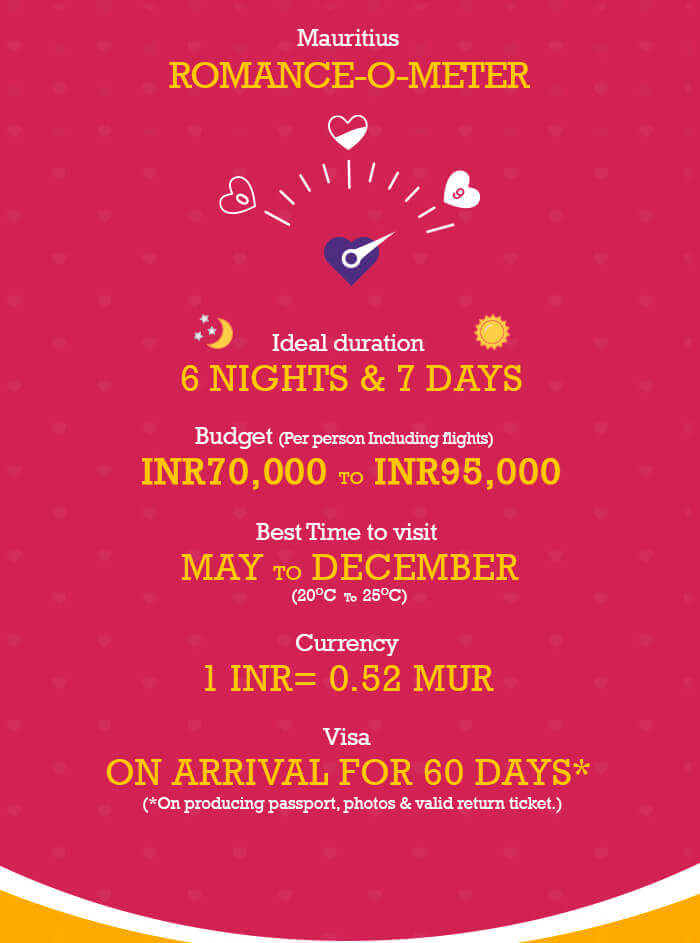 Annual Travellers: The number of annual travellers to Mauritius, honeymooners or otherwise, has risen from 18,000 in 1970 to more than 1.4 million in recent years.
How to reach?: Flights are available from most major cities of India, including Chennai, Mumbai and Delhi, so reaching this magical place won't be much of a problem.
Visa Requirements: For Indians, there is no visa fee for visiting Mauritius. That's right, it is absolutely free! All you need to take along is your passport that is valid for 6 months from the date of arrival, a valid return ticket, and adequate funds to meet the cost of your stay.
Activities to indulge in: There is so much to do in Mauritius that you are sure to have nary a moment to feel bored. If you tire of sunbathing, try your hands at snorkeling and underwater sea-walks to take a look at the vibrant marine life. You can also enjoy historical tours, go on a thrilling catamaran cruise, or go horseback riding. Or how about a helicopter ride, with the whole world spread at your feet.
Must Read: Nightlife In Mauritius 2022: 15 Hotspots To Blend In The Vibe
Places to Visit: If you are in the mood for some sightseeing, then Mauritius can keep you occupied for several days straight. There is the Casela Nature Park where you can see and interact with wild animals such as lions and zebras. You can also spend the day lazing around at Ile aux Aigrettes coral island, or go kayaking at Ile d'Ambre. The Seven Coloured Earth at Chamarel is a great place for honeymooners, as well as the Pamplemousses Botanic Gardens, where walking hand in hand with your beloved under lush green canopies becomes a reality.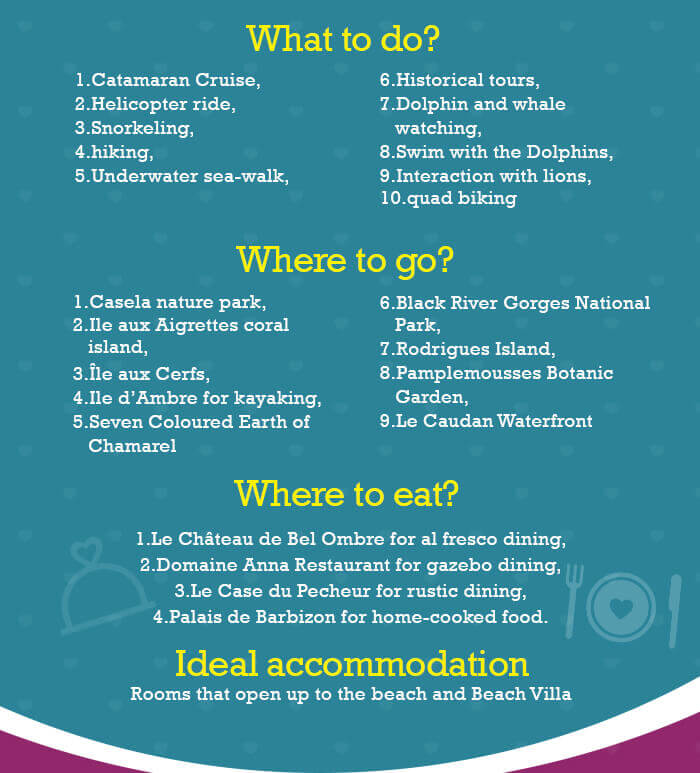 Where to eat?: Mauritius is famed across the world for its unique cuisines, which has been adapted from Indian, French, Creole, African, and even Chinese. Must try dishes in Mauritius includes giant prawns, wild boar, palm hearts, and rougaille, a tomato sauce that is paired with everything.
Preferable Accommodation: When at a beach destination, wouldn't you want to stay near the beach, where you can hear the waves crashing and the palm trees swishing against each other. In Mauritius, try and book hotels and resorts that offer either beach facing rooms, or those that open up on beaches. What could be better?
Some tips for a hassle free holiday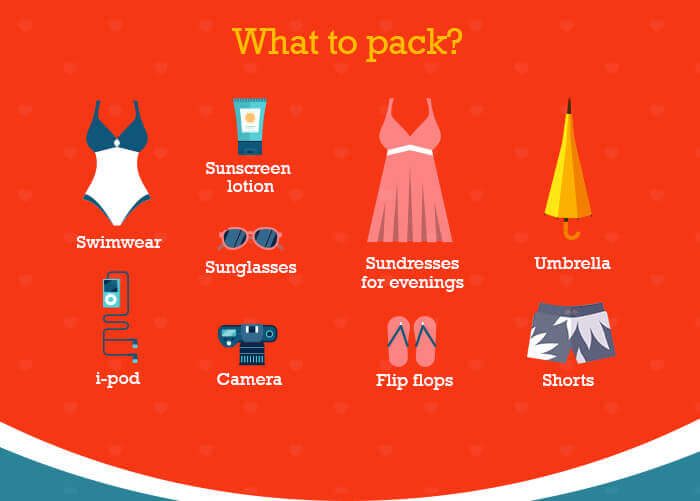 Remember to travel light! It is very important that you don't overload your bags and cases with things that you can also buy at your destination. Leave some space to bring back souvenirs.
Suggested Read: 33 Things To Do On Mauritius Honeymoon For A Ultra-Romantic Affair In 2022
If you have ample time on your hands, and love to research and plan your vacations, then by all means, go ahead and plan your own trip. But if in any doubt it is always better to rely on a pre-planned package for ease of travelling. This way you can leave the tedious, boring bits to the professionals, while you concentrate on having fun!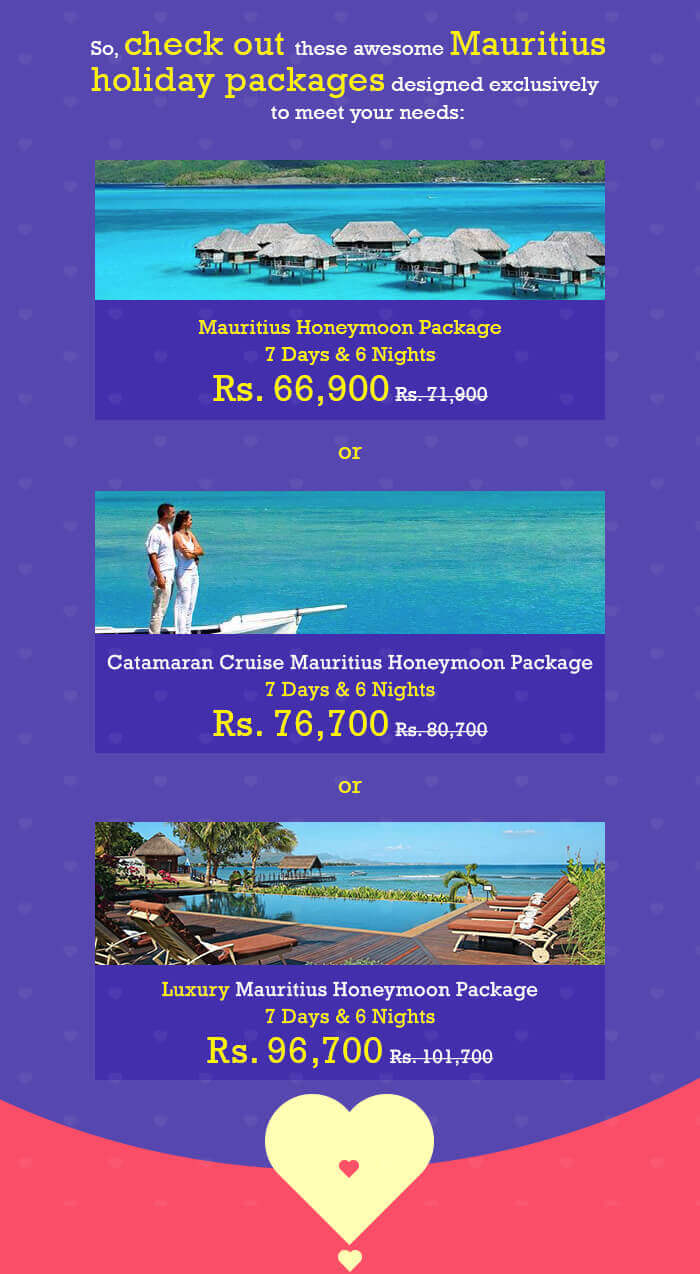 Take a look at these Mauritius Honeymoon Tour Packages From India packages below to understand what your package might hold. Don't forget, you can also get your package customised as per your requirements.
6N/7D Mauritius Honeymoon Tour
6N/7D Luxury Mauritius Honeymoon Tour
6N/7D Mauritius Honeymoon Catamaran Cruise
6N/7D Mauritius Honeymoon Tour
6N/7D Mauritius Honeymoon Tour
Book your trip now!

Comments
comments