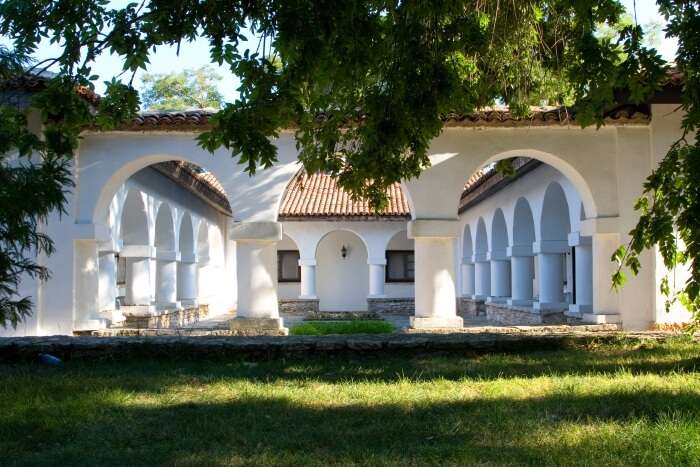 As a favourite travel location during the last couple of years, Bulgaria draws more and more vacationers' year after year. With its white-sand beaches, sparkling cascades and lazy summer times, its centuries-old culture and history, its welcoming folks, nutritious food and free booze, its amazing currency rate, you can expect an enjoyable low-cost summer holiday, full of active holidays for young people or just to learn the customs left behind in the countryside, where ordinary people still breed farm animals, roast bread and make cheese.
10 Best Villas In Bulgaria
Whatever your preference, you'll find your ideal vacation home in Bulgaria among the extensive rental options. There is something for everyone during your vacation in Bulgaria, particularly if you are keenly interested in culture, history and architecture. You can also savor the pristine essence and the sizeable cities in this country.
1. Villa Irina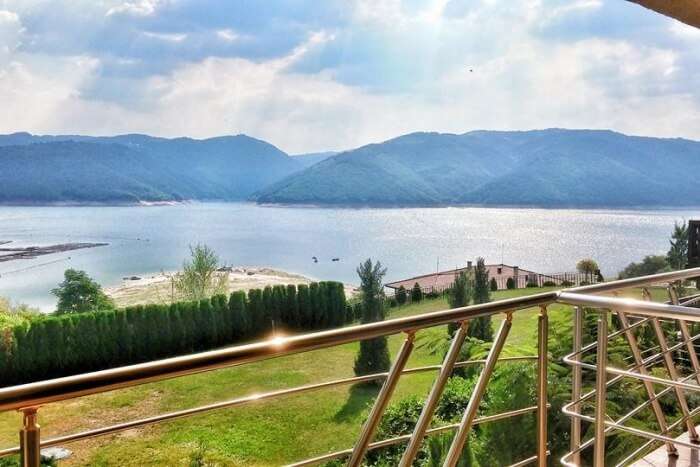 Villa Irina provides housing in Kŭrdzhali. All residences have a separate bathroom and kitchen. The property has an alpine view, a barbecue and free Wi – Fi. All the guest rooms in the guesthouse have a coffee maker. All bedrooms at Villa Irina are outfitted with a wardrobe and a Television. Mineralni Bani is 43 km off the property.
Location: S. Glavatartsi, 6600 Kŭrdzhali, Bulgaria
Cost: 650 euro per week
Google rating: 9.1/10
Must Read: Bulgaria In Winter: 10 Things To Do To Make Your Vacation Memorable
2. San Marco Villas

In the garden, SanMarco Villas features a swimming pool and tennis court. Located 400 meters from Kranevo Beach, this property provides free private parking. Villas in SanMarco are air – conditioned and also have a private terrace with garden views. Each villa has a kitchenette, lounge area and a lavatory with shower. Guests can swim in the swimming pool or play a tennis or table tennis game. You can also go horseback riding or scuba diving in the locality. International Airport of Varna is 20 km away. Balchik 's botanical gardens are 10 km away. The Bulgarian Golf Riviera can be reached in less than 1 hour by car.
Location: Primorska 16, 9649 Kranevo, Bulgaria
Cost: 550 euro per week
Google rating: 8.9/10
3. Villa Valentina

Promising an outdoor swimming pool and air-conditioned rooms with balconies, Villa Valentina is discreetly situated 450 meters from the beach of the Black Sea. The vast garden has a barbecue area and a play area for kids. Each room has a Television and a kitchenette with a refrigerator and an oven. The private bathroom is provided with a shower. The beach resorts of Albena and Golden Sands are a 10-minute commute from Valentina. Guests can come and visit the celebrated medieval monastery of the Aladzha Cave and the botanical garden of Balchik, both 10 km away. The shops and restaurants of Kranevo Main Street are 500 meters from the Villa Valentina. Varna is about 25 km away.
Location: 15 Roporamostr., 9649 Kranevo, Bulgaria
Cost: 59 euro per night
Google rating: 8.8/10
Suggested Read: Museums In Austria: 8 Amazing Storehouse Of History And Art In The Heart Of Europe
4. Iskar Villas

Iskar Villas is situated in the center of Kranevo, 20 km from Varna, a seaside village. There is a swimming pool and a bistro. It is a 10-minute stroll to the closest beach. The typical room is furnished with free Wi – Fi, air – conditioning and cable television. There is a private terrace in each room and a lavatory. Villa Iskar is 3 km from the Albena Beach Resort. Again, you can also frequent Aladzha's medieval monastery, which is only 10 km away. Private transfers are available to Varna airport and the shuttle takes approximately 30 minutes. Private parking is free at the Villa. The parking lot is videotaped 24 hours a day.
Location: Iskar str. 36, 9649 Kranevo, Bulgaria
Cost: 65 euro per night
Google rating: 9.1/10
5. Villa Amfora

The Villa Amfora is situated in Kranevo, with an outdoor pool and free Wi – Fi. The property is located 300 m from the Black Sea shore and the central square with stores, retailers and eateries. The apartments have a terrace with a view of the pool, a kitchenette with a lounge area, a seating zone with a couch ,a cable flat – screen TV and a lavatory with a shower and free toiletries. Guests can enjoy the garden with barbecue, along with a playground for children and a volleyball court in Villa Amfora. The property provides free car parking.
Location: 7, Briz Str, 9649 Kranevo, Bulgaria
Cost: 63 euro per night
Google rating: 8.7/10
Suggested Read: Top 12 Bulgarian Restaurants That Will Leave You Spoilt For Choice
6. Villa Promenade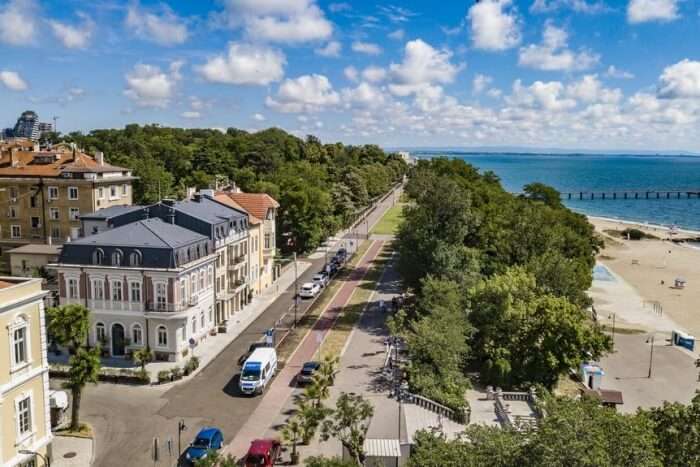 With a restaurant and free Wi-Fi, Villa Promenade is located in Burgas City, just under 1 km from Yug (South) Bus Station and an 18-minute stroll from Burgas Opera House. The air – conditioned property has a sauna. The villa has a separate room with a flat-screen television and a private toilet and showers. Some units come with a veranda and/or balcony. Continental breakfast can be served on site. There is a car rental service at this property. The ferryboat terminal is 5 km to the Villa Promenade and 70 m from the Burgas Central Beach. The closest airfield is Burgas Airport which is 12 km from the property.
Location: 1 Tsar Simeon I Str., 8000 Burgas City, Bulgaria
Cost: 54 euro per night
Google rating: 8.9/10
7. Bulgarienhus Nev Villa

Bulgarienhus Nev Villa offers a cyclical open – air swimming pool and a lawn in Burgas City, 13 km from BurgasMasque Line and 13 km from Yug (South) Bus Station. With a balcony, the vacation home is located in a locality where visitors can enjoy riding a bike and table tennis. The vacation home with balcony and pool views has a dining room, a Television, a fully outfitted kitchen and 3 or 4 bathrooms with bath. The property offers both a bike rental service and a car rental service. Sarafovo is a fantastic pick for sunlight, sightseeing and sandy beaches for travellers.
Location: 48 Angel Dimitrov Street, Sarafovo Area, Sarafovo, 8017 Burgas City, Bulgaria
Cost: 70 euro per night
Google rating: 9.3/10
Suggested Read: Paragliding in Austria: Head to these amazing destinations in the heart of europe!
8. Old School Villa

The Old School Villa is located in Bratovo, in the province of Burgas, and has a garden. A fully outfitted kitchen is available for guests staying in this villa. The villa has 7 distinct spare bedrooms, 4 bathrooms with completely free cosmetics, a hairdryer and a sitting room. A flat – screen satellite Television is provided. Guests can use the whirlpool. The property includes a barbecue and balcony.
Location: 1 Trakiya Street, 8111 Bratovo, Bulgaria
Cost: 65 euro per night
Google rating: 9.1/10
9. Royal Villas

Royal Villas is located in Bryastovets and provides an open – air pool. This self-catering property has free Wi-Fi for internet access. Each villa has a terrace, a living area and easy access to the swimming pool. A fully equipped kitchen with microwave and oven is provided. The private bathroom has a shower, or a bath. There is extra bathroom as well. You can admire the view of the pool from the room. There is a lawn and a barbecue facility in the Royal Villas. The villa offers free parking.
Location: 6009 6, 8113 Bryastovets, Bulgaria
Cost: 50 euro per night
Google rating: 8.1/10
Suggested Read: Sweden In March: 10 Eye-Catchingly Beautiful Places To Visit In Europe's Svedala
10. Villa Knox

Located in Bryastovets, Villa Knox features a cyclical open – air swimming pool, a barbecue area and a garden. With swimming pool views, this property provides a balcony. The villa has 1 bedroom and an adequately equipped kitchen with a fridge. A flat -screen television is available.
Location: 6009, 8113 Bryastovets, Bulgaria
Cost: 70 euro per night
Google rating: 9.7/10
Further Read: 7 Days In Spain: Witness The Splendid Sceneries Of The Second Largest European Country!
Villas are expensive yet luxurious accommodations to pamper you and your family while you are on a vacation to Bulgaria. We hope this list aids you in selecting a villa with a good cost to amenities ratio.
---
Looking To Book An International Honeymoon?
Book memorable honeymoon on TravelTriangle with 650+ verified travel agents for 65+ domestic and international destinations.
---