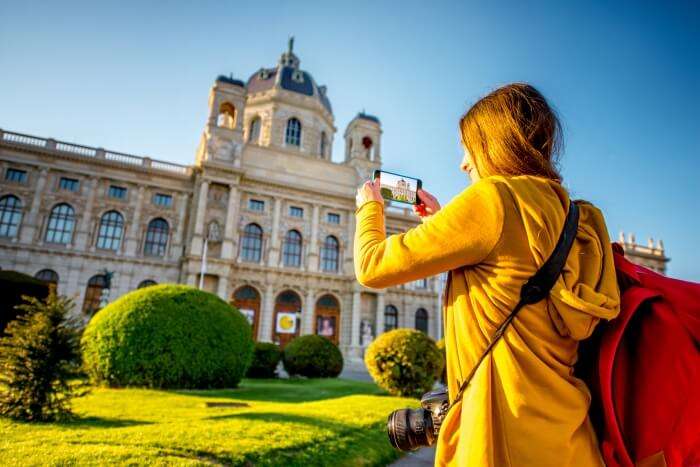 Every country has a number of museums to showcase their rich past, enthralling present, and an advanced future. There are museums for different categories like art, weapons, history, maps and also for renowned people known for their contribution in various fields. There are a number of museums in Austria spread across various cities and are popular among tourists.
8 Amazing Museums In Austria
Austria is also known to house some beautiful museums in the world. To give you a gist of these museums, we have curated a list of 7 museums that are a must-visit. Have a look!
1. Kunsthistorisches Museum, Vienna
Art lovers would be very disappointed if they miss out on this museum. The interior of the Kunsthistorisches Museum is as amazing as its collection. This museum is popularly known as the Museum of Fine Arts and mainly built to exhibit artworks of Habsburg. It was built in 1891 by Emperor Franz Joseph 1. The famous works of Rubens, Raphael, Rembrandt, Durer, and Michelangelo are all displayed in the museum. The museum is well known for its collection of paintings by Peter Bruegel – the Elder, who was considered the master of Northern Renaissance. The other things to see in the museum are some antique coins from the past and some historical musical instruments.
Must Read: Austrian Food: 20 Irresistible Dishes You'd Want To Relish
2. Naturhistorisches Museum, Vienna
The Naturhistorisches Museum had also opened around the same time as the Kunstistorisches Museum, however, this museum is purely based on natural history. The most enthralling fact about this museum is that it houses 30 million artifacts which expound the history, evolution and the diversity among living beings, walking the face of the earth. There is a planetarium which has some spectacular animal specimens.
This museum is famous all over the world for its huge collection of the bones of dinosaurs. There is an entire hall for dinosaurs on exhibit. Another fascinating thing at the museum is the largest exhibition of meteorites in the whole world. There is a figure of Venus of Willendorf which is a famous prehistoric sculpture, and it is about 28,000 years old.
3. Leopold Museum, Vienna
Austria art museums are famous all over the world for the diverse and varied art forms exhibited by many artists present here. Leopold Museum has one of the most diverse and large collections of modern art one can witness. The artistic works of Gustav Klimt, Richard Gerstl, Oskar Kokoschka and Egon Schiele are all at display in this museum. Leopold Museum contains the largest collection of the collections of Egon Schiele in the whole world.
There are more than 5000 exhibits which were collected by Rudolf Leopold and Elisabeth in five decades, and they were all consolidated in 1994 with the help of National Bank of Austria and Republic of Austria in the Private foundation of Leopold Museum.
Suggested Read: This New James Bond Museum Atop The Austrian Alps Has "A View To Kill"
4. Wien Museum, Karlsplatz
Wien Museum maneuvers a collection of high-quality architecture as well as various historical items. Wien Museum was opened in the year 1959. The most amazing artworks of famous artists like Gustav Klimt, Arnold Schonberg, Richard Gerstl and Egon Schiele are all displayed in this museum, making it a spectacular visit for art history lovers. The archaeological findings of the Roman military camp as well as the weapons and armor are displayed very well.
5. Heeresgeschichtliches Museum, Vienna
This museum is popularly known as the Military Historical Museum. This is known to be the most significant historical museum and has a great collection of military artifacts. On display are the cars, armor, and weapons which were used during the time of World War I. There is a garden outside the museum which displays all the combat tanks which were used starting from the Soviet Period till date. During the summers, one could get a chance to see the demonstration of these vehicles live.
It also displays great armaments, badges, medals of honor as well as the blood-stained uniforms of the Nazi soldiers.
Suggested Read: Austria Nightlife: 8 Cities That Put On A Show For Party Animals
6. Museumsquartier, Vienna
Museumquartier consists of baroque buildings and modern architectural works of many famous architects like Manfred Ortner and Laurids. According to the estimate, the total cost of construction of this museum was 150 million Euro (200 billion Austrian Schilling). This is among the most visited museums and is known for its superb architecture. The museum should be on your must-visit list for the sole reason that it holds the history and culture of the country on its wall.
Suggested Read: 7 Incredible Tourists Places For A Day-Long Trip In Austria
7. Kunsthaus Graz
Kunsthaus Graz is also known by the name Graz Art Museum and it was built as a part of European Capital of Culture in the year 2003. It has been the landmark for arts in Austria. There are many art exhibition events which take place in Kunsthaus Graz. During the months, August to November, tourist can experience many out of the world exhibition that takes place here. There was a significant increase in arts in Austria with the support of Habsburg Monarchs. These monarchs were known for their love for, thus e leading to some significant rise in the quality of buildings built in Austria during this era.
Suggested Read: 34 Best Places To Visit In Austria That Are Straight Out Of A Picture Book
8.Globe Museum
This museum is situated in Palais Mollard in Vienna, Austria. This museum was opened in 1956. This is a public museum and the whole museum is based only on globes. In the early 19th century, Vienna Imperial Library which is now known as Austrian National Library had an amazing collection of globes, and they are all on exhibit here. This whole collection consists of 3-D models of different planets as well as other celestial bodies. It is a fascinating place to visit for all tourists visiting Vienna.
Among all the cities, Vienna has the most number of museums in Austria. Due to this reason, Vienna is also known as the cultural capital of Austria. Above mentioned museums are the best museums in Austria and are famous for their diversity.
Further Read: The 10 Most Beautiful Lakes In Austria For An Exotic Europe Getaway
Some museums are famous for art while some are famous for its history. All the museums have different collections like the collections of coins, gems, weapons, armor, paintings, monuments and much more. While holidaying in Austria, these 8 are some must-see museums in Austria.
---
Looking To Book An International Holiday?
Book memorable holidays on TravelTriangle with 650+ verified travel agents for 65+ domestic and international destinations.
---