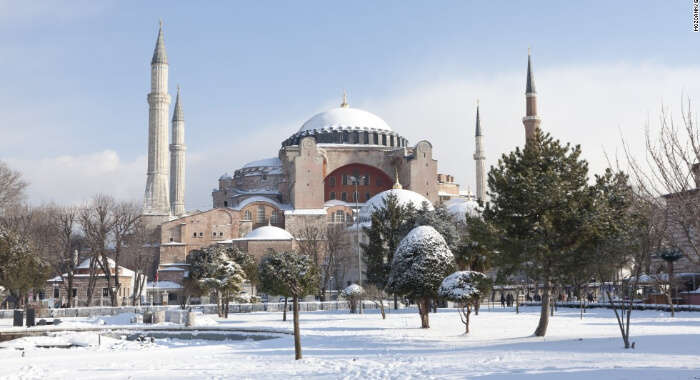 "The sound of Skiboards sliding on the snow, a conclave of amateur mountaineers and scattered figurines of snowmen. All these are lesser known persona of Turkey. Winters in Turkey are definitely worth an experience. Some even say that Turkey is better visited in the colder months.
If you are looking for a totally unique skiing experience, then you are in for a real treat if you are planning to spend your winter in Turkey. There are several ski areas in Turkey along with world-class heli-skiing. Besides this, cherish other winter sports too and witness the authentic local life. Right from competitively priced hotels to cheap round trip flights, get prepared to have your mind blown away.
Why Turkey in winter?
Turkey has three different climate zones due to its immense size. The winters in Turkey starts from mid-December and ends in mid-March. Different regions of Turkey experience different quality of winter. It can range from mild to snowy or from rainy to dry cold. Temperatures may vary from -13C to 24C depending upon the climate zone.
Turkey has always been perceived as a summer holiday destination, but this country is a good choice for your winter getaways too. Turkey is quieter in winter, so you won't have to deal with a lot of tourist crowd. This also brings us to the second most important point, which is expenses. The place is cheaper, especially the accommodation and your choices are also wide. Another important aspect of your trip is experiencing the culture of this Turkey. During winter, because of the less crowd, you will have better access to public places and people.
1. Expenses
Book a round trip flight to your favorite destination in the major on-season and you will witness outrageously priced flights, airfare and hotel rooms. The same goes for Turkey. Book your flight to Turkey deep in the dead of winter (in February month) and traveling will be incredibly cheaper as it's the major offseason. Hotels, tours, restaurants and activities in Turkey can be up to 75% more affordable than the expensive months of the year.
---
Looking To Book An International Holiday?
Book memorable holidays on TravelTriangle with 650+ verified travel agents for 65+ domestic and international destinations.
---
2. Crowd
If there is one thing that most people hate when traveling, it's the crowd. They love to travel and see the world but they silently wish if they could do without the crowds. If you want to travel sans the large crowds of people and tourists then Turkey is the perfect location for you in winters. No crowds of annoying people! No cruises! Turkey is an empty place in the winter months. This means less busy places and no waiting in lines. Tip – Visit the backstreets of Istanbul to experience true solitude. You will find the streets teeming with cats mostly and no crowds.
Must Read: 10 Mosques In Turkey That Are Much More Than Just Prayer Halls
3. Scenic views
Most people envision Turkey as a destination bustling with rocky beaches, rustic-chic villages, breathtakingly beautiful streets and endless sunshine but the place has many other good sides. In the winter season, the country is hit by heavy snow now, and the experience is not less than magical. All you get to witness is an absolutely serene and peaceful ancient land, completely bereft of people and landscapes adorned with fresh and soft snow.
Suggested Read: 5 Places To Visit In Pamukkale That'll Help You Witness The True Natural Beauty Of Turkey
4. History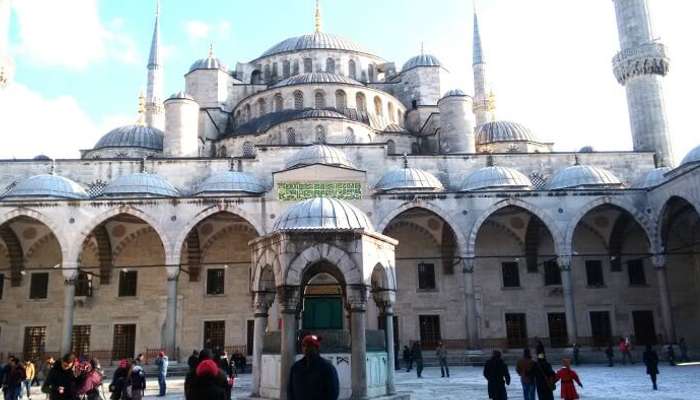 A visit to Turkey in winter make you witness the incredible Greco-Roman sites when the crowds and heat evaporates. You can also head to the travertine hills located above the city of Antalya and wander through the ghostly sarcophagi of Termessos. Winters here gives you a perfect chance to indulge in the history of this stunning location.
5. Turkish Bath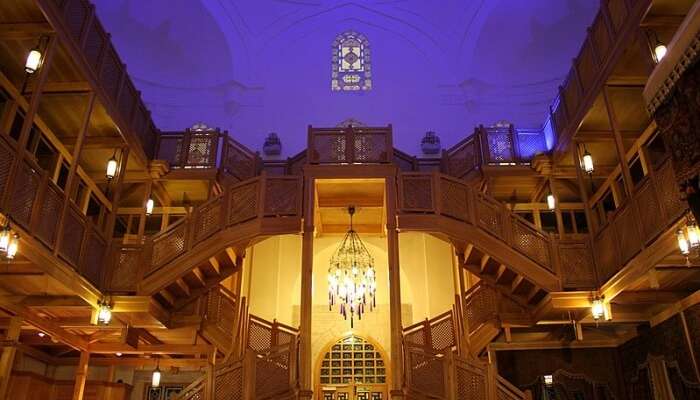 One can relax and revive in one of the best steam-filled historic hamams, located in Istanbul. If you want to check out the best Hamam in the town then don't forget to visit this mystic 16th century Kılıç Ali Pasha which was recently renovated for a multi-million-dollar to restore its original glory. This can be one of the best escapades of this winter.
6. Activities
If you are an adventure lover and want to indulge in skiing, then Turkey in winter is a good choice for you. You thought you can enjoy snow and ski only in Europe. During winters Turkey offers ample snow and ski activities. There are amazing ski resorts in Uludag, Izmit, and Palandoken. These resorts can surely compete with Switzerland. This together answers your queries of 'where to stay' and 'what to do' in Turkey. Make sure you follow the safety rules while skiing and also carry or hire the skiing gears.
Suggested Read: 10 Spectacular National Parks In Turkey For A Rejuvenating Escape Amid Nature
Must See Places During Winters In Turkey
With a unique natural environment and tranquility like no other during winters, winters season is one of the best seasons to travel to Turkey. Here are some of the best places to visit in Turkey during the winter season:
1. Antalya
Formally known as Pamphylia, Antalya has hordes of historical sites, lengthy coastlines, and mesmerizing landscapes. Antalya aquarium is famous for being family friendly. Get rid of the fatigue of the day in the famous Turkish bathhouses in Antalya region. Antalya is famous for old harbors with yachts and beaches with big hotels. This Turkish resort city totally deserves to be on the top of every itinerary of your winter Turkey holidays.
Temperature range during winter: 0C to 15C.
Suggested Read: 8 Best Cottages In Turkey For Experiencing The Best Of Luxury, Comfort & Bliss!
2.Cappadocia
Cappadocia is one of the best winter destinations in Turkey. It is indeed a winter wonderland. Due to prehistoric volcanic eruptions, the soft Tufa rocks have formed shapes of their own. These resemble magical chimneys also known as 'fairy chimneys'. You can live the life of Fred Flintstone by staying in an authentic cave hotel in Cappadocia. The amazing site includes Bronze Age homes that were carved into the valley walls and the rock-face churches. This place is also popular for its hot-air balloon scenes. The entire valley looks picturesque from the aerial. If you like something different and weird then Cappadocia qualifies for your wishes.
Temperatures range during winters: 2C to 25C
Suggested Read: 10 Stunning Beaches In Turkey: Just Relax, Sunbathe & Indulge In Water Sports
3. Istanbul
It would be a crime to not mention Istanbul as a winter destination in Turkey. This major city in Turkey has many landmark sites like Hagia Sophia, Blue Mosque, Topkapi Palace and ancient Churches. Other world popular historic sites include the Byzantine Hagia Sophia and the open-air Hippodrome from the Roman-era. Shop in local markets, explore the prehistoric era and the east-west fusion. Regardless of the weather in Turkey during winter, this place gets visitors from around the globe, throughout the year.
Temperatures during winters: 2C to 14C
Further Read: Turkey In September: The Ultimate Guide For Exploring The Land Of The Legends!
Visiting during winters has its own pros. If you want to rid yourself of the hustle and bustle in your present life, a trip to Turkey is your best bet. Lesser crowds also mean more quality interaction with locals and a much better authentic experience. Cities like Istanbul, Cappadocia and Izmir are better explored during winters.
Turkey is mostly seen as summer and warm weather destination. We hope our writeup about Turkey has changed your perception and the next time instead of Bahamas or Indies you will pack heavy and go off to Turkey during winters.
Frequently Asked Questions About Winters In Turkey
People Also Read:
Calgari In Winter Pamukkale In Winter Hong Kong In WInter
Comments
comments