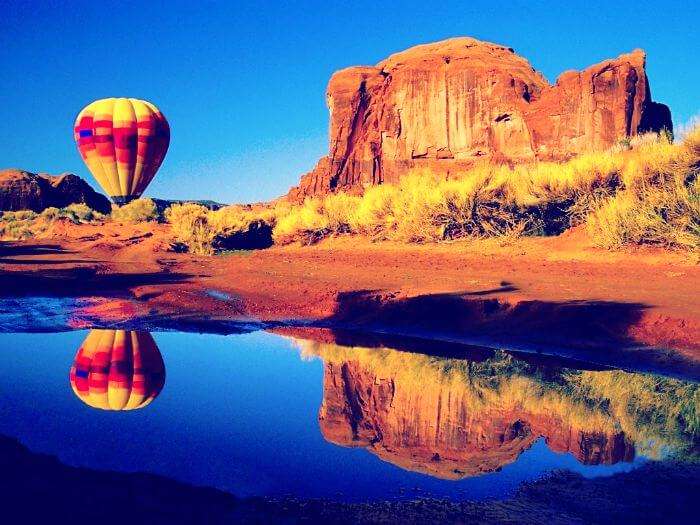 Planning a trip to Turkey? Here's a quick guide to its beaches, cultural sites, shopping hubs and cruise destinations – precisely all the best places to visit in Turkey. Sometimes all we need is a vacation, away from the humdrum of the city life, the constant buzz of social media and of course, the traffic! But it often gets difficult to choose a destination. If your heart says beach, your mind craves a rich historical site. It's quite rare that you find a place with almost everything. Turkey is one such rare gem. Key tourist attractions in Turkey cater to people with varied interests, especially those looking out for some enriching adventure. It is adorned with a stunning coastline, quaint villages and a matchless cultural legacy.
77 Best Places To Visit In Turkey
Here is the perfect list of the best places to visit in Turkey for your next trip. Keep scrolling down to know more and read along!
Kabak Bay
Butterfly Valley, Oludeniz
Patara
Princes' Island
Cappadocia
Hagia Sofia
Mount Nemrut
The City Of Ephesus
Grand Bazaar
The Egyptian Bazaar
Ottomania
Sahaflar Carsisi
Istanbul
Marmaris
Port of Istanbul
Eminonu
The City of Izmir
Topkapı Palace
Ani
Pamukkale
Selimiye Mosque
Erzurum
Sumela Monastery
Aladağlar National Park
Ankara
Bodrum
Akdamar Island
Çanakkale
Avşa Island
Pigeon Valley
Fethiye
Anıtkabir
Mardin
Bozcaada Island
Konya
Zeugma Mosaic Museum
Gaziantep
Pergamum
Trabzon
Dilek Peninsula
Basilica Cistern
Mersin
7 Mehmet Restaurant
Cleopatra Pools
Ladies' Beach
Bursa
Agora Open Air Museum
Old Silk Market
Miniatürk, Istanbul
Kariye Museum, Istanbul
Galata Tower, Istanbul
Kusadasi Castle, Kusadasi
Dilek National Park, Kusadasi
Temple of Artemis, Kusadasi
Izmir Archaeological Museum, Izmir
Arkas Art Center, Izmir
Hisar Mosque, Izmir
İzmir Atatürk Museum, Izmir
Izmir Natural Life Park, Izmir
Oylat Cave, Busra
Synagogue Street, Izmir
Asansor, Izmir
Duden Waterfalls, Antalya
Gulhane Park, Istanbul
Dolmabahce Palace, Istanbul
Suleymaniye Mosque, Istanbul
Hagia Sophia Museum, Istanbul
Blue Mosque
Antalya Aquarium
Kursunlu Waterfalls
Hadrian's Gate
SaatKulesi/ Konak Square
Konyaalti Beach
Antalya Muzesi
Harbour District
House Of The Virgin Mary
Ilica Public Beach
1. Kabak Bay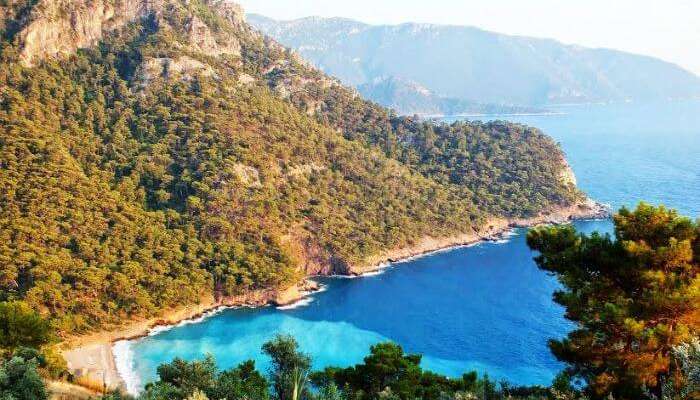 If you want some hippy vibe, check out the tranquil Kabak Bay. To visit the Kabak Valley near Fathiye, hire a taxi to enjoy the jaw-dropping beauty. Or if you're adventurous at heart, you can always opt for a day hike. It is one of the beautiful unexplored places in Turkey.
Location:  Uzunyurt, 48300 Uzunyurt Köyü Fethiye/Fethiye/Muğla, Turkey
Suggested Read: New Year In Turkey: Make New Beginnings More Happening In The Ancient Land Of Dervishes
---
Europe Holiday Packages On TravelTriangle
Explore the most beautiful places to visit in Europe, from Paris to the Venice canals and from the Greek islands to the Swiss alps. Book customized packages by expert agents on TravelTriangle. Inclusive of airport transfers, cab, resort, sightseeing and meals. Best holiday experience Guaranteed. Book Now
---
2. Butterfly Valley, Oludeniz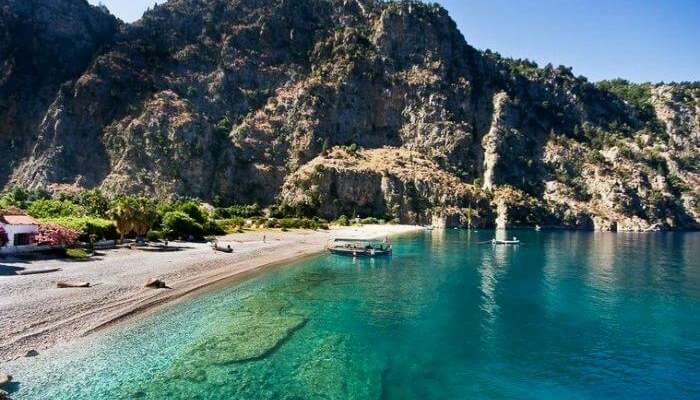 Image Source
Unleash the bohemian in you in the charming Butterfly Valley, one of the best places to visit in Turkey. You can laze around in a hammock, sip your favorite drink and enjoy campfire and music at the Rock Bar. It is one of the famous Turkey tourist attractions.
Location: Butterfly ValleyUzunyurt, 48300 Fethiye/Muğla, Turkey
Must Read: 4 Best Ways To Experience Safari In Istanbul On A Thrilling Turkey Vacation In 2019!
3. Patara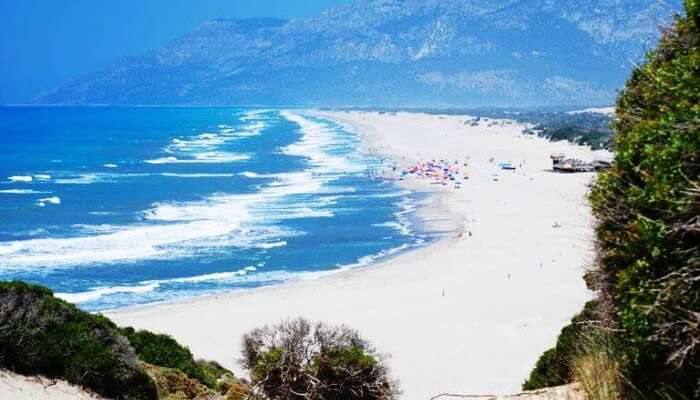 Image Source
A must among places to see in Turkey is Patara, the longest beach in Turkey. There are a few reasonably priced beach cafés with umbrellas and sunbeds for hire. Also if you're lucky, you can witness a sunset and moonrise at the same time from the top of a dune. Absolutely enchanting!
Location: Gelemiş, Antalya Province, Turkey
Suggested Read: 7 Lakes In Turkey: Meander Through The Astounding Banks Of These Natural Wonders
4. Princes' Island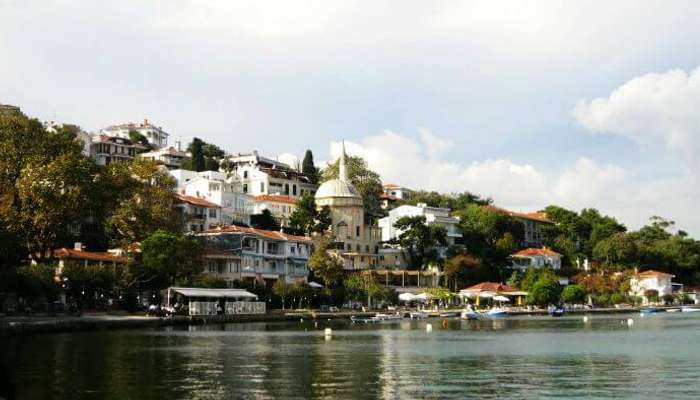 Image Source
The Princes' Island is among major tourist attractions in Istanbul, Turkey. Best thing here is the silence – horse-drawn carriages and bicycles are available instead of motorized vehicles.
Tip: Travel to best places in Turkey in ferries; stack up on sunblocks; and hike to places to discover new things.
Location: Princes' Island, Turkey
Must Read: 20 Beaches With Water So Clear You Would Want To Splash Right In!
5. Cappadocia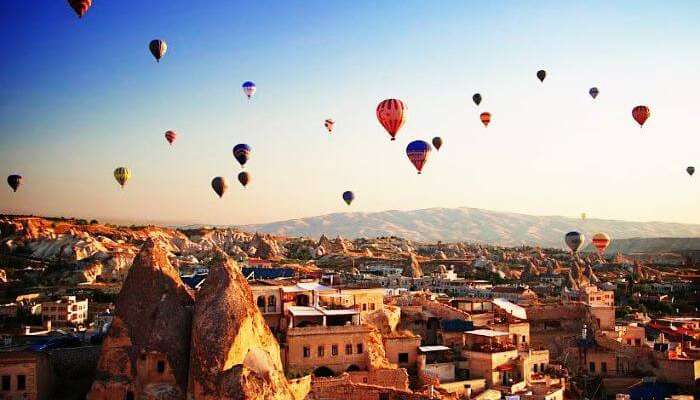 Image Source
One of the best places to visit in Turkey, Cappadocia is the result of a volcanic eruption. Explore the place with a horse ride, take an air balloon ride, and don't forget to sip on Turkish tea. It is one of the best cities in Turkey that will leave you in awe of it.
Location: Cappadocia, Turkey
Must Read: 15 Things Turkey Does Better Than Anywhere Else
6. Hagia Sofia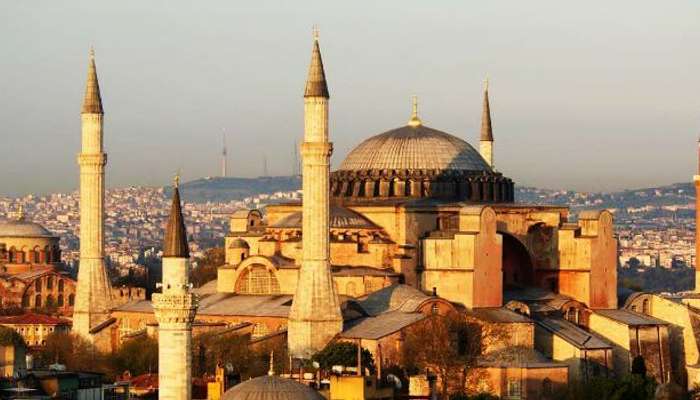 If your first destination is Istanbul, don't forget to visit the iconic Hagia Sofia, one of the most popular tourist attractions in Turkey. A church built by Emperor Justinian in the 6th century, it was converted to a mosque after some 900 years. It is one of the most beautiful monuments and one of the safest places to visit in Turkey.
Location: Sultan Ahmet, Ayasofya Meydanı, 34122 Fatih/İstanbul, Turkey
Must Read: Your favorite Jeans Is Costlier Than Living In These International Cities
7. Mount Nemrut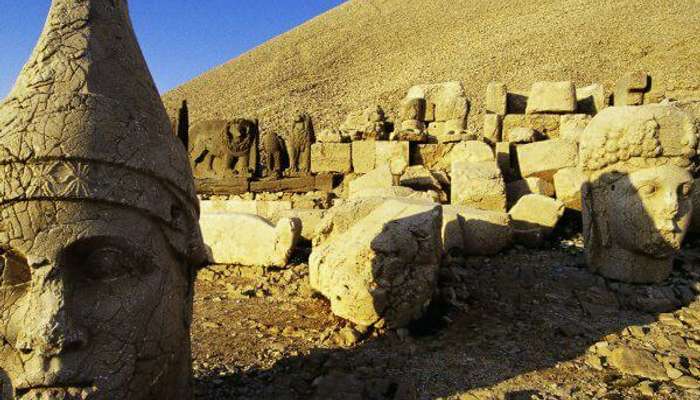 Image Source
Can't miss this one in our list of places to see in Turkey. This historical site, the 8th wonder of the world, is situated on the Arsameia antique road, and is studded with huge statues of King Antiochus I Theos of Commagene two lions, two eagles and various Greek, and Persian gods.
Location:  Taurus Mountains, Turkey
Suggested Read: Celebrate Christmas In Turkey In 2019 & Make It Merry With These Fantastic Experiences
8. The City Of Ephesus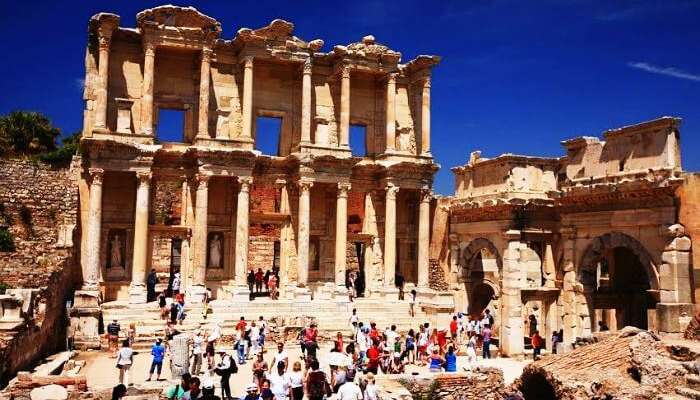 Image Source
The ancient city Ephesus is located in Selcuk, a small town 30 km away from Kusadasi. An active commercial center once, it is now among best places to go in Turkey now. Though most of it is in ruins, some structures like The Great Theatre and the Library of Celsus can be still seen.
Tips: Consult government-run tourism information offices to get an idea on how to go to various places to see in Turkey. The staff is multilingual and helpful regarding all sorts of inquiries.
Location: Atatürk, Uğur Mumcu Sevgi Yolu, 35920 Selçuk/İzmir, Turkey
Must Read: 30 Unpredictable And Non-Clichéd Places To Visit In Your 20s
9. Grand Bazaar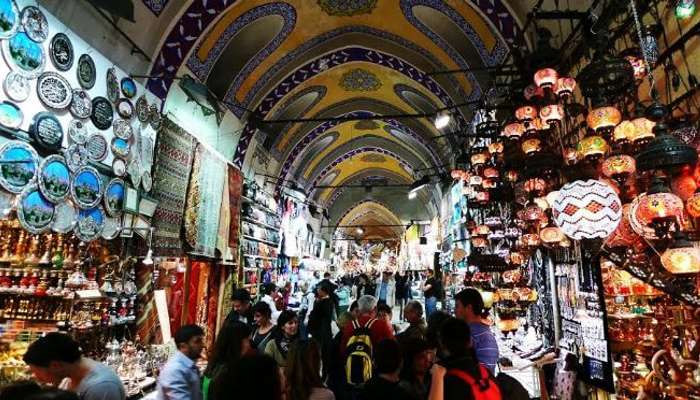 Image Source
Jewelry, souvenirs, rugs, tea, and clothes – you get everything at the Grand Bazaar. And yeah, don't forget to bargain. For those who are seeking to shop their hearts out without feeling guilty, this is the place to be at. Grand Bazaar hides something for each and everyone. One day would not be enough to explore the beauty of this famous and significatnt attraction in Turkey!
Location:  Istanbul Turkey
10. The Egyptian Bazaar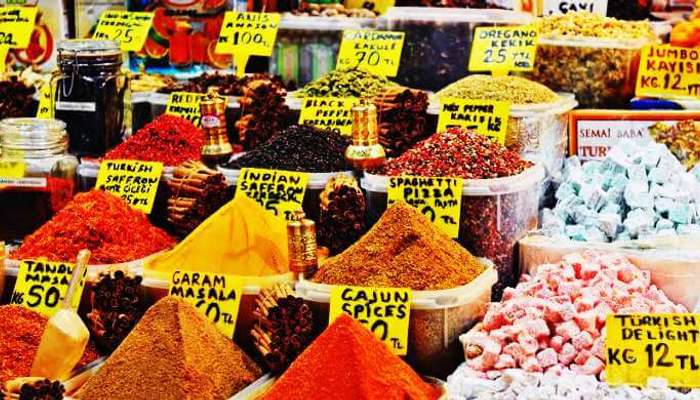 Image Source
Love spices? Egyptian Bazaar is the place to discover some unfamiliar spices and dried fruits. Turkey is known for its markets and bazaars. The hsutling and bustling of these markets makes Turkey seem more lively and vibrant. The local sellers are equally welcoming but one might need extensive bargaining skills to spend some less money here. It is one of the cheap places to visit in Turkey.
Location: Rüstem Paşa, Erzak Ambarı Sok. No:92, 34116 Fatih/İstanbul, Turkey
11. Ottomania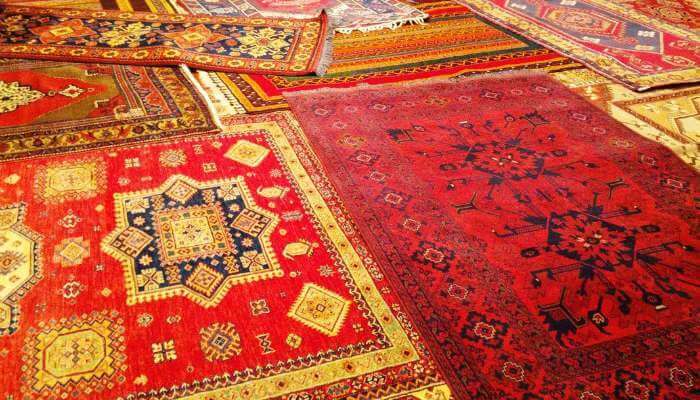 Image Source
The Ottomania is Turkey's largest retailer of carpets and rugs. The prices of the carpet range from $1000 to $10000. Turkey is known for its handicrafts and the handmade rugs and carpets. The authenticity that oozes out of the material and designs from these carpets is something that one cannot find anywhere. Get these rugs as souvenirs, a touch of Turkey that will stay with you for the lifetime.
Location:  Sultan Ahmet, Tavukhane Sk. No:17, 34122 Fatih/İstanbul, Turkey
Must Read: 20 Killer International Trips Which Will Cost You Less Than An iPhone
12. Sahaflar Carsisi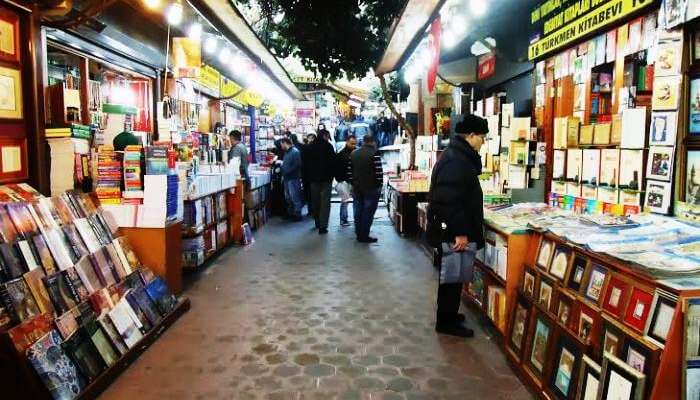 Image Source
Among all tourist places in Turkey, this is the perfect one for book lovers. Sahaflar Carsisi, the second-hand book bazaar, is one of the oldest markets of Istanbul. It is open on all days, except Sunday.
Tips: Beware of fake items. Brush up your bargaining skills. Learn a few Turkish words and use them while shopping.
Location: Sahaflar Carsisi, Turkey
13. Istanbul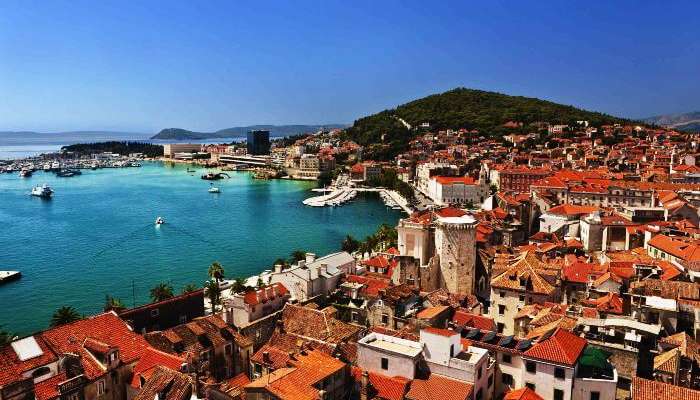 Image Source
Voyages of Discovery is a unique way to discover many of the best places to visit in Turkey. Before it heads to Greece, Voyages of Discovery visits Çanakkale, Dikili and Antalya. One of the most famous and most visited cities, there is an extensive number of places to visit in Istanbul, Turkey.
Cost: The cost per person is INR 1,82,956 including flights.
Location: Istanbul, Turkey
Suggested Read: 15 Scenic Israel Beaches That Flaunt The Best Of The Mediterranean
14. Marmaris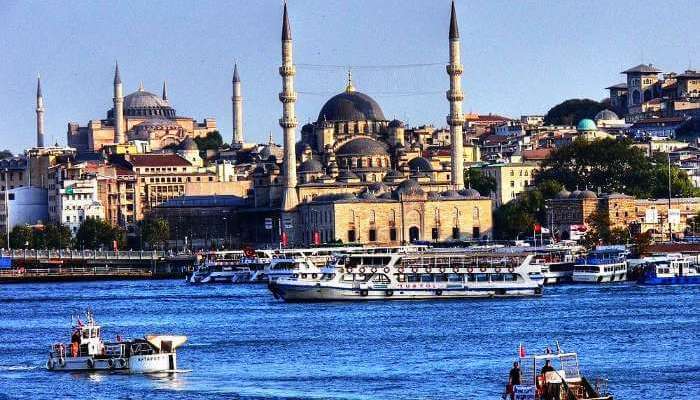 Image Source
The Thomson cruises start-off at Marmaris. It gives a tour of almost all prominent places to see in Turkey – Hagia Sophia, Grand Bazaar, Blue Mosque and others. Marmaris showcases magnificent views of the Turkish waters that is bound to take the breath away of spectators.
Cost: The cost per person is INR 74,869 including flights.
Location: Marmaris, Turkey
Must Read: 9 Exotic And Unexplored Honeymoon Destinations In Turkey
15. Port of Istanbul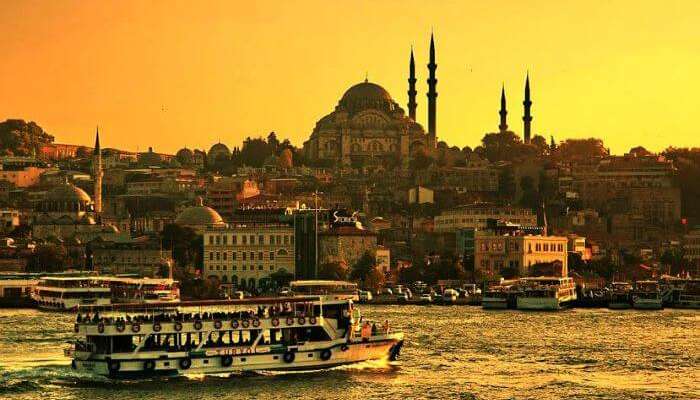 Image Source
If you are looking for a budget cruise to cover select best places in Turkey, MSC cruises are the best. It covers most of the top-drawn tourist attractions like the Roman city of Ephesus and the city of Istanbul. The cruises that sail through this port allow travelers to witness a perfect amalgamation of comfort and luxury. This makes every traveler fall in love with Turkey instantly!
Cost: The cost per person is INR 69,323/-
Location: Port of Istanbul, Istanbul, Turkey
16. Eminonu – for Bosphorous Cruise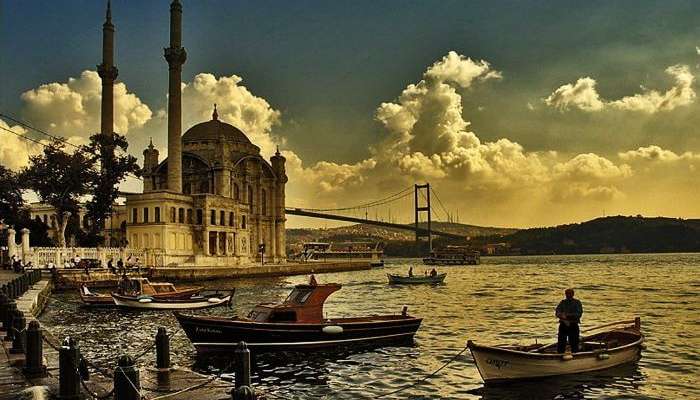 Image Source
The stunning Bosphorus strait connects the Black Sea with the Mediterranean. Though it is the most overlooked destination, it has a lot to offer. You can take a full Bosphorus tour by night by the ferry. The ferry leaves before dusk providing great Istanbul sunset views. You can also opt for private tour and luxury yacht to cruise through best places in Turkey.
Tips: The best time for cruise through tourist places in Turkey is during May-June or Sept-Oct. Ask for recommendation from fellow travellers, and book in advance to avoid rush.
Location: Eminonu, Turkey
17. The City of Izmir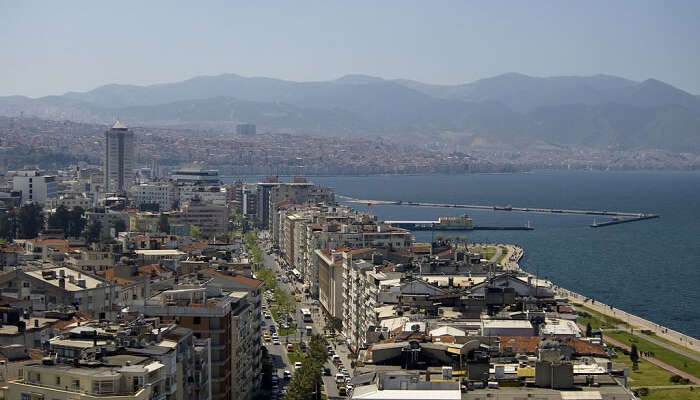 Izmir is the frontier and sunshine-city of Turkey. With over 4 million population, Izmir is the third largest city in Turkey. Situated on the western edge of Turkey, Izmir is famous for its figs, olives, and grapes. Surrounded by mountains and bays, Izmir is the land of natural, organic and fresh. The beautiful city of Izmir offers visitors a unique holiday experience that attracts people from all over the world.
Location: Izmir, Turkey
18. Topkapı Palace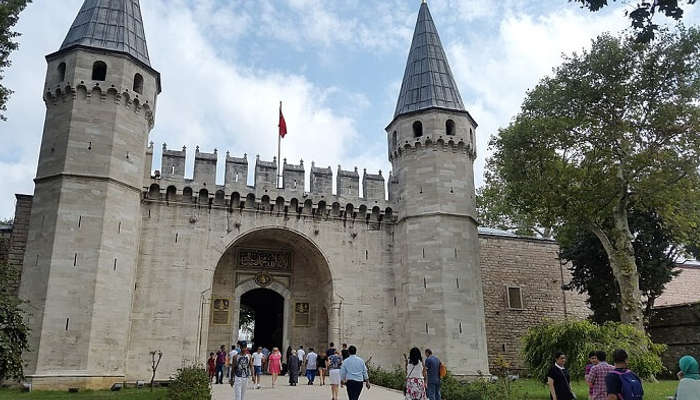 Built in the 15th century by Mehmet the Conqueror, the palace remained both the symbolic and political home of the Ottoman Empire until 1853. This palace will take you back in the past with its decoration, treasure, and Haren. All together makes this place spellbound and is a must see for any tourist visiting Istanbul in Turkey. The palace was converted into a museum after the fall of the Ottoman Empire in 1924.
Location:  Cankurtaran, 34122 Fatih/İstanbul, Turkey
19. Ani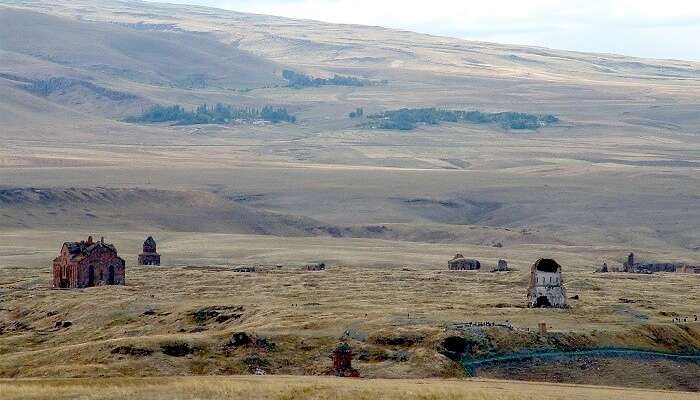 Rumored to be an abused, forgotten metropolis which is abandoned for centuries. With extraordinary beautiful churches, the city will put you in an uneasy feeling, but the beauty of its surroundings and striking landscape present an opposite picture of beauty and serenity. The ruins of Ani have been inscribed to the UNESCO World Heritage List in 2016.
Location: Ani, Armenian Highlands, Turkey
20. Pamukkale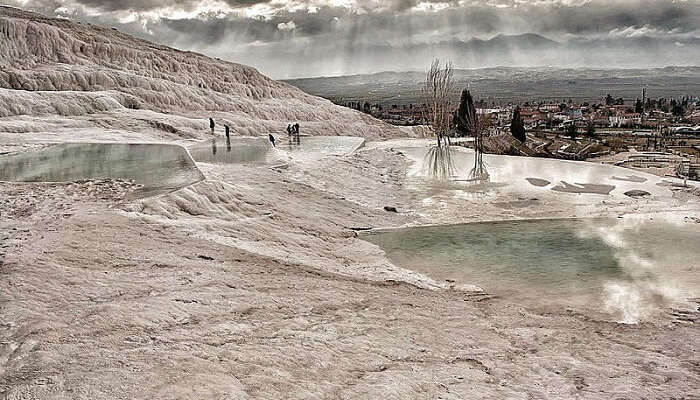 Pamukkale literally means, "cotton castle" in Turkish and with over two million visitors annually it is one of Turkey's top attractions and a precious in the world with its cotton-look terraces. Its natural site is located in Denizli in Southwestern Turkey. Pamukkale is famous for its surreal, brilliant white travertine terraces and warm springs.
Location: Denizli, Turkey
21. Selimiye Mosque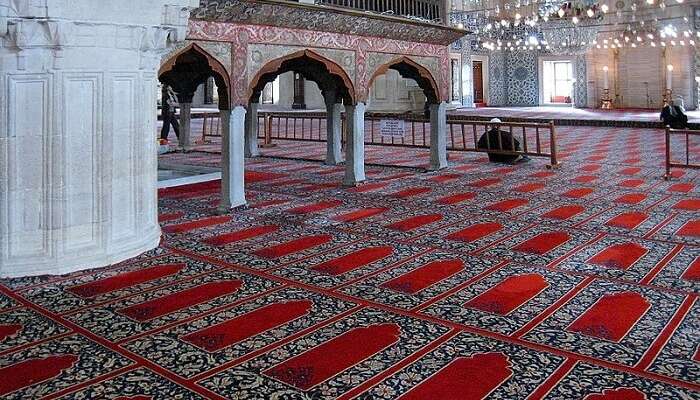 Built in the Ottoman and Islamic architecture, the mosque is magnificent beyond belief. The Mosque is a place that has historical importance, but this mosque also holds religious importance and falls in the European part of Turkey. The Ottoman imperial mosque was designed by one of the most distinguished architects of the Ottoman Empire, Mimar Sinan. The Selimiye Mosque and its Social Complex have been recognized as a World Heritage site by UNESCO.
Location: Meydan, Mimar Sinan Cd., 22020 Edirne Merkez/Edirne, Turkey
22. Erzurum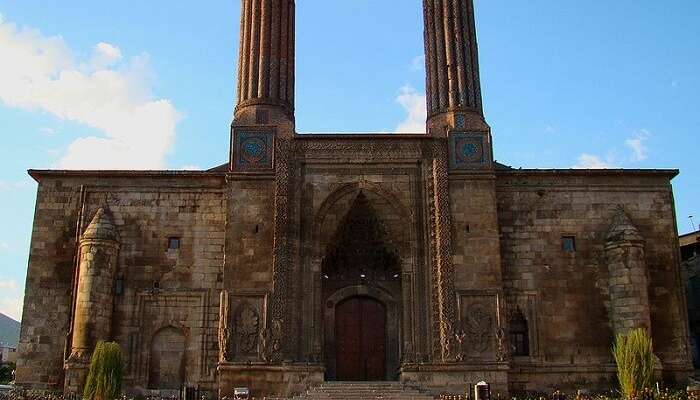 Erzurum is a paradise for architecture and history lovers. It is a hub for tourists visiting Eastern Turkey. It is the largest city in the entirety of Erzurum province.. The fantastic and incredible Seljuk, Saltuk, Mongol and Ottoman mosques and Seminaries are the main attraction of the city. The city is surrounded by mountains and steppes.
Location: Erzurum, Turkey
23. Sumela Monastery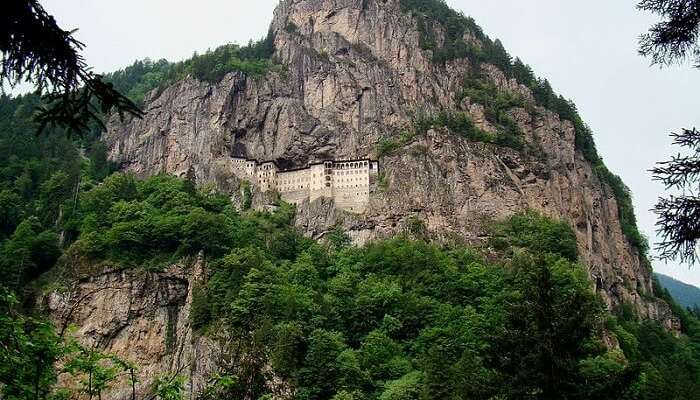 Sumela Monastery is one of the oldest monasteries to be built in the entire world and its construction dates back to the 4th century. Located outside the Turkish city of Trabzon, this stunning, lonely setting acts as the major attractions for the visitors being. Sumela Monastery is standing on the cliff of the Zigana Mountain and it is dedicated to the Virgin Mary.
Location: Altındere, 61750 Maçka/Trabzon, Turkey
24. Aladağlar National Park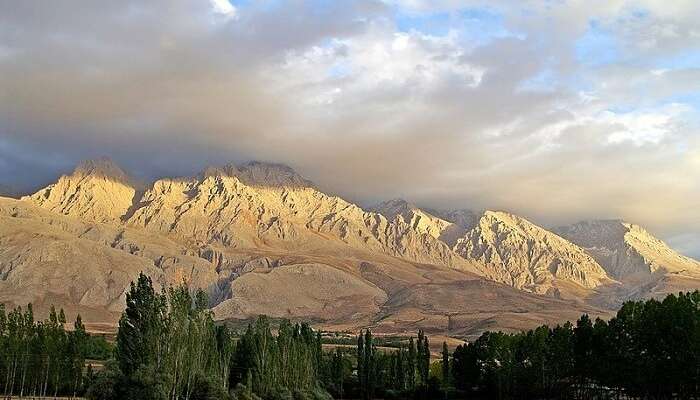 Sprawled over 55065 hectares of land, this mountainous Park was established in 1995 and is famous as Alps of Turkey. The Aladağlar Na is ideal and famous for the its trekking, hiking, and mountaineering sports in the entire country. The region is covered with rocks only and the colors are very different from our daily life in cities.
Location: 51660 Demirkazık/Çamardı/Niğde, Turkey
25. Ankara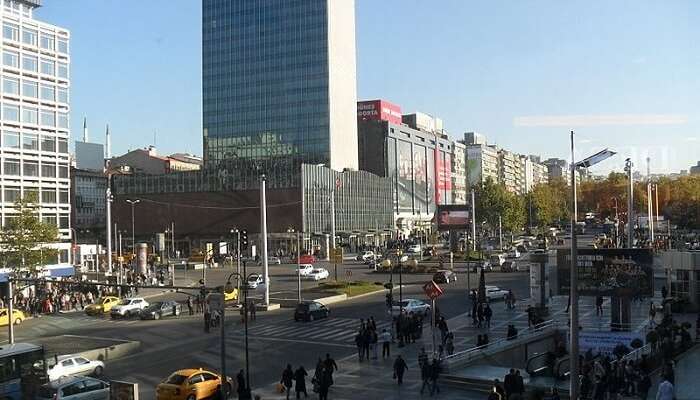 Considered as Turkey's Beating Heart, Ankara is the capital of and the second largest city in Turkey. At an altitude of 850m lies the city of Ankara. Ankara is located in the very heart of the Eastern Edge of the great High Anatolian Plateau. The city of Ankara is known for its beautiful and long spread yellow wheat fields, young volcanoes and a huge number of the Steppe. From the top of the Ankara Citadel, you can get the panoramic view of the city. Do visit Ankara as it is one of the most popular among the best places to visit in Turkey list!
Location: Ankara, Turkey
26. Bodrum – The Gateway for Beach Lovers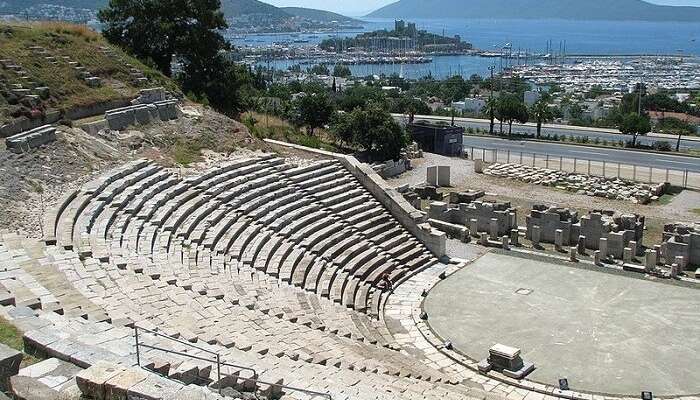 Bodrum was used to be a pleasant fishing village of a few thousand people, Bodrum has transformed into one of the most popular vacation hotspots of Turkey. Its inviting, colorful environment attracts people from all over the world. The best places to visit in Turkey that you shouldn't miss on visiting are The Bodrum Castle, the Museum of Underwater Archaeology, , Myndos Gate, and the ancient Bodrum Theatre.
Location: Bodrum, Muğla, Turkey
27. Akdamar Island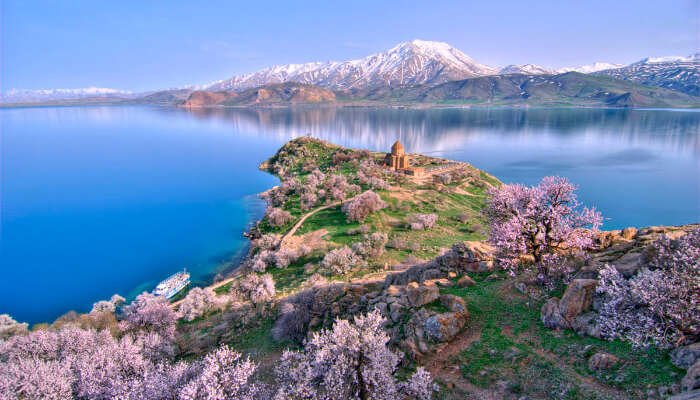 Situated in the Salty Lake Van, Akdamar Island is famous mainly for its Holy Cross, Church, and other Armenian Monastery which stay ruined, but still have its glory retained. The famous Akdamar Church is now transformed in a museum, and there are many bas relief carvings on the exterior walls. The carving depicts the Biblical scenes with Adam, Eve, Abraham, Jesun, David and, Goliath. With breathtaking adjacent areas, the Island is surrounded by steep rocks, it also offers a mesmerizing view with almond trees blooming in spring months.
Location: Akdamar Island, Turkey
Must Read: Istanbul Mountains: 10 Top Places To Witness The Marvellous Beauty Of Nature In Turkey!
28. Çanakkale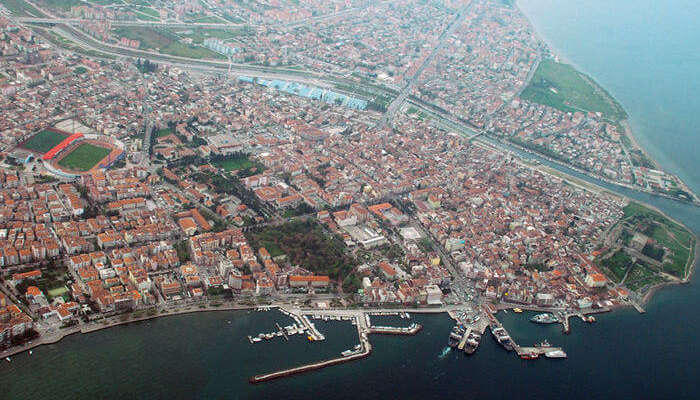 Explore the Gallipoli battlefields and the ruins of Troy in the city, Çanakkale is an honorable resting place for the soldiers who lost their lives in Gelibolu. The city of Çanakkale lies at the narrow 1200m entrance to the Dardanelles, which connects the Marmara Sea and the Aegean Sea. The famous Archaeological Site of Troy is also added to the World Heritage Cultural List of UNESCO.
Location: Çanakkale, Turkey
29. Avşa Island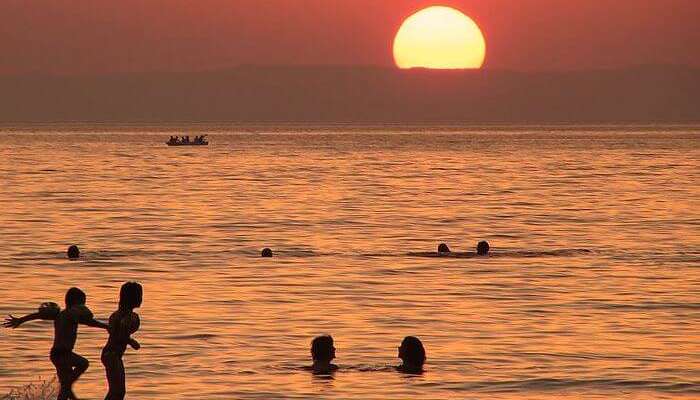 Sprawled over an area of 14 square miles, the Avşa Island is also known as Türkeli. Located within the borders of Balikesir province, the island is almost completely surrounded by beaches. The island has a large range of hills running down the middle, some beautiful bays are also there for bathing, swimming or just for relaxing in very hot summer. There are plenty of hotels, bars, nightclubs, and restaurants with live music for visitors and nightlife is also very colorful in Avşa.
Location: Avşa Island, Turkey
30. Pigeon Valley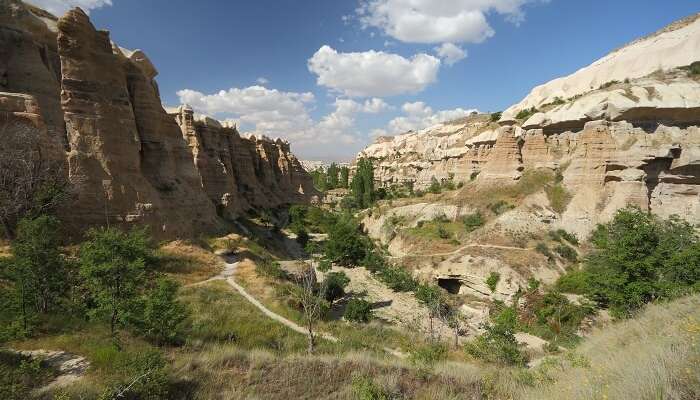 Pigeon Valley, officially known as Güvercinlik Vadisi, got its name from the many pigeon houses carved into the rocks and cliffs. Located between the Goreme and Uchisar district in Cappadocia, the Pigeon Valley is one of the longest valleys that reflects distinctive formations. This nature-friendly area is perfect for walking, trekking, and hiking. The magical environment of the valley grabs people from all over the world.
Location: Aşağı, Adnan Menderes Cd. No:50, 50240 Uçhisar/Nevşehir Merkez/Nevşehir, Turkey
Must Read: 10 Exotic Places For Photography In Turkey That Will Totally Boost Up Your Instagram Game!
31. Fethiye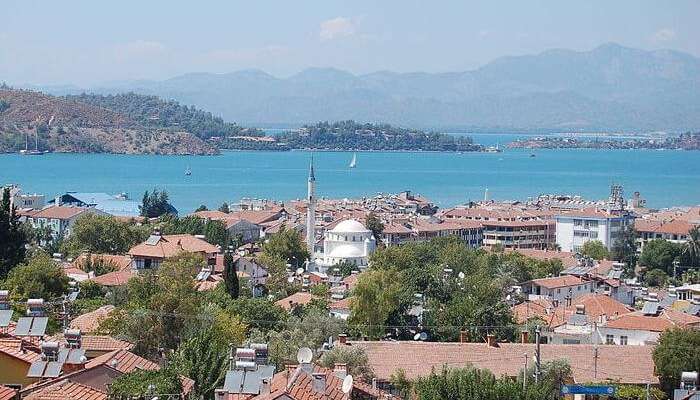 Fethiye is a tourist town that despite having been destroyed by an earthquake in 1958 serves as an excellent base for marina and nightlife. Fethiye is an enthralling yacht-watching spot. The Çalış Beach, Roman Theatre, and the Lycian Stone Sarcophagus are the top sights of Fethiye. The city is also home to one of the finest natural Harbor in Turkey.
Location: Fethiye, Turkey
32. Anıtkabir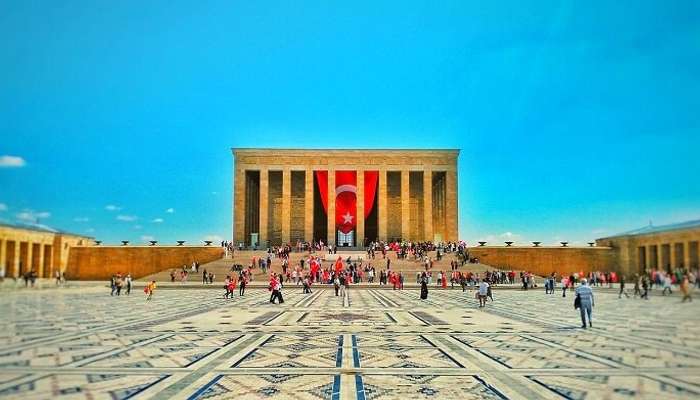 Anıtkabir, a mausoleum, is dedicated to the founder and first President of Turkey Republic, Mustafa Kemal Atatürk. His life was full of wars for independence and revolutions to raise the Turkish nation. The mausoleum represents his eminence, and thoughts about principles, revolutions, and modernization. The construction was laid in the year 1944 and it also bears features of Seljuk and Ottoman architecture and ornamental details.
Location: Yücetepe, Akdeniz Cd. No:31, 06570 Çankaya/Ankara, Turkey
33. Mardin – The Shining City of Mesopotamia
Mardin is an enchanting city situated on the Southeastern Anatolia, Turkey. The city is demonstrating an architectural heritage, cultural wealth, and religious diversity. Mardin was built by Hamdanis in 975-976. The citadel of Mardin with its excellent stonework stands on a hill dominating the city. This highly addictive tourist spot records over 4 million visitors annually. The Ulu Mosque, Forty Martyrs Church, Kasımiye Medresesi, and Zinciriye Medresesi are some of the notable places to visit in Mardin.
Location: Mardin, Turkey
34. Bozcaada Island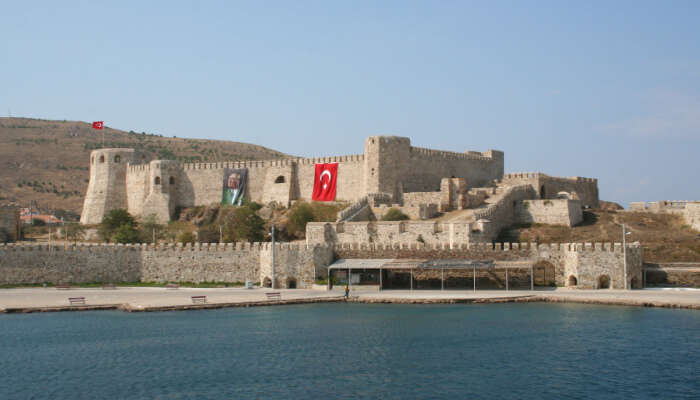 The Bozcaada Island is an amazing little island with old Greek and Turkish charm. Also known as Tenedos, Bozcaada is the third largest and perhaps the most beautiful island of the country. The island is a great place to escape and enjoy the natural part of life. Windmills, Vineyards, and Wineries are the main highlight of this island.
Location: Boozcada Island, Çanakkale, Turkey
35. Konya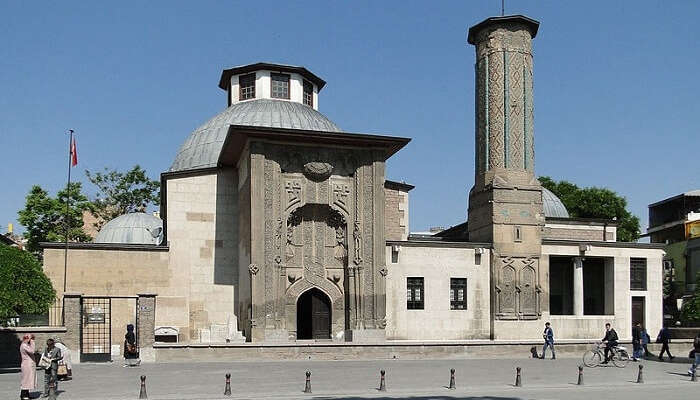 Stepping into the history of Konya, the city is well-known for its connection to Sufism and the great poet of Rumi. Konya is the great cultural center of Turkey, also known as Iconium in Roman times. The Tile Museum, the Alaeddin Hill, the Museum of Wooden and the Stone Carving are some of the fine arts in Konya.
Location: Konya, Turkey
36. Zeugma Mosaic Museum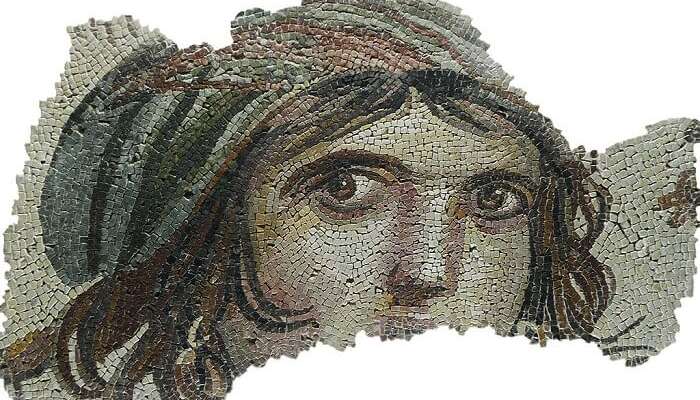 An absolute must when visiting the city of Gaziantep and the museum is the biggest mosaic museum in the world. The museum displays the mosaic collections excavated from the city of Zeugma and the mosaics are more than two thousand years old, are breathtaking. The craftsmanship of the Roman artists is truly effective and it can be experienced from their effort.
Location: Mithatpaşa, Hacı Sani Konukoğlu Blv., 27500 Şehitkamil/Gaziantep, Turkey
37. Gaziantep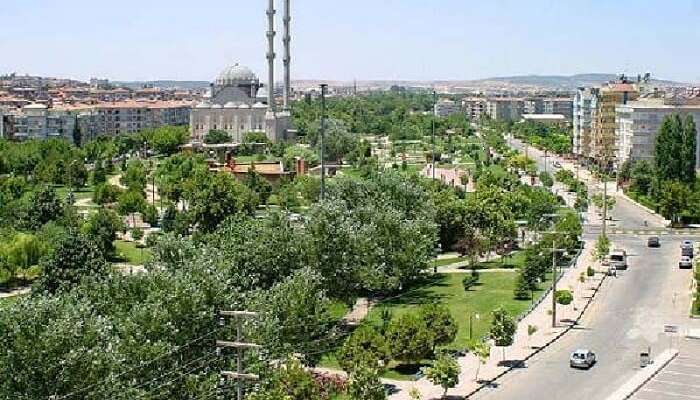 Gaziantep, also known as Antep, is the Gastronomy City of Turkey. With its rich retained history, welcoming people and lip-smacking food, Gaziantep will surely woo you in every manner. The Pistachio Coffee and Cheesecake Pistachio are an ultimate exception. The artworks of the city are made with very intricate details that it is just overwhelming. A marvelous castle is also situated at the heart of the city.
Location: Gaziantep, Turkey
38. Pergamum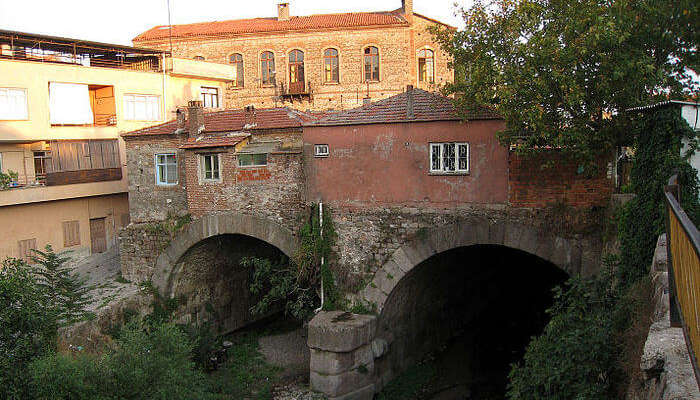 Pergamum is an ancient city located near Izmir. Pergamum with its ancient temples, theatres, library, cultural heritage is still a rich and important city. The city is located above to the Bakircay plain located in the Aegean region of the country. The Pergamum site with its multi-cultural landscape have made into the list of World Heritage Site Lite of UNESCO in 2014.
Location:  Bergama, İzmir Province, Turkey
Must Read: 10 Enormously Beautiful Mountains In Turkey That'll Leave You In Awe!
39. Trabzon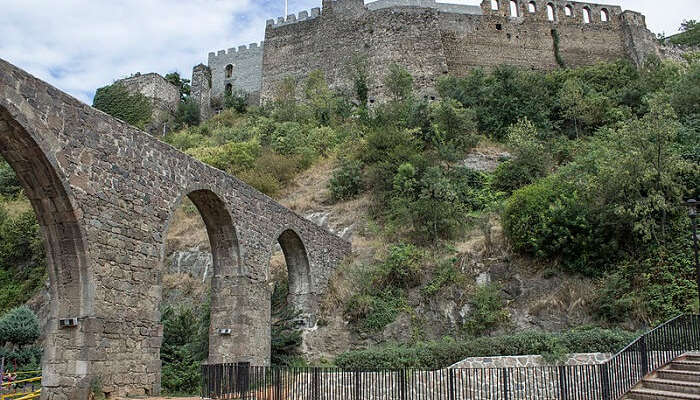 The place is spread from the Sinope in the West to the Georgia in the East, and is the largest city in the entire Eastern Karadeniz region of the country. The covered area is approximately 4664 square kms and is nestled amongst the mighty mountains, greenery, forests, rivers and every beautiful creation of nature. Trabzon is also famous for its fish and soccer team.
Location: Trabzon, Turkey
40. Dilek Peninsula – Büyük Menderes Delta National Park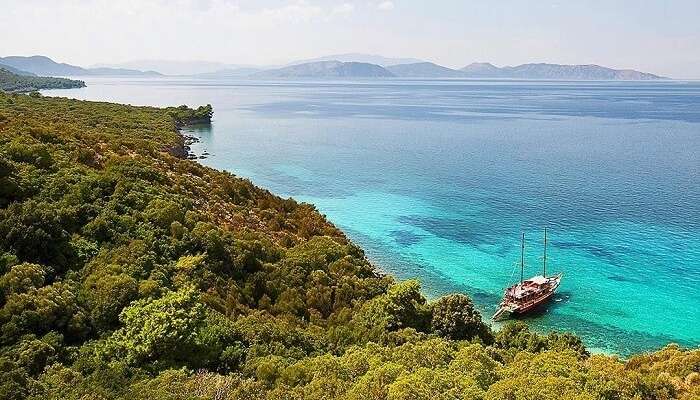 Locally known as the Milli Park, it features mountainous terrain and beaches for hiking, swimming, and other recreation. Sprawled over an area of 28000 hectares, the National Park features a variety of beautiful types of flowers, species of birds and wild animals around.
Location: Kuşadası/Aydın, Turkey
Timings: Sat-Sun; 7:00AM – 4:30PM
41. Basilica Cistern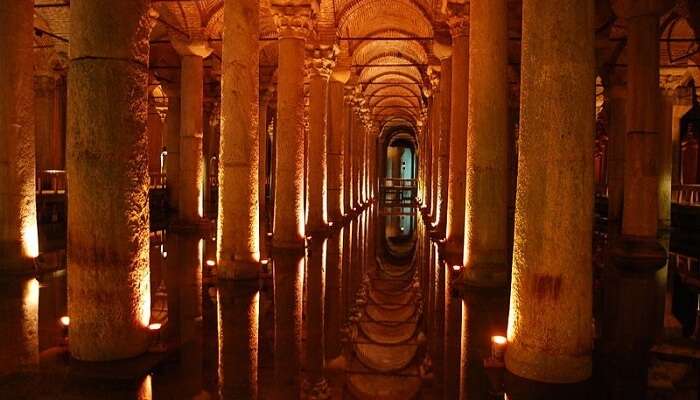 Once you are in Turkey, you should visit Istanbul for its history and tradition. Basilica Cistern in Istanbul is one of the biggest Byzantine Cistern of the country. It was built in 532 AD. While you are here, you will be amazed by the depth and conception of the place.
Location: Alemdar, Yerebatan Cd. 1/3, 34110 Fatih/İstanbul, Turkey
42. Mersin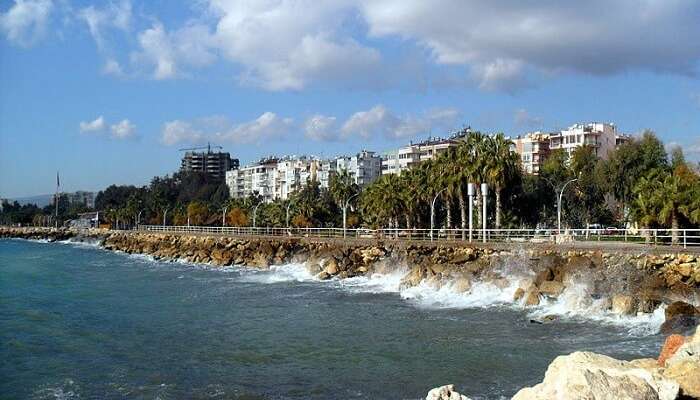 This is the place in Turkey which is often overlooked by the tourists who come to visit the country. But, if you are an avid traveller, you should visit this historical place which doesn't follow the cliché definition of tourist destination. Visit the ancient city of Soli Pompeiopolis or get amazed by the Mamure Castle, you can explore history once again once you are here.
Location: Mersin, Turkey
43. 7 Mehmet Restaurant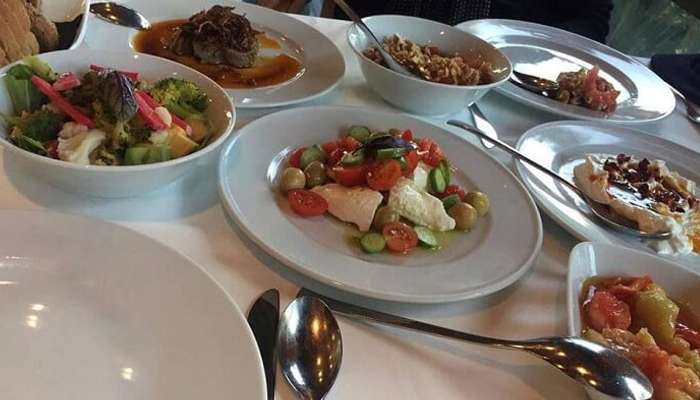 When you are travelling in different countries, you can get closer to the Turkish culture. And to experience the culture, you need to taste the local cuisine. And to taste the best quality local food, you can head towards 7 Mehmet Restaurant. For the locals, they can enjoy their home food here. And if you want to get taste of local cuisine, visit here.
Location: Meltem Mahallesi, Atatürk Kültür Parkı, Dumlupınar Bulvarı No:201, 07030 Muratpaşa/Antalya, Turkey
44. Cleopatra Pools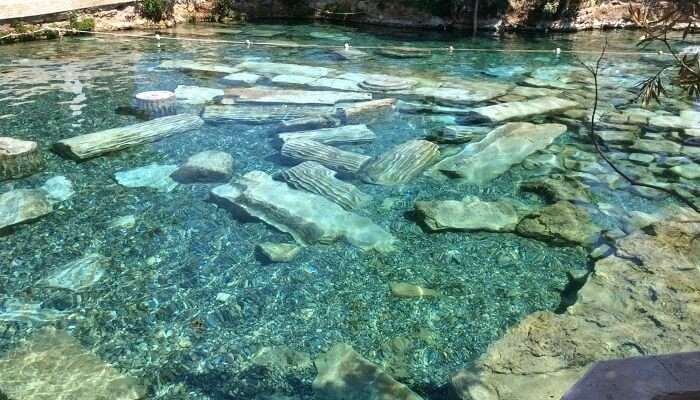 If you get to know that you can take a bath in the same pool where Queen Cleopatra did, how do you feel? Yes, that you can experience in this pool. This pool is really ancient while you can also get the modern facility of spa and other things. Have fun and spend some ladies' time with your girl gang.
Location: 20190 Pamukkale/Denizli, Turkey
45. Ladies' Beach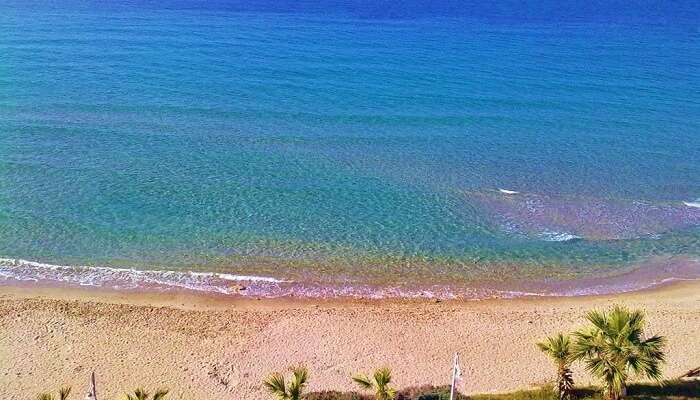 Don't go by the name as men can visit and have fun this beach anytime. If you want to enjoy sunbathing, go to this beach and also don't miss the beach activities over there.
Location: Ladies Beach, Kuşadası
46. Bursa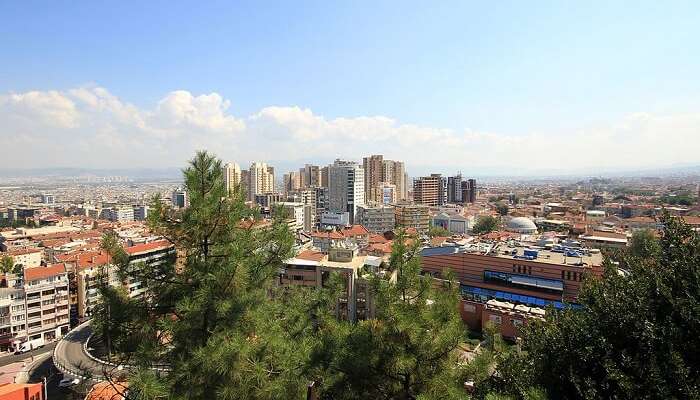 Bursa or Yesil Bursa is famous tourist destination is Turkey which is popular among the travellers for the beautiful parks and mountains around and within it. In ancient era, this city was the capital of the Ottoman state and now it is the industrial hub of the country. If you are visiting the city during the winter season, go to experience it in the ski resort of Mount Uludag. You can even visit here during summer as the mountain prevents the hot wind and you can enjoy your holidays.
Location: Bursa, Turkey
47. Agora Open Air Museum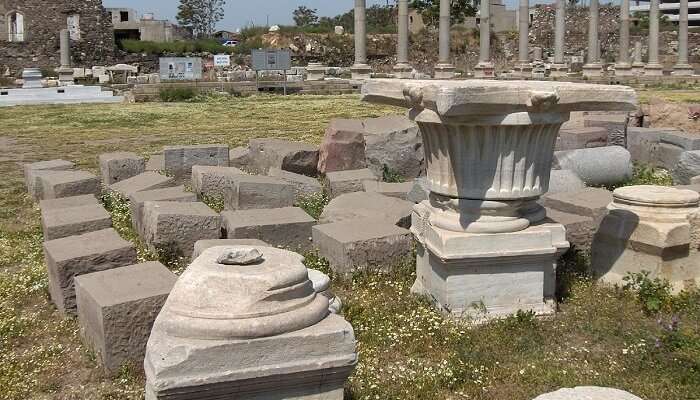 Turkey is the country of marvels. There are lots of cities which are full of amusements and Izmir is one of those places. Once you are here, don't miss visiting Agora Open Air Museum. The neoclassical style of buildings is really awesome to visit the architecture. You will be amazed by the beautiful sculptures of the rooms in this museum.
Location: Namazgah, Tarık Sarı Sk. No:29, 35240 Konak/İzmir, Turkey
48. Old Silk Market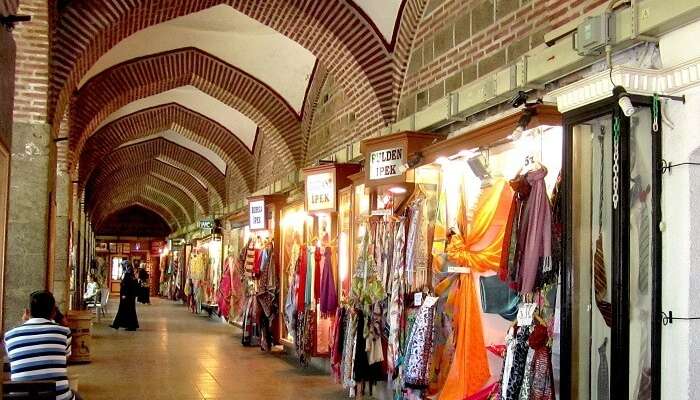 As a tourist you will definitely buy something for yourself and your friends and family members as memoirs. Visit the old silk market where you can find top quality scarves, fabric and different other types of accessories. This place is a must visit for tourists.
Location: Old Silk Market, Turkey
49. Miniatürk, Istanbul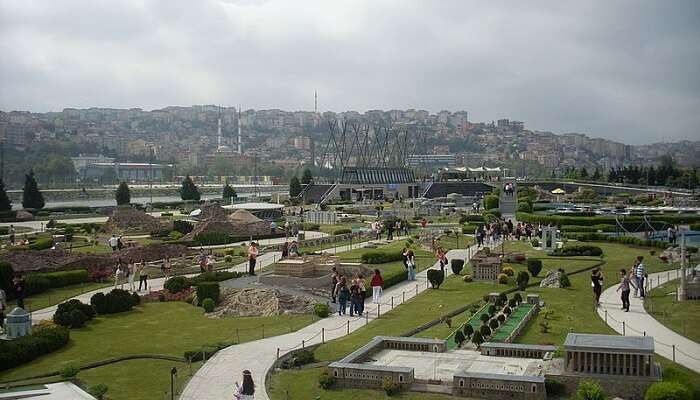 This is a miniature park present in the north-eastern shore of the Golden Horn. The area covered by this miniature park is about 650,000 sq ft and it opened to the public in 2003. In total you can see 122 models that are 1/25th in the scale and they hail from destinations in and around Turkey.
Location: Örnektepe, İmrahor Cd. No:7 D:1, 34445 Beyoğlu/İstanbul, Turkey
50. Kariye Museum, Istanbul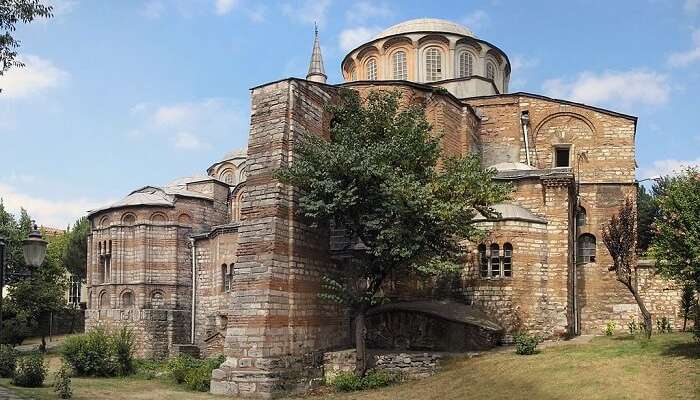 Present in the Edirnekapı neighbourhood, this building hails from the mediaeval Byzantine times. Tourists need to visit this museum to see the historical Byzantine mosaics and frescoes that line the walls. These are some of the best pieces of art hailing for Christianity and now everyone can see it as it was turned into a museum and the walls were restored diligently.
Location: Istanbul, Turkey
51. Galata Tower, Istanbul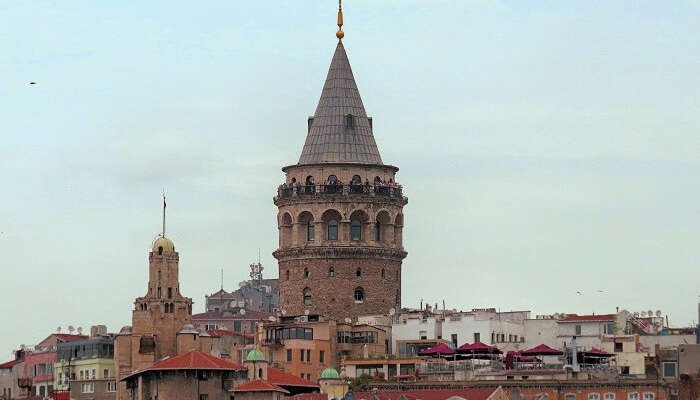 The Galata Tower or the Christea Turris is a medieval stone tower that you can find in Galata quarter of Istanbul. The top of it is cone shaped and the tower is nine stories high. People who are interested can climb it and sit at the restaurant to get a spectacular view of the city of Istanbul and the Bosporus.
Location: Bereketzade, Galata Kulesi Sk., 34421 Beyoğlu/İstanbul, Turkey
52. Kusadasi Castle, Kusadasi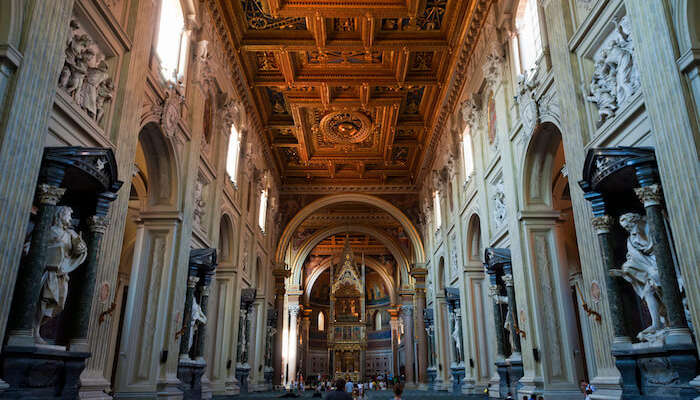 When you are visiting Kusadasi you cannot miss out on this beautiful castle which sits on top of the island. It was mainly used as a fort which helped the Ottomans to keep away from the enemies. You can have a serene day out there enjoying the view of the ocean.
Location: Dağ, Şöförler Sk, 09400 Kuşadası/Aydın, Turkey
53. Dilek National Park, Kusadasi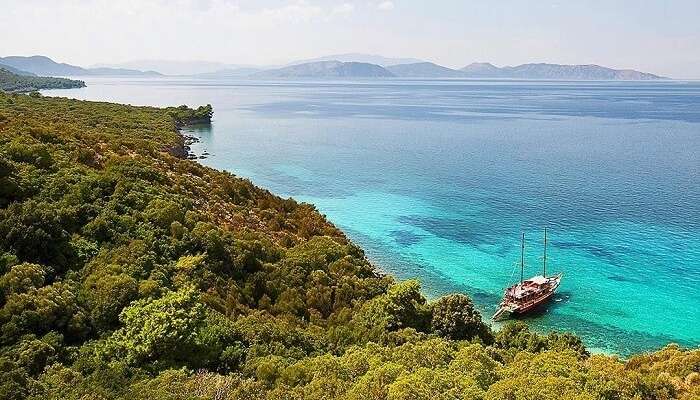 You cannot miss out on this lovely national park because of its beautiful setting and its importance to the country as a whole. It mainly lies in the middle of the towns of Kusadasi and Soke. Enjoy your stay at the park where you can even camp and along with that take in the spectacular sea beaches present inside the area of the national park.
Location: Kuşadası/Aydın, Turkey
54. Temple of Artemis, Kusadasi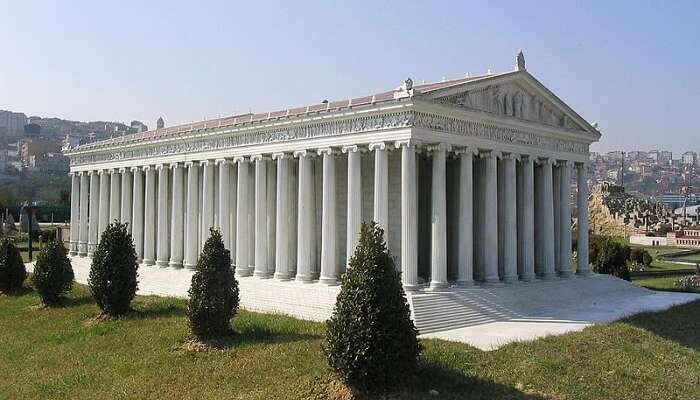 This was a dedication to Goddess Artemis but it doesn't stand in its full state. You can only find it in ruins at this location. But this it is a fortune to have a look at this historic place which is regarded as one of the seven wonders present in the Ancient world.
Location: Atatürk, Park İçi Yolu No:12, 35920 Selçuk/İzmir, Turkey
55. Izmir Archaeological Museum, Izmir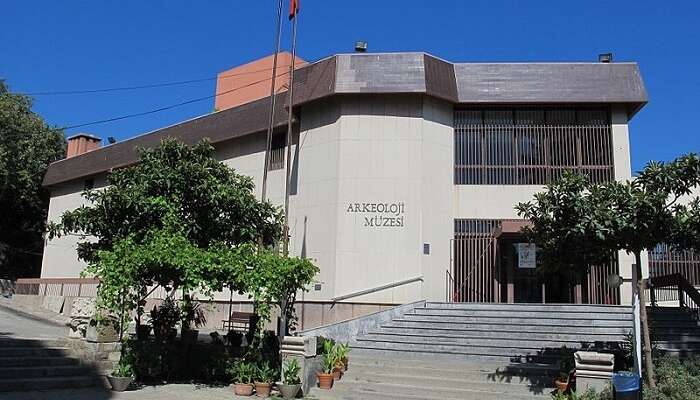 When you are visiting a country it is pretty important to know about its architecture. The archaeological museum in Izmir gives you a glimpse into the world of the architecture that existed in Turkey through several periods. This site is specially for people interested in history and art of making buildings.
Location: Konak Mahallesi Halil Rıfat Paşa Cad, Bahri Baba Parkı No:4, 35260 Konak, Turkey
56. Arkas Art Center, Izmir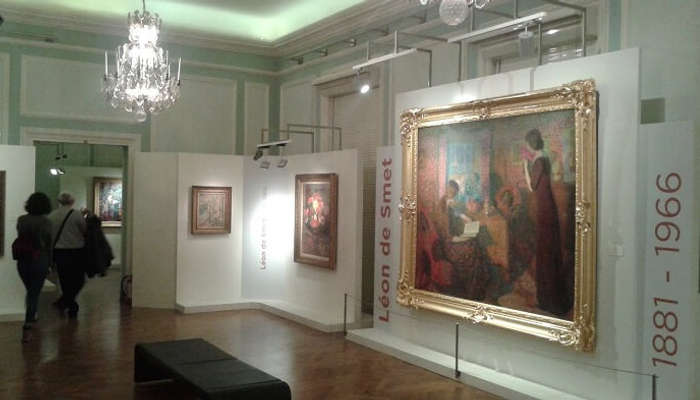 If you are someone who truly likes art and appreciates them, then you have to visit this art centre present in the city of Izmir. You will be thrilled to see the many international pieces of art displayed in the different exhibitions. Roam through all the 9 rooms to discover the beauty of this former French Honorary Consulate Building.
Location: Kültür, 1380 . Sk. 3-1, 35230 Konak/İzmir, Turkey
57. Hisar Mosque, Izmir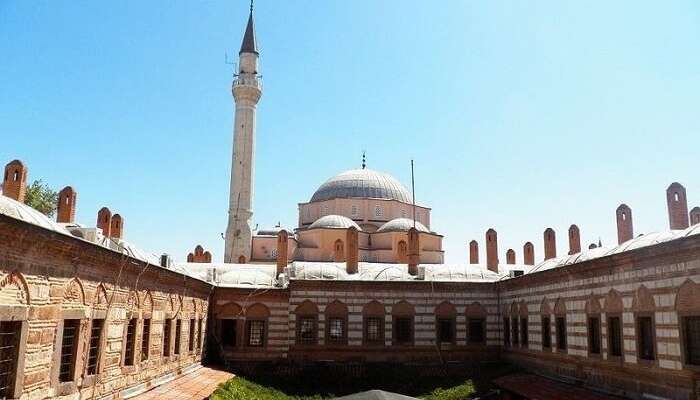 When in the city of Izmir, no one should miss out on the Hisar Mosque as it forms an integral part of its history. Constructed in the 16th century it is known for its striking Ottoman Islamic artwork which stands out among several other mosques. Along with that it is also one of the biggest mosques present in Izmir.
Location: Konak, 904. Sk. No:52, 35250 Konak/İzmir, Turkey
58. İzmir Atatürk Museum, Izmir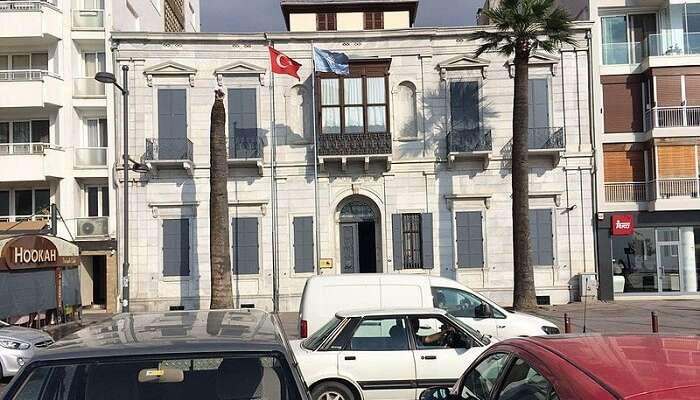 This museum adds to a slice of quirk in the city of Izmir. The museum is mainly dedicated to the works and life of Atatürk who was the first president of Turkey. If you are in front of the building, you will be mesmerised by its sheer symmetry.
Location: Alsancak Mh.,, Gündüğdu Caddesi No:242, 35220 Konak/İzmir, Turkey
59. Izmir Natural Life Park, Izmir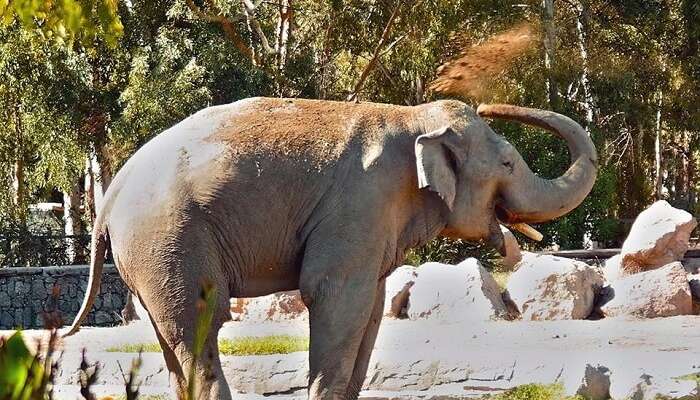 This wildlife park opened to the public in 2008 and it is a great way to know more about the animals that are housed in it. Currently, it has about 1048 animals spanning over 128 species. It is great if the tourists bring their kids along as it will be an educational and adventurous tour for them while they interact with so many animals.
Location: Tuzla, Ahmet Piriştina Cd. No 3, 35620 Çiğli/İzmir, Turke
60. Oylat Cave, Busra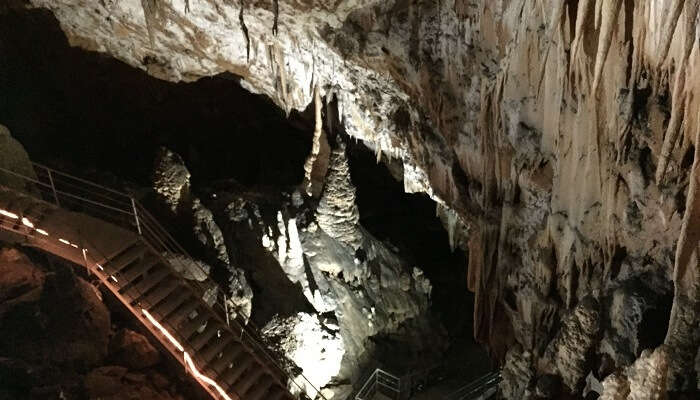 This place is significant to Turkey as fossils were unearthed here. From the year 2006, the cave has been opened to the tourists so that they can view the beautiful stalactites and stalagmites housed in it. Tourists can enjoy a 90-minute tour of the cave to appreciate its beauty.
Location: Hilmiye, 16400 İnegöl/Bursa, Turkey
61. Synagogue Street, Izmir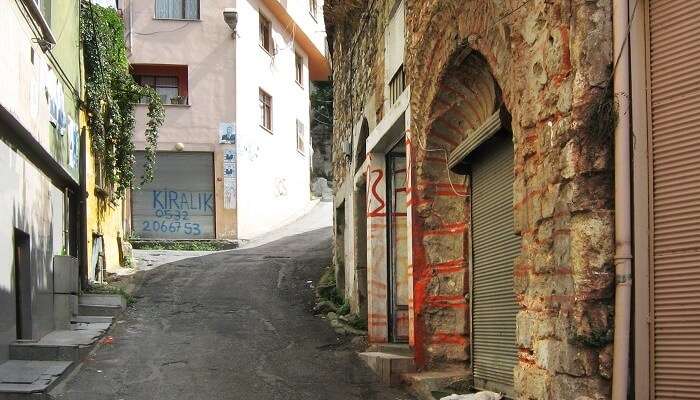 If you are in the mood to see one of the largest synagogues, then do visit the Synagogue street present in Izmir. But along with that it will also provide you with a one of a kind market experience where you are able to see the locals buying their daily food supplies. Do go along with a guide if you want to discover the nooks and crannies of this place.
Location: Turgut Reis, Mithatpaşa Cd. No:265, 35280 Konak/İzmir, Turkey
62. Asansor, Izmir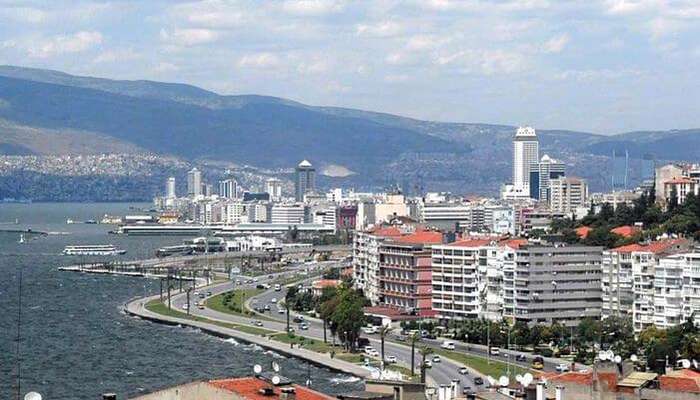 Asansor is yet another historic building which houses an elevator used to carry goods and people up the hill. Recent restoration and the construction a restaurant has made it popular both among the locals and the tourists. So, people can definitely visit it for a nice meal along with the view of Izmir.
Location: Turgut Reis, Şht. Nihatbey Cd. 76/A, 03500 Konak/İzmir, Turkey
63. Duden Waterfalls, Antalya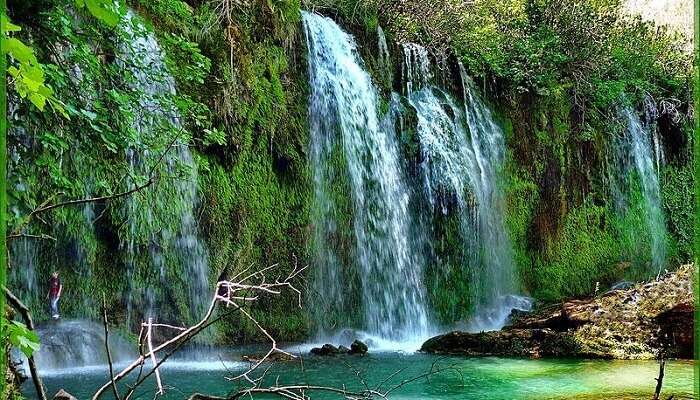 One of the prettiest waterfalls in Turkey, the Duden Waterfalls is magnificent and a place that you must not miss out on your Turkey trip. With large volcanic mountains surrounding the cave and the river bed the place looks nothing less than magic. An interesting fact about the place is that it is formed by recycle station water.
Location: Çağlayan, Lara Cd. No:457, 07230 Muratpaşa/Antalya, Turkey
64. Gulhane Park, Istanbul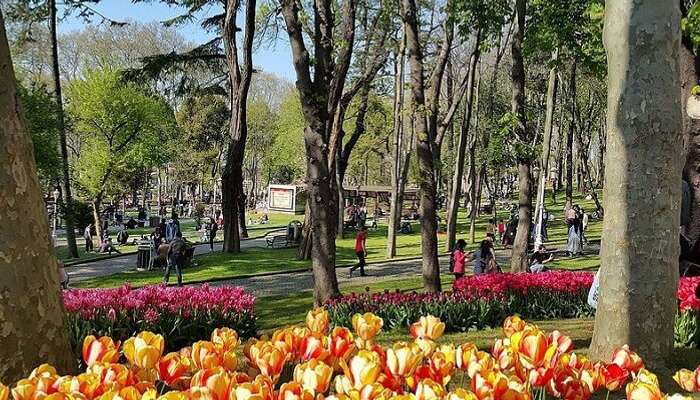 A long history is associated with the famous Gulhane Park in Istanbul. Historical urban park located in the Eminonu district of Istanbul is one of the largest public parks in Istanbul. The exact place where the Gulhane park lies is where the 1839 edict of Gulhane was proclaimed and therefore the place becomes a very important historical site.
Location: Cankurtaran, Kennedy Cd., 34122 Fatih/İstanbul, Turkey
65. Dolmabahce Palace, Istanbul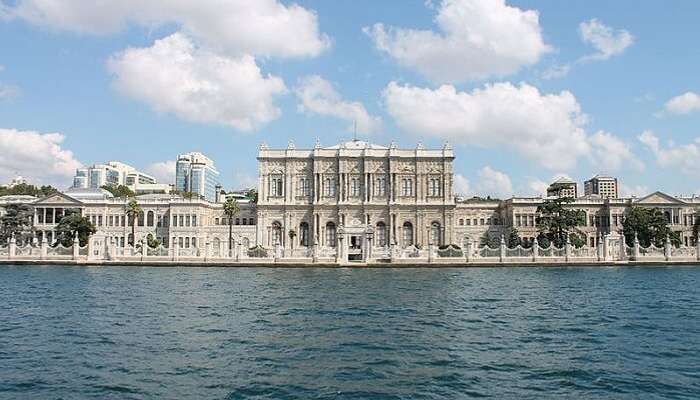 This historical palace was once home to the Ottoman Sultans and the place is absolutely stunning. Built in the nineteenth century, the place is quite famous for its unparalleled beauty and glamour. With a neoclassical structure and extravagant interiors the Dolmabahce Palace is a place you just cannot miss.
Location: Vişnezade, Dolmabahçe Cd., 34357 Beşiktaş/İstanbul, Turkey
66. Suleymaniye Mosque, Istanbul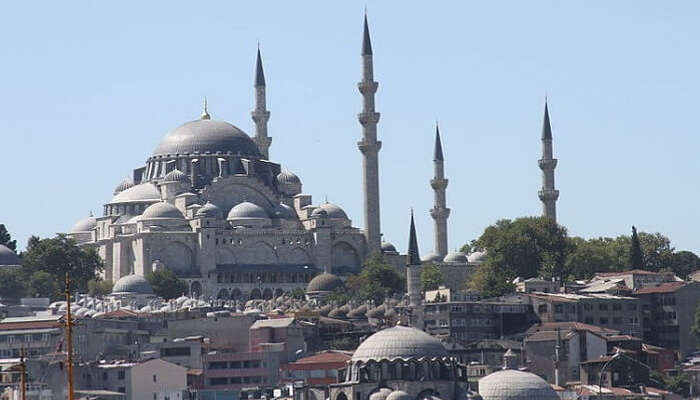 An Ottoman imperial mosque, Suleymaniye mosque in Istanbul is quite famous and a must visit attraction in Turkey. Built in 1557, this mosque offers beautiful views of Golden Corn and Bosphorous. The size of this mosque might be perplexing but it is one of the most unique features of this mosque.
Location: Süleymaniye Mah, Prof. Sıddık Sami Onar Cd. No:1, 34116 Fatih/İstanbul, Turkey
67. Hagia Sophia Museum, Istanbul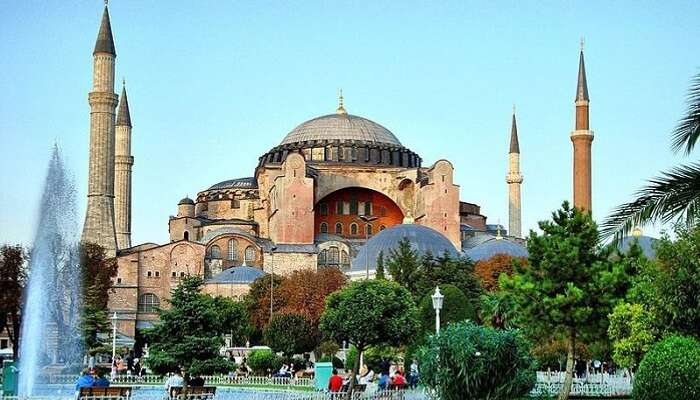 A long reason of War among the cultural, political and religious groups the Hagia Sophia was a church for 1000 years and was then converted into a mosque. In the year 1935 Mustafa Kemal Ataturk said that the Hagia Sophia will now be a museum to secularise the Turkish Republic and unite his people and the rest is history.
Location: Sultan Ahmet, Ayasofya Meydanı, 34122 Fatih/İstanbul, Turkey
68. The Blue Mosque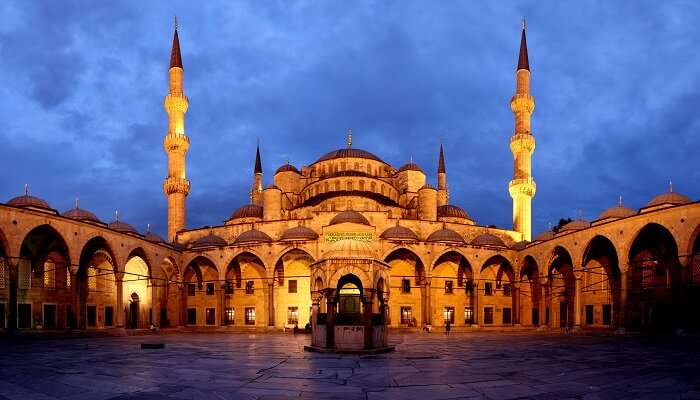 Attracting tourists with its splendid blue interiors, Blue Mosque or Sultan Ahmed Mosque was built during the Ottoman era by a sultan. The mosque is standing right across Hagia Sophia, making it one of the best places to visit in Turkey. Blue Mosque is home to two courtyards- inner and outer. The inner courtyard is surrounded by porticos that showcase small domes along with a marble-paved path.
Location: Sultan Ahmet, Atmeydanı Cd. No:7, 34122 Fatih/İstanbul, Turkey
69. Antalya Aquarium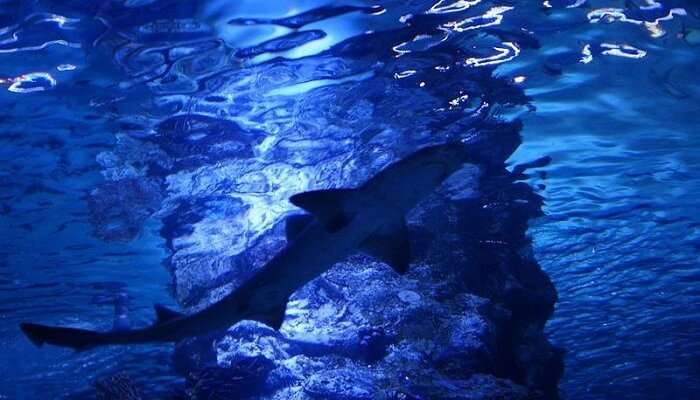 One of the famous and longest tunnel aquariums in the world, Antalya Aquarium offers education, entertainment, and inspiration all in one place. The aquarium houses a total of 40 thematic aquariums and a 131 meters long tunnel aquarium, the longest one in the world. Antalya Aquarium is not just about the magnificent underwater water of Turkey, it also blankets Snow World, Ice Museum, WildPark, and many more interesting features.
Location: Arapsuyu Mahallesi Dumlupınar Bulvarı No:502, 5M Migros Shopping Center Minicity and Hillside Su Hotel, 07200 Konyaaltı, Turkey
70. Kursunlu Waterfalls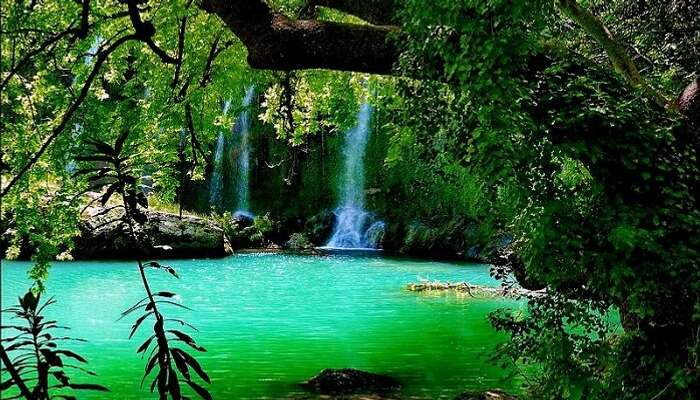 Defining the terms magical and refreshing perfectly, Kursunlu Waterfall is one of the most beautiful sight that one would ever behold. With hues of blue and green shimmering in the waters of this waterfall, this spot attracts flocks of travelers. The waterfall is sitting on a terrain rich flora. The waterfalls also house a small pool where one can encounter freshwater tortoises, crabs, and fishes.
Location:  Kursunlu Şelalesi, 07119 Aksu/Antalya, Turkey
71. Hadrian's Gate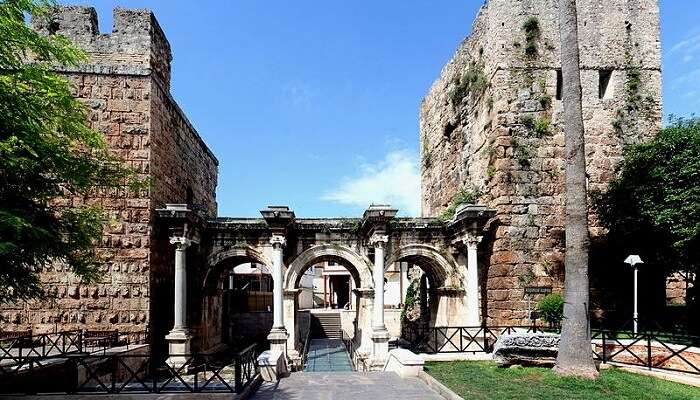 With deeply rooted and intriguing history latched to it, Hadrian's Gate is one of the popular ruins in Turkey that dates back to 130 AD. Built for Emperor Hadrian's visit, this monument has survived all the wear and tear of time, nature, and humanity. Showcasing Roman architecture perfectly, Hadrian's Gate is a typical triumphal arc that possesses three same-sized archways and beautifully adorned facades.
Location: Barbaros, 07100 Muratpaşa/Antalya, Turkey
72. SaatKulesi/ Konak Square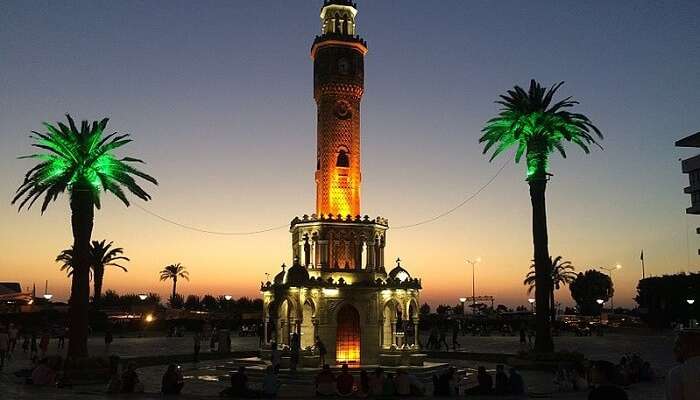 Translating to Clock Tower in English, SaatKulesi is a tower that has historic significance attached to it. Designed by the famous Raymond Charles Pere, a Levantine French architect, this clock tower was built in the 1900s and has been standing since then. The elegance and alluring beauty of this clock tower take away the breath of each and every spectator. SaatKulesi is one of the loved and popular attractions of Konak Square.
Location:  İzmir, Turkey
73. Konyaalti Beach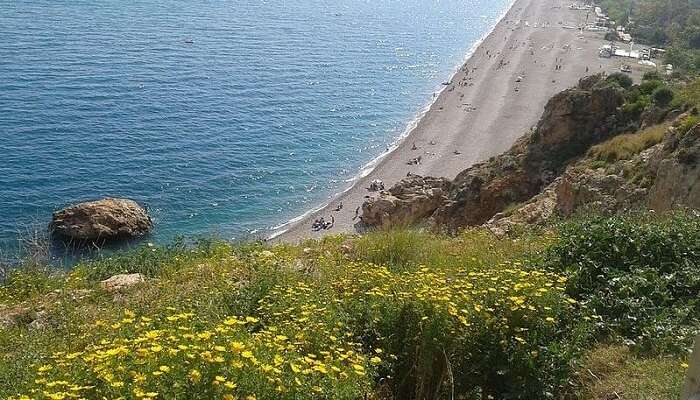 One of the most famous beaches in Antalya, Turkey, the Konyaalti Beach is tucked away from the bustling cities and offers you a quiet and peaceful time. You will also find some cute, little cafes here.
Location: Konyaaltı Beach, Kuşkavağı, 07070 Konyaaltı/Antalya, Turkey
74. Antalya Muzesi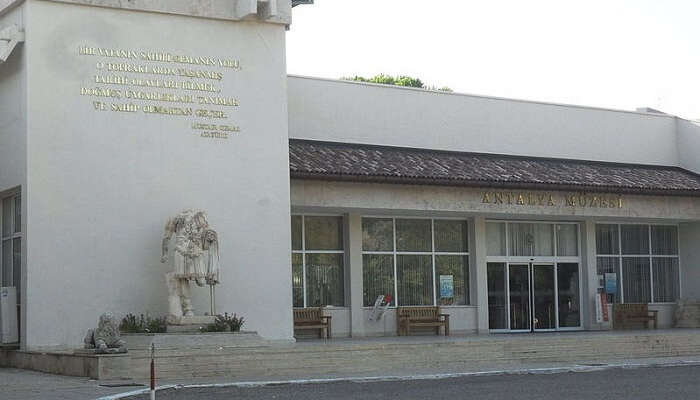 Featuring over 5000 artworks and 13 exhibition halls and housing an open-air gallery, the Antalya Muzesi is spread across 75,000 square feet and is one of the best places to visit in Turkey.
Location: Bahçelievler, Konyaaltı Cd. No:88, 07050 Muratpaşa/Antalya, Turkey
75. Harbour District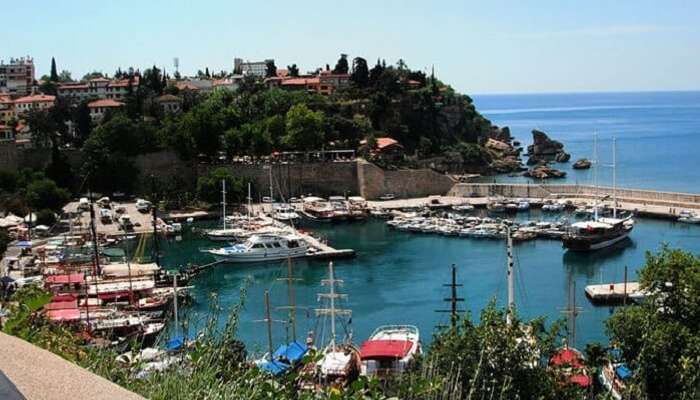 Also known as Antalya Marina, Harbour District is where you will find many fishermen. But the main attraction is that you will find many cafes and stalls here where you can indulge in some really delectable delicacies. This is one of the most popular places to visit in Turkey.
Location: Harbour District, Antalya, Turkey
76. House Of The Virgin Mary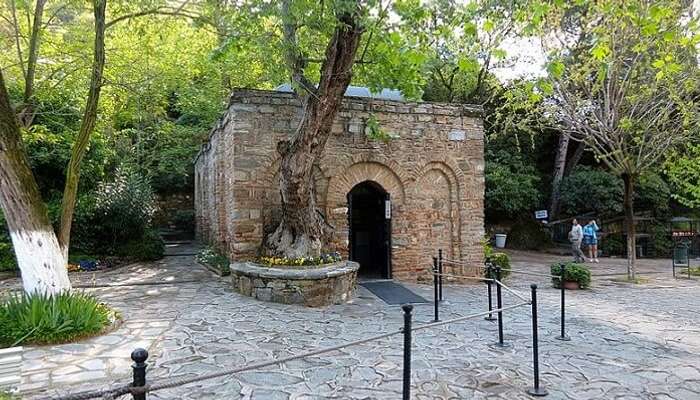 Discovered in the 19th century, House of the Virgin Mary is considered sacred and holy by both the Muslims and the Christians. Attracting many pilgrims every year, this is one of the best places to visit in Turkey.
Location: Sultaniye, 35920 Selçuk/İzmir, Turkey
77. Ilica Public Beach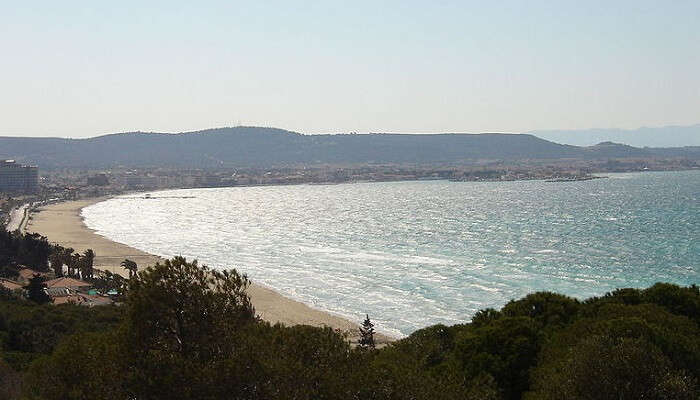 The best place to rejuvenate and get refreshed, Ilica Public Beach is one of the cleanest and most beautiful places to visit in Turkey. The water is believed to have many health benefits and you should definitely take a swim.
Location: Ilıca, 35930 Çeşme/İzmir, Turkey
Further Read: Love Just Got Exotic: 10 Romantic Resorts In Turkey

Turkey is a destination, staggeringly rich insights as well as sites. As you tick off the best places to visit in Turkey from your list, remember to walk through the ancient ruins where time stopped; enthrall your senses with the natural scenery; relish the tasty local cuisine, and bask the warm at the beaches. Get packed and book your trip to Turkey right away!
Frequently Asked Questions About Places To Visit In Turkey
Q. Is Turkey safe for tourists?

A. Yes, Turkey is safe enough for tourists. The Fco has said that Ankara and Istanbul are the safest cities in Turkey.
Q. Which cities should I visit in Turkey?

A. Ankara, Izmir, Istanbul and Antalya are some of the cities that you must visit in Turkey. However, there are many other things to do in Turkey too that you shouldn't miss out on.
Q. What can you see in Turkey in 7 days?

A. There is so much to see in Turkey that you would be mesmerised. You can visit the Blue Mosque, take a natural Sauna at the Pamukkale Thermal Pools, see the beautiful Hagia Sophia and learn about Turkey's history, check out Ankara Castle, explore the Ruins of Ephesus and much more.
Q. What is the most beautiful place in Turkey?


A. It is difficult to pinpoint one beautiful destination in Turkey but one must explore Ankara, Patara, Temple of Hadrian, and Antalya as they are some of the most beautiful best places to visit in Turkey which one cannot miss to explore.
Q. Is Turkey safe for tourists?


A. Turkey and its capital city, Ankara are considered to be safe places to explore. However, one must take precautions while traveling to a new destination.
Q. What can you see in Turkey in 7 days?


A. Turkey is a place where you must spend at least 7 days and explore as many places as you can. You can opt for the Istanbul Old City Walking Tour which takes you to the main attractions. Apart from this, you must take Ephesus Tour, Pamukkale Tour, and South Cappadocia Tour.
Q. Is Turkey expensive to visit?


A. No, Turkey is not a place where you will have to splurge and you can explore, stay and eat there on a shoestring budget.
Q. Do I need a visa for Turkey?


A. Yes, a visa is important for traveling to Turkey. However, you must take care of the fact that your passport is valid for at least 6 months after your arrival date and at least 3 months during leaving the country.
Q. How do you dress in Turkey?


A. You will find that people wear whatever they want in this country. There are no restrictions on wearing anything that you like. But you must wear full clothes while going to a mosque as that is a prayer place for Muslims.
Q. How dangerous is Turkey?


A. Turkey is just like any other country and there is no danger visiting it. However, you must stay a bit cautious in a new country.
Q. Where do couples go in Turkey?


A. All couples must explore these places in Turkey – Istanbul, Antalya, Pamukkale, Kusadasi, and Marmaris.
---
Looking To Book An International Holiday?
Book memorable holidays on TravelTriangle with 650+ verified travel agents for 65+ domestic and international destinations.
---
People Also Read:
Places To Visit In Uzbekistan Places To Visit In Greece Places To Visit In Bulgaria
Comments
comments