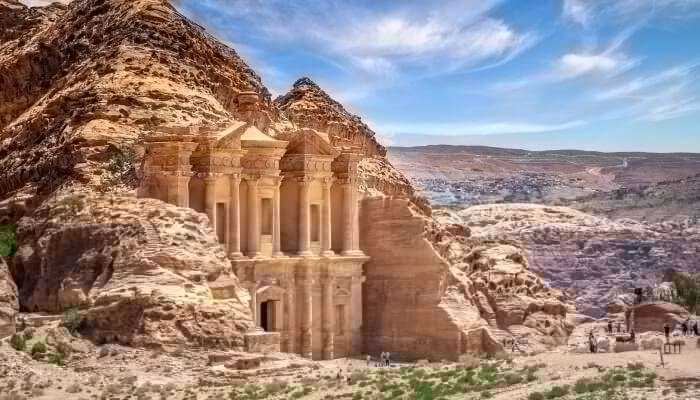 The Hashemite Kingdom of Jordan offers a unique combination of modernity and tradition in the form of the modern city of Amman and the imperial ruins of Petra and Jerash. This land of calm surrounded by the region plagued by political uncertainty has always enthralled visitors by its mesmerizing landscape, world heritage sites and friendly people. Jordan is beautiful in and out throughout the year but the most alluring during the month of October.
Jordan in October is captivating as the first rain makes its way through the thick sunshine and blesses people will lovely weather and breathtaking views!
Weather In Jordan In October
The month of October in Jordan is associated with heart-warming sunshine, moderately warm weather and plenty of tourist inflows. It is the most ideal time to visit Jordan as the country experiences its first rainfall during this time and the place starts to bloom up. The temperature during this time in Jordan is recorded between a minimum of 20 degrees and a maximum of 25 degrees Celsius.
Places To Visit In Jordan In October
The month of October presents the most opportune moment to witness the overwhelming beauty of Jordan and its picturesque landscapes. Some of the places worth visiting are:
1. Aqaba Marine Park

It is one of the favorite spots for marine adventure seekers. The park presents pristine and diverse marine ecology to tourists through activities such as snorkeling. Aqaba Marine Park has committed itself to the preservation of the ecosystem as it seeks to protect the coral reefs from extinction. Visiting this park will increase your knowledge of how t conserve our beautiful environment.
Location: Tunisian Hammamet Gardens, Aqaba, Jordan
Jordan Travel Tips: 10 Things To Know Before You Start Packing
2. Shaumari Wildlife Reserve

Shaumari Wildlife Reserve is a protected environment for endangered Middle East wildlife such as Arabian Oryx, Persian onagers, etc. Visitors can engage in viewing some of the endangered Middle East wildlife species.
Location: Jordan
6 Spectacular Things To Do In Madaba For Your Jordan Vacay!
3. Dana Biosphere Reserve

The reserve cuts through the African rift valley and is popular among trekkers. There are multi-day hikes leading up to Feynman Ecolodge and tourists can enjoy traditional culture and cuisine in the medieval town of Dana.
Location: Dana, Jordan
8 Madaba Restaurants That Will Provide You With The Flavours Of Jordan!
4. Amman

Amman, the Capital of Jordan has been the thriving metropolis off late and is quite popular among travelers. Visit the King Abdullah Mosque and have meals at Hashem Restaurant for sure when in Amman.
Location: Jordan
Jordan In August: A Trip To The Land Of Historical Wonders
Places To Stay In Jordan
Accommodations in Jordan cater to all tourists alike and are equipped with all the modern amenities. Some of the best places to stay in Jordan are:
1. Sarah Mountains Hotel

It is a family-run three-star hotel. The hotel provides a great value of money at the same time offering an authentic Jordanian atmosphere. The hotel is renowned for offering a spectacular view of red-rose city mountains and the city center from Rooftop Terrace. The hotel is located at a distance of 1.5km from the historic Petra Ruins in Wadi Musa. It is situated across the famous Main Street City Centre. Plenty of dining options, ATMs, exchange offices, Bus stations, and cafes are located in close vicinity.
Location: Wadi Musa, Jordan
Price per night: INR 2900 onwards
Tripadvisor rating: 4.5/ 5
Website | Tripadvisor Reviews
5 Best Places For Canyoning In Jordan For An Adrenaline Rush!
2. Intercontinental Jordan

Accommodation at Intercontinental Jordan is bliss and the property offers cosmopolitan amenities with a Middle Eastern touch such as light-filled rooms, vibrant furnishings, etc. The hotel is mostly preferred by the business community and foreign leisure travelers. The hotel is strategically situated atop one of Amman's seven hills and constitutes the heart of the city's central business district.
Location: Islamic College Street Amman, 11180, Jordan
Price per night: INR 10,000 onwards
Tripadvisor rating: 4.5/5
Website | Tripadvisor Reviews
Jordan In May: Details You Should Be Aware Of When Planning A Trip
3. The House Boutique Suites

They are a chain of luxury boutique hotels offering a variety of spacious and comfortable suites catering to the needs of visitors. The hotel is popular among travelers who are opting for medical retreat since the property is in close proximity to some of the major hospitals and medical centers of the city. The luxury hotel is situated in the heart of Amman in-front of Amman Chamber of Industries at a walking distance from the center of the city.
Location: Al Kulliyah Al Elmeyah Al Islameya str, Amman, Jordan
Price per night: INR 8900 onwards
Tripadvisor rating: ⅘
Website | Tripadvisor Reviews
Scuba Diving In Jordan: A Never Miss Out Experience For Everyone!
Tips For Visiting Jordan In October
Carry enough sun-lotion, shade hat, sunglasses, and comfortable and sturdy walking shoes.
To travel within Jordan, hire a car and self-drive to save the expense
Jordan fashions a bit conservative style of clothing so dress accordingly during your trip.
Carry cash always. The currency of Jordan is Jordanian Dinar.
Purchase a Jordan pass before starting your trip- it is a pass that covers the cost of your visa and gives you entry to many famous attractions of Jordan.
Nightlife In Jordan: Experience The Lesser Known Side Of Jordan
Presence of some of the unique ancient relics and world heritage sites, breathtaking landscape beauty makes Jordan a must-visit for travelers. Coupled with the availability of luxury hotels, exquisite cuisines and amazing culture, Jordan has remained one of the premier destinations for tourists across the world. And there is no doubt that Jordan in October is absolutely beautiful and spectacular, so don't wait anymore and plan your trip to Jordan soon!
For our editorial codes of conduct and copyright disclaimer, please click here.
Frequently Asked Questions About Jordon In October
Is it advisable to visit Jordan during October?
With moderate temperature and cloudless sky, October is the peak season for the tourists and is common amongst the travelers for outdoor leisurely activities.
Are there plenty of accommodation options available during the peak season of October in Jordan?
Generally, prominent hotels and lodges witness full reservation during the season of October. Hence, it is advisable to do the booking in advance.
What are the best places to explore in Jordan?
The best places to visit in Jordan are:
1. Amman
2. Mount Nebo
3. Jerash
4.Dead Sea
5. Petra
6. Aqaba
7. Wadi Rum
What are the most important things to do in Jordan in October?
October is marked with outdoor activities. Tourists engage in Desert safari, Marine adventure sports, experiencing authentic local cuisine and culture, exploring ancient towns such as Dana, Petra, and Jerash.
Is Jordan overcrowded during October?
Although October registers higher tourist footfalls than compared to other seasons, it is not overcrowded. If planned and all the bookings done, a tour during October can be bliss.
People Also Read: