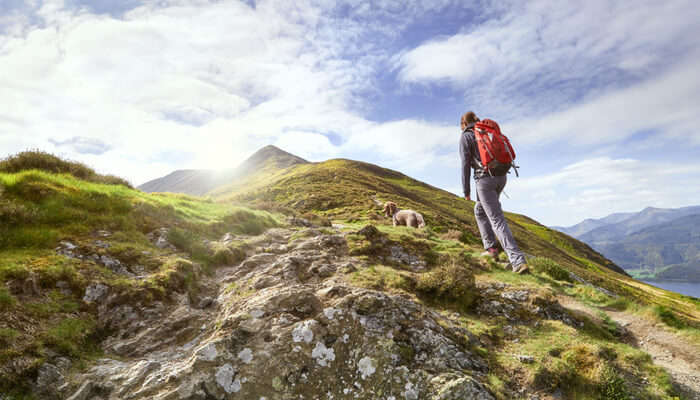 England is a beautiful country in western Europe. The place is immensely beautiful with the presence of tremendous beauty of nature and other delightful things that attract the sight of viewers from all over the world. England lies in the United Kingdom with Scotland and Ireland. All three countries are full of nature's bounty, but the most beautiful is England. مجموعة يورو 2024 The place can be visited by the lovers of mountains and those who are aspiring to visit any of the western countries for mountaineering, then England can be the right option for them. You can go for mountaineering in England and have the most unique experience in this epitome of modernization. Visiting beautiful mountains and clicking pictures of them will be your life long memory and you shall cherish them forever.
Best Time To Visit For Mountaineering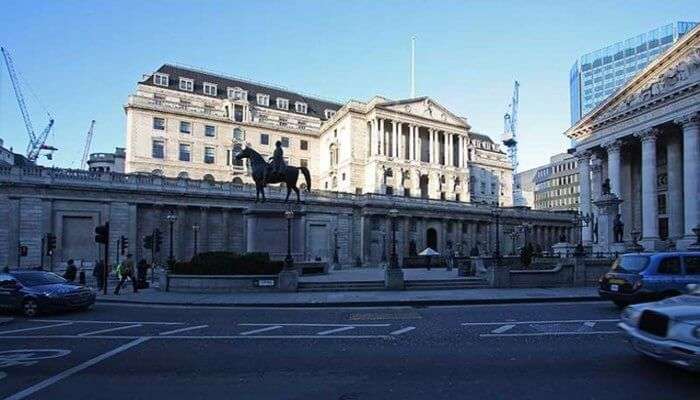 Image Source
With some of the best mountaineering spots, England becomes the best spot for those who are lovers of mountaineering and climbing. They can also visit this place with their family members and friends from September to December. You can also visit England at any point of time because of its evergreen and moderate climate. The best time for mountaineering in England can be from October to January. This is the time when tourist attraction is at the top in England and a lot of mountaineers and trekkers can be seen ready with their equipment in the area.
Must Read: This Winter, Escape To The Best Honeymoon Destinations In Europe In Winter
8 Best Spots For Mountaineering In England
Here is a list of some of the top mountains in the country of England which should be visited by the mountain lovers.
1. Helvellyn
2. Great Gable
3. Ingleborough
4. The Place Fell
5. Scafell Pike
6. Yewbarrow
7. Dufton Pikes
8. Bowen Island
1. Helvellyn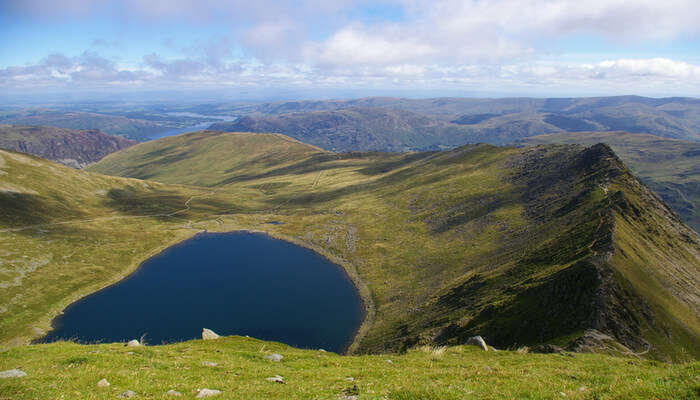 The Helvellyn mountain is the third highest peak in England. The height of this mountain peak is about 3000 feet. The views are completely bewitching and one can feel the essence of real mountaineering. This mountain peak is getting its way from Scotland to Wales. Many of the trekkers have trekked this place and still, a large number of trekkers come to this place every year for trekking and enjoying.
Location: Lake District, England
Suggested Read: 10 Beautiful Places To Visit In Birmingham For A Joyous Holiday In England
2. Great Gable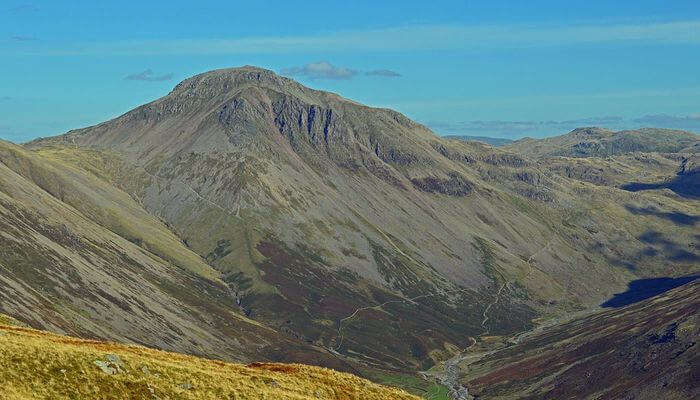 The mountain peak of Great Gable looks like a pyramid and has an altitude of 2949 feet. Once you reach the top of the mountain, you can view the whole area in a panoramic manner. You can take a brief look of the lake district from this place. Multiple routes are there to trace the top of this mountain. It's upon you if you want to climb this peak or not.
Location: Lake District, England
Suggested Read: 10 Best Day Trips From London To Explore This Extravagant Capital City In England!
3. Ingleborough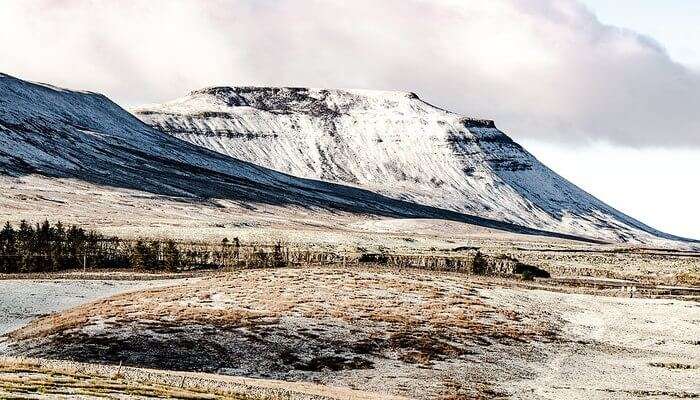 The mountain peak of Ingleborough has been credited as the second highest peak of England. This is based on an altitude of 2372 feet. Those who are highly desirous to have the view of huts built during the iron age, then he has to climb to the top of the mountain from where he can have a watch to those beautiful ancient setting. You can also witness white scars, a huge limestone plateau from the top of this mountain peak. One can also explore white scar caves.
Location: Yorkshire, Dales, England
Suggested Read: Cricket Stadiums In England
4. The Place Fell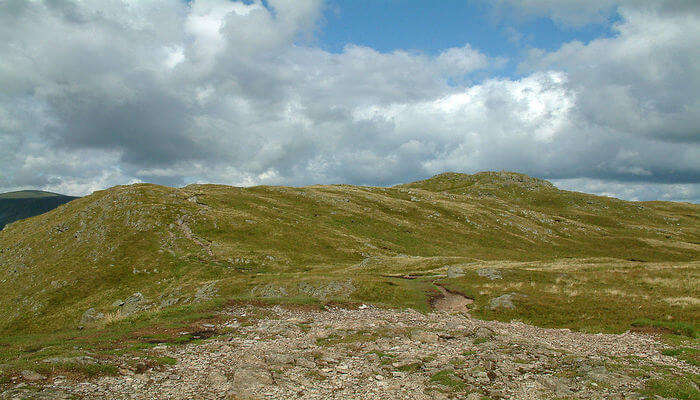 While climbing this mountain peak, your climbing skills will be tested and you will check your fitness level. While being at this mountain peak, you can witness the local fauna in the form of deer. They roam in herds on this peak. This peak is based at an altitude of 2156 feet. The moment you reach the top of the mountain you will admire the beauty of nature from this place. Helvellyn range and the village of Glenridding can be seen from here and looks very beautiful.
Location: Lake District, England.
Suggested Read: 7 Best Villas In London For An Ultimate Holiday In This Stunning England City
5. Scafell Pike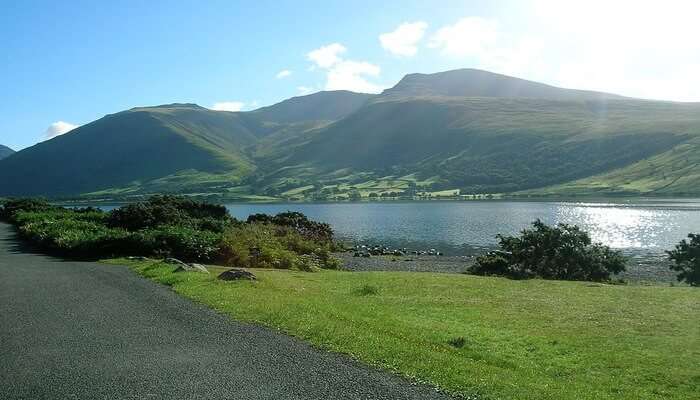 This is England's largest mountain peak with an altitude of 3209 feet. You can see this place from the Lake District National Park in Cumbria. Climbing this mountain peak is a tough task, but the moment you will ascend this peak, you can have the sight of glamorous nature. From this mountain peak, Scotland, Wales and even Ireland is visible. Several routes are there which can be taken by the trekkers and mountaineers for this place. The exquisite scenery and massive boulders will make you feel adventurous. You can start your expedition from the Wasdale valley to glance at the deepest lake of England, Wast Water.
Location: Lake District, England
Suggested Read: London In January: A Handy Guide For The Most Extravagant Tour Of This City In England!
6. Yewbarrow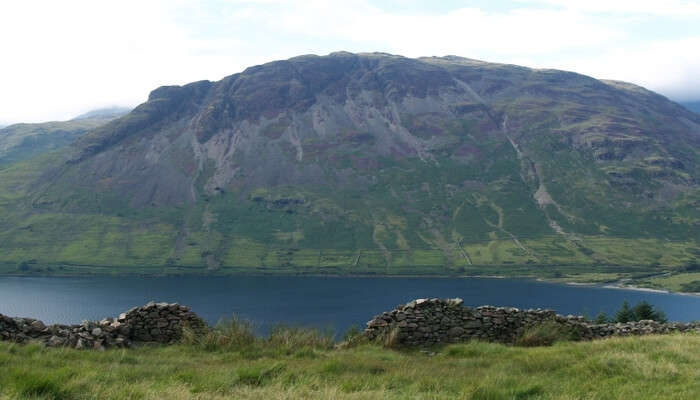 The total climb to the Yewbarrow mountain peak is 2060 feet. The place is situated in the Wasdale valley. If a mountaineer is climbing to the top of this mountain, then he can view the most amazing and beautiful sights of Scafells, kirk fell, the pillar and Great Gable. You can have a great time if you choose this pace for trekking and climbing. The climbing route can be a little difficult, but under the supervision of experts, it can be done easily.
Location: Lake District, England
Suggested Read: Gateshead Millennium Bridge: A Handy Guide To Know About This Charming Gem In England
7. Dufton Pikes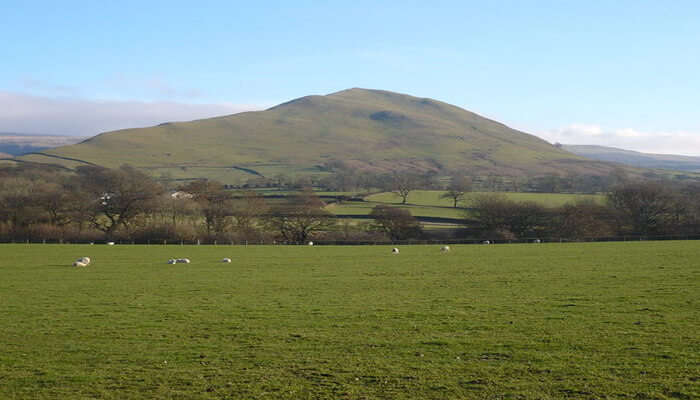 The altitude of this mountain is not much, that is 1578 feet. Climbing this mountain is not a hectic task and one can take his family too for this place. At this place, you can enjoy the scenic beauty of the Dufton village. Visitors are advised to take a circular walk of the mountain top to view some of the exquisite sites.
Location: Pennines, England.
Suggested Read: A Tour Around The Windsor Castle In England Will Show You How To Live Life Queen Size!
8. Blencathra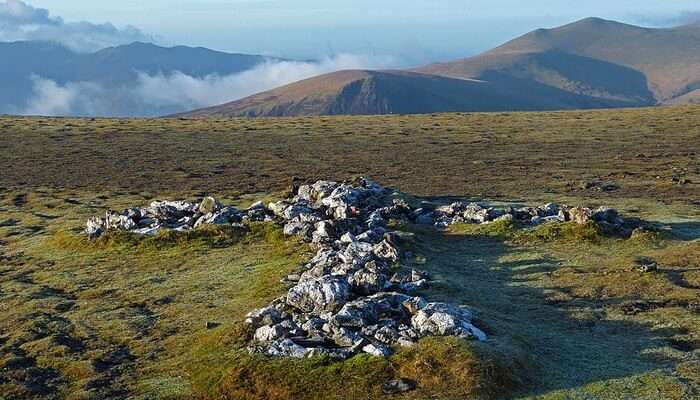 The beautiful and impressive shape of this mountain will make you fall in love with this. The nickname of this mountain is Saddleback. Climbing to the top of this mountain can be a little risky because of o steep inclines. Once you reach the top of the mountain, you will love the natural beauty around you. You can also take the sight of Derwent lake, Isle of Man and the Mourne mountains.
Location: North Lakes, England
Suggested Read: 22 Chilling Winter Destinations In Europe That'll Melt Your Heart!
Tips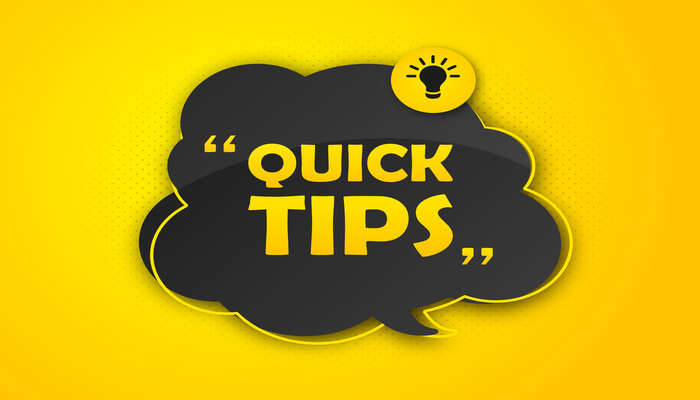 Here are some of the tips for those who are planning to visit England for vacations and mountaineering so that they must nor face any difficulty while being at that place.
Have a physical examination of yours by a physician before visiting hilly areas in England for complete assurance that you can go on the trip or not.
Keep woolen clothes and jackets with you so that you can survive in the chilly weather of that place.
Pack some of the dry food material so that you can eat them and give energy to your body from time to time.
Plan holidays in England with your family and friends so that you can have the best time with them and cherish memories with your nearer and dearer.
Keep all the essential documents with yourself so that you must not get yourself troubled at the time of verification.
Suggested Read: 18 Valentine's Day Traditions Around The World To Make The Day Of Love Special!
What To Pack?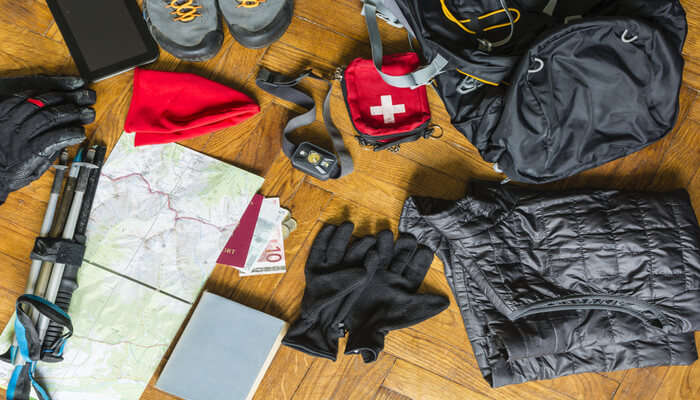 If you are planning to visit the mountains of England then you must keep all these things with you so that they can aid you at the time of mountaineering and trekking. They are:
Woolen clothes
Jackets
Gloves
Socks
Shoes
Boot
Dry fruits
Nuts
Chocolates
Windcheaters
Mountaineering equipment
Sleeping pads
Tent for mountains
Medicines
Insulated mugs
GPS
Compass
All these things are necessary at the time of mountaineering and one keeps all these things with them. They can also take tips from experts.
Permits Required For Mountaineering In England
Mountaineering in the mountains of England can be enjoyable, but a little risky too. Those who are planning to visit this place can have the pain of taking permits as some of the mountain spots are not open to all. Problems like steep inclines, landslides, and other natural problems can happen. Keeping all these things in concern, local authority issues permits to the visitors.
Further Read: 40 Romantic Things To Do In London!
England is a beautiful place with charming neighbors like Scotland and Ireland. Mountaineering in England should be done by keeping all the above tips and ideas in concern. So, don't think too much and plan your next trip to England for the most exciting experience ever!
Disclaimer: TravelTriangle claims no credit for images featured on our blog site unless otherwise noted. All visual content is copyrighted to its respectful owners. We try to link back to original sources whenever possible. If you own the rights to any of the images, and do not wish them to appear on TravelTriangle, please contact us and they will be promptly removed. We believe in providing proper attribution to the original author, artist or photographer.
Please Note: Any information published by TravelTriangle in any form of content is not intended to be a substitute for any kind of medical advice, and one must not take any action before consulting a professional medical expert of their own choice.
Frequently Asked Questions About Mountaineering In England
Which mountain peak is largest in England?
Scafell Pike is the largest mountain peak in England. xbet It is about 3209 meters in altitude. This is the dream destination of all mountain lovers.
What should be considered before going to the top of Scafell Pike?
Mountains of England are beautiful but dangerous, equally in many ways. One should take special care of their capability and physical fitness before ascending the Scafell Pike.
What are the mountaineering spots in England?
There are several mountaineering spots in England like Blencathra, Buckden Pike, Yewbarrow, Place Fell, etc.
Can we take family members to England for mountaineering?
Yes, family members can be taken to the mountains of England. This is so because of the moderate heights of the mountains and the natural environment with green valleys. العاب اونلين
What to consider before going to the mountains of England?
Some of the points are to be considered while going for mountaineering in England like physical fitness, requisite documents for verification, etc.
What is the best time to visit England for mountaineering?
The best time to visit England can be in November, December and January. This is the best time to visit England.
Is mountaineering safe in England?
Yes, it is safe when performed in the supervision of experts. Visitors are suggested to take the advice of experts.
What are the things which should be packed for mountaineering in England?
Woolen and warm clothes, food items and things related to mountaineering should be packed. Trekkers can take their costumes along with the luggage.
{
"@context": "https://schema.org",
"@type": "FAQPage",
"mainEntity": [
{
"@type": "Question",
"name": "Which mountain peak is largest in England?",
"acceptedAnswer": {
"@type": "Answer",
"text": "Scafell Pike is the largest mountain peak in England. It is about 3209 meters in altitude. This is the dream destination of all mountain lovers. "
}
}
, {
"@type": "Question",
"name": "What should be considered before going to the top of Scafell Pike?",
"acceptedAnswer": {
"@type": "Answer",
"text": "Mountains of England are beautiful but dangerous, equally in many ways. One should take special care of their capability and physical fitness before ascending the Scafell Pike. "
}
}
, {
"@type": "Question",
"name": "What are the mountaineering spots in England?",
"acceptedAnswer": {
"@type": "Answer",
"text": "There are several mountaineering spots in England like Blencathra, Buckden Pike, Yewbarrow, Place Fell, etc. "
}
}
, {
"@type": "Question",
"name": "Can we take family members to England for mountaineering?",
"acceptedAnswer": {
"@type": "Answer",
"text": "Yes, family members can be taken to the mountains of England. This is so because of the moderate heights of the mountains and the natural environment with green valleys. "
}
}
, {
"@type": "Question",
"name": "What to consider before going to the mountains of England?",
"acceptedAnswer": {
"@type": "Answer",
"text": "Some of the points are to be considered while going for mountaineering in England like physical fitness, requisite documents for verification, etc. "
}
}
, {
"@type": "Question",
"name": "What is the best time to visit England for mountaineering?",
"acceptedAnswer": {
"@type": "Answer",
"text": "The best time to visit England can be in November, December and January. This is the best time to visit England. "
}
}
, {
"@type": "Question",
"name": "Is mountaineering safe in England?",
"acceptedAnswer": {
"@type": "Answer",
"text": "Yes, it is safe when performed in the supervision of experts. Visitors are suggested to take the advice of experts. "
}
}
, {
"@type": "Question",
"name": "What are the things which should be packed for mountaineering in England?",
"acceptedAnswer": {
"@type": "Answer",
"text": "Woolen and warm clothes, food items and things related to mountaineering should be packed. Trekkers can take their costumes along with the luggage. "
}
}
]
}