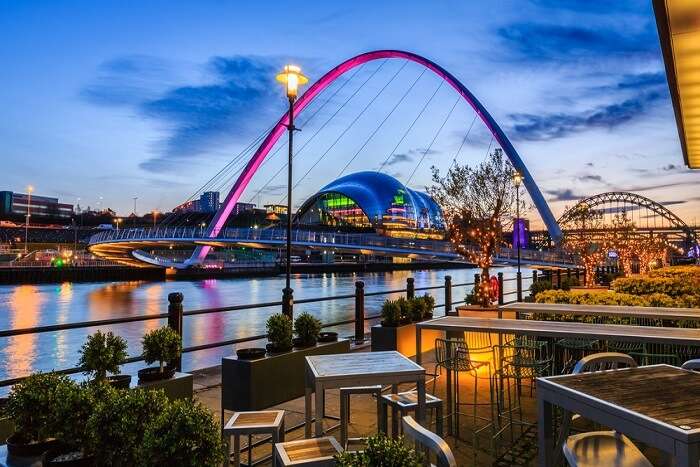 Gateshead Millennium Bridge is a beautiful tilting infrastructure of innovative and unique design that overheads the River Tyne. Constructed for cyclists and pedestrians as it joins the southern arts quarter to the northern Quayside of Gateshead. Often referred to as the 'Blinking Eye' or 'Winking Eye' of North England due to it's unique tilted shape, it's certainly an architectural marvel of the 20th century.   Stand in the middle of it to experience the impressive scenes of the Gateshead horizon.
Appreciate the contemporary design of the bridge, which comprises of a fabulous curve that floats over an arched path. Observe the bridge swaying back and forth to enable small crafts to cross below. The fantastic arch equalizes the crossway throughout the tilt, which exerts around five minutes. The bridge is 126 meters long-drawn.
About Gateshead Millennium Bridge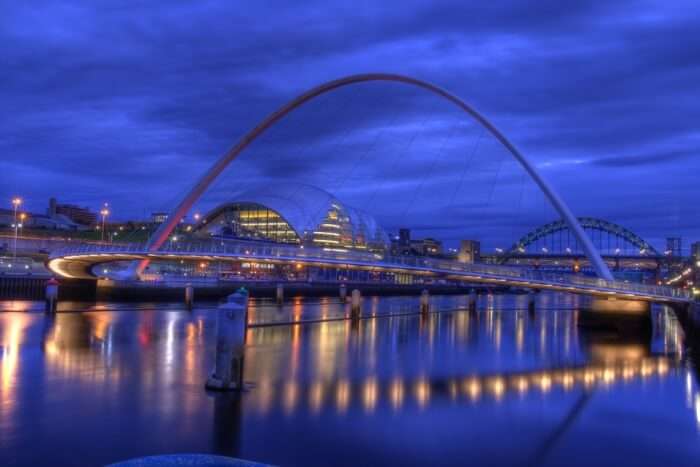 Don't miss out the Gateshead Millennium bridge structure during the nighttime, when it is lightened up in a blue radiance that shines in the deep water. When the infrastructure is in its upright stance, the curve climbs to a height of 50 meters (164 feet) up the river. The bridge has embraced an iconic character in the culture of the town, emphasizing on postcards and stamps. Note its auto-cleansing phenomenon, as any litter turns into side slash pits.
For panoramic scenes of the bridge, the water, and Millennium Bridge Newcastle upon Tyne to the north attend the nearby BALTIC Centre for Contemporary Art. Bring the kids on a guided trip of the museum that emphasizes various fun activities.
Check the inventory on the construction or online to know when it will tilt, as it only occurs once or twice each day to accommodate river traffic. The infrastructure, which made accessible to the public in the year 2001, is no charges are conducted to use it. The locals here call it the "Winking Eye" bridge, about its tilt and shape. The Gateshead millennium bridge architect was Wilkinson Eyre and Gifford was the architectural engineer.
8 Best Places To Visit Near Gateshead Millennium Bridge
Planning to visit this stunning bridge any time soon? Make sure you know about the various places around the bridge to check out while you're out and about in this land!
1. Boundary Mill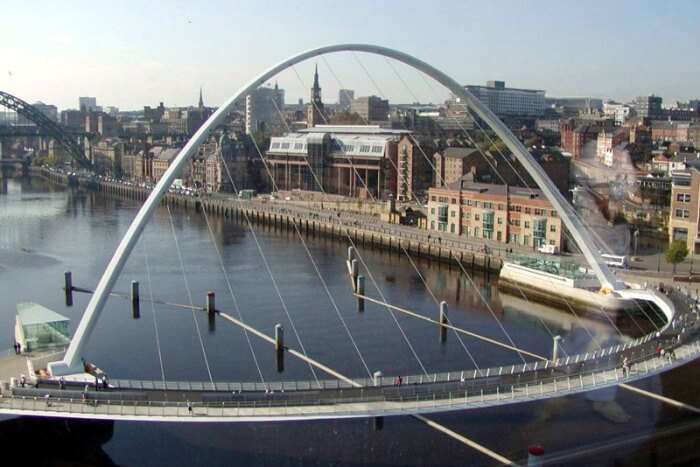 This is the site for bargain seekers with a vast variety of discounted footwear, fashion, household accessories and much more at the same place. Shop in a carefree atmosphere at Boundary Mill, and the parking is free. You can have a drink with BBs Coffee Shop and a snack to consume before, during or after your local therapy practice.
Must Read: 10 Free Things To Do In London We Bet You Never Knew!
2. Centurion Park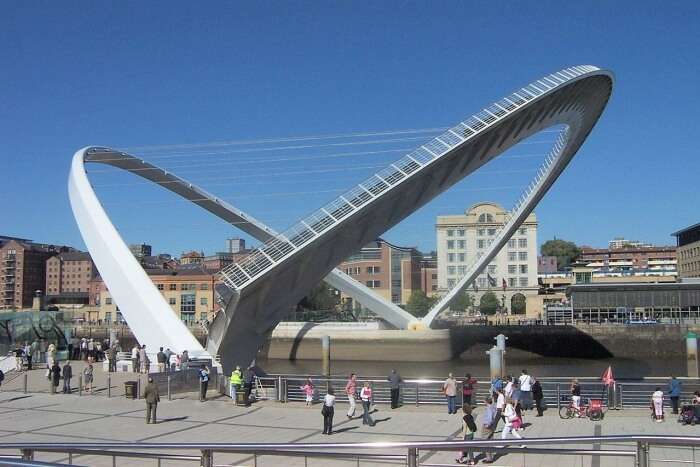 Centurion Park, the house of Wallsend golf club is in a superior location just behind the Coast Road in Newcastle. When you move onto the famously-ascertained parkland course, it is difficult to accept that it is just 4-miles from the core of Newcastle upon Tyne. It is among the most fantastic place to visit near Gateshead Millennium Bridge. The amenities include Happy Gilmores Bar entries open whole day to constituents and the public, a contemporary 24 bay driving distance, a unique newly renovated golf shop and recreation facilities incorporating 2-squash courts. The Park is a well-installed flat parkland course, stuffed with quality. The 18 hole track starts and finishes at the clubhouse.
3. Boardskillz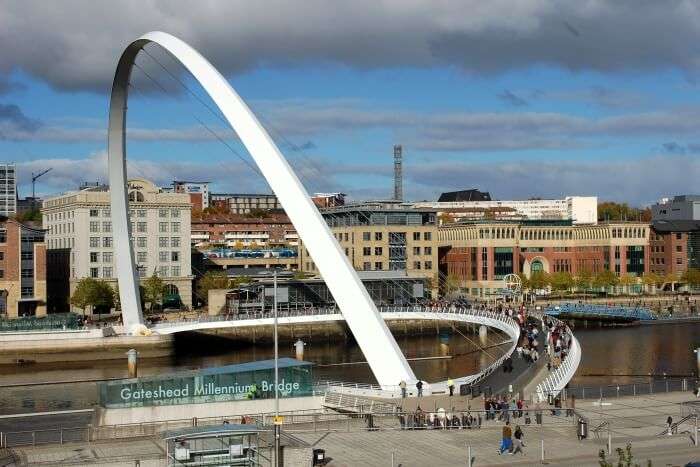 Boardskillz is a provider of water sports in many facets specializing in stand up paddleboard (SUP) teachings, taster concourses, and adventures; surf tours and surf hire, kite surfing hire and windsurfing tuition. Based in North Shields simply outward Tynemouth, Boardskillz operates over many places across the Cumbria and North East of England comprising Seaburn, South Shields, Blyth, Durham, Northumberland, Saltburn, The Lake District, and Scarborough.
As one of the leading SUP Schools in the United Kingdom, Joe has contributed years educating people how to drive board so is adequately located to guide you from novice to conqueror with least confusion. For those seeking to turn stress free from daily life work, there's no proper process of relaxing than one of Micro SUP Adventures of Boardskillz including fast track SUP training program and wild camping over a few days at wonderful sites such as the North Yorkshire Coast, Bamburgh, or Coniston Water in the Lakes, or Ullswater.
Suggested Read: London Nightlife: 15 Exhilarating Experiences For A Night Out In The City
4. Blue Reef Aquarium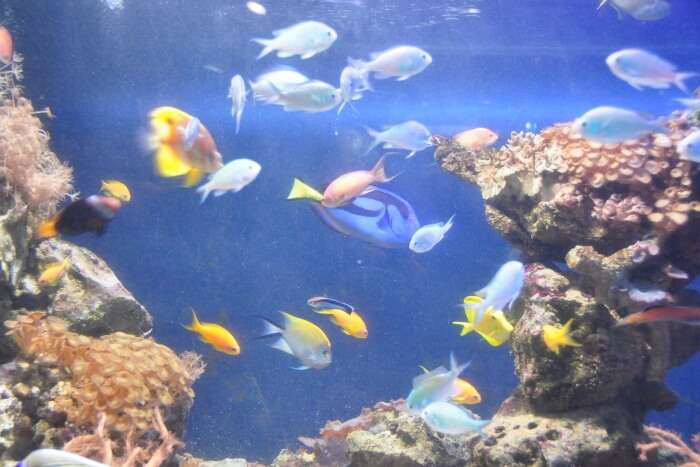 It is a part of a fabulous new engendering of aquarium magnets outlined to inspire more in-depth comprehension and sensitivity of the physical world. Go and explore all the incredible creatures that breathe in our oceans and seas. The exhibits take you on an underwater trip; to faraway tropical reefs from the British coastline and much more in the middle. During your trip, you will see unimaginable sea life with everything from lobsters, big crabs to tropical sharks, seahorses and you will get an opportunity to get more concerning these aquatic creatures' marvelous lives in above 40 naturally reproduced displays.
Suggested Read: London Shopping: 10 Best Places That Will Help You Glam Up Your Wardrobe & Home!
5. Coastal Heritage Trail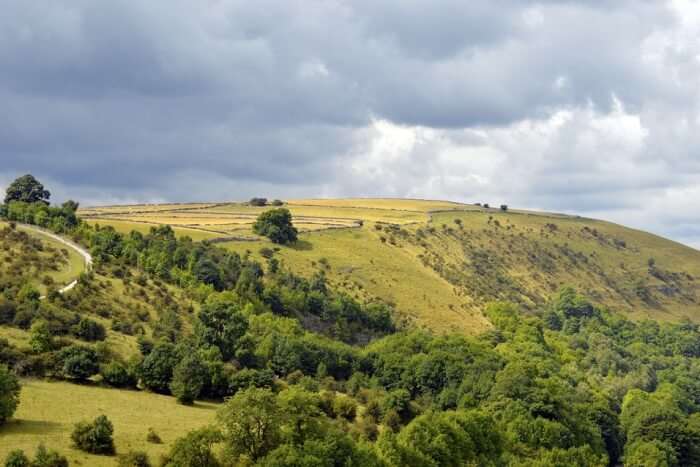 The North Tyneside coastline has a fascinating and lengthy history. Various information juries are placed between St Mary's Lighthouse and the Black Midden Rocks to highlight the diverse and assorted culture and history of the region and in so doing, assist to enhance the connectivity among Whitley Bay, Tynemouth, and Cullercoats. To view more details, please stay connected with us. You can get about hundreds of years of history and explore how the history has grown the today. There are superb public transportation connections to assist you do to so.
6. Cullercoats Art Walk

A voyage back in time nearby Cullercoats by the eyes of renowned artists. Why Cullercoats, a little and the possibly modest fishing community turns such a preferred spot for professionals could be discussed ad infinitum. Winslow Homer is among the leading artists of America, unquestionably found motivation to visit in Cullercoats in that he contributed some months breathing and drawing here.
Conceivably the mountainous coastline and the more frequently than not strengthening sea flurry recalled him of his regional New places to visit inEngland. Perhaps the fishing people, their style of life and spirit motivated Homer and other artisans to utilize them as arguments for their creativity. The ancient beauty of the community and the scenic harbor that is Cullercoats Bay are also causing sufficient to encourage.
Suggested Read: 10 Haunted Places In London That'll Scare The Crap Out Of You
---
Planning your holiday but confused about where to go? These travel stories help you find your best trip ever!
7. Cullercoats Bay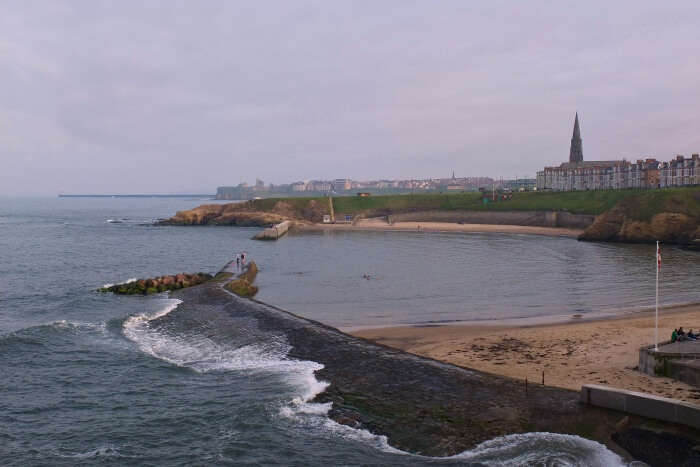 It is a sandy bay surrounded by little docks and as such is perfect for families. The community has been famous with contemporaries of guests with its screened inlet the highlight. The seaside has a Seaside Award and is excellent for taking a bath. The south side of the bay is utilized as a launching place for entertainment professions. Cullercoats had a flourishing fishing business in the 1800s and little fishing crafts – cobles – can yet be noticed in and across the bay now. On the bay itself, the Dove Marine Laboratory is an outstanding the School of Marine Science of Newcastle University's research center.
Suggested Read: These 20 Best Hotels In London Show Us Why It Is One Of The Classiest Cities In The World
8. Cullercoats Bike & Kayak

At the world-famous Cullercoats Bike and Kayak, your subsequent coastal experience is simply a hit away. Cullercoats Bike and Kayak are professionals in rentals, lessons, tours, and renovations, so decide how you desire to view the seashore, discover what's accessible and reserve online instantly and protectively.
Within meters of their small workstations in Cullercoats is around 500 years of apparent heritage and history, striking natural landscapes, bizarre geology, and home to a diversity of wildlife. Take a kayak and traverse this magnificent coastline. You can go for it with kayak hire, or you can get some skillful guide or coaching from the CBK unit.
Further Read: 10 Best Indian Restaurants In London That Will Awaken The Gastronome In You!
Marvel at the stunning architectural exploit of the tilting of this arched bridge and its towering arch enabling boats to cross through. We have discussed above the complete details and history of Gateshead Millennium Bridge. From the guide, you will get to know what to do there and the places to visit around once you are here. So, plan a trip to England and experience the best things to do around this stunning bridge with your loved ones!
---
Looking To Book An International Holiday?
Book memorable holidays on TravelTriangle with 650+ verified travel agents for 65+ domestic and international destinations.
---