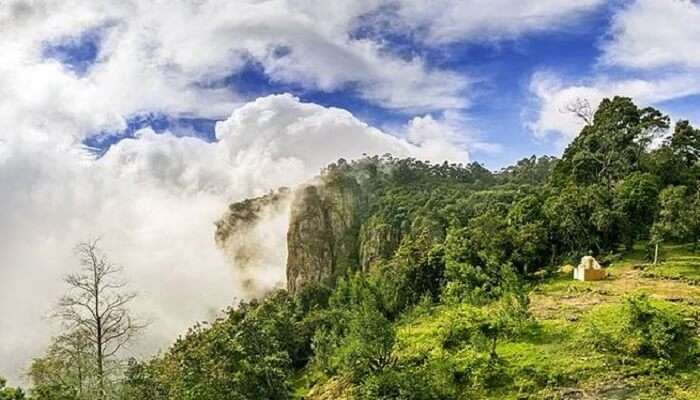 There is no shortage of awe-inspiring sights and incredible activities to engage within Tamil Nadu. The natural beauty combined with the looming element of sheer peace are two very valid reasons for tourists to flock to the state by the thousands.

One of the most frequented destinations in the state, especially for the new generation of travellers, is the hilly town of Kodaikanal. Centered around the man-made marvel that is the Kodaikanal lake, the hill station is encompassed by the endless charm of nature and is filled to the brim with interesting and breathtaking tourist spots that are simply waiting to be explored. There are numerous interesting things to do in Kodaikanal that will surely make you capture the best memories of this serene place.
Top 8 Things To Do In Kodaikanal
If you're planning a trip to this charming "gift of the forest", here's a list of things to do in Kodaikanal that you most definitely shouldn't miss:
1. Embark On A Night Safari
Preferred mostly by couples, the night safari in Kodaikanal is not an experience fit for the faint of heart, and yet, is one of the most preferred things to do in Kodaikanal at night. The adventure is a one-of-a-kind experience and offers travelers a chance to take a thrilling peak into the daily lives of the natural fauna that calls Kodaikanal home.
The best part is, getting up close and personal with the fauna of the area is not the only thing to look forward to. Apart from observing bisons, wild boars, and porcupines in the natural habitat, the safari will also take you to soak in the breathtaking views of Mango City and Palani Temple.
Additional info: It pays to remember that an adventure activity such as night safari should only be undertaken under an experienced and certified expert. For this reason, it is a smart decision to hire one of the local travel agents to arrange the same for you.
Must Read: Kodaikanal Honeymoon Guide: What You Can Expect From The Queen of Hills
---
Looking To Book A Holiday Package?
---
2. Take A Misty Boat Ride In Kodaikanal Lake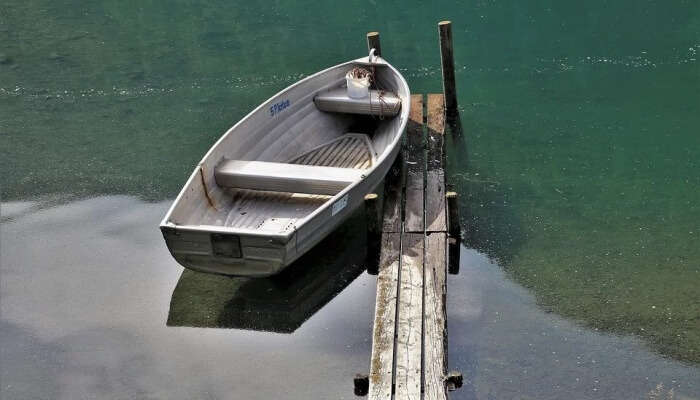 As mentioned earlier, the Kodaikanal Lake is one of the most noteworthy attractions in the city and thus naturally, boating in the lake has to be a part of a top top things to do in Kodaikanal. With that said, the magic of Kodaikanal Lake is simply enchantments, especially on the days that are a bit chilly.
The lake is covered with a light mist that offers a charm that most have only seen in the films. Even on the days there is no mist, the star-shaped lake offers fantastic views of the surrounding flora and is a budget friendly way to spend a few serenity-filled hours connecting with mother nature.
Additional info: The lake is closed for boating on Sundays and on the rest of the days, the operational timings are between 9 AM and 5:30 PM.
Suggested Read: 10 Best Resorts In Kodaikanal That'll Chase Your Blues Away
3. Take A Stroll Along The Coaker's Walk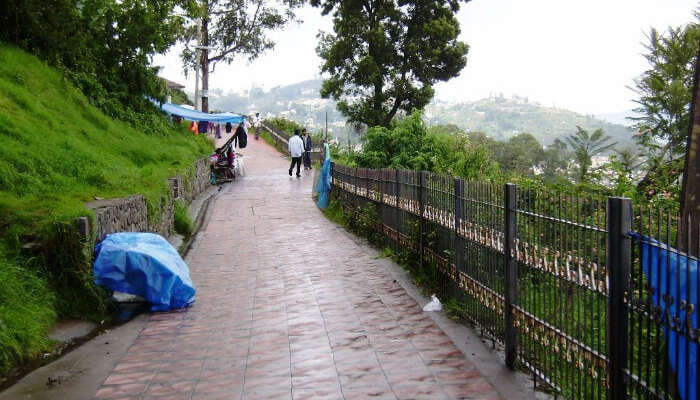 While the Coaker's is open from 7 AM to 7 PM this activity is especially recommended for the early birds. Approximately 1 kilometer in length, it is a lovely walking plaza that involves an uphill walk on a beautifully constructed parth surrounded by views that are often described as awe-inspiring and breathtaking.
Situated in close proximity to the Kodaikanal Lake, a walk along the Coaker's Walk pathway is the perfect activity to pair with boating in the lake. At the end of the pathway, there is a telescope house that visitors can use to witness better views of the surrounding hills, valleys, and lakes.
Additional info: While the entry fee for Coaker's Walk is just 10 bucks, taking a camera inside the premise will set you back by 30 rupees. There is an additional entry fee of 20 rupees for the telescope house.
Suggested Read: Off To Kodaikanal? Here's A List Of 12 Places To Visit In Kodaikanal In 2020
4. Hike To The Dolphin's Nose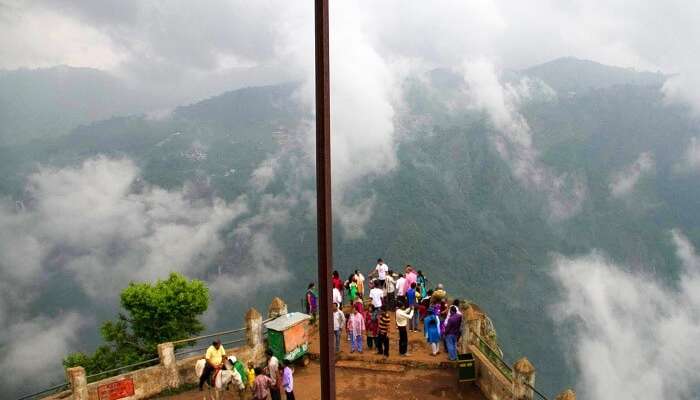 Clear skies, rugged terrain, plunging valleys, and natural beauty as far as the eye can see. If all these things sound appealing to you, a hike to the Dolphin's Nose is one of the best things to do in Kodaikanal.
The short 3 kilometer hike is extremely easy and the peak which, as the name suggests, is shaped like a dolphin's nose, offers fantastic views of the hill station. The hike feels extra special on the days the city is blanketed by a mysterious fog. If you are the kind of traveller that values soulful introspection over clicking photographs, mysteriously foggy days are the best to take the hike. Even if you fall in the latter category, Dolphin's Nose will not disappoint.
Additional info: The trail to Dolphin's Nose is also close to a waterfall that travelers must explore during their hike. Moreover, it is worth noting that the trail also offers a few points where tired hikers can purchase fresh juice and snacks. However, these are relatively expensive, thanks to the effort involved in offering these services at a higher altitude.
Suggested Read: 15 Kodaikanal Hotels To Pick From For Your Next Trip To Tamil Nadu
5. Try Your Hand At The Bottle Boomerang Challenge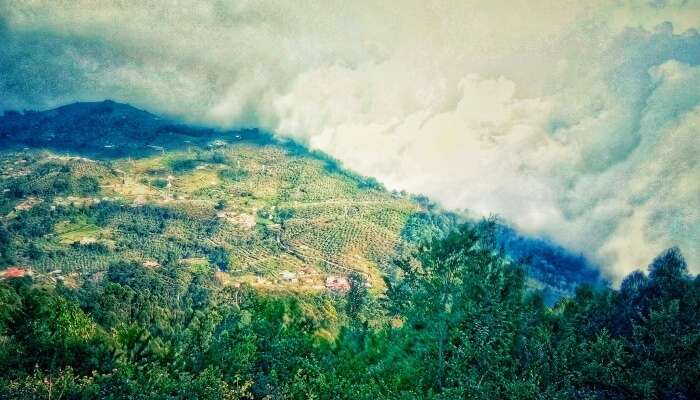 Ever played with a boomerang? If you're part of the majority that hasn't, Kodaikanal has something very special in store for you. Known as Thoppi Thooki Paarai in the local language, which directly translates to "cap lifting rock" the Caps Valley View point is a valley between two peaks (duh!) that features an unusually strong air current.
Thanks to this, light objects (caps) thrown in the valley return to the owner, much like a boomerang.
Additional info: If you are visiting the Caps Valley Viewpoint, and are considering skipping it because there's just one amusing activity to undertake, you might want to get rid of such thoughts. Apart from the amusing natural phenomenon, the view point offers brilliant views of the surrounding hills and valleys, something that you will regret missing.
Suggested Read: 7 Amazing Homestays In Kodaikanal: For Absolute Freedom And Privacy
---
Planning your holiday but confused about where to go? These travel stories help you find your best trip ever!
---
6. Go For A Picnic Overlooking The Pillars Of Nature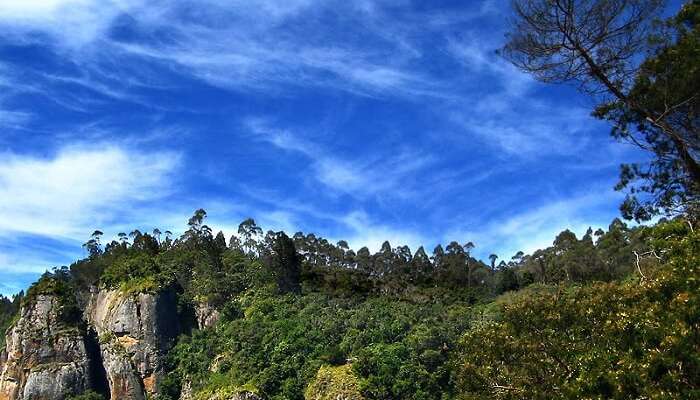 One of the most frequented places by visitors of Kodaikanal is the Pillar Rocks viewpoint. As the name suggests, Pillar Rocks are pillar like rock formations that tower over a valley filled with exotic flora and fauna.
Reaching the top of pillar rocks involves a 7 kilometer hike that is well worth the effort. The top is also a famous camping site as it offers superb views of the sun setting in the evening and equally awe-inspiring views of the night sky dotted by billions of stars.
Additional info: The hike trail goes through a dense forest area and is best embarked upon under the guidance of a local guide that is familiar with the route.
Suggested Read: 8 Best Cottages In Kodaikanal For A Peaceful Holiday In The Hills
7. Feel The Thrill Of Caving In The Dark Crevices Of Guna Caves
Guna cave is the cave formed at by the Pillar Rocks. The dark and mysterious cave system is often part of the itinerary for those visiting the Pillar Rocks, and for good reason.
While the interiors of the cave are not accessible to tourists any more, the surrounding natural beauty and the element of mystery still attracts them by the hundreds.
Additional Info: The cave system and its surroundings are best experienced in the colder months, thanks to the thick fog that encompasses the area. This added mystery makes a visit to Guna Caves one of the top things to do in Kodaikanal in December.
Suggested Read: 7 Airports In Tamil Nadu For An Awesome Flying Experience In 2020
8. Spend A Day Chilling By A Waterfall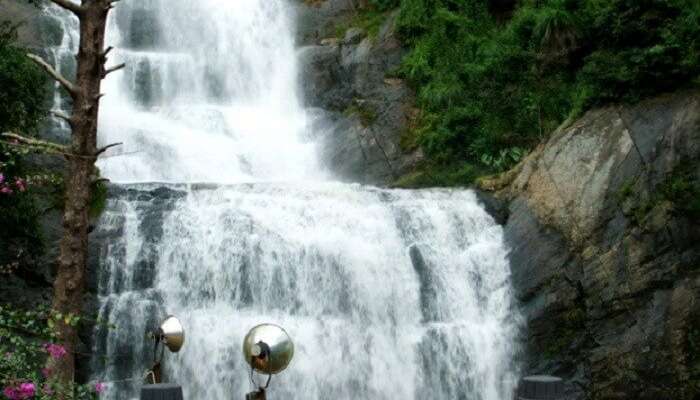 Kodaikanal is home to eight unique waterfalls that offer a heady combination of great views and quaint surroundings that make you forget about all your woes. Travelers can choose to visit and spend a full day in the company of a waterfall or can go "waterfall hopping" and try to cover as many falls as they can.
Some of the most noteworthy waterfalls in Kodaikanal are Bear Shola Falls, Liril Falls, Silver Cascade Waterfall, Pambar Falls, Fairy Falls, and Thalaiyar Falls.
Additional Info: Some of the waterfalls on this list have specific opening hours that travelers must take note of. For instance, Thalaiyar and Pambar falls are open to tourists only between 10 AM and 6 PM. Similarly, Liril Falls are open between 8:30 AM and 5 PM.
Further Read: World's 15 Most Romantic Mountain Getaways: The Coziest Retreats In 2020
Kodaikanal is a wonderful hill station and one blog post can never do justice to the huge variety of attractions present in a quaint little town. With that said, there is so much to see and do in Kodaikanal that even spending a week in the town would not be enough. If you're planning a trip to Kodaikanal, we hope that this blog will help you build an itinerary that you will thank yourself for, when you're actually in the city. Final thought before wrapping up, please travel responsibly.
Frequently Asked Question About Things To Do In Kodaikanal
Q. How to reach Kodaikanal?
A. By road, the town is linked to several surrounding major cities such as Bangalore (460 kilometers), Chennai (530 kilometers), and Madurai (120 kilometers), among many others. Kodaikanal is connected to these cities with regular running bus services. The nearest railway station to Kodaikanal is Kodai Road, which is a 95 kilometer journey from the city centre. Cabs and other modes of public transport are easily available at the railway station. The nearest airport to Kodaikanal is the Madurai airport, at a distance of 120 kilometers. Madurai airport and Kodaikanal are well connected with cabs and other modes of public transport.
Q. What is a must try dish in Kodaikanal?
A. Hot "chai" coupled with sandwiches is the most sought after food combo in the city. The town is dotted with a number of picture-perfect Insta worth cafes that serve some incredible food including (but not limited to) chocolates, pastries, pancakes, omletes. If you are looking for a meal with a view, we strongly recommend checking out a cute little breakfast place called PotLuck.
Q. What is the best place to stay in Kodaikanal?
A. The hill station is home to many resorts, hotels, and homestays. Those looking to splurge of luxurious holiday can go for a resort like the Fern Creek. Those looking for a more authentic experience should definitely choose to stay in a homestay with the locals. The Sterling Kodai Lake resort is also a great option for those looking for a stay with a view.
Q. How many waterfalls are there in Kodaikanal?
A. Kodaikanal is home to almost 10 unique waterfalls. The most visited of these are, Liril Falls, Bear Shola Falls, Silver Cascade Waterfall, Vattakanal Waterfalls, Fairy Falls, Kumbakkarai Falls, Pambar Falls, and Thalaiyar Falls.
Q. What is Kodaikanal Famous for?
A. Kodaikanal is famous for its scenic beauty that encompasses the town. It is home to lakes, waterfalls, and breathtaking view points that have attracted travelers from around the world for decades.
Q. What is the best time to visit Kodaikanal?
A. Kodaikanal presents visitors with a pleasant weather for most of the year. However, the peak tourist season occurs between the months of March and June when the abundant nature surrounding the town is blooming in its full glory.
Q. What are the best places to visit in Kodaikanal on a 2 day trip?
A. While the answer to this question is totally dependent on your interests, spots like Kodaikanal Lake, Croaker's Walk, and Dolphin's Nose are usually the top spots that tourists short on time can visit.
Q. How do I get around in Kodaikanal?
A. Central Kodaikanal allows no taxis of buses and must be explored on foot. The rest of the town is well connected by cabs. A ride in a cab will set you back by a minimum of 60 bucks and the price can go up to 1500-2000 depending on the duration and distance of your journey. For those who prefer a more green mode of transportation by renting a mountain bike. Starting at roughly 10-20 bucks for an hour, these are perhaps the most cost-effective way of getting around in Kodaikanal.
---
Looking To Book An International Holiday?
---
People Also Read
things-to-do-in-chennai things-to-do-in-mumbai things-to-do-in-udaipur
Comments
comments