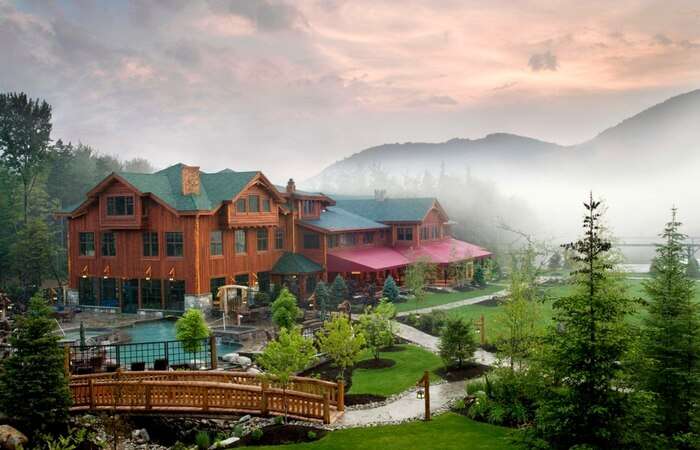 Mountains evoke. Mountains fulfill. Mountains dare. Mountains accomplish. For mountains love the loving heart and embrace their wonderful followers. The most romantic mountain getaways in the world are heartwarming places for that dream of making love amid snowy peaks and lush meadows.
World's top romantic getaways in mountains house all the thrill and luxury that'll leave you in awe. From jaw-dropping views to some of the most unusual stays that boast of elegant in-house facilities, these getaways embody everything romantic as well as exciting. They are for couples, who don't mind the extremes that mountains bring along.
Live in a villa perched on a clifftop in Arizona or go for a glamping in the woods enclosed by lush green alpines in South Africa – the choice is spoiling for a couple who love mountain adventures. If you have made up your mind, here are 10 most romantic mountain getaways you must check out!
10. Magaliesberg, Pretoria – Glamping at its best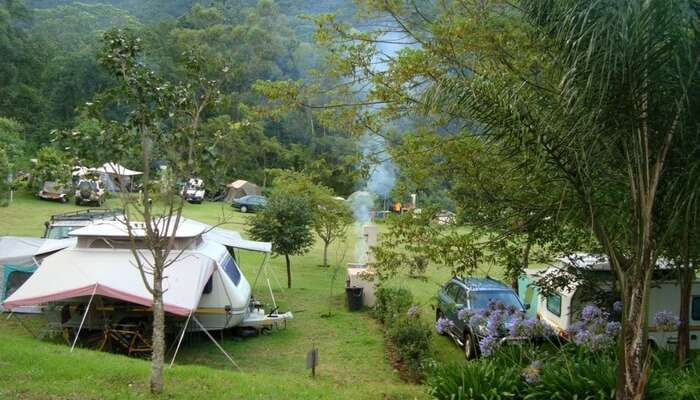 Sleepy river, mild smoky surroundings, an endless stretch of farms, rich biodiversity, and a bounty of exciting escapades around make Mountain Sanctuary Park a highly sought after romantic mountain getaway in South Africa. Plan a stay in one of the quaint country houses, fix a romantic date with nature, explore the nature's hidden wonder in prehistoric caves or explore wildlife centers, Magaliesberg is an enchanting romantic mountain getaway in South Africa. Without second thought this is the place where you must be headed soon!
Romantic things to do: Hot air ballooning, visit Tangaroa Strawberry Farm, explore the mountain sanctuary park MTB trails, and trip to the wonder cave of Kromdraai
Romantic stay options: Thirsty Falls Guest Farm, Woodland Gardens, Puschka Farm, and Valley Lodge & Spa
Suggested Read: World's Best Glamping Resorts For Honeymoon Are So Good, You Won't Mind Ditching 5 Star Stays Even Once
9. Glenorchy, Otago – Nature lover's muse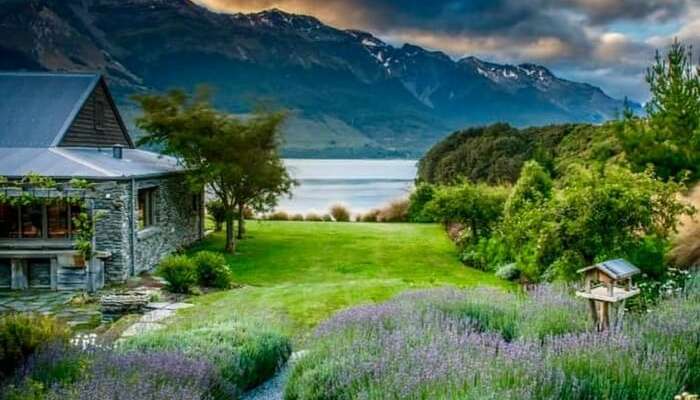 Home to some of the best alpine views in the world, memorable helicopter rides, exciting nature walks, and sprawling snowfields, Glenorchy is a kickass romantic mountain getaway just perfect for the romantic couples. Experience nature at its best at Kea Basin where zig-zag terrains lead to Lennox Falls and Blanket Bay – the perfect alpine escape along the shores of Lake Wakatipu.
The 1-hour drive from Queenstown to Glenorchy is probably the most scenic drive in New Zealand. The place has plenty of romantic activities and comfy stays lined up for you. Try it!
Romantic things to do: Horse tour of Rees valley, helicopter ride, rippled earth kayaking, and guided walks
Romantic stay options: Blanket Bay, Glenorchy Lake House, Kinloch Lodge, Hilton Queenstown Resort & Spa, and Millbrook Resort
8. Lake Wanaka, Otago – Trip to the heart of Queenstown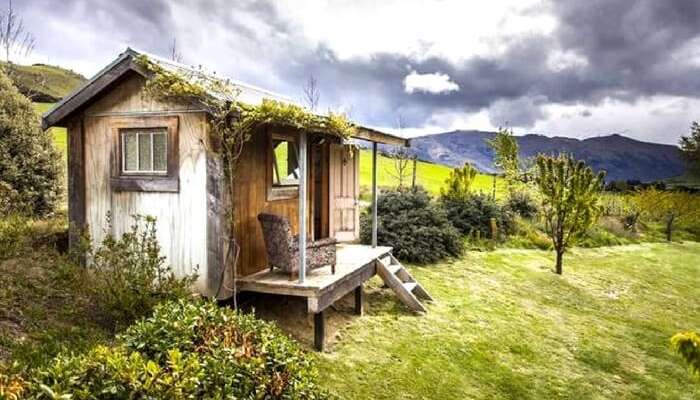 Beautiful farmlands, nature's most secluded wonders, hidden dining spots without road connectivity, and some of the most exceptional views in the Southern Hemisphere make Wanaka one of the most thrilling yet romantic mountains getaways.
A stay at Cardrona Hotel almost 15 minutes far from Wanaka make a different stay where cold beer and hearty food, lush green lawn, and perfect stay steal the show. Activities in and around the lake are plenty to keep you well occupied.
Romantic things to do: Dining at Minaret Station – at $1175 per person a lunch here accessible by the a helicopter ride is certainly the most romantic thing to do in Wanaka, water sports like paddle boarding and kayaking, glamping by lake Wanaka, and spotting That Wanaka Tree – the lone tree in the shallows of Roy's Bay towards the extreme south of Lake Wanaka
Romantic stay options: Wanaka Lakeview Holiday Park, Wanaka Homestead Lodge & Cottages, Suite 51, and Lansdown Apartments
7. Lake Tarawera, Rotorua – Of wild and wilderness!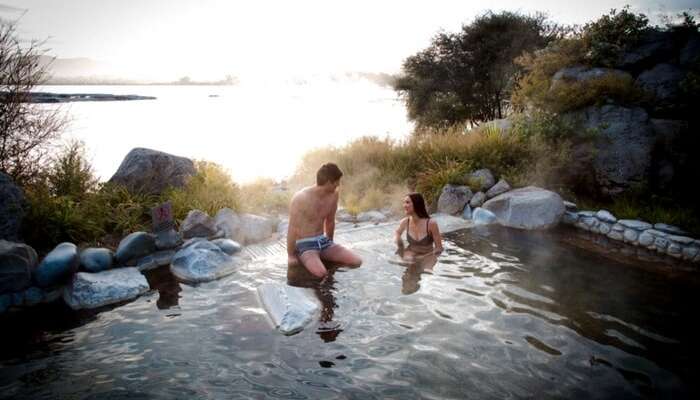 Looking to lose yourself to the tranquility of the woods and lakes with no one around you interrupting with your private moments? Take a trip to Tarawera in Rotorua. Certainly, one of the most stunning mountain getaways, Tarawera, popularly known for its hot water springs is definitely for zealous couples. With one of the largest series of lakes in New Zealand surrounded by volcanic mountains, you couldn't have asked for a better place to spend your romantic date far from the hustle of the city.
Rotorua is for all the adrenaline seekers planning to make the best out of their romantic outing. A romantic sojourn amidst the mountains and lakes of beautiful Rotorua is all you need right now!
Romantic things to do: Redwood Treewalk, clearwater cruises, Polynesian spa, Kawarau Jet, and a lazy walk around the Blue Lake
Romantic stay options: Hermione Cottage, Lakefront Studio, Regent of Rotorua, and VR Rotorua Lake Resort
Now that you are already in New Zealand don't forget to explore Milford Sound and Queenstown as well. Some breathtaking mountain getaways await you there!
Must Read: 10 Exotic Destinations For A Fairy-Tale Honeymoon In New Zealand
6. Sintra, Lisbon – A tour of rustic charm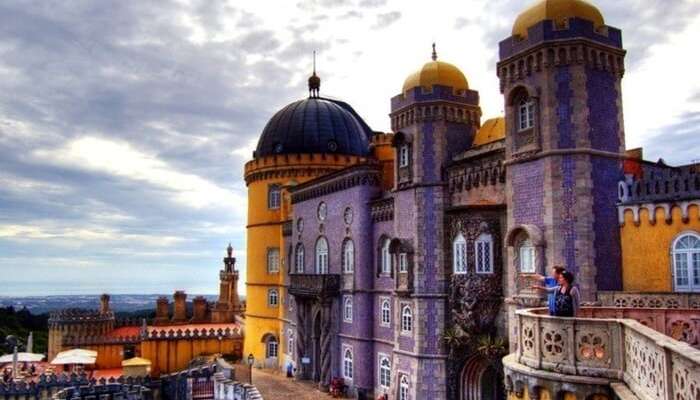 Spoil yourself with a trip to the dreamland of Sintra, also known as the Disneyland for the grown-ups. One of the most romantic mountain getaways, the city located in the foothills of Sintra mountains close to Lisbon is the place dotted with castles and villas and looks straight out of a postcard. A trip to Pena Park – the walled park shrouded in mist, is highly recommended for romantic couples.
Also, there are plenty of historic buildings, buzzing markets, and day trips with views of imposing mountains in sight. Behold the Moorish pattern of the interiors of prehistoric palaces, they are fine, intricate, and ooze elegance.
Romantic things to do: Trip to Convento dos Capuchos, a tour of garden Parque da Pena, ride in the 100-year-old tram running from Sintra to the golden sands, and a trip to Praia da Ursa
Romantic stay options: Hotel Britania, Corinthia Hotel Lisbon, Tivoli Palácio de Seteais, and PortoBay Marquês
Must Read: Summer In Europe: Top 10 Offbeat Places For A Fabulous Vacation!
5. Wrangell – St. Elias National Park and Preserve, Alaska – Adventurer's den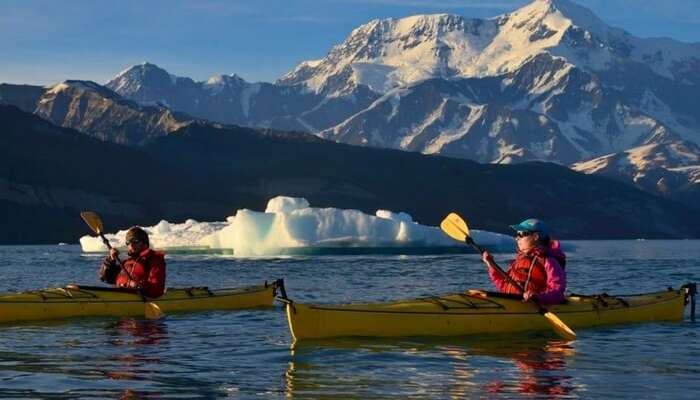 An ideal place for backpacking couples who love taking adventure trips every now and then the St. Elias National Park in Alaska is perfect to go snow camping amidst the glacier. With so much to explore, the national park rich in biodiversity has a lot to explore.
Make your tent, go exploring the wildlife of the park and take adventure sports, the park presents a lot of opportunities to the romantic couples. For a rugged and couple like you, St. Elias is the ultimate place to seek romantic sojourn.
Romantic things to do: McCarthy river tour, birding, fishing and hunting, horseback riding, whitewater rafting and kayaking, and wildlife viewing
Romantic stay options: Aura Borealis Bed and Breakfast, Gakona Lodge, and Copper River Princess Wilderness Lodge
4. Yellowstone National Park, Wyoming – Dream date in the eruption zone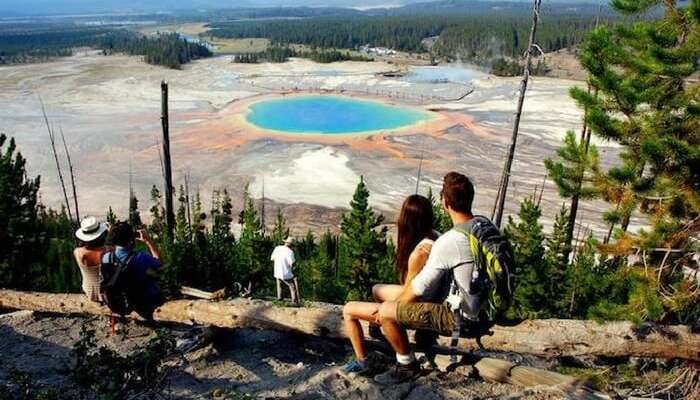 Be it your first date, Valentine's Day, honeymoon, or a wedding anniversary, Yellowstone National Park is one among the most romantic mountain getaways in Wyoming. Spend a romantic evening lying under the stars with your beloved or get steamy with a hot spring bath in the natural geyser, the park has a lot to offer.
From dining, shopping, adventures, to perfect nature view from those cozy cabins in the woods, Yellowstone National Park is the ideal romantic destination for the fun loving and adventurous couple.
Romantic things to do: Sleigh ride, sunset view over the Firehole River in the Upper Geyser Basin, a night stay at the Old Faithful Inn, and indulging in range of activities like horse riding, zip lining, and wildlife viewing
Romantic stay options: Yellowstone Honeymoon Cabins, The Hibernation Station, The Alpine House Lodge & Cottages, and Four Seasons Resort Jackson Hole
3. Boone, North Carolina – Guarded by the clouds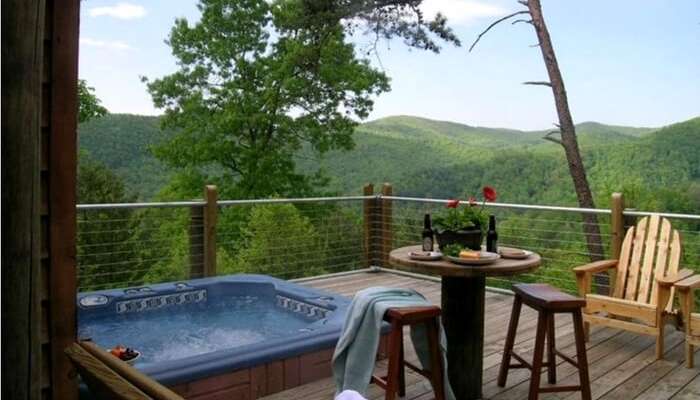 With the magnificent city view, conservation areas, rich farms around, Boone makes for one of the prominent romantic mountain getaways in North Carolina. A romantic trip to this tiny town tucked in the well – guarded nature's surroundings is probably the best thing to do when you are in the North California region.
Lots of breweries, trails along the cascades, adventures and cozy cottages around make Boone as the perfect sojourn for romantic couples.
Romantic things to do: Tour of Appalachian Mountain Brewery, an escape to the Daniel Boone Native Gardens, Hickory Ridge Living History Museum, Turtle Island Preserve, and Appalachian Ski Mountain
Romantic stay options: Hillwinds Inn, Green Park Inn, Ridgeway Inn, Hemlock Inn, and The Village Inn
2. Pocono Mountains, Pennsylvania – By the lakes, into the wilderness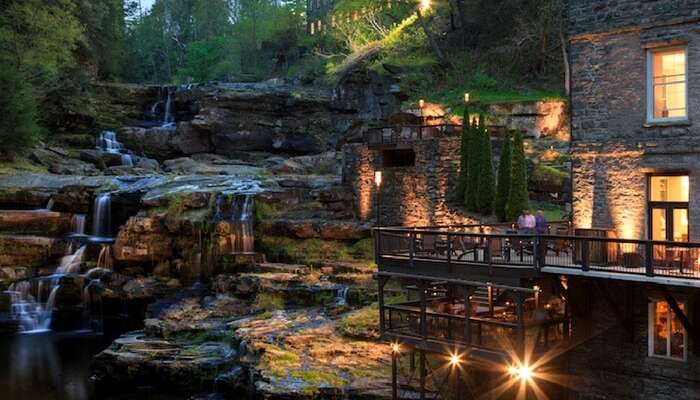 The sprawling lush green mountains in Pocono are the perfect retreat for every romantic couple looking to explore the love in the wild. One of the most preferred places to hang out, the Pocono mountains romantic getaway in the United States presents cozy cabins, adventure camping options, plenty of motels, condos, cottages, and bed and breakfast stays, and untarnished scenic natural beauty for the couples seeking romantic retreat.
Take a romantic sauna by the lakeside, indulge in long conversations by the log-burning fireplaces or go for a soothing whirlpool bath. Pocono is the place to indulge you have been looking for all this while!
Romantic things to do: Shower in the Heart-shaped tubs, snow and skiing activities, fishing, biking, river rafting, sidecar, and waterfall tours
Romantic stay options: Baymont Inn & Suites, Comfort Inn & Suites, Comfort Inn – Pocono Lakes Region, and Fern Ridge Motel
1. Gatlinburg, Tennessee – Into the smoky environs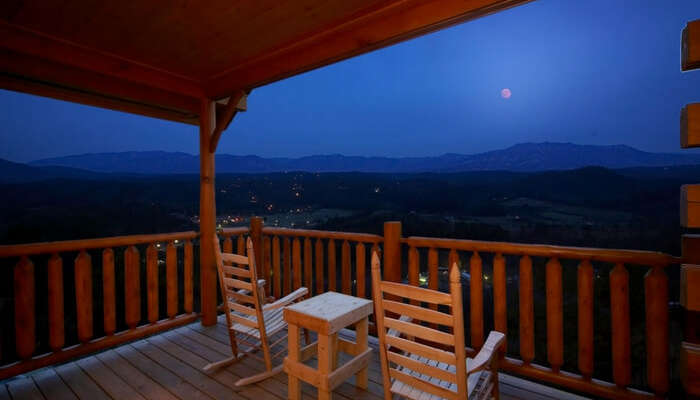 Gatlinburg makes you feel alive with its smoky surroundings and Great Smoky Mountains National Park – an ideal spot for a perfect romantic vacation. The national park also happens to be the most visited national park in the United States! You have plenty of dining, shopping and entertainment options in the downtown area and one can easily spot the old charm of arts, craft, music, and logging industry that once thrived here.
The good winery and plenty of pancakes houses around mean that you have got to savor the best of this region.
Romantic things to do: Trip to Wild Bear Falls – all-season indoor water park, ski resort and amusement park, 1800 feet Alpine Slide is a daring activity you can indulge in, ride an aerial tramway, and excursion of Ripley's Aquarium of the Smokies (voted as #1 on TripAdvisor)
Romantic stay options: Cabins of the Smoky Mountains, Cabin on the Hill, Mountain Memories, and Swept Away
Mountains are true love and romantic hideouts enclosed by alpines are the places where love flourishes and make moments worth spending for!
Further Read: 10 Kickass Romantic Honeymoon Ideas For A Bewitching Getaway
Comments
comments