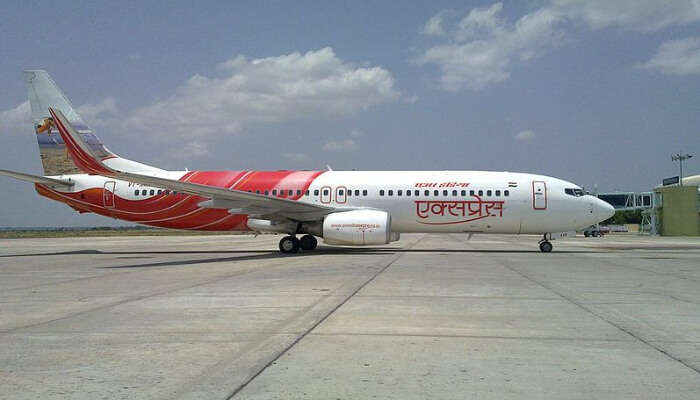 Cover Image Credit: Wikimedia
Tamil Nadu is an Indian state known for its centuries old civilization and a rich historic and cultural legacy equally matched by the scenic splendor of its beautiful beaches, hills and lush green landscapes. Thanks to all the airports in Tamil Nadu, the state attracts a large influx of tourists from not only within the country but also from international destinations. There are a total of seven airports in the state situated in various cities of the state. All the airports boast modern infrastructure and amenities equivalent to international standards to suit the requirements of the modern traveler.
The opening of more airports is not only limited to big cities but are now also prevalent in smaller 2 and 3 tier towns. This trend emphasizes on the fact how important air travel has become with people from practically all segments of society choosing to fly.
All the airports are strategically located in major cities and tourist areas of Tamil Nadu providing seamless connectivity to travelers. Air travel has undoubtedly become the preferred mode of travel ever since privatization took place and private budget airlines came into the foray.
Airports In Tamil Nadu
Airports in Tamil Nadu are known for their heart warming hospitality and connectivites. The total number of airports in Tamil Nadu is seven among which four are international airports in Tamil Nadu and three are domestic airports in Tamil Nadu. 
1. Chennai International Airport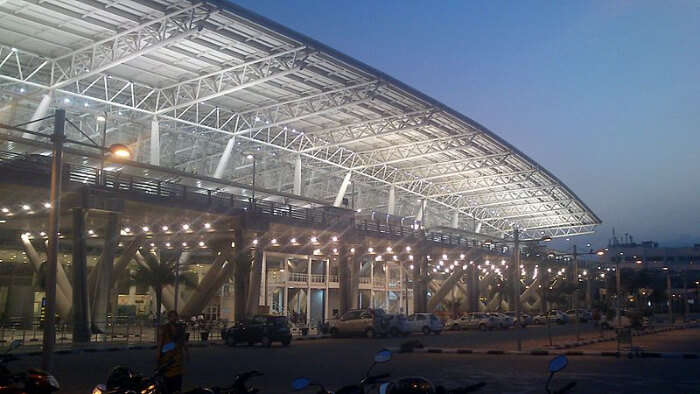 Regarded as one of the most busiest airports after Delhi, Mumbai and Bangalore, Chennai International Airport is known for managing more than 400 aircraft in a day. Among the list of airports in Tamil Nadu, Chennai International Airport is undoubtedly the busiest and is in fact considered to be the 47th busiest airport in Asia. After Delhi, Chennai Airport is the second that offers metro connectivity directly from the airport to various parts of the city.
Among the various international airports in Tamil Nadu, Chennai airport is also the headquarters for the Airports Authority of South India, which includes Tamil Nadu, Karnataka, Telangana, Andhra Pradesh, Kerala along with the two union territories of Lakshadweep and Puducherry. This airport is quite well connected to various nearby places with flights operating at regular intervals. Some of these places include Nellore, Ambattur, Tirupati, Bangalore and Puducherry. Chennai International Airport is also the biggest airport in Tamil Nadu.
Location: Great Southern Trunk Road, Meenambakkam, Chennai
Code: MAA
Terminals: 3
Amenities: ATM, lounge, café, child care room, duty-free shops, prepaid taxis, etc.
Nearby Hotels: Radisson Blu Hotel GRT, Hotel Mount Manor, Sorgam Residency, Hotel Southern Comfort and Feathers A Radha Hotel
Must Read: 50 Best Tourist Places In Tamil Nadu Ensuring The Most Awesome 2022 Vacay
---
Looking To Book A Holiday Package?
---
2. Coimbatore International Airport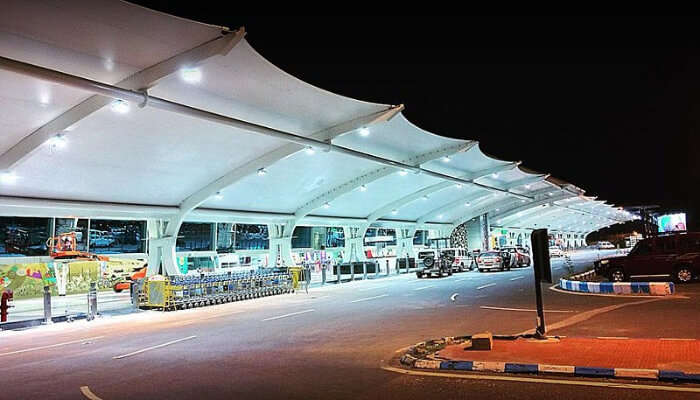 Serving the city of Tamil Nadu, Coimbatore International Airport is situated at a distance of 13km from the city centre in Peelamedu. In terms of passengers, this airport is regarded as the 19th busiest airport and for cargo, it is the 14th busiest airport. The airport was granted international status by the government on 2 October 2012. Coimbatore Airport has a single runway stretching around 9,760 feet, huge and wide enough to accommodate larger aircrafts.
As one of the prominent airports in Tamil Nadu, Coimbatore International Airport is well connected to other cities and towns such as Chennai, Munnar, Bangalore and Ooty. Regular bus service is available to the airport from Singanallur, Ukkadam and Gandhipuram bus stations. Coimbatore Junction is the nearest railway station.
Location: Airport Rd, Civil Aerodrome Post, Peelamedu, Coimbatore, Tamil Nadu 641014
Code: CJB
Terminals: 2, one is integrated passenger terminal and one is a cargo terminal
Amenities: Lounge, Duty free shop, Bank, ATM, cabs and auto rickshaws, etc.
Nearby Hotels: Hotel Cosmopolitan, The Gateway Hotel Pasumalai, Regency Madurai by GRT Hotels, The Madurai Residency and International Hotel Madurai
Suggested Read: Mahabalipuram In Tamil Nadu: Explore The Unique Culture Of Southern India In 2022
3. Madurai International Airport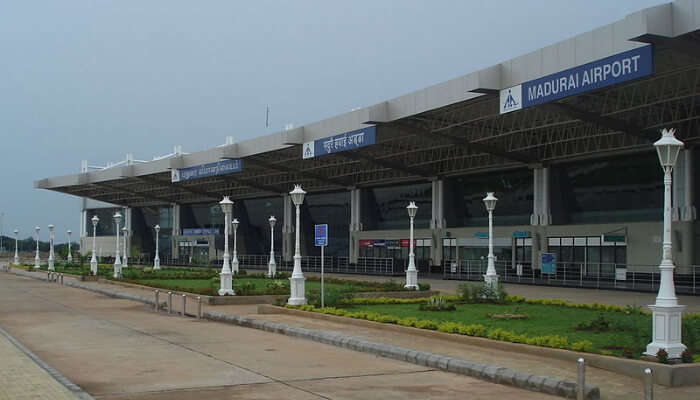 Strategically located close to the State Highway 37 and about 12 km from Madurai railway station, Madurai International Airport is the fourth busiest airport in terms of passenger handling capacity in Tamil Nadu. The airfield was first used by the Royal Air Force in 1942 during World War II and in 1957, the airport was established. Besides operating regular flights to international destinations like Dubai, Singapore and Colombo, this airport also operates more than 30 weekly, non-stop flights domestic flights to major cities in India namely Chennai, Mumbai, New Delhi, Hyderabad and Bangalore.
Madurai International Airport also houses a full-fledged cargo complex with cold storage for storing perishable goods. The first international cargo services was started on 15 December 2017 with Spicejet carrying a consignment of 300 kg of Madurai Malli (Jasmine) to Dubai.
Location: Airport Rd, Madurai, Tamil Nadu 625022
Code: IXM
Terminals: 2, the old terminal and the new integrated terminal
Amenities: 36 check-in counters, 4 baggage conveyors, 20 immigration counters, 3 aero bridges, lounge, money exchange, food courts, retail shops, Coffee house, etc.
Nearby Hotels: Ayusshman Ayurvedhiks, Hotel Madurai Residency
Suggested Read: Monsoon In Tamil Nadu 2022: See The 8 Most Wonderful Places To Explore
4. Tiruchirappalli International Airport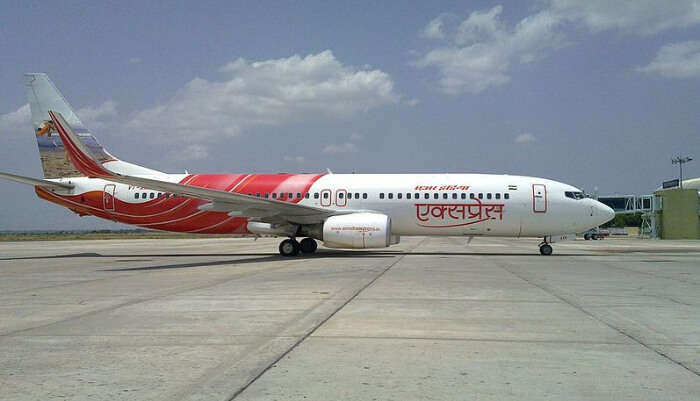 Located 5 km from the city center and built on the Tiruchirappalli-Pudukkottai National Highway, Tiruchirappalli International Airport covers an area of 702 acres and is the smallest airport in India with a shortest runway length of 1372 meters. The airport is India's tenth busiest and Tamil Nadu's second largest airport after Chennai. You will find two adjacent terminals at the airport, one is an integrated passenger terminal while the other is a cargo terminal. The airport with sound infrastructure manages around 470 travellers during the peak hour.
Also referred to as Trichy International Airport, this state-owned airport is operated by the Airports Authority of India (AAI) and received international status in 2012 from the Civil Aviation Ministry of India. The integrated terminal measures around 11, 777 square meters and has the handling capacity of 490,000 passengers.
Location: Trichy Airport Rd, Tiruchirappalli, Tamil Nadu
Code: TRZ
Terminals: 2 adjacent terminals
Amenities: Flemingo duty free shops, Snack bars, Shopping stores, VIP lounge, Medical care, Wheelchairs for disabled, ATMs / Cash Machines, Baby Care Facilities, Currency Exchange, etc.
Nearby Hotels: SRM Hotel, Sangam Hotel, Hotel Le Temps Fort, Ramyas Hotel and Red Fox Hotel.
Suggested Read: 12 Honeymoon Places In Tamil Nadu For A Romantic Getaway In 2022!
---
Planning your holiday but confused about where to go? These travel stories help you find your best trip ever!
---
5. Tuticorin Airport (Thoothukudi Airport)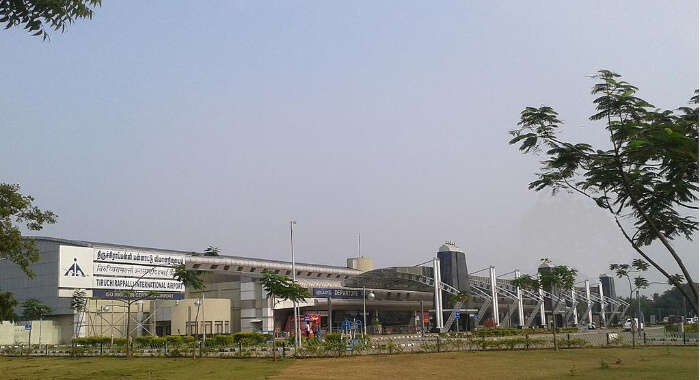 Opened in 1992, Tuticorin Airport or Thoothukudi Airport is soon to be developed as the 5th International Airport in Tamil Nadu. Located about 17 km from the main city center, this airport has the capacity to handle around 72 passengers during peak hours. This is one of the best domestic airports in Tamil Nadu to board a flight to several southern places In Tamil Nadu including Ramanathapuram, Tuticorin, Virudhunagar, Tenkasi and Tirunelveli. In addition, Tuticorin Airport hosts flights to Bangalore, Hubli and Chennai.
Tuticorin Airport is the 5th busiest airport in Tamil Nadu after Chennai, Coimbatore, Tiruchirapalli and Madurai. The airport currently features a 1,350sqm-long and 30 metre-wide asphalt runway, however, the Government has proposed plans for expansion of the runway to 3,115 metres long and 45 metre-wide. Other developments that are being planned out at the airport are construction of a new terminal to handle 600 passengers and parking bays for parking bigger aircrafts. To add more, around 110 acres of land has also been reserved at this airport to set up operation base for the Indian Air Force and the Indian Coast Guard.
Location: Airport Road, Vagaikulam, Tamil Nadu
Code: TCR
Terminals: 1
Amenities: Baggage services, Wheelchair for disabled, snack kiosk called Kajah Tea, City bus service, Car parking, etc.
Nearby Hotels: DSF Grand Plaza, Kani Residency, SRM Hotel, Hotel Raj, Sathya Park & Resorts and Regency Tuticorin by GRT Hotels.
Suggested Read: 9 Best Hotels In Tirupati For A Tranquil Retreat In The Heart Of Tamil Nadu!
6. Salem Airport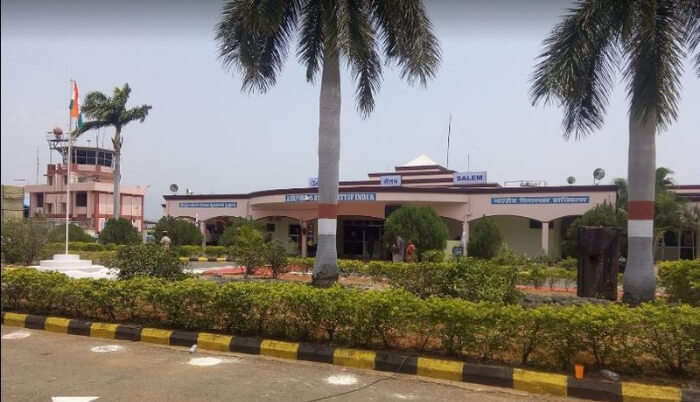 Located in Kamalapuram, 15 km from the city center, Salem airport was constructed in April 1993 with a 1,350-metre runway. The runway was later on expanded to 1,950-metre for accommodating bigger planes. Sprawling across a land area of 136 acres, the airport manages a footfall of 100 passengers. One can easily access Salem Airport from Salem Junction Railway Station, located 13.47 km away.
The airport also houses a pilot training academy and is home to two flying schools. Salem Aviation Services and the Salem Flying Club also have their base at Salem airport. At present, the airport does not operate any commercial flights. Apart from serving Salem, the airport also serves Krishnagiri and Dharmapuri districts of Tamil Nadu.
Location: Kamalapuram, Salem, Tamil Nadu
Code: SXV
Terminals: 1
Amenities: Restaurants, Shopping store, Baggage facilities, Duty free shops.
Nearby Hotels: Radisson Salem, Grand Estancia, Grand Palace Hotel and Premier Inn
Suggested Read: 15 Kodaikanal Hotels To Pick From For Your Next Trip To Tamil Nadu
7. Puducherry Airport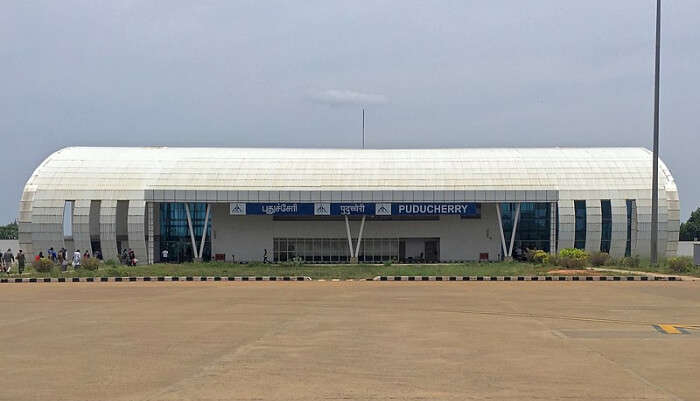 Enviably located just 6 to 7 km from the city center, Puducherry Airport at present operates only domestic flights . The airport was constructed in 1989 and is spread across a land area of 19.92 hectares. In the beginning, Puducherry Airport or Pondicherry airport was an operational base for a flying school and charter flights. A new terminal was constructed and inaugurated in the year 2007 and the airport began its flight operation from 2012. Puducherry Airport handled around 40,000 arrivals and 38,000 departure in the fiscal year of 2018-19.
Puducherry Airport will soon have a 500 kW solar plant that can generate up to 3,000 units a day. The Government has also proposed plans to expand the runway of the airport from existing 1,502 metre to 2,000 metre.
Location: Lawspet, Puducherry
Code: PNY
Terminals: 1
Amenities: Conveyor belt, check-in counters, CCTV surveillance, Car parking, trolleys, public address system and flight information display.
Nearby Hotels: Prince Park Farm House, FabHotel Radha Residency, Ginger Pondicherry and Hotel Tulip Inn Pondicherry
Further Read: 5 Homestays In Chennai For A True Tamilian Hospitality
Now, that we have provided enough information about all the domestic and international airports in Tamil Nadu, we hope it will make easier for you to plan your vacation to Tamil Nadu. Flanked by pristine beaches, spectacular ancient temples, lush green landscapes and many other alluring tourist hotspots, Tamil Nadu offers everything that will energize your soul!
Frequently Asked Questions About Airports in Tamil Nadu
How many airports Tamil Nadu has?
As of 2019, there are a total of seven airports in Tamil Nadu viz., Chennai, Coimbatore, Madurai, and Tiruchirapalli are international airports whereas Tuticorin, Salem and Pondicherry are domestic airports. There are two more domestic airports in Tamil Nadu named Neyveli airport and Vellore airport.
Which airport is the first one in Tamil Nadu?
Chennai International Airport is the first airport established in Tamil Nadu. The airport is sprawling across a land area of 1323 acres and houses three terminals. In the fiscal year 2018-19, the airport handled over 22.5 million passengers with over 570 air flights. During this period, Chennai International Airport managed to handle 30,000 passengers per day.
Which airport is the largest in Tamil Nadu?
The largest airport in Tamil Nadu is the Chennai International Airport spread across 1323 acres. The airport also features a metro station to ensure travelers easy connectivity to other parts of the city. It is the second airport after Delhi to have a metro facility.
Which is the largest airport in India?
Indira Gandhi International Airport (DEL), New Delhi is the current largest of all the airports in India. The airport is also the sixth-largest in the world. The airport is spread over an area of 5,106 acres and operates three terminals.
Which is the most beautiful airport in India?
Located in Ladakh, the Kushok Bakula Rimpochee Airport is one of the most beautiful airports in India. With an altitude of about 3,256 meters from the sea level, this airport offers panoramic views of the snow-clad mountains.
Which is the biggest and busiest airport in India?
The Indira Gandhi International Airport located in Delhi is the biggest and busiest airport in India. The airport has a passenger handling capacity of over 65.7 million. On a global scale, this airport ranks 16th in terms of both passenger handling and cargo handling.
Which Indian state has maximum airports?
Currently, Maharashtra has maximum nine operational airports namely, Mumbai, Aurangabad, Pune, Nashik, Shirdi, Jalgaon, Nagpur, Nanded and Kolhapur. Gujarat ranks second with eight operational airports viz., Porbandar, Ahmedabad, Kandla, Rajkot, Jamnagar, Vadodara, Surat and Bhuj.
---
---
People Also Read:
Airports In Gujarat Airports In Singapore Airports In Israel