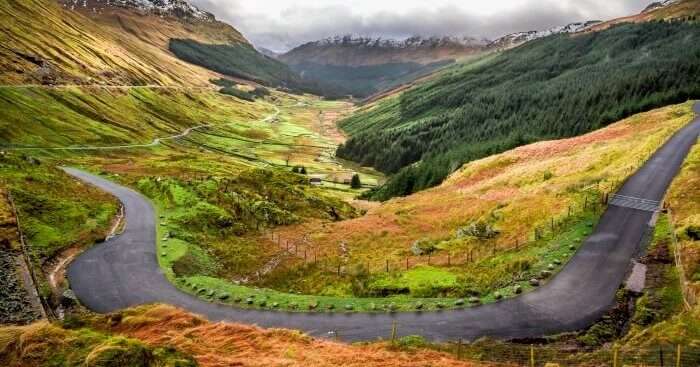 Guwahati is one of the most famous cities in Assam that is visited by tourists wishing to explore the essence of Northeast India. The city caters to travelers with different demands with its choice of accommodation, activities and sightseeing. Guwahati is among the top priorities for the visitors. So, if you are planning a visit, you would come across many places to visit in Guwahati. We have compiled list of best tourist places near Guwahati for your consideration.
Top 15 Tourist Places To Visit Near Guwahati
Guwahati is the largest city in Assam and also the largest urban area in the Northeastern part of India and therefore offer many touristic opportunities. Here are some of the most popular tourist destinations near Guwahati:
Kamakhya Temple
Guwahati Zoo
Kaziranga National Park
Mawsynram
Shillong
Cherrapunji
The Saraighat Bridge
Pobitora Wildlife Sanctuary
Tawang
Thimphu
Punakha
Manas National Park
Hajo
Jowai
Umananda Island
1. Kamakhya Temple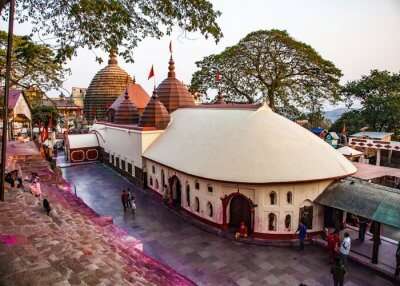 Located on the Nilachal Hill in the western part of Guwahati in Assam, the Kamakhya temple is one of the 51 shrines Shakti Peethas in the country. It is also one of the popular tourist attractions near Guwahati, Assam. Kamakhya is the presiding deity of this temple. The main entrance of the Kamakhya temple is stunningly designed with simple yet elegant carvings which are beautifully decorated with colorful flowers. The temple has a massive dome which overlooks the quaint Nilachal Hills in the background.
Location: Kamakhya, Guwahati, Assam 781010
Timings: 08:00 AM – 01:00PM, 02:30PM- 05:30PM
Suggested Read: 6 Resorts In Guwahati For A Splendid Stay In Northeast
---
Sikkim-Gangtok-Darjeeling Holiday Packages On TravelTriangle
Visit Sikkim and explore Yumthang valley, Tsomgo Lake, Gangtok, Nathula Pass, and Pelling. Experience peace and tranquility while exploring Buddhist monasteries, snow-capped mountains, and wildlife sanctuaries. Book packages inclusive of airport transfers, cab, resort, sightseeing, and meals.
---
2. Guwahati Zoo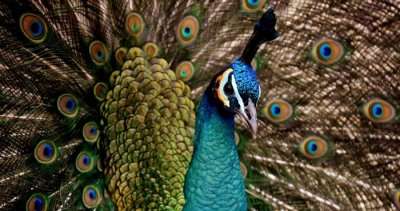 Spread over an extensive area of 430 acres, the Guwahati Zoo is one of the famous tourist places near Guwahati city. Often referred to as the green lung of the city of Guwahati, the Assam Zoo cum Botanical Garden lies just 6 kms south of the mighty Brahmaputra River. Home to 113 different species of the animal kingdom, making up the 900 plus animals, birds and reptiles in the zoo. More than half a million tourists and wildlife enthusiasts visit the place throughout the year for the indigenous and exotic animals at display.
Location: RG Baruah Road, Guwahati, Assam 781005
Timings: 8 AM to 5.30 PM
3. Kaziranga National Park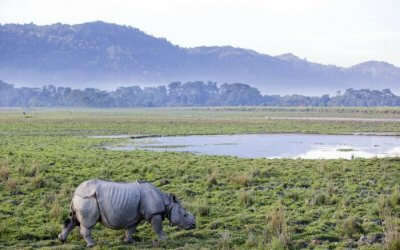 The Kaziranga National Park is home to two-thirds of the world's one horned rhinoceros population, and has been declared as a World Heritage Site. One of the popular weekend places near Guwahati to explore, this national park offers pleasant surprises to tourists as they spot Swamp deer, elephants, wild buffalos, Chinese pangolins, Bengal foxes, flying squirrels etc. apart from one horned Rhino.One can opt for safari rides in the park in either jeeps or SUVs and this is the best way to get around the park. Elephant rides can be arranged too.
Location: Kanchanjuri, Assam 784177
Timings: Open 24 hours
4. Mawsynram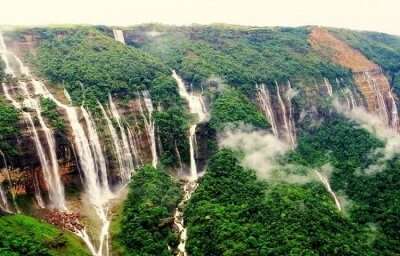 At a distance of 138 kms from Guwahati is Mawsynram which is one of the top tourist places near Guwahati Shillong. Known to be one of the wettest place in the world, the mesmerizing village of Mawsynram is a nature lover's delight and the perfect destination to behold the beauty of the rains. Located in the East Khasi Hill district of Meghalaya, Mawsynram is 1400 m above sea level.
Best Time To Visit: Sep-Nov
Suggested Read: 10 Best Places To Visit In Guwahati
5. Shillong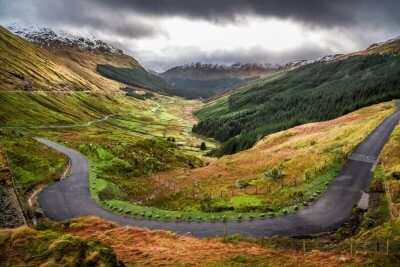 Considered to be one of the best tourist places near Guwahati, Shillong-the Scotland of the East is a must visit place. A beautiful city encircled by pine trees, stands at 1496 meters is known for its picturesque sights and traditions. The soothing climate makes Shillong suitable to visit during all seasons. The exciting mountain peaks, crystal clear lakes, breathtakingly beautiful golf courses, museums, and the zoo are the key reasons why people visit Shillong. Apart from the natural beauty, Shillong also acts as the gateway to Meghalaya, the state famous for heavy rainfalls, caving, tallest waterfalls, beautiful landscapes and amazing people and culture.
6. Cherrapunji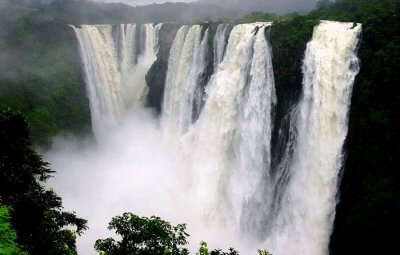 Famous worldwide as the wettest place on the Earth, Cherrapunjee with its clean and pristine surroundings is one of the best tourist places around Guwahati Assam. The waterfalls in the area only compliment the climate and the flattering pleasant air around. These include the Dain Thelen falls, Noh Sngithiang falls, Noh Kalikai falls and more. This misty place is also famous for astounding tourists with the lavish spread of the Bangladesh plains from its cliffs.
7. The Saraighat Bridge
Famous worldwide as the Gateway to the Northeast, the Saraighat Bridge is one of the famous tourist attractions near Guwahati Airport. It has a length of 1,492 m and considered to be the longest bridge above water in India. Maintained by North East Frontier Railway, this majestic road cum Rail Bridge offers an unfathomable view of the mighty Brahmaputra River. The view is mesmerizing, capture the shots especially during dawn and dusk from the bridge.
Suggested Read: 15 Best Hotels In Guwahati That Are So Elegant You Wouldn't Feel Like Leaving Them!
8. Pobitora Wildlife Sanctuary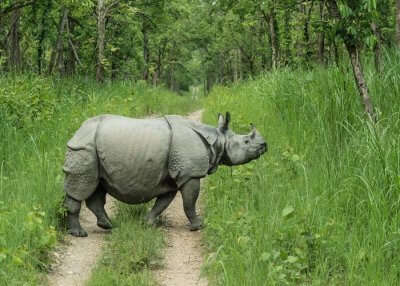 Situated 30 km to the east of Guwahati, the Pobitora Wildlife sanctuary is a small heaven for the wildlife lovers and is a popular tourist places near Guwahati. Home to the densest population of One-horned Rhinos in the world, this Wildlife Sanctuary is spread over an area of just 38 sq. kms. The dense population of Rhinos allows one a greater chance of sighting the endangered creature while on Elephant or jeep safaris.
Location: Pobitora Forest Range Office Road, Pabitara, Assam 782411
Timings: 6.30 AM to 5 PM
9. Tawang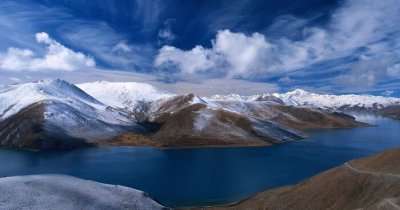 Tawang, the birthplace of Dalai Lama is located at a height of about 3048m in Arunachal Pradesh is famous for its beautiful monasteries. The Tawang Monastery being the most popular one and extremely sacred for the Buddhist is an ideal place to visit and find tranquility. The beautiful orchid sanctuary and the Tipi Orchid Sanctuary is also an ideal place for your list of places to visit. Along with this one can have their taste buds to have an experience of Tawang by indulging into the area's unique cuisine. A must visit tourist places near Guwahati if you are in North East.
10. Thimphu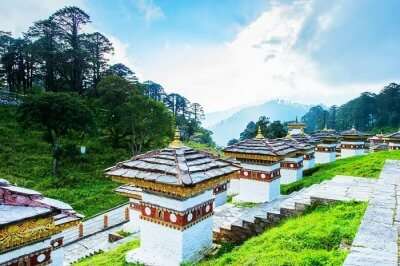 Thimphu, the capital of Bhutan is known to be the largest city located in the country and one of the best tourist places near Guwahati. At a distance of 255 kms from Guwahati, this city has a stronghold of the Bhutanese culture as well as tradition. This is also known as the only capital which doesn't have any traffic lights installed. This is a place where you would find a very clear glimpse of what Bhutanese culture is about. You can also discover traditional arts as well as some architectural structures that tells you a lot about the history of this country. In short a perfect getaway from Guwahati where you can experience life, culture and history.
11. Punakha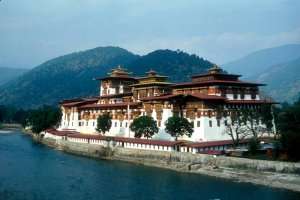 Set in the Himalayas, Punakha is one of the 20 districts of Bhutan. Resting at the height of 1200 meters, this region is known for its rice farms. The iconic Punakha Dzong, a beautiful fort dating back to the 17th-century located at the riverside is one of the most popular tourist places here. It is said to be the second oldest Dzong in Bhutan. The Chimi Lhakhang temple, dedicated to fertility and Khamsum Yulley Namgyal Chorten, the hilltop offering enchanting river and mountain views are other popular places to visit. Two important rivers of Bhutan – Pho Chu and Mo Chhu meet at the valley adding more glory to its scenic beauty. At a distance of 244 kms from Guwahati, Punakha offers a soothing getaway in the lap of nature.
Location: Bhutan
Best Time To Visit: March – May
12. Manas National Park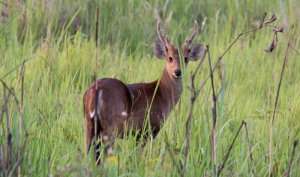 Recognized as a UNESCO Natural World Heritage site in Assam, Manas National Park is a Project Tiger Reserve, an Elephant Reserve, and a Biosphere Reserve. It is the only tiger reserve in Assam and a has second largest tiger population in India. It features some rare species of animals including rare golden langur and the red panda. The national park is spread across 950 sq. km. area, spanning some spectacular natural landscape including lush hills, grasslands, and tropical evergreen forests. The IUCN Red Book has listed Manas National Park on the top for harboring the maximum number of endangered species from India.
Location: Manas Road, Barangabari Gyati Village, Dist Baksa, Gobardhana, Assam 781315
Best Time To Visit: October – April
Timings: 6 AM to 3 PM
13. Hajo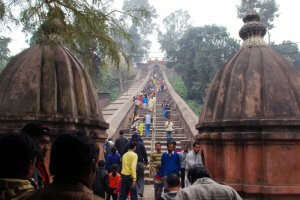 Located at a distance of about 24 km from Guwahati, Hajo is an ancient pilgrim center for three different religions – Hindus, Buddhists, and Muslims. The term 'Hajo' is derived from the Bodo word 'Hajw' meaning Hill. This unique destination is set on the banks of the Brahmaputra River. There are shrines and other religious structures dedicated to Hindu deities – Durga, Shiva, Vishnu, Buddha and major Muslim saints. The Hayagriva Madhava Mandir is one of the most famous temples and is believed to be the site where Buddha attained Nirvana. Powa Mecca Mosque is a popular mosque among Muslims.
Location: Assam
Best Time To Visit: July – March
14. Jowai
Located 199 kms away from Guwahati, Jowai is a part of the Jaintia Hills district. Jowai is famous for its enchanting scenic views and cultural heritage. A major highlight of this destination are the lakes including Thadlaskein Lake and Lalong Park. Tryshi Falls, Nartiang Monoliths, Krang Suri Falls, Umlawan Cave, Thadlaskein Lake, Syntu Ksair and Lalong Park are some of the best places to visit in Jowai.
Location: Meghalaya
Best Time To Visit: October – May
15. Umananda Island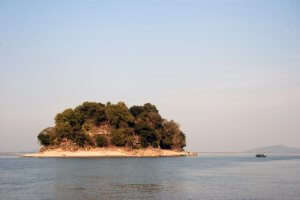 Umananda Island is the world's smallest river island in the heart of the Brahmaputra River. This island is a place with human settlement harmoniously living with the wild. The island has a serene and relaxing environment. It was known as Peacock Island among the British Colonists who named it so based on its shape. Umananda Island protects the rare and endangered species called Golden Langurs, a species that is considered to be sacred by the Himalayan people. It is believed that this is where the Lord Kamdev (Lord of Love) was turned to ashes for trying to hinder the meditation of Lord Shiva. The Umananda Devi Temple, dedicated to Lord Shiva is a major attraction of the Island.
Location: Brahmaputra, Assam
Best Time To Visit: October – May
Further Read: 8 Romantic Places To Visit In Guwahati For Couples
Are you amazed by these wonderful places to visit near Guwahati? Plan a trip to Guwahati in Assam and head out to spend some quality time in the lap of nature, connecting with yourself and your loved ones. Make sure you include all these tourist places in your itinerary. Unfold the secrets of nature on this refreshing holiday in North East of India.
Frequently Asked Questions About Tourist Places Near Guwahati
Q. What is famous about Guwahati?
A. Guwahati is the 'Gateway to the Northeast of India'. It is also one of the four Dhams in the Hindu belief.
Q. Are Guwahati and Dispur same?
A. Dispur is a locality in Guwahati and is also the capital of Assam. This is why a lot of times, Guwahati is addressed as the capital of Assam.
Q. What is famous to buy in Guwahati?
A. Traditional Silk clothes, handicraft products and food items like sweets and pickles are among the best things to buy from Guwahati.
Q. What is the famous food of Guwahati?
A. Khaar, Duck meat curry, Aloo Pitika and Ou Khatta are some of the famous food items of Guwahati.
---
Looking To Book A Holiday Package?
Book memorable holidays on TravelTriangle with 650+ verified travel agents for 65+ domestic and international destinations.
---
Comments
comments