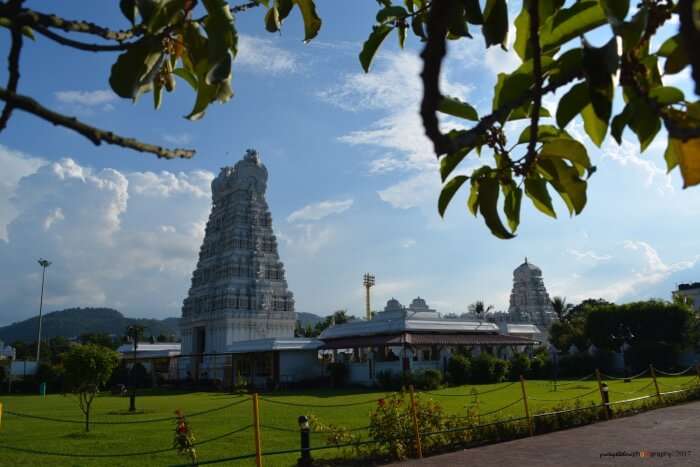 Situated on the banks of Brahmaputra, Guwahati is called the 'City of Temples' due to the sheer number of breathtakingly beautiful places to worship here. Since it was the capital of the ancient state of Kamarupa and many Ahom Kings have constructed temples here, it is a peak location for tourists. What is also interesting is that due to the unique way in which temples in Guwahati tie together religion and history, it is a popular site for devotees and archaeology buffs alike. Guwahati is also home to some of the most unique temples in the world. The temples here also have unique festivals that are celebrated in the worship places, and many tourists like to plan their trips around them like the Kali festival, the Durga Festival, the Ambubachi Mela, and many more. Let's have a look at some of the most celebrated places of worship in this holy city.
6 Famous Temples In Guwahati
The best time to visit these temples is in the winter months, specifically between October and April. Most of these temples are also very easily accessible. The following are the top temples in Guwahati that you must visit on your trip to Assam.
1. Umananda Temple

Dedicated to Lord Umananda, which is another avatar of Lord Shiva, this site is one of the most breathtaking temples in Guwahati. Thus, like the Balaji temple in Guwahati, this too has an idol of Lord Shiva. Interestingly, Umananda translates to 'Peacock' when referred to the island, but 'Uma' was Shiva's wife, and 'Ananda' means pleasure. What stands out most is the breathtaking location since this temple is located not on land, but in the middle of the Brahmaputra river. You can reach it by taking a ferry to the Umananda island. Since it is Lord Shiva's avatar that is prayed to here, the kind of rush and devotion that can be witnessed here on Shivratri is absolutely unparalleled.
After all, according to legend, Shiva turned Kamadeva into ashes here for interrupting his meditation. Even if you don't believe in mythology, any history buff would love this location as the numerous number of rocks means that the place also holds archaeological importance. If that too isn't enough to draw you in, then you can easily count on the natural beauty that you can witness due to the unique location of the temple.
Location: Peacock Island, Baruah Souk, North Guwahati, Guwahati, Assam 781030
Time: 5:30 AM to 6 PM
Must Read: 32 Best Tourist Places Near Guwahati For A Pleasant Vacation Away From Crowd In 2022!
2. Tirupati Balaji

Dedicated to Lord Venkateshwar, The Tirupati Balaji temple is one of the most famous temples in Guwahati. However, other Gods are worshipped here too. What is religiously significant is that devotees pray to both- the Ganesha idol at the entrance and the Balaji idol at the main temple. Out of all the temples in Guwahati, this also probably has the most breathtaking construction. WIth traditional South Indian architecture and beautiful white walls, The Tirupati Balaji temple in Guwahati is a sight to behold. Other deities that you can pray to include the birds God Garuda.
There is also a forty-year-old idol of Lord Shiva, as is one of Parvathi. Thus, the Balaji temple in Guwahati is an absolutely revered sight for Hindus. The Tirupathi Balaji temple in Tamil Nadu is prayed to as the first, but any visitor would be glad to know that the Balaji temple in Guwahati offers the same prasad- the laddus that are so loved and are said to have been blessed by the Lord. Tourists also like to meditate in the park near the temple as it is beautiful and clean.
Location: Tirupati, Andhra Pradesh
Suggested Read: 10 Homestays In Guwahati That Exude The Feeling Of "Home Away From Home"
3. Kamakhya Temple

Though there are many temples in Guwahati, it is the Kamakhya temple that is said to be at the 'heart' of Guwahati. Unlike the Balaji temple in Guwahati which is located on the outskirts, the Kamakhya temple is located on top of a hill. Thus, it is one of the top temples in Guwahati. This beautiful location means that there is a gorgeous view of the entire city from the top that is well-loved by tourists and devotees alike, and if you want Guwahati temple pictures, this is the perfect place to visit. While the devotees find calmness in the location, the tourists find a gorgeous sight.
This is what makes Kamakhya one of the most famous temples in Guwahati. From a religious perspective, it is Goddess Kamakhya that is prayed to here. Architecture wise too, this is a place that is very interesting and beautiful as there are sculptures all over the walls and that means that no matter which way you look, you are constantly surrounded by beauty. There are also three mandapas inside. Unlike what first-time tourists might be expecting, there is actually no idol of the Goddess here since it is her vagina that is worshipped. This is why the main festival at the Kamakhya temple is Ambubachi Mela- this four-day festival, according to legend, marks her four-day yearly menstrual cycle.
Location: Kamakhya, Guwahati, Assam 781010
Time: 2:30 PM-5:30 PM
Suggested Read: 15 Stunning Places To Visit In Guwahati For Couples In 2022!
4. Ugratara Temple

Out of the many temples in Guwahati, it is the Ugratara temple which is dedicated to Goddess Sati. However, it is her Avatar of Goddess Ugratara that is prayed to. Since this avatar is said to be the Goddess' demonic Avatar, animal sacrifice is still practised here, especially during Kali Puja and Durga Puja. The most popular sacrifices are generally goats and buffaloes. Along the same lines, according to legend, the Goddess accepts alcohol and meat. Complete reverence and devotion if also expected of devotees.
Once again, unlike the Balaji temple in Guwahati, there is no idol here. She is actually prayed to in the form of a tiny water ditch. From a history angle, this is one of the most famous temples in Guwahati. Located beside the famous Jor Pukhuri, it was built by Siva Sangha who was the Ahom King in 1725. Later in 1897, it was damaged by the Earthquake, but the authorities helped rebuild it due to its religious and tourist significance.
Location: Uzan Bazaar, Eastern Guwahati
Time: It remains closed from 1 PM-5:30 PM
Suggested Read: Top 16 Things To Do In Guwahati (2022): Home Of One-Horned Rhinos
---
Planning your holiday but confused about where to go? These travel stories help you find your best trip ever!
---
5. Lankeshwar Temple

Located near Guwahati University, Lankeshwar temple is the other temple that is also on a hilltop. Lankeshwar, of course, is another Avatar of Lord Shiva who is worshipped here. The wonderful location makes this temple not only extremely beautiful but also highly accessible, making it a great place to visit for tourists and locals alike. According to mythology, it was Ravana, the demon King of Lanka that worshipped Shiva here, and that's where the term 'Lankeshwar' comes from.
A total of 452 marble steps need to be climbed to reach the temple, which devotees are more than happy to do, but some tourists may shy away from. However, the reward is even greater, and the temple is a very beautiful, calm, and peaceful sight. Many devotees also believe that like the Holy Ganges, the Lankeshwar Temple has powers to remove all their sins and give them a fresh start. Like other temples in Guwahati that are devoted to Lord Shiva, the Lankeshwar temple also has a big aarti and other forms of celebration for Mahashivratri, and most devotees and tourists refer planning their visit around that.
Location: Lankeshwar West Jalukbari, NH 17, Guwahati, Assam 781014.
Time: 5 AM-9 PM.
Suggested Read: Shopping In Guwahati: 10 Places To Buy All Assamese Delights From Tea & Silk Sarees
6. Navagraha Temple

Like many other temples in Guwahati, the Navagraha Temple is situated on the side of a hill. The name of the temple directly translates to 'Nine planets' or 'Nine celestial bodies'. Made of stone, this temple is very beautiful. The nine celestial bodies being referred to are the ones that hold the most significance in Hinduism. Namely, the centre of the solar system, Surya or Sun, the Chandra or Moon, the red planet, Mangala or Mars, the Budha or Mercury, the Brihaspati or Jupiter, the Shukra or Venus, the Shani or Saturn, and the two twins- Rahu or North Lunar Node and Ketu or South Lunar Node. At the Navagraha temple in Guwahati, these are represented by nine shiv lingams.
Interestingly, it is the Surya or Sun shiva lingam that is placed at the centre, to mirror the formation of our solar system. This temple is very significant to astrology, which plays a big role in the rituals of Hinduism- from deciding on a holy time to perform a task, to judging the compatibility of a couple. Like many other temples in Guwahati, the Navagraha temple was also built by an Ahom King. Rajeshwar Singha built this beautiful and revered temple in the 18th century.
Location: Kumbakonam – Sirkazhi Road, Guwahati
Time: 6 A.M.-12.30 & 4 P.M. – 8.00 P.M
Further Read: 28 Best Places To Visit In Guwahati In 2022
So, these are some of the most highly revered temples in Guwahati where you can seek solace and divine bliss. Some of these temples are years old and are a standing testament to the rich history of this city that you can explore during your trip to Assam. So follow the trails of God by visiting these temples that boast of solving all your problems and will offer you complete peace.
Disclaimer: TravelTriangle claims no credit for images featured on our blog site unless otherwise noted. All visual content is copyrighted to its respectful owners. We try to link back to original sources whenever possible. If you own the rights to any of the images, and do not wish them to appear on TravelTriangle, please contact us and they will be promptly removed. We believe in providing proper attribution to the original author, artist or photographer.
Please Note: Any information published by TravelTriangle in any form of content is not intended to be a substitute for any kind of medical advice, and one must not take any action before consulting a professional medical expert of their own choice.
Frequently Asked Questions About Temples In Guwahati
What is Kamakhya temple famous for?
Kamakhya temple is famous for many reasons. Unlike other top temples in Guwahati, it has no idol of the goddess and instead her vagina is worshipped. It is also famous for the Ambubachi Mela, which marks the four-day yearly menstrual cycle of the Goddess, and for its primary hilltop location.
Which of these temples is located in the hills of Guwahati?
Once again, it is the Kamakhya temple that is known for this. Out of all the temples in Guwahati, it is this one that is located on the top of Nilachal hill. It is the main temple out of the ten that have been devoted to the Mahavidyas of Shaktism in Hinduism. Kamakhya Devi is worshipped here, and the hilltop sight is absolutely breathtaking.
Who built Umananda Temple?
The Umananda temple was built by Gadadhar Sinha, who was an Ahom King and a big devotee of Lord Shiva. He reigned between 1681 and 1696.
What is the famous food of Assam?
The Assamese prefer non-spicy food, and rice is the staple diet of Assam. Fish curry is one of the most famous delicacies that you can try there. Other famous dishes include lentils and sweet dishes.
What is best in Guwahati?
If you are looking to visit, the temples in Guwahati are said to be the best locations. Not only for their religious significance but for their overall beauty. The Balaji temple in Guwahati is a big example of this.
What is the best time to visit Guwahati?
Weather-wise, the best time to visit Guwahati is during the winter months. More specifically, between October and April. Tourists may also want to plan their vacations around individual festivals that are celebrated at the temples, or around Bihu.
---