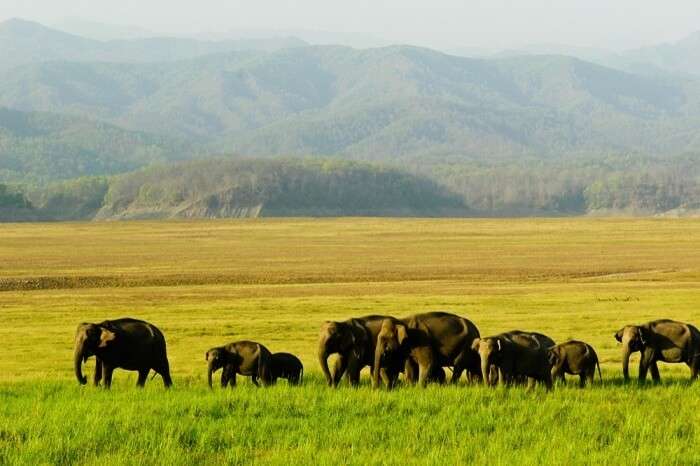 Far, far away in the land of North East is a utopia where you will find the most exotic wildlife living in harmony. Manas National Park, Assam is the only place to be distincted as biosphere reserve, a natural heritage site, Project Tiger Reserve, and Project Elephant Reserve all at the same time.
Located in the foothills of the Eastern Himalayas, the park is flanked by the giant Manas River separating it from Royal Manas National Park in Bhutan. Home to the Royal Bengal Tiger and Wild Buffaloes, it offers you a myriad of activities to appreciate the diversity of the region. If you want a wholesome and fulfilling experience amidst nature, Manas National Park in India is the place to be.
Things to do at Manas National Park
Manas National Park Tourism offers a variety of activities for visitors to enjoy and appreciate the diversity of nature. Check this out to know all about the exciting things to do at Manas National Park, Assam.
1. Jeep Safari

Manas National Park is home to more than 20 endangered species of birds and animals. Get the rare sightings of exotic Manas wildlife sanctuary animals including Assam roofed turtle, pygmy hog, and hispid hare. The beautiful raw surroundings will make you feel overwhelming love for nature.
Price: INR 3600 per jeep
Timings: 09:00 am to 12:00 pm and 02:00 pm to 05:00 pm
5 Picnic Spots Near Guwahati That Encompass The Beauty And Charm Of Assam!
2. Elephant Safari

Riding on an elephant's back and riding through the park is another interesting way to spot Manas National Park animals. These gorgeous giants are a part of the national park. The elephant ride gives you access to the regions of the park where jeep is not allowed. You get a different perspective of the park from sitting on the back of a pachyderm.
Price: INR 500 for Indians, INR 1,550 for foreigners.
Timings: 6:00 to 7:00 pm
3. River Rafting

For adventure seekers and wildlife enthusiasts, river rafting on the slow waters of Manas River is an exhilarating experience. The 35-km ride takes you through the wild deciduous forests which are home to 400 different species of birds. Rafting on the deep azure waters of the river is kind of an experience you should really look forward to.
Price: You can check the price with private tour operators there.
Timings: 8:00 am to 4:00 pm
15 Best Tea Estates In Assam That Are A Must-Visit For All The Chai Lovers
4. Village & Tea Plantations Visit

The sanctuary is also home to local Bodo villages where small indigenous communities of Ghatigaon and Ragu Bil stay in harmony. If you are lucky, you can join them in their music and dance sessions. Assam is famous for its tea plantations and you can see plenty of them just right outside the park. Make a halt at Fatemabad Tea Estate next to Bansbari Lodge to take a walk through their pretty estate.
Price: NA
Timings: 8:00 am to 6:00 pm
5. Birdwatching

Time to take out your binoculars because you are going to spot a lot of fancy birds here. In a region so rich in fauna, you will birds you have never seen or heard of before. In every direction, you will hear the distinct coos of the various birds. If you are a bird lover, this place is a paradise for you.
Price: NA
Timings: 6:00 am to 7:00 pm
18 Top Things To Do In Assam That Guarantee The Best Northeastern Holiday
How To Reach The Park
By Air
The nearest airport to the national park is 180 km away in Guwahati. There are regular flights from cities like New Delhi, Mumbai, Jaipur, and Bangalore. Take a private taxi from the airport to reach there.
By Rail
Guwahati is the only railway station in the northeast that is well-connected to all the major cities in India with a number of trains including Rajdhani Express. From Guwahati, you can take a train to Barpeta which is 22 km away from Manas by road.
By Road
Manas is 176 km away from Guwahati which takes about 5 hours off-road journey. INH 27 adjoins Barpeta Road to Bansbari which is the entry point to Manas National Park.
You can take the help of the Manas National Park map as shown above to know to navigate your way better.
Beautiful Hill Stations In Assam To Rejuvenate Your Senses
Manas National Park Accommodation
In Manas National Park, hotels are scarce. But there are comfortable lodges which offer a comfortable stay and experience as you would have had in a hotel. If you're looking for Manas National Park safari cost, stay assured that the accommodations here can arrange safaris too.
1. Birina Tourist Lodge

Birina Cottages are located right next to a tea estate offering you a pleasant location to stay. They have clean, comfortable cottage rooms furnished with basic amenities. The place makes a perfect pick for honeymooners as well as families. 
Activities provided: Jungle safari, river rafting, open-air theatre
Tariff: From INR 1,850 per night
Review
2. Florican Cottages

Florican Cottages is another accommodation type run by an NGO which offer Assamese thatched cottages for your comfortable stay.
Activities provided: Jungle rides, bird-watching treks, village and cultural experiences
Tariff: From INR 2,100 per night.
Website | Review
Orang National Park: Your Absolute Guide To The Mini Kaziranga Of Assam!
3. Musa Jungle Retreat

The only Manas National Park Resorts in the region which gives you an experience of a 5-star accommodation. The 3 different types of cottages offer different experiences and views. The resort even has its own restaurant that serves Indian, Continental, Bodo, and Chinese cuisine.
Activities: Jungle safari, river rafting, village trails, picnics.
Tariff: From INR 3,500
Website | Review
4. Sikhiri Cottages

Offering sheer privacy and a tranquil ambience, Sikhiri Cottages are located in proximity to Manas Wildlife Sanctuary. This accommodation offers a serene riverfront view with scenic and paradisiacal natural environs. Explore the raw beauty of Assam in nature's lap, at Sikhiri Cottages.
Activities provided: Jeep safari, river rafting, elephant safari
Tariff per night: From INR 2,300 onwards
Website | Review
5. Smiling Tusker Elephant Camp

Established amidst the lush green tea gardens, Smiling Tusker Elephant Camp offers an array of fun-filled activities to indulge in, including Elephant ride and river rafting. The Camp focuses on providing a peaceful and comfortable stay to its guests while also ensuring to fulfil its primary goal of rehabilitation of domesticated elephants.
Activities: River rafting, elephant ride, jeep safari
Tariff: INR 3,600 per night
15 Stunning Places To Visit In Guwahati For Couples
Ideal Duration of Stay

Ideally, a 3D/2N stay is ample time to have a fulfilling experience in the bio reserve. The jeep safari will take half of your day. The rest of the evening can be utilised for leisure or being a part of the cultural shows and performances organised by the tourist lodges. You will need a whole day if you want to go for river-rafting and nature walks.
Manas National Park Information

Address: Vill gyati gaon barengabari, ps, Gobardhana, Assam 781315
Area: 950 km square
Elevation: The average elevation is 85 m above sea level.
Latitude: 26.6594° N | Longitude: 91.0011° E
Geography: Manas National Park is a densely forested area located in the foothills of Eastern Himalayas. It is contiguous with Royal Manas National Park of Bhutan. Manas River which is a giant tributary of the Brahmaputra River flows through the park along with five other rivers. The bedrock of the Savannah area is formed of limestone and sandstone.
Manas National Park entry fees: To enter into the park, you require permits which you will obtain from the Field's Director Office on Barpeta Road. You can also hire private jeeps from here since the forest department does not provide any jeep or guides. You can take your own four-wheeler inside the park too. The Manas National Park ticket price is paid at Bansbari Range Office.
Entry: Indians INR50; Foreigners INR 500 (half day)/ Indians INR 200; Foreigners INR 2,000 (full day) Timings 7:30 am to 2:30 pm Jeep hire INR 3,000 (4 pax, half day); INR 5,000 (4 pax, full day) Photography Indians INR 50; Foreigners INR 500 Videography Indians INR 500; Foreigners INR 1,000.
Website
5 Best National Parks In Assam: Why It's The Favourite Of All Wildlife Enthusiasts
Best Time to Visit the Park

The best time to visit Manas National park in Assam is from November to April. The weather is pleasant and there is higher probability of spotting more fauna. The park is open everyday in these six months unless due to exceptional reasons like rain or safety. Though the park is partially opened in the months of May and October. Since June to September is a monsoon period, the park remains closed.
A destination in itself, Manas National Park offers a unique experience that you would find difficult to leave this place. A place where adventure is coupled with respite makes an ideal getaway for friends and families. Explore the exotic region of North East through a much-awaited trip to Assam soon.
For our editorial codes of conduct and copyright disclaimer please click here. 
Frequently Asked Questions About Manas National Park
Is it safe to travel to Manas National Park during COVID times?
You need to follow all the mandatory guidelines mentioned by the government such as maintaining social distance, wearing a mask at public places, washing or sanitizing hands after entry & exit, etc.
What are the top things to do in Manas National Park?
Manas National Park offers a lot of exciting activities to tourists. Some of the super fun activities are:
1. River Rafting
2. Elephant Safari
3. Jeep Safari
What is the best time to visit Manas National Park?
The best time to visit is from November to April. The weather remains pleasant during this time of the year, thereby ensuring tourists have the delight of experiencing the diverse fauna and flora of the park.
How many tigers are there in Manas National Park?
At present, there are about 30 tigers in Manas National Park.
Which river flows through Manas National Park?
Brahmaputra river flows through Manas National Park. The river passes through the heart of the park.
People also read:
Silent Valley National Park Jim Corbett National Park Phrumsengla National Park