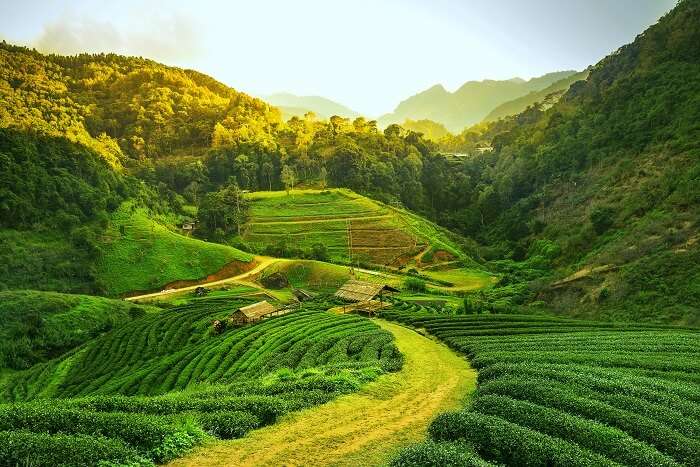 Gift-wrapped with rolling fields of aromatic tea, canoes sailing down the Brahmaputra river, or thick jungles with the most bizarre wildlife, Assam is the most charming state in North East India lying in the wait to be explored. Wondering where to start? Take a look at these amazing tourist places in Assam to plan your adventure-packed trip to the North East. Grower of the country's maximum share of tea and home to some of the best wildlife sanctuaries, Assam never fails to overwhelm wanderers with its beauty and tranquility.
12 Bewitching Tourist Places In Assam
Take a peek at these Assam destinations and what they offer. We're pretty sure that these will take you by surprise and gift you an impeccable holiday experience.
Kaziranga National Park
Manas National Park
Kamakhya Temple
Majuli Island
Hoollongapar Gibbon Wildlife Sanctuary
Kakochang Waterfalls
Tocklai Tea Research Centre
Nameri National Park
Padam Pukhuri
Haflong Lake
Haflong Hill
Panimoor Falls
Tourist Places In Guwahati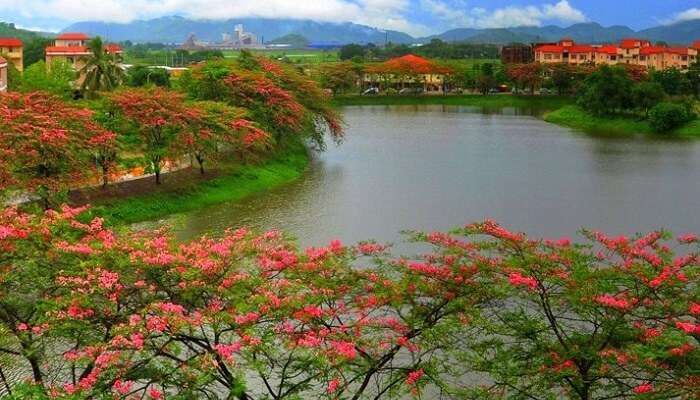 Image Source
Situated on the banks of the Brahmaputra river, Guwahati is among the fastest growing Indian cities. It's a gateway to many other places in North East as well as a brimming tourist hub. Everything from the ancient temples, the wildlife sanctuaries, the scenic beauty of the Brahmaputra, and its unique culture give this place some of the best tourist places in Assam. The city has something for everyone – families, backpackers, honeymooners, and more.
Highlights: Wildlife, Temples, Culture
Prime Attractions: Kaziranga National Park, Kamakhya Temple, Manas National Park, Umananda Temple, Assam Rajyik State Museum, Guwahati Planetarium, Navagraha Temple, Nehru Park, Brahmaputra River Cruise
Ideal Trip Duration: 1 Night 2 Days
Here are some of the best places to visit in Assam when in Guwahati:
1. Kaziranga National Park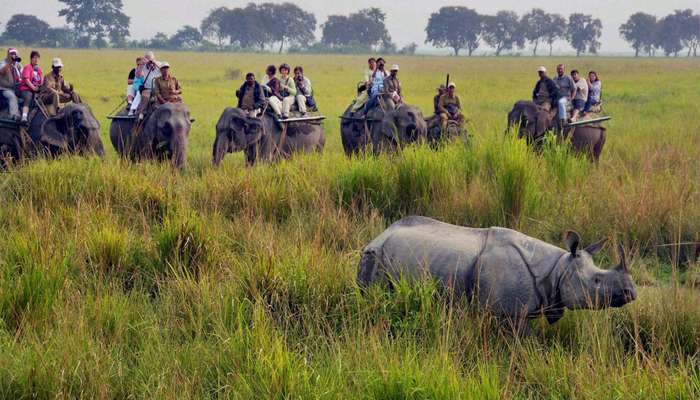 Must Read: Seven Sisters Of India – An Introductory Guide For A Memorable North-East Tour In 2018!
The Kaziranga National Park is home to two-thirds of the planet's population of the one-horned rhinoceros. Apart from that, this national park is also a World Heritage Site and a major highlight on the Assam tourist places map. It's vibrant, well preserved, sustained ecology, and a versatile biodiversity is what contribute to keeping this place on the top of the list of tourist places in Assam. Other than the one-horned Rhino, the park draws its popularity from other pleasant surprises like the Swamp Deer, Elephants, Wild Buffalos, Chinese Pangolins, Bengal Foxes, Gibbons, Civets, Sloth Bears, Leopards, and Flying Squirrels to name a few. It's also a tiger reserve since it houses an enormous population of the royal Bengal Tigers, making it one of the most important Assam points of interest.
2. Manas National Park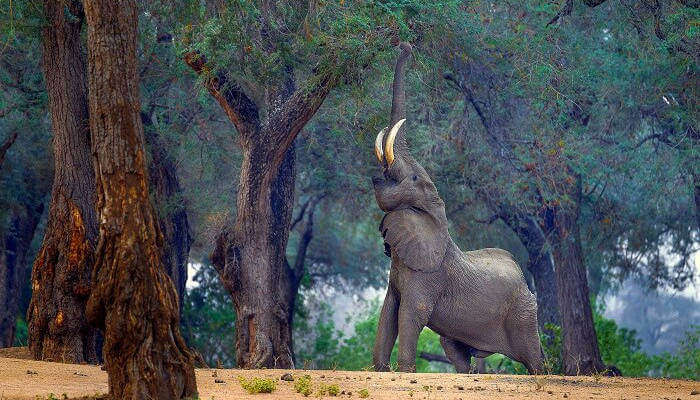 The next on the list of Assam places to visit is the Manas National Park, which is a UNESCO Natural World Heritage site, a Project Tiger Reserve, an Elephant Reserve, a Biosphere Reserve all in one, and the best tourist place in Assam! Being famous for the rare golden langur and the adorable red panda, Manas is one of the best national parks in India for those who wish to witness the rare species of India's flora. It's one of the best tourist attractions in Assam owing to not only its rich biodiversity but also for its stunning scenery and surreal natural landscape ranging from forested hills, alluvial grasslands, and tropical evergreen forests. Home to India's second-largest tiger population, it harbours the maximum population of endangered Indian species as listed in the IUCN Red Book.
Must Read: Why Planning An Assam Family Tour Turned Out To Be The Best Decision For All Of Us!

3. Kamakhya Temple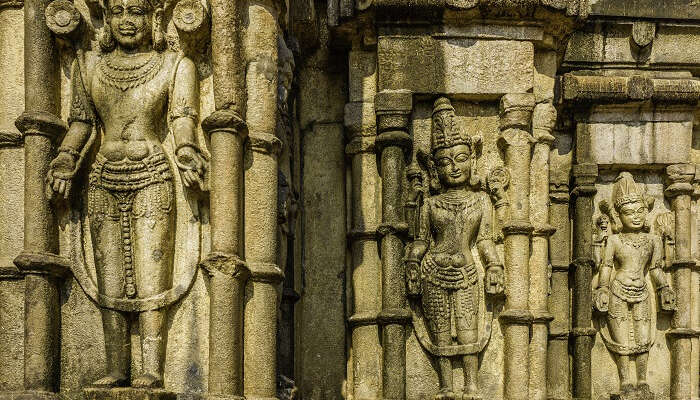 Suggested Read: Namdapha National Park: A Guide For Getting Close To Northeast's Most Paradisiacal Gem
One of the 51 Shakti Peeths in India, the Kamakhya Temple carries a myth to protect devotees from evil eyes. It's one of the most popular and famous tourist places in Assam for pilgrims and tourists alike owing to its amazing Tantric adoration. Located atop Nilachal Hills, this temple's main deity is Lord Shiva and Daksha Yagna (Death Incarnation).
Tip: Visit at the time of the Ambubachi festival.
Tourist Places In Jorhat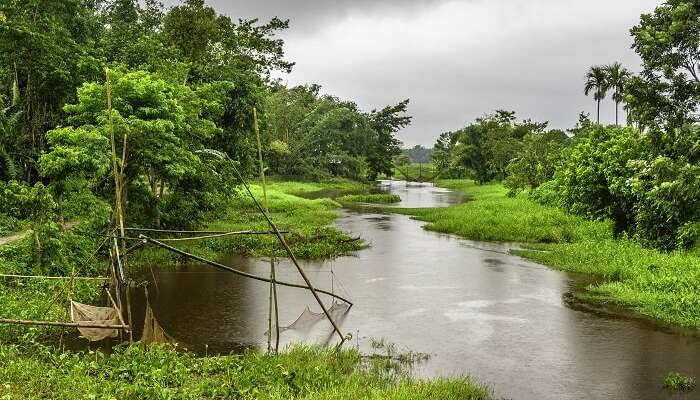 A perfect blend of history, culture, and natural beauty, Jorhat has numerous attractions holding both national and international importance. It draws its popularity from the world's largest river island – Majuli – located 20 km from this town, as well as the Jorhat Gymkhana Club which is the first to be ever built in Asia apart from being the third oldest in the entire world. Jorhat is undoubtedly one of the best Assam destinations that endow visitors with tremendous scenic beauty and virgin landscapes.
Highlights: History, Nature, Heritage
Prime Attraction: Majuli, Gibbon Wildlife Sanctuary, Kakochang Waterfalls, Gymkhana Club, Sukapha Samannay Kshetra, Bangalpukhari, Cinnamora Tea Estate, Lachit Borphukan Maidam, Thengal Bhawan
Ideal Trip Duration: 2 Nights 3 Days
Let's take a look at some of the best tourist places in Assam.
4. Majuli Island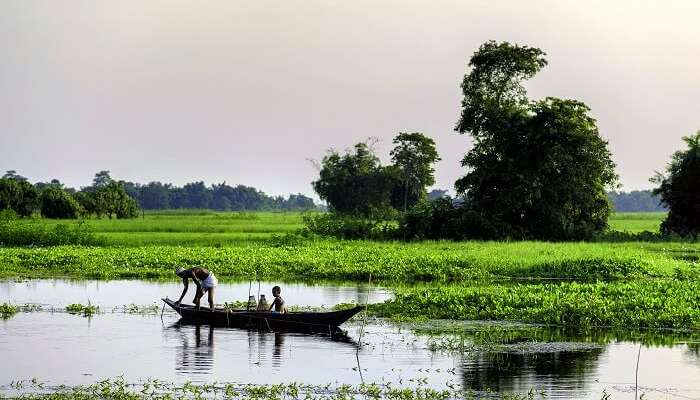 Suggested Read: 15 Best Hotels In Guwahati That Are So Elegant You Wouldn't Feel Like Leaving Them!
Majuli's eye-warming naturescapes make it one of the top tourist places in Assam. It is the world's largest riverine island as well as one of the most important Satras established by Sankardeva and Madhavdev. The Majuli islands are spread over an area of around 452 sq km and most of these get submerged under water during the monsoons, leaving the bigger islands like Kamalabari, Auniati, and Garamur on the surface. Apart from having remarkable natural beauty, Majuli is also a birdwatcher's paradise. A holiday in Assam is incomplete without seeing one of the most beautiful places to visit in Assam.
5. Hoollongapar Gibbon Wildlife Sanctuary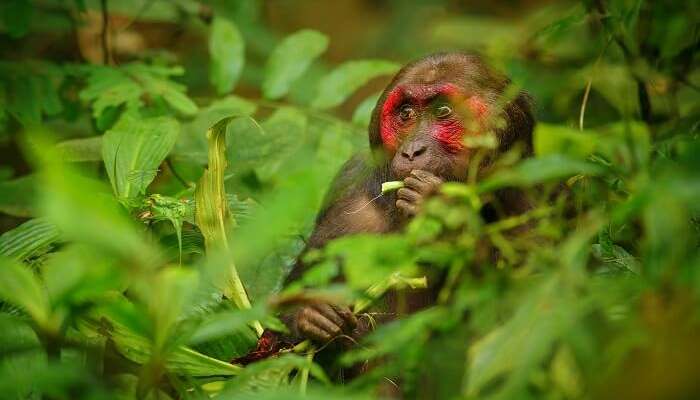 Located less than 20 km from Jorhat city center, Gibbon Wildlife Sanctuary is a haven for Assam's Hoolock Gibbon population. Surrounded by the Brahmaputra river on one side and tea gardens on all others, this wildlife sanctuary is among the best spectacles of Assam sightseeing for wildlife lovers and nature seekers. Other than over 40 species of Hoolock Gibbons, this enclosure houses Capped Langur, Stump-Tailed Macaque, Pigtail Macaque, Assamese Macaque, Rhesus Macaque, Slow Loris, Elephants, and so many more species of animals.
6. Kakochang Waterfalls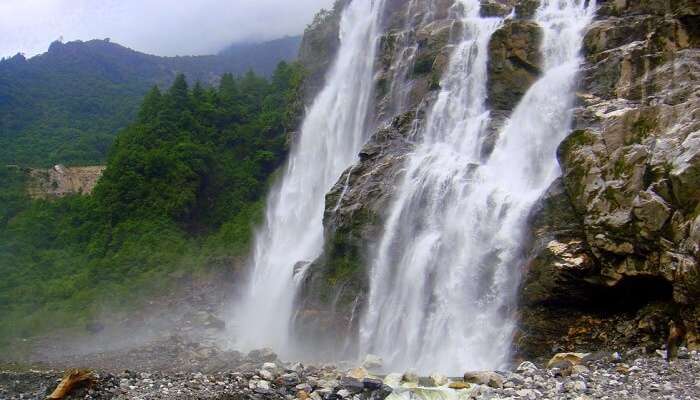 Suggested Read: 10 Popular Places To Visit In Shillong That Will Treat Your Eyes, And Calm Your Soul!
Cascading down furiously between the rubber and coffee plantations of Jorhat, the Kakochang Waterfalls are a magnificent wonder of nature. The main waterfall is located 13 km from the Bokakhat in Jorhat and attracts tourists in great numbers year round. Apart from providing a refreshing retreat and a great subject for shutterbugs, this waterfall gives splendid views of the ruins of Numaligarh and lush green tea plantations. Located close to the Kaziranga National Park, Kakochang is among the must visit Assam points of interest.
7. Tocklai Tea Research Centre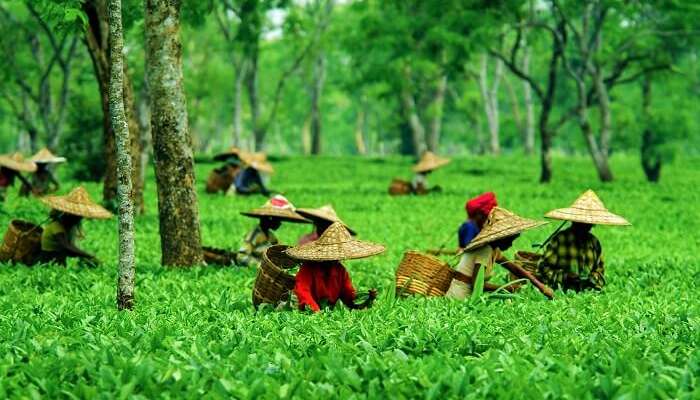 Established in 1911, the Tocklai Tea Research Centre is among the largest and oldest tea research stations in the world. All the scientific knowledge that the world holds about tea, has come from this center in Assam. Various researches on the extraction, cultivation, and processing of tea are conducted here day after day in order to enhance tea's nutritional value. The center is among the best places to visit in Assam owing to its regular tea processing tours and tasting tours it holds for visitors.
Tourist Places In Tezpur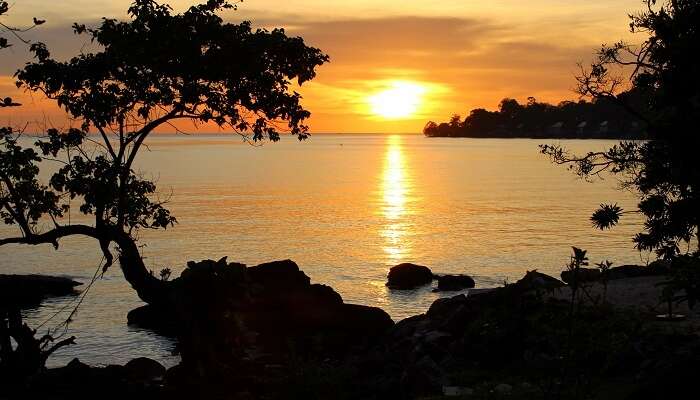 Suggested Read: 15 Top Things To Do In Sikkim For Unbeatable Adventures In Breathtaking Landscapes
Proudly boasting off its tag of the most beautiful city in Assam, Tezpur is bathed in unmatched scenic natural beauty and a resonating cultural vibe. The Brahmaputra river flows right through this city and further adds to the beauty of this place. It's the undisputed cultural hub of Assam owing to its theatres, traditional dances, and cultural events. Apart from that, the sprawling tea estates around the city are like a cherry on the cake!
Highlights: Nature, Brahmaputra, Culture
Prime Attraction: Nameri National Park, Padam Pukhuri, Agnigarh, Bamuni Hills, Kolia Bhomora Setu, Bura-Chapori Wildlife Sanctuary, Chitralekha Udyan, Da-Parbatia
District Museum, Ouguri Hill, Nag Sankar Temple, Ketakeshwar Dewal
Ideal Trip Duration: 1 Night 2 Days
8. Nameri National Park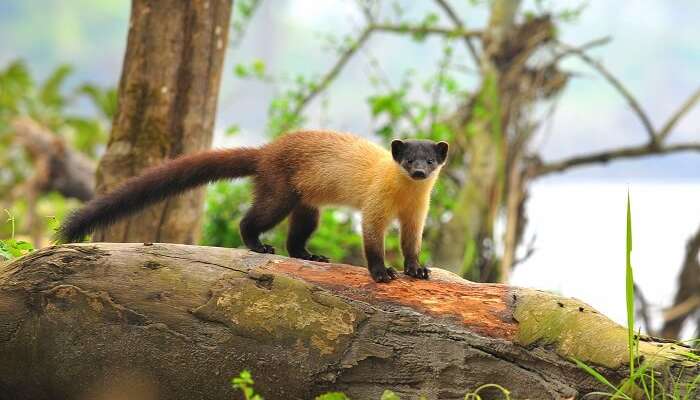 Famous for its royal Bengal Tigers, Elephants, and other animals including Leopards, Gaurs, Wild Pigs, Sambars, and more, the Nameri National Park is among the most adventure-packed Assam places to visit for thrill seekers and wildlife fanatics. Apart from its fauna, Nameri also has a large population of avifauna which makes it a bird watcher's paradise. One of the best things to do in Assam while in the Nameri Sanctuary is to embark on a dauntless safari down its lush thickets and dirt tracks. Other than the wildlife, the rich fauna and the evergreen vegetation also tends to enchant visitors. A stop at the Nameri river will let you spot a variety of fish, including the Golden Mahseer which is known as the "Tiger of the Himalayan rivers".
Tip: Apart from safari, one can indulge in activities like river rafting, fishing, and swimming (via prior permission).
9. Padam Pukhuri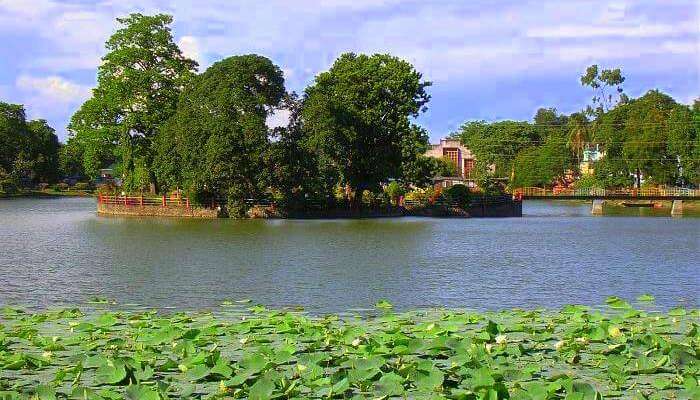 Suggested Read: 20 Must Visit Places When Travelling To The North East
Hazara Pukhuri and Padam Pukhuri are a pair of tanks positioned in the vicinity of the Bamuni Hills. While Hazara Pukhuri is recognized as the third largest artificial lake in Tezpur, the Padam Pukhuri is an island park famous for lotuses. Created from an archaeological excavation in the early 19th century, this pond contributes to the cool and breezy atmosphere of the city and is among the most popular historical places of Assam. When here, one must not miss out on the rejuvenating experience on walking on the bank of the pond and witnessing the park's musical fountains, toy trains, and the iron bridge.
Tourist Places In Haflong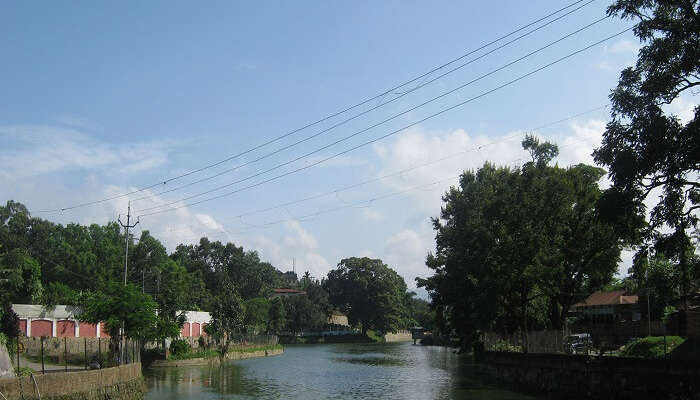 A dreamy town set in the oscillating hills and lush valleys of Dima Hasao, Haflong is often referred to as the "Scotland of Assam". Enriched with stunning hills, lofty terrains, and a sparkling lake, Haflong is among the best places to see in Assam for camping enthusiasts, hikers and trekkers, and peace seekers.
Highlights: Hills, Adventure
Prime Attractions: Jatinga, Haflong Lake, Maibong, Silchar, Jatinga
Ideal Trip Duration: 2 Night 3 Days
Here are a few tourist places in the town of Haflong:
Suggested Read: Orang National Park: Your Absolute Guide To The Mini Kaziranga Of Assam
10. Haflong Lake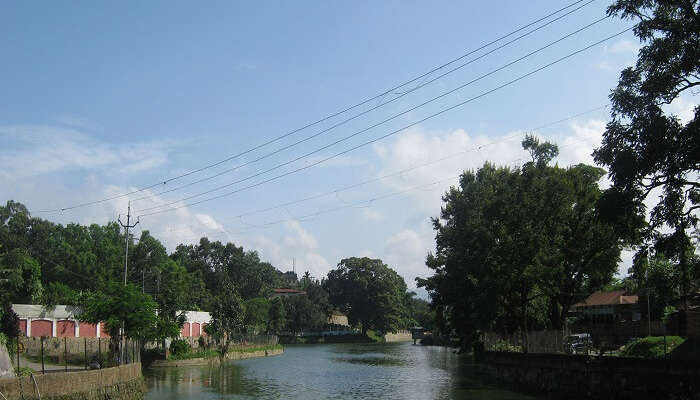 Image Source
The Haflong Lake is undoubtedly the most beautiful lake and best tourist place in Assam, India. Located in the heart of the city, this lake is the perfect tourist spot that offers travelers the chance to indulge in watersports, boating, fishing, and even bird watching owing to the thousands of migratory birds that take refuge here in winter. Well-maintained and clean, the lake falls under the protection of the Dima Hasao Tourist-Forest Department and Dima Hasao Autonomous Council.
11. Haflong Hill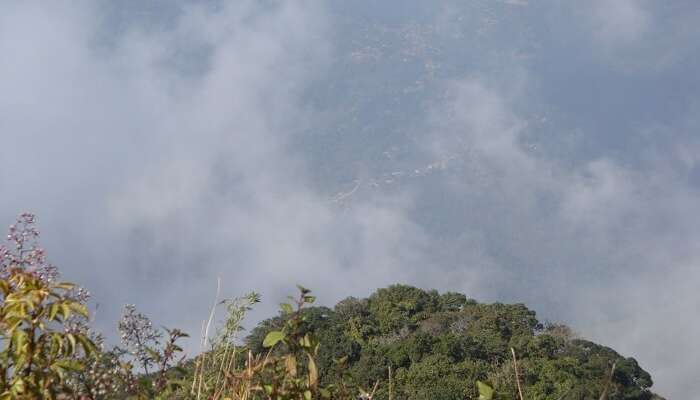 One of the most famous tourist attractions in Assam, this attraction is popular for thrilling activities like paragliding & trekking. Surrounded with a mesmerizing aura, this is a beautiful hill that'' sweep you off your feet. The view of the mountains around and the lush greenery offers a perfect opportunity to up your Instagram game.
12. Panimoor Falls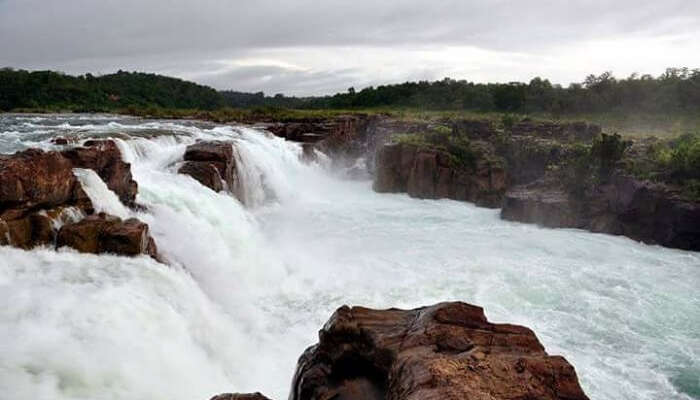 Despite being situated over a 100 km away from the town, this waterfall is one of the major attractions in Haflong. If you're a movie buff and that entices you more than nature, you'd be glad to know that a few shots from Rangoon were shot here. So, just pick your camera and make sure you stop by here for capturing a few of your own special moments.
Further Read: Darjeeling In December: Here's Why Wanderers Love These Hills More In The Winter Months
Excited? Plan your Assam holiday with TravelTriangle right away and go make memories in the stunning landscapes of the North East with your loved ones. Know of any more tourist places in Assam? Pop them in the comments below and we'd definitely help the other travelers know.
Frequently Asked Questions About Tourist Places In Assam
Q. Which is the most beautiful place in Assam?
A. Located in the heart of Northeastern region of India, Assam has many beautiful places to visit. So, while it is difficult to pick one to call it the most beautiful place in Assam, here are a few breathtakingly gorgeous places:
1. Dibrugarh
2. Tezpur
3. Majuli
4. Sibasagar
5. Manas National Park
6. North Cachar Hills
7. Karbi Anglong
Q. Which is the major natural tourist destination of Assam?
A. The entire state of Assam is a great place for ecotourism. There are many major national parks such as Kaziranga & Manas that is home to the great Indian one horned Rhino. However, if it comes down to choosing one natural tourist destination that you just can't miss on your trip to Assam, is the largest river Island in the world, Majuli. Nestling within the mighty river Brahmaputra, the island is bestowed with splendid natural beauty. However, due to soil erosion the island is shrinking by the year and so the government has regarded the island as a major nature tourism spot in Assam.
Q. Is Assam a hill station?
A. Assam is situated in the Brahmaputra plains even though it is surrounded by hilly areas. The bordering towns are located in the Khasi & Jaintia hills. Here are some of the hill stations in Assam that you can visit:
1. Haflong
2. Diphu
3. Umrangso
4. Maibang
Q. How can I go to Assam?
A. Assam is located in the far eastern part of India and is often referred to as the gateway into the Northeast. You can reach Assam by air, rail or road. Here are a few options for you to reach Assam in a hassle free manner:
By Air: Guwahati has a major International airport known as Lokpriya Gopinath Bordoloi Airport. Regular flights from major cities like Delhi, Mumbai, Kolkata and Bangalore are available. 
By Rail: The railway hub of Guwahati is well connected to Delhi, Mumbai, Kolkata, Cochin, Trivandrum and Bangalore. 
By Road: Assam is connected by a number of National highways to the rest of the country. Some of them are: NH31, NH37, NH38, NH40 and NH52
Q. What is famous in Assam?
A. Numerous tourists visit Assam each year to marvel at its natural beauty. The state is most famous for its neatly cut, jade green tea gardens. Other than that Assam is also home to the Great Indian One Horned Rhinoceros, Muga Silk and the world's largest river island- Majuli. 
Comments
comments