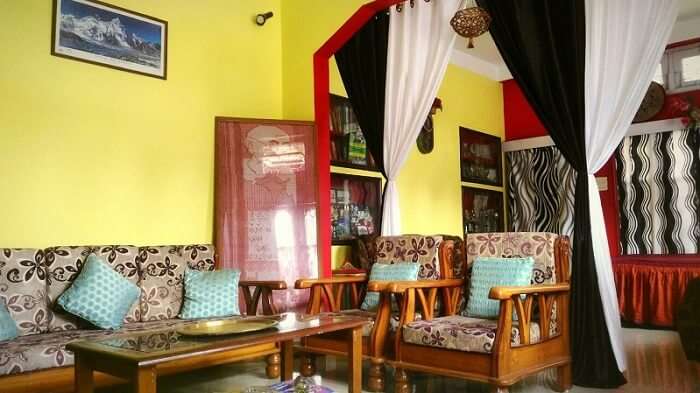 Homestays are the latest trend and if you've always craved that sense of feeling at home while traveling, they're the closest you'll get to it. Just take a look at homestays in Guwahati to see what we mean. They're cozy, affordable, loaded with amenities and run by friendly folk determined to make sure your stay unforgettable.
If you're headed to this part of the country, check out our picks of the best homestays in Guwahati.
10 Homestays In Guwahati That Offer A Fine Hilly Staycation
From the ones that include gardens to the ones that offer mesmerizing hilly views, choose the homestay that suits your travel style the best and enjoy a cozy stay.
1. Rhan's Homestay
Rhan's Homestay is a popular homestay in Guwahati for families and groups. The four-bedroom bungalow features a picturesque garden and two of the bedrooms offer garden views. Guests have free use of the kitchen but if you'd rather have meals prepared for you, the hosts can be requested to provide the same. The property is located in a posh neighborhood close to Dispur capital complex.
Tariff: NA
Location: Namghar Path 2, Wireless, Peer Ajaan Fakir Road, Guwahati 781006
Suggested Read: 28 Best Places To Visit In Guwahati In 2022
2. Ashirwad Homestay
Ashirwad Homestay Guwahati is one of the top such accommodations in the city. Traditionally designed furniture and regional artwork grace the interiors to give guests a glimpse into local culture. It's set in the heart of the city and is a little over 10 kilometers from Kamakhya Temple and around six kilometers from Assam State Museum.
Ashirwad Homestay Guwahati offers air-conditioned rooms, Wi-Fi, taxi services and complimentary breakfast. You also get to savor homely meals prepared at the in-house kitchen.
Tariff: INR 1,600
Location: 2nd Floor, Lakshmi Path, Zoo Tiniali, Guwahati, Assam 781024
3. Prabhakar Homestay
Suggested Read: 6 Resorts In Guwahati For A Splendid Stay In Northeast
You're surrounded by greenery at Prabhakar Homestay Guwahati and it instantly relaxes you. It's styled like a boutique hotel with beautifully designed rooms and elegant décor. The homestay is hugely popular among travelers and has even been covered in National Geographic Traveler. There are five rooms to choose from and each guest can make use of facilities like free Wi-Fi, airport transfers, babysitting services and sightseeing tours. Home cooked meals are also provided.
Tariff: INR 5,500
Location: Krishna Nagar, Chandmari, Guwahati 781003
4. Madhumita Homestay Guwahati
This is a charming homestay that's also surrounded by refreshing greenery, which can be tricky to find in a city. Madhumita's Homestay in Guwahati, Assam is a spacious loft type accommodation that overlooks the neighborhood and has a pretty terrace garden where you can sit out with a cup of delicious Assam tea (of course!). Guests have access to the kitchen, dining room and sitting room.
Tariff: INR 1,200
Location: Nijora path, near new Dukhia Store, Jyotinagar, Guwahati College road, Bamunimaidam, Guwahati 781021
Suggested Read: Shopping In Guwahati: 10 Places To Buy All Assamese Delights From Tea & Silk Sarees
5. Tusti Homestay
You can find several solid options for Airbnb in Guwahati and one of them is Tusti Homestay. The two-bedroom bungalow is located in a residential neighborhood near the Brahmaputra River. It's close to the market and restaurants so you can easily shop and dine out. Guests are given access to all common areas in the house.
Tariff: INR 3,200
Location: House no 95, Kharghuli main road, near RB's 5 departmental store, Guwahati 781004
6. Eagle Nest Home Stay
Eagle Nest is a strategically located homestay in Guwahati that offers guests quick access to retail stores, restaurants and even the famous freshwater lake, Deepor Beel. Room choices include standard non AC and Deluxe AC. Amenities like Wi-Fi, car rental, travel assistance, hotel and flight bookings, and tour packages make your stay more than memorable.
Tariff: INR 1,900
Location: Lecheri Pothar, Professor's Colony (2), Konapara, Azara, NH-37, near Lokapriya Gopinath Bordoloi International Airport, Guwahati 781017
7. Eastin Homestay
Eastin is a homestay in Guwahati that makes sure guests are close to attractions like the popular city park, Shraddhanjali Kanan, eateries, and a hookah lounge. The guest house features a private bedroom, living room, kitchen, dining area, balcony and terrace that looks out onto the neighborhood. Those who want to get a feel for Guwahati can opt for a 1-hour complimentary bicycle ride on professional brand cycles.
Tariff: INR 2,000
Location: House No. 48, Khaund Nivas RGB Road, Zoo Road, Guwahati 781024
Suggested Read: 32 Best Tourist Places Near Guwahati For A Pleasant Vacation Away From Crowd In 2022!
8. Debojani Ashralaya Homestay
Suggested Read: 6 Resorts In Guwahati For A Splendid Stay In Northeast
Experience the best of Assamese hospitality with a stay at Debojani Ashralaya Homestay. The B&B offers two rooms, a private room for two people and a dorm that can accommodate up to five. Breakfast is complimentary and meals can be ordered at a charge. The property also features a terrace with a charming flower garden.
Tariff: INR 900
Location: House No 20, Nayan Nagar, Mathgharia 1 No, Forest Gate, Narengi Tinali, Guwahati 781171
9. Tamanna's Home
Tammana's Home is a popular homestay among those listed on Airbnb Guwahati. Enjoy a comfortable stay in a spacious 2nd floor place that features three bedrooms, kitchen, living room and a mini gym. If you're traveling with family or friends, consider this homestay in Guwahati . It's in a quiet neighborhood but close enough to areas of interest and is large enough to accommodate more than 10 guests.
Tariff: INR 1,100
Location: House No. 13, Vinayak Path, Lakhimi Nagar, Hatigaon, Guwahati 781038
10. Saikia Nest the Home-stay
Saikia Nest is just the place to stay whether you're a solo traveler, a couple or a family. Located near the city center, this homestay in Guwahati offers free Wi-Fi and a hearty Full English/Irish breakfast. There's a shared lounge and a terrace where you can relax.
Tariff: INR 2,100
Location: Pub Sarania Rd, Lachit Nagar, Guwahati 781003
By now, it would have been clear to you all that staying at a homestay in Guwahati is an experience you can't afford to miss. So if you're planning a vacation to Guwahati, do include these excellent options and feel at home even when you're far from it.
Suggested Read: Nightlife In Guwahati 2022: 13 Best Places To Dance The Night Away!
---
Looking To Book A Holiday Package?
Book memorable holidays on TravelTriangle with 650+ verified travel agents for 65+ domestic and international destinations.
---