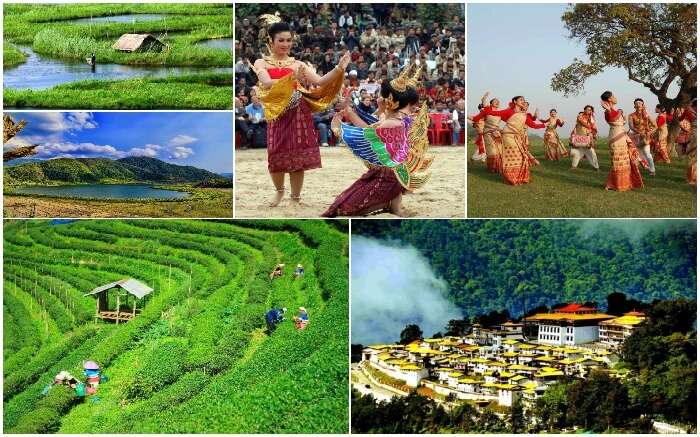 The Seven Sisters of India: Meghalaya, Arunachal Pradesh, Nagaland, Tripura, Assam, Manipur, and Mizoram cover a huge area of 255,511 square kilometers. Sikkim shares an international border with Bhutan in the east, Nepal in the west, and China in the north while Arunachal Pradesh shares an international border with Myanmar in east, China in north, and Bhutan in west. These states have been attracting young travelers and explorers from all over the world with different tribal and ethnic groups, religions, festivals, and fabulous landscapes. Read on to know more about the gorgeous states of northeast India and all the names of seven sisters of India.
History Of The Seven Sisters Of India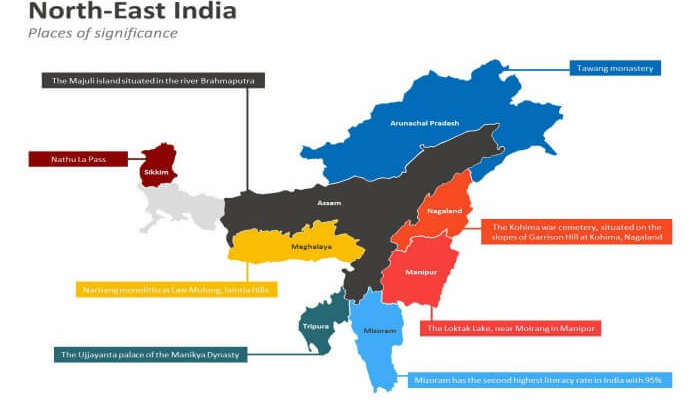 The history of Seven Sisters of India is interesting and deep-rooted. There were initially three major states during independence. Assam was a huge state and Manipur and Tripura were princely states. Gradually rest of the 4 states were formed. Nagaland was formed in 1963, Meghalaya in 1972, and Mizoram and Arunachal Pradesh in 1987. The Seven Sisters of India have religious, ethnic and cultural diversities and have rich, assorted and interesting tribal cultures and traditions. We hope that this list of seven sisters of India has helped you know more about them.
Interesting Facts About The Seven Sisters Of India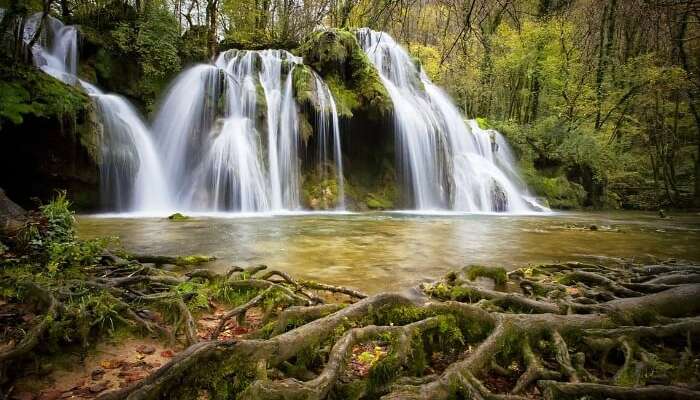 The seven sisters of India majorly have international boundaries (Myanmar, Bangladesh, China and Bhutan).
Tawang Monastery in Arunachal Pradesh is the largest in India.
Loktak Lake, located in Manipur is India's largest freshwater lake.
Mawsynram claims to have the highest average rainfall on Earth.
Mawlynnong in Meghalaya is the cleanest village in Asia.
India's oldest oil refinery is located in Digboi, Assam.
Ahom Dynasty of northeast India is the biggest undivided dynasty of India, ruled the Ahom kingdom for nearly 600 years.
Must Read: 23 Must Visit Places When Travelling To The North East In 2019
Festivals Celebrated In The Seven Sisters Of India
The Seven Sisters of India have a very rich and captivating tribal history. All the states are inhabited by different native tribes and each one has its own traditions, rituals and festivals practiced by the tribal communities for years and years. Have a look at some of the most popular festivals of seven sisters of India. seven sisters of India.
1. Bihu – Assam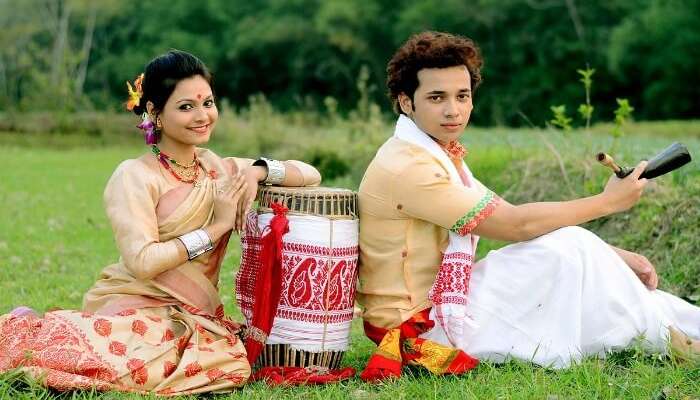 Bihu is one of the most legendary harvest festivals of India, celebrated in Assam three times in a year. Magh Bihu is celebrated in January, Rongali Bihu in April, and Kati Bihu in October. Women wear colourful mekhlas—the traditional dress of Assam and dance to the tunes of drums while menfolk play drums and sing together.
Suggested Read: 10 Beautiful Places In India You Are Not Allowed To Visit In 2019
---
Sikkim-Gangtok-Darjeeling Holiday Packages On TravelTriangle
Visit Sikkim and explore Yumthang valley, Tsomgo Lake, Gangtok, Nathula Pass, and Pelling. Experience peace and tranquility while exploring Buddhist monasteries, snow-capped mountains, and wildlife sanctuaries. Book packages inclusive of airport transfers, cab, resort, sightseeing, and meals.
---
2. Moatsu Festival – Nagaland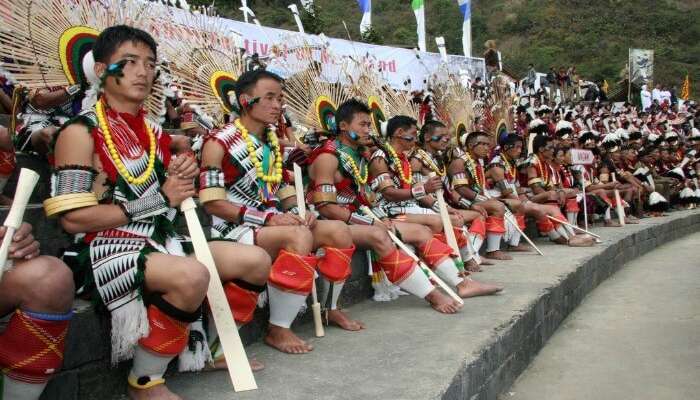 Moatsu Festival is one of the significant and famous festivals of India, celebrated by Ao Naga tribe. The major reason to celebrate this festival is to invoke God's blessings and provide entertainment to the tribe after hectic activities like sowing seeds, clearing the wells, repairing houses etc.
Suggested Read: 15 Secrets Of North East India Locals Have Been Keeping To Themselves
3. Ziro Music Festival – Arunachal Pradesh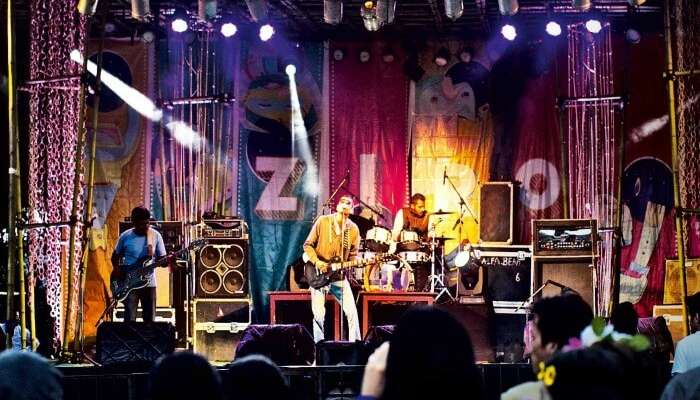 Ziro Music Festival is heaven for music buffs and culture enthusiasts. This is a four-day long music carnival celebrated in Ziro region of Arunachal, where music stalwarts from different corners of the world perform. Here you get to listen to music maestros like Sulk Station, Sky Rabbit as well as new musicians.
4. Cheiraoba – Manipur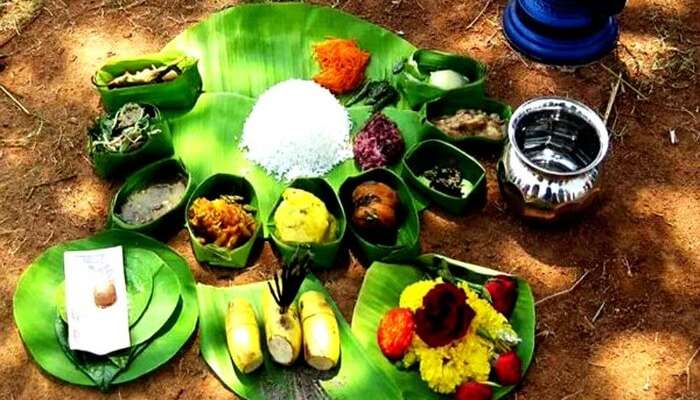 The importance of seven sisters is, to a great extent, attributed to their age-old traditions and culture. These traditions are reflected through their festivals celebrations. Cheiraoba is one of the major festivals of seven sisters of India and takes place in the month of April. Local people clean their houses, wear new clothes, exchange greetings and sweets on the occasion of New Year.
Suggested Read: 31 Reasons Why You Should Never Visit Northeast India
5. Chapchar Kut – Mizoram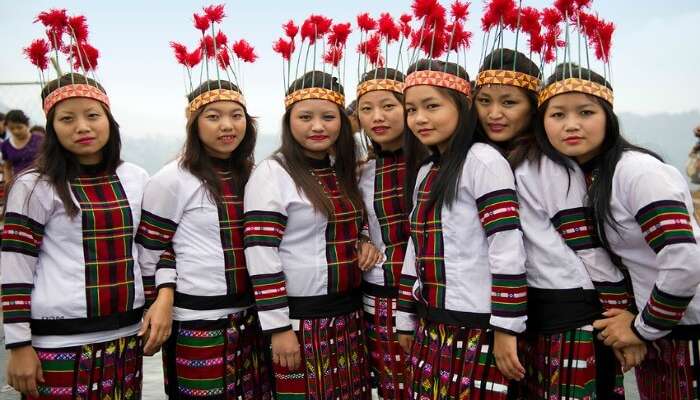 To showcase the harvest, cultivation, and drying up process of bamboo shoots, the local Mizoram people celebrate Chapchar Kut. It is one of the most significant festivals in March celebrated by the people of Mizoram. Not just Mizo, March is a common month for all the states when we consider the best time to visit Seven Sisters of India.
6. Ashokastami Festival – Tripura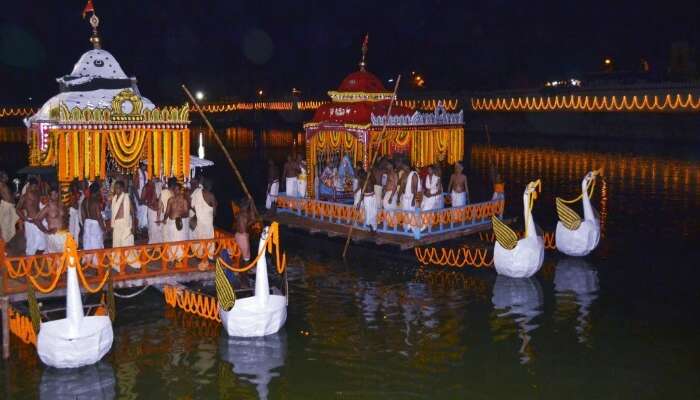 In Tripura, Ashokastami is one of the most popular festivals celebrated with immense glory and devotion. Local people worship their god and goddesses and take holy dip in the consecrated river of the Astami Kunda. This festival is usually celebrated in the month of March or April. The celebrations feature huge melas (fairs) where people gather in large numbers to worship, enjoy and celebrate.
Suggested Read: Top 10 Summer Festivals In India You Shouldn't Miss In 2019
7. Ka Pomblang Nongkrem – Meghalaya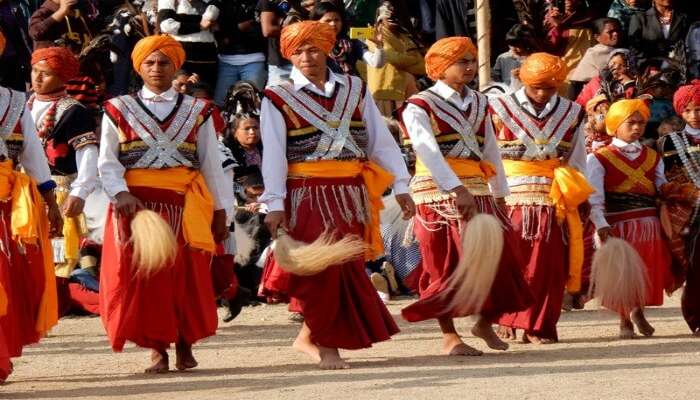 Ka Pomblang Nongkrem, also known as Shad Nonhkrem is one of the liveliest festivals in November in India.The native tribes of Meghalaya show respect to Goddesses Ka Blei Synshar for a prosperous and good harvest. The festival is celebrated majorly by by the Khasis trbe of Meghalaya.
7 Places To Visit In The Seven Sisters Of India
The northeastern states of India boast of many scenic, surreal, and spectacular places featuring lofty hills, gorgeous valleys, sparkling lakes, rivers, waterfalls, and dense forests. Take a look at these places that are perfect for an impeccable Seven Sisters Of India tour.
1. Kaziranga National Forest – Assam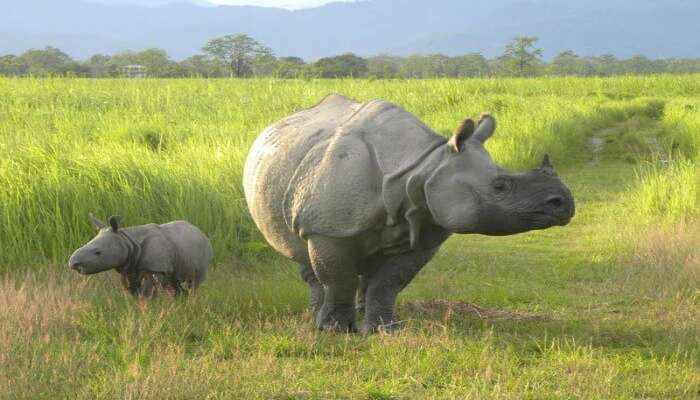 Home to one-horned rhinos, Kaziranga National Park is one of the most popular and beautiful places of seven sisters of India in Assam. Surrounded by aromatic plush green tea gardens, Kaziranga is a declared World Heritage Site. One can enjoy jeep safaris in the forest and spot elephants, rhinos, tigers, deer, and numerous birds.
Address: Kaziranga National Park, Kanchanjuri, Assam 784177
Suggested Read: A-Z Guide To Make Your Honeymoon In Sikkim An Affair To Remember In 2019
2. Kohima – Nagaland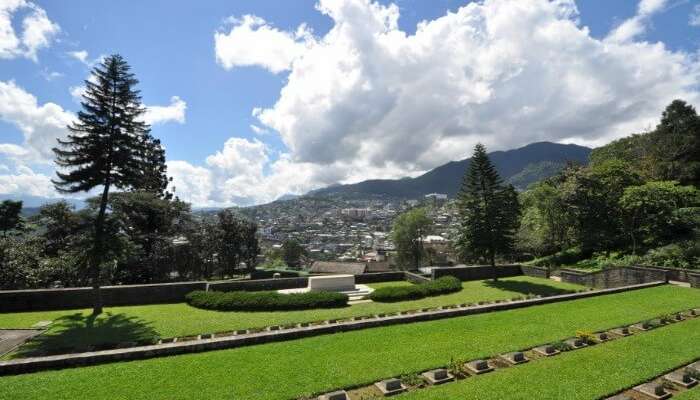 With gorgeous Japfu range in the background, Kohima is one of the most tranquil & mesmeric places in seven sisters of northeast India. The thick forests, luxuriant valleys, and misty weather overwhelm travelers. One can trek to Dzuko valley, visit Kohima war cemetery, Ntangki Wildlife sanctuary, and Mokokchung.
3. Tawang – Arunachal Pradesh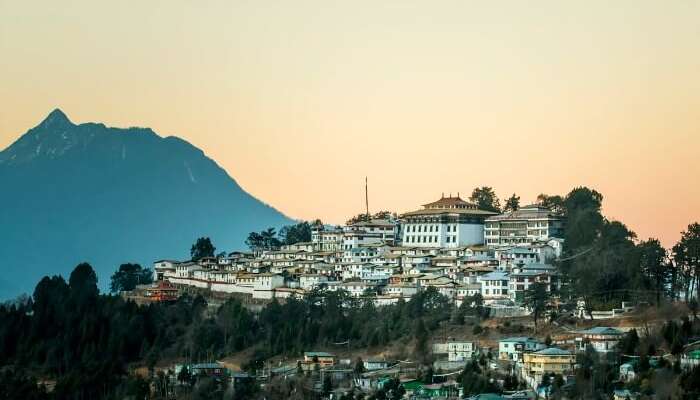 Located by the sparkling Tawang Chu River, this awesome place is popular for a vintage monastery by the same name and Taktsang Gompa. Tawang monastery is said to be the oldest in India and showcases traits and traditions of Tibetan culture and ethos. Tawang is arguably one of the most beautiful places in India every solo traveler must visit.
Suggested Read: Beautiful Hill Stations In Assam To Rejuvenate Your Senses
4. Imphal – Manipur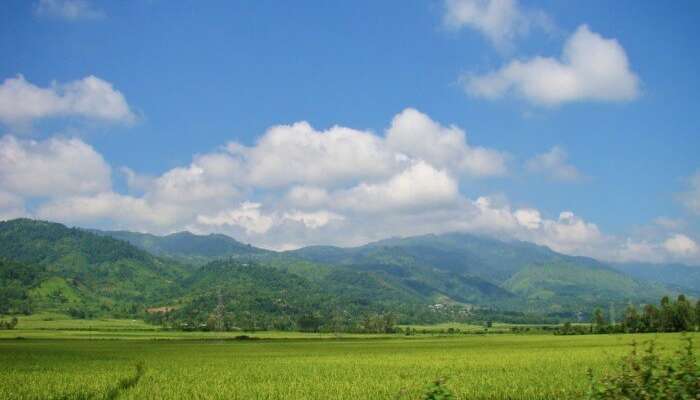 Imphal, the capital of Manipur is one of the top educational hubs among all the capitals of Seven Sisters of India. One of the most gorgeous places of the Seven Sisters States, Imphal is a place of meandering rivers, lush green valleys, lakes and misty mountains. Loktak Lake, which is the largest freshwater lake in India offers captivating beauty while the heritage Kangla Fort showcases rich culture and history of the bygone days.
5. Champhai – Mizoram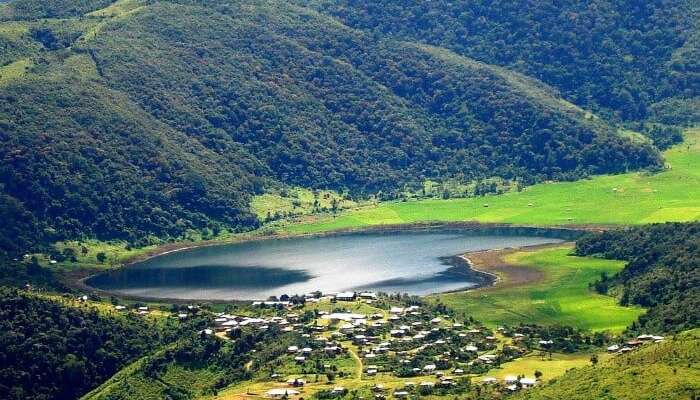 An offbeat and serene town, Champhai in Mizoram is a delight for all. Also known as the Rice Bowl of Mizoram, Champhai has lush green fields of rice done in step – farming. Boasting of Tiau Lui River, Rih Dil Lake, and Kungawrhi National Park, this scenic and quaint hill station is one of the most beautiful places in the northeast.
Suggested Read: 10 Places To Visit Near Shillong For Experiencing Meghalaya's True Beauty
6. Agartala – Tripura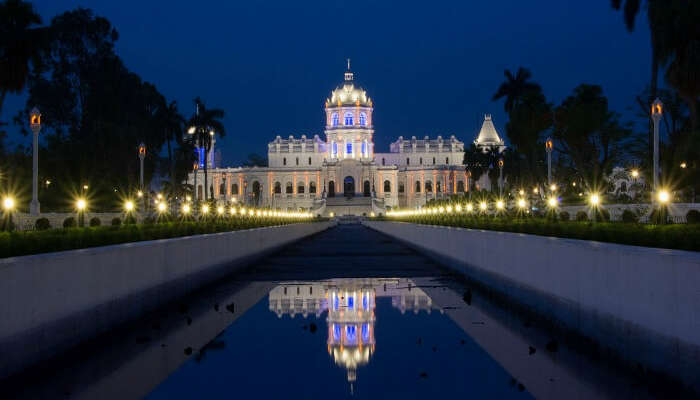 Tripura is the smallest state in the Seven Sisters of India map and Agartala is the capital of this state. Rich in natural wonders and home to many native tribes, heritage monuments and temples—Agartala is one of the most fascinating places of Tripura. People exploring Agartala can also make plans to visit Ujjayanta Palace, Kamalasagar, Neermahal Palace, Gandacherra Wildlife Sanctuary, and Kalapania Nature Park.
7. Shillong – Meghalaya
Rightly described as 'Scotland of East'—Shillong is an ideal destination for those seeking peace and relaxation. With Umiam Lake at the heart of the city, Shillong has lush green hills, winding roads, cascading waterfalls and yummy Tibetan food. You can also visit Cherrapunji and relish the stunning view from Shillong Peak.
Further Read: 70 Happening Places To Visit In India Before You Turn 30
These hilly states in the lap of Himalayas are some of the most spectacular destinations to travel with family and friends. Blessed with dense forests, lush and rocky hills, hidden waterfalls and fabulous climatic conditions, their untouched beauty is beyond words. If you want to explore the heart of these 'Seven – Sisters then you can plan a Sikkim-Gangtok-Darjeeling tour set out to experience the essence of these states.
Frequently Asked Questions About Seven Sisters Of India
Q. Which is the largest state among seven sisters?
A. Arunachal Pradesh is the largest state among the seven sisters.
Q. What are facts about seven sisters of India?
A. The interdependence of the states and its geographical features between Arunachal Pradesh, Assam, Meghalaya, Manipur, Mizoram, Nagaland and Tripura has given an origination to the name "Seven Sisters of India".
Q. What is the best time to visit Seven Sisters Of India?
A. The best time to visit Seven Sisters Of India completely depends on the kind of season you like and the type of traveler you are. If you wish to see the Northeast in all its glory, visit during monsoon and if you want to beat the heat, plan your trip during summers. However, the ideal time to visit seven sisters is considered to be between November and May.
---
Looking To Book A Holiday Package?
Book memorable holidays on TravelTriangle with 650+ verified travel agents for 65+ domestic and international destinations.
---
Comments
comments