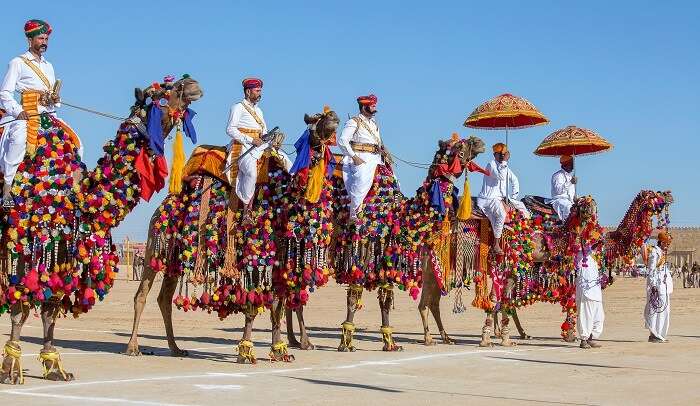 January is the month which marks the start of the new year and with that comes the holiday season when people lookout for their destinations to visit for relaxation. And one it comes to find a destination for winter holidays, nothing can be better than visiting Rajasthan. Unlike the summer months, the weather is quite pleasant here and there are a wide array of places to visit in Rajasthan which makes it a popular choice. Not just the attractions, but during this time the state becomes the land of festivals and fills the air with vibrance. There are many famous places to visit in Rajasthan in January which open their gates to let the visitors enjoy the weather and the royal view.
15 Best Places To Visit In Rajasthan In January
If you were planning to visit Rajasthan and were wondering which are the best places to visit in Rajasthan in January then let us help you with it. Here is a list of the places which will let you enjoy the pleasant climate along with the finest attractions.
Jaipur
Jodhpur
Pushkar
Bikaner
Keoladeo National Park
Jaisalmer
Ranthambore
Alwar
Nagaur
Pali
Udaipur
Kumbalgarh
Jhalawar
Mount Abu
Chittorgarh
1. Jaipur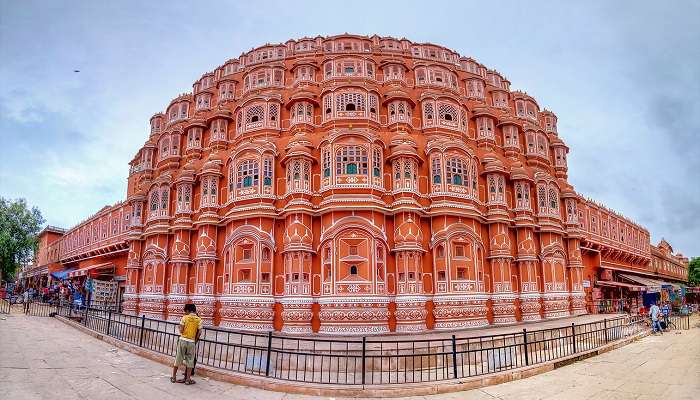 Jaipur is the capital city of Rajasthan and it never fails to mesmerize its visitors with its royalty and grandeur. This palatial and vibrant city is a gateway to the royalty and the traditions of the Rajasthan lifestyle. There are places where people can enjoy a traditional thali meal or can go shopping at the lively markets or try the many other exciting things to do in Jaipur. And to enjoy all this, this city remain cool during January. This is one of the best cities to visit in Rajasthan in January.
Best Attractions To See: Hawa Mahal, City Palace, Jaigarh Fort and Amer Fort.
Things To Do: Hot air ballooning safari
Must Read: 14 Places To Visit In Rajasthan In Monsoon In 2021 For Those Who Love Rains!
2. Jodhpur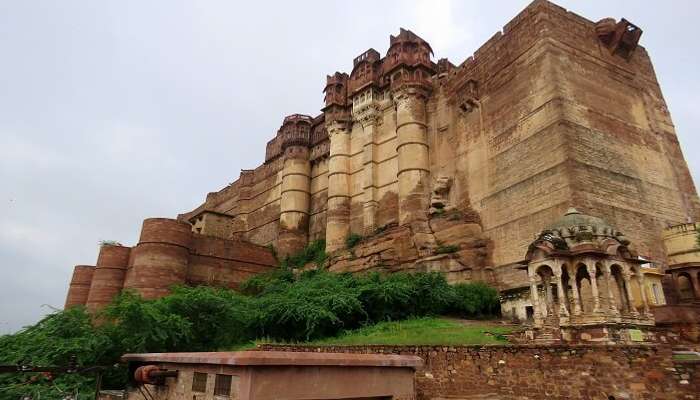 Often called out the blue city, Jodhpur is the city which experiences an enhanced beauty in January. It is one of the best places to visit in Rajasthan in January which has a chilling temperature and boasts a blue hue of climate. With boasting the Mehrangarh fort in the backdrop, the city paints a picturesque painting like view. This city has architecture which dates back to the 15th century and known for its historic and colorful ambiance.
Best Attractions To See: Mehrangarh fort, Blue houses
Things To Do in Jodhpur: Ziplining from Mehrangarh fort
3. Pushkar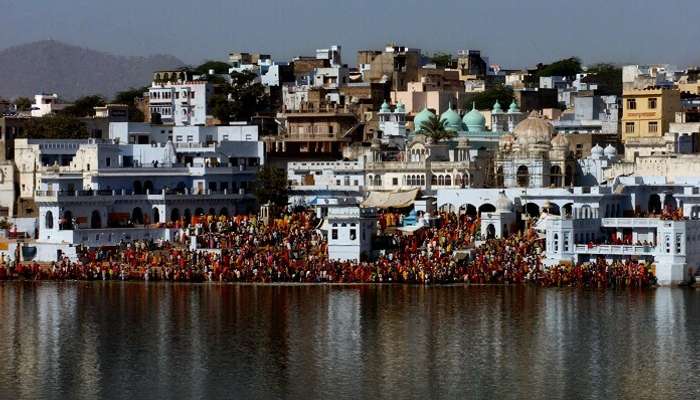 Pushkar is hot spot location for the travelers who are inclined towards spirituality. As the year starts, the pilgrims gather at the Pushkar temple to take a holy dip in the river. According to the local beliefs, they do this to wash away their sins and start the New Year afresh. There are numerous rituals which takes place at this spiritual land in Rajasthan. This is one of the must visit places in Rajasthan in January. While in Pushkar, people also take a short tour to Ajmer Sharif.
Best Attractions To See: Brahma Temple
Things To Do in Pushkar: Take a dip in the Pushkar Temple
Suggested Read: Honeymoon In Rajasthan: 6 Things To Do And Attractions For Couple
---
Planning your holiday in Rajasthan but confused about what to do? These Rajasthan travel stories help you find your best trip ever!
---
4. Bikaner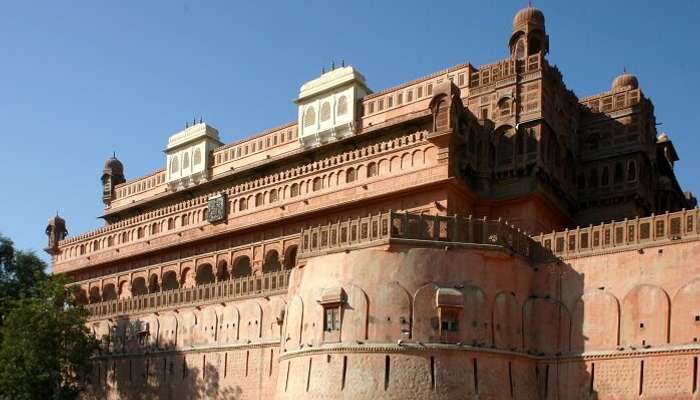 While throughout the year, Bikaner is the spiritual city but in January it turns to be a cultural hotspot. The main highlight of this month is the famous Bikaner Camel Festival which is not just colorful but also offers a varied activities which includes camel beauty pageant, camel acrobatics, fur cutting competition, camel-milking competition and best breed competition. Not just that but the fair also has a variety of traditional delicacy stalls which includes delicacies made of camel milk.
Best Attractions To See: Junagarh Fort, Lalgarh Palace
Things To Do in Bikaner: Shopping, Various activities at Camel festival
5. Keoladeo National Park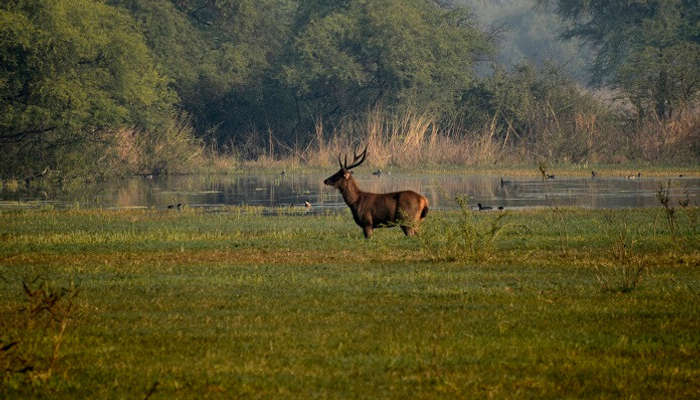 For the die-hard nature lovers, Keoladeo National Park is one of the best places which keeps its gates open especially during the winter season. The Bharatpur Keoladeo National Park is home to varied species of birds and during the winter one can see migratory birds who fly from countries like Siberia, China, Tibet and Europe. If someone is looking for a place which is adorned by nature finest beauty and also luxurious lodges for an overnight stay.
Things To Do: Bird Safari
Suggested Read: To The Land Of Kings: Our Romantic Trip To Rajasthan
6. Jaisalmer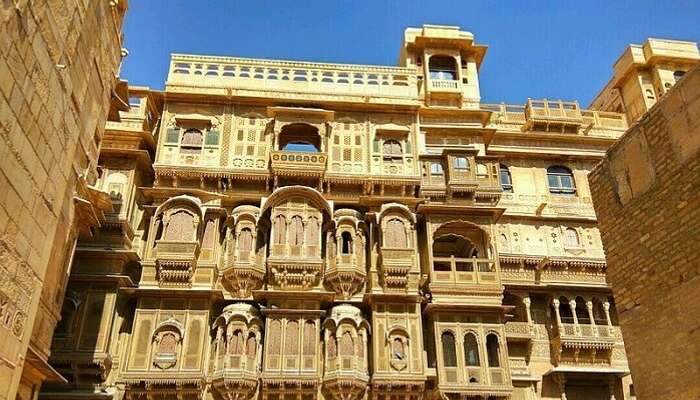 One of the best places to visit in Rajasthan in January is Jaisalmer. Located in the heart of Thar Desert, this destination is also known as the Golden City as its gorgeous forts and sun soaked sand dunes. If you wish to attend the Desert Festival that happens in January – February and attracts art lovers from around the world to witness the beauty of Rajasthani art. 
Best Attractions To See: Jaisalmer Fort, Sam sand dunes, Gadisagar Lake
Things To Do in Jaisalmer: Attend the Desert Festival, visit Longewala border.
7. Ranthambore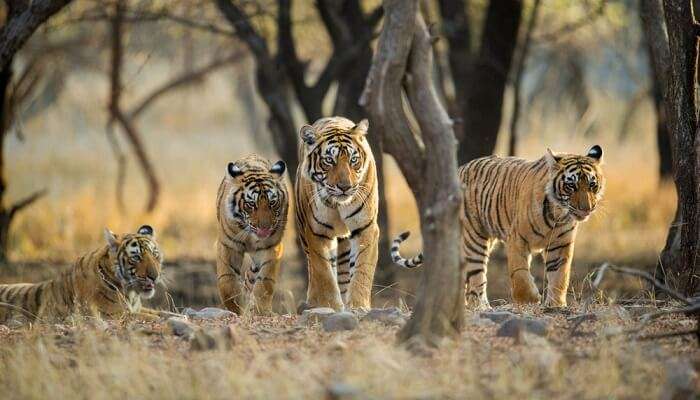 If you are taking a Rajasthan trip in January then make sure you don't miss out on Ranthambore as it probably is the best experience of all. The landmarks naturally are the popular Ranthambore Fort which is a UNESCO World Heritage site and also has a vast and rich cultural history. Ranthambore National Park is another one of the popular attractions.
Best Attractions To See: Ranthambore Fort, Ranthambhore National Park
Things To Do in Ranthambore: Go for a jungle safari, get to know the history better at Ranthambore Fort.
Suggested Read: Monsoon In Jaisalmer: A Guide To See The Best Sights Of The Golden City Of Rajasthan In 2021!
8. Alwar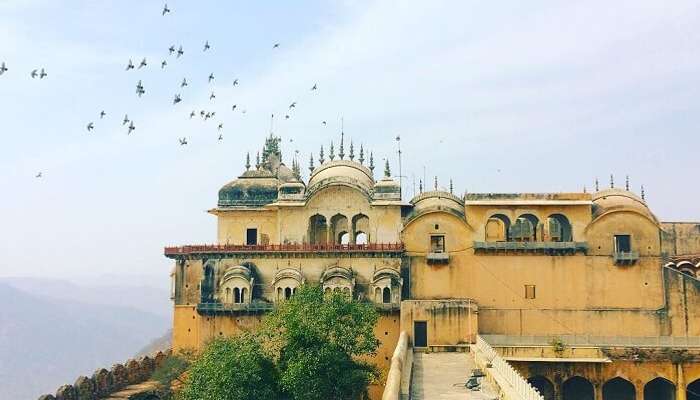 Next on the list of best places to visit in January is Alwar. Founded by the ever so popular Rajput ruler Pratap Singh back in 1770, the city was earlier known as Ulwar and was the first city to sign a treaty with the Britishers or as they say, the East India Company. Home to the haunted 'Bhangarh Fort', Alwar and with an abundance of flora and fauna, Alwar knows how to balance. 
Best Attractions To See: Bhangarh Fort, Sariska Tiger Reserve
Things To Do in Alwar: Explore the haunted Bhangarh Fort and interact with tigers at Sariska Tiger Reserve.
9. Nagaur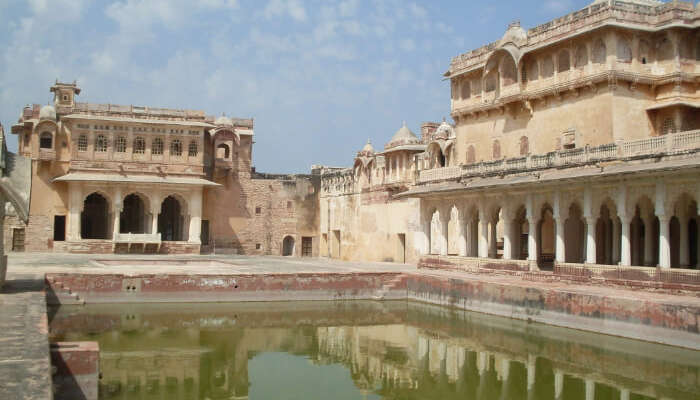 If you are wondering about what are the famous things to do in Rajasthan in January then here is one! It is attending Nagaur Festival which is a 3-4 day long festival and makes visiting Nagaur in January a delightful experience. People from around the world gather to trade cattle, and there are many popular games and activities like Tug of War, Camel Racing and others that one can be a part of.
Best Attractions To See: Khimsar Fort, Sand Dune Villages
Things To Do in Nagaur: Attend the popular Nagaur Festival and get to know about the culture better.
Suggested Read: Padmavati Palace In Chittorgarh Fort Whispers Secrets From Centuries Ago
10. Pali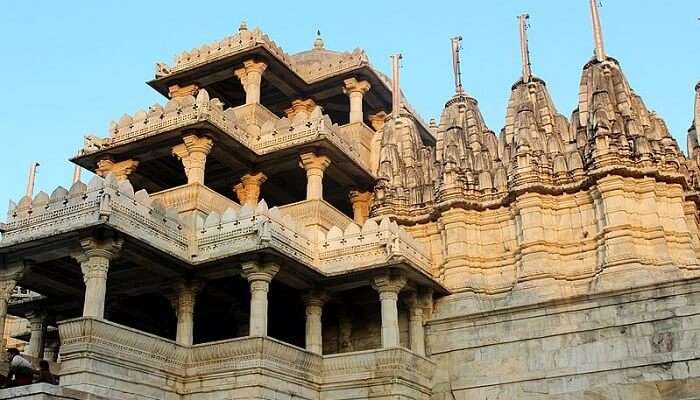 Next place to visit on your Rajasthan trip in January is Pali and we will tell you why! The thing that is most fascinating about Pali is the wobbled plains and snail like shape. Sharing its boundary with Jodhpur on the north and Udaipur on the south-east, Pali boasts of an area of 12387 square kilometers and is one of the unexplored gems of Rajasthan.
Best Attractions To See: Chhatra Sagar, Jawai Leopard Camp, Om Banna Temple
Things To Do: Hiking and trekking, desert safaris and lake side camping.
11. Udaipur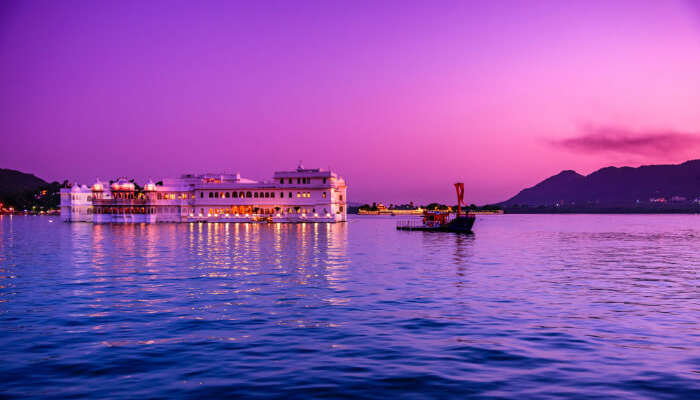 And taklking about things to do in Rajasthan in January could we even dare to forget checking out the gorgeous lakes in the 'City of Lakes'? The capital of the kingdom of Mewar in the past, Udaipur features some of the most popular tourist attractions in Rajasthan and looks even more beautiful during winters. Also referred to as the 'Venice of the East', Udaipur is stunning and don't forget to check out the temples in Udaipur!
Best Attractions To See: Lake Pichola, City Palace, Jag Mandir.
Things To Do in Udaipur: Boating at Lake Pichola, visiting Jagdish Temple.
Suggested Read: 13 Romantic Things To Do In Udaipur In 2021 With Your Sweetheart
12. Kumbhalgarh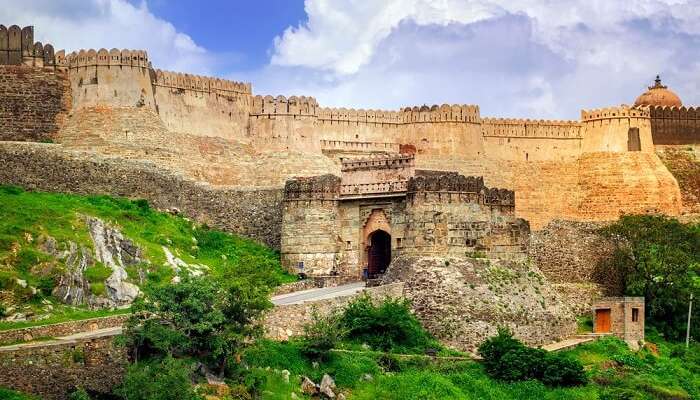 Next on our list of famous places in Rajasthan is Kumbalgarh. One of the most beautiful destinations in Rajasthan, Kumbhalgarh also features the very popular Kumbhalgarh festival which is a three day festival and is held in January which adds another reason to your kitty to explore this beautiful destination and attending which is one of the best things to do in Rajasthan in January. From classical music to dance and art, you can indulge in many things here.
Best Attractions To See: Kumbhalgarh Fort, City Palace, Kumbhalgarh Wildlife Sanctuary.
Things To Do in Kumbhalgarh: Attend the Kumbalgarh festival, visiting Kumbhalgarh Fort
13. Jhalawar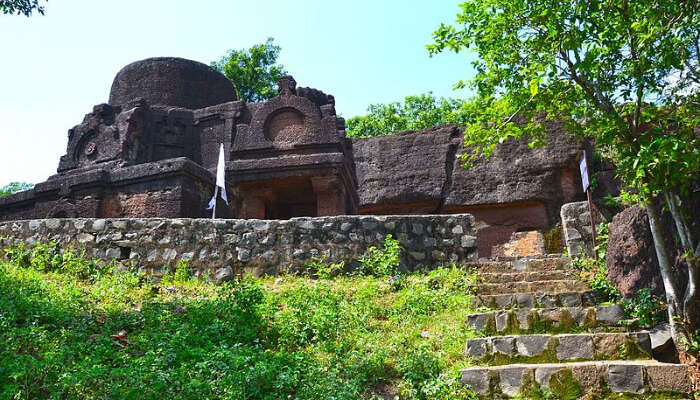 Located in the south eastern part of Rajasthan, Jhalawar is one of the best places to visit in Rajasthan in January. Once the capital of the princely state of Jhalawar, the city still retains parts of its glorious past and is the headquarters of the district. Located on the border of Rajasthan and Madhya Pradesh, Jhalawar is home to many tourist attractions that you can't miss out.
Best Attractions To See: Prithvi Palace, Virendra Bhawan
Things To Do: Check out the Government Museum and Prithvi Palace.
Suggested Read: 23 Palaces And Forts In Rajasthan That You Must Visit In 2021 To Get In Touch With History!
14. Mount Abu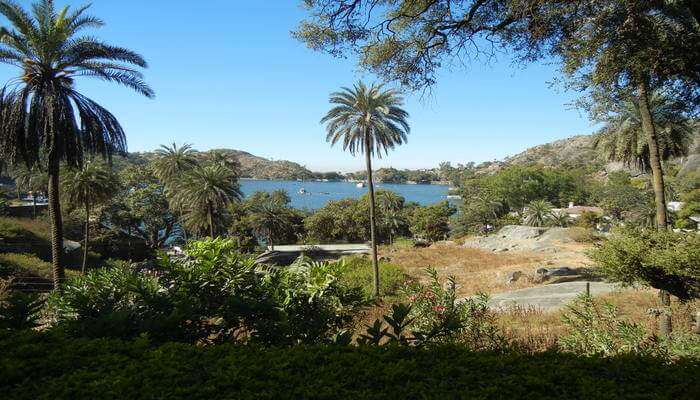 Let's talk about the only hill station in Rajasthan, shall we? With a large expanse and a tourist's paradise, Mount Abu offers an escapade from the monotony of everyday life  and is also a great pilgrim spot. With its mesmerising lake and views of the gorgeous Aravali as the backdrop, Mount Abu is the ideal place to be at this January.
Best Attractions To See: Prithvi Palace, Virendra Bhawan
Things To Do in Mount Abu: Check out the Government Museum and Prithvi Palace.
Suggested Read: 25 Stunningly Colorful Festivals Of Rajasthan That You Should Not Miss In 2021
15. Chittorgarh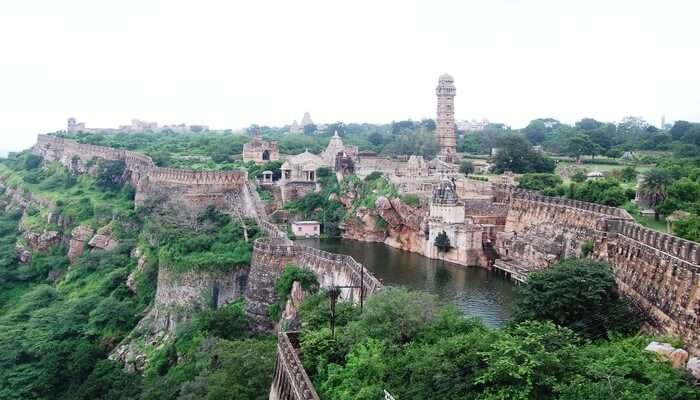 The destination has gained fame recently when the movie 'Padmavat' came out but the place has been gorgeous always! Founded by the Maurya dynasty in 734 A.D, Chittorgarh is the birthplace of the legendary Meera Bai and the popular Maharana Pratap. The beautiful Chittorgarh Fort adds to the be\auty of this destination which is located on the banks of river Berach. Also, if you plan a stay at the luxurious resorts in Chittorgarh it will add to your experience.
Best Attractions To See: Chittorgarh fort, Kirti Stambha
Things To Do in Chittorgarh: Listen to the folk tales and fables from the villagers and relish epic epicurean delicacies from Rajasthani cuisine.
Further Read: Sand Dunes And Sunsets: An Action-Packed Friends Trip To Rajasthan
Are you excited to witness the rajputana culture and many more things while in Rajasthan during January? If yes, then now you know which are the places have the best things to offer its visitors along with a pleasant climate. So, if you're planning a Rajasthan trip in January then don't miss out on these attractions and also the vibrant festivals which happen here in winter.
Frequently Asked Questions About Places To Visit In Rajasthan In January
Q. What are the best places to visit in Rajasthan?
A. Many popular places in Rajasthan in January can be explored to gain some nice experiences. Places like Jaipur, Jodhpur, Udaipur, Jaisalmer, Pushkar, and Mount Abu are some of the must explore.
Q. Why Jaipur is entitled to the "pink city"?
A. When the Prince of Wales and Queen Victoria visited India in 1876, Maharaja Ram Singh of Jaipur painted the entire city in pink to honor the visitors. Due to the majority of houses colored in pink color, this city got its title as the "pink city."
Q. Why Jodhpur is popular?
A. Jodhpur is popular for its Mehrangarh fortress, blue houses, sanctuaries, desserts, and tidbits. Aside from the stronghold, there are different sanctuaries, lakes, shopping lanes that resemble a mirage from a bygone era.
Q. What is the best time to visit Rajasthan?
A. Local people and travel specialists prescribe the period between November to February as the best time to visit Rajasthan. Summers are burning though, in winters, the temperature comes down.
Q. Which location in Rajasthan is famous for spirituality?
A. Pushkar is the place known for its religious ambiance and one can experience the culture as well as the religious diversity in this city.
Q. Which is the most famous honeymoon destination in Rajasthan?
A. Jaipur, Jodhpur, Jaisalmer, Udaipur are some of the exotic places where couples can enjoy their tenure of honeymoon. These cities offer grandeur, perfect ambiance, a walk to the history, and a rich tradition.
Q. Is Rajasthan worth visiting?
A. You will never regret any trip to Rajasthan because this place is filled with cultural diversity and many structures known for royalty. It makes any trip worth remembering.
Q. Which city in Rajasthan is a cultural hotspot?
A. Bikaner is a city in Rajasthan that is known for its religious and spiritual power but in the time of vacations, it becomes a cultural hotspot.
---
Looking To Book A Holiday Package?
---
People Also Read:
Manali In January Kerala In January Kathmandu in January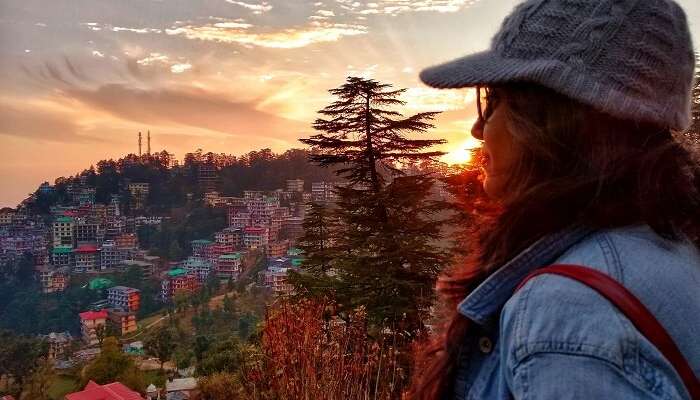 Comments
comments