Rajasthan boasts of its rich heritage, culture, and scenic splendours. And the same is reflected in sparkling lakes & dessert, vibrant markets, and mesmerising palaces & forts of Rajasthan. Undeniably, equally popular are the numerous colorful and traditional festivals of Rajasthan. Some reflect ethnicity, some heritage, and some are purely cultural events. These festivals are for sure a celebration of life, heritage and culture in true Rajasthani style. It provides an opportunity to the tourists to see the different colours of the state.
25 Colourful Festivals Of Rajasthan
While some festivals are traditional & religious, others are purely cultural fairs. Have a look at the below list of festivals of Rajasthan.
1. Teej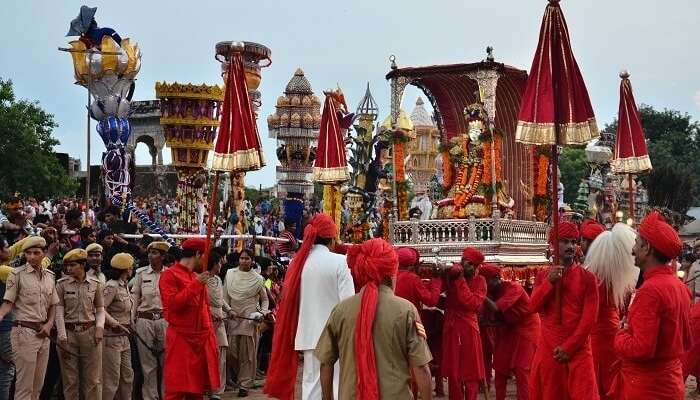 Where: Jaipur
One of the most popular festivals of Rajasthan, Teej is celebrated with absolute grandeur, traditional songs & dance, fair, and worship of Goddess Teej. There is a grand procession in which the golden palanquin of Goddess Teej is taken across the city with decorated elephants, horses, & camels. Undoubtedly, Teej festival in Rajasthan is an important eve. 
Key attractions: Ghewar (Teej-special sweet), Malpua, and womenfolk dressed in green traditional dresses, bangles, and mehendi
Date for Teej 2020: 23rd July
Must Read: Top 27 Things To Do In Jaipur: Exploring The Pink City All Over Again
2. International Kite Festival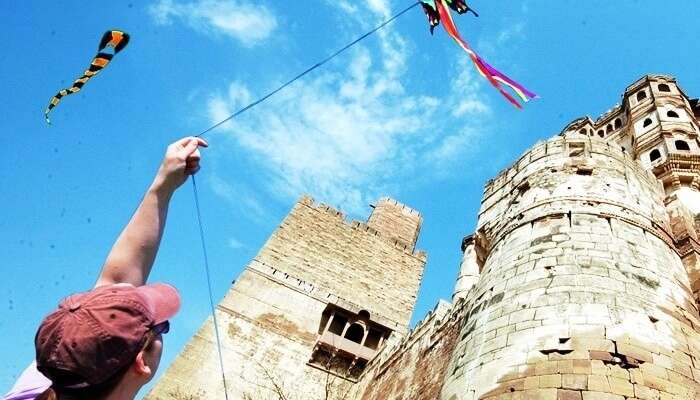 Where: Jaipur and Jodhpur
One of the most vibrant and popular festivals of Rajasthan, The International Kite Festival is celebrated around Makar Sankranti every year. Locals, as well as tourists, fly kites of various shapes & colours and relish local delicacies and sweets available everywhere.
Key attractions: Kite War, fireworks, illuminated kites, and sweets like Ghevar, Til-paati, Gajak, & kheer
Dates for International Kite Festival 2020: 14th  – 16th January 
3. Jaipur Literature Festival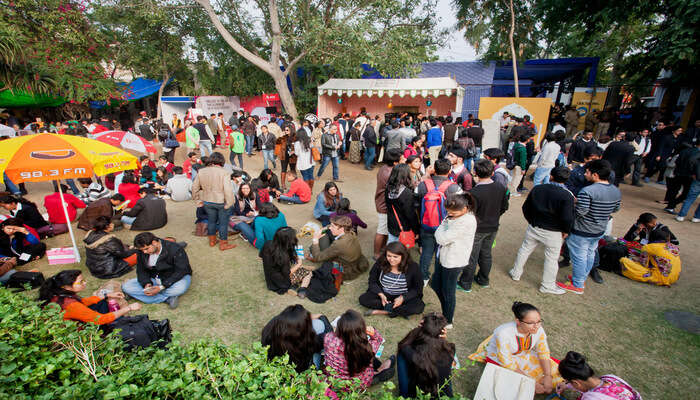 Where: Jaipur
This is aptly illustrated as the greatest literary show on Earth, showcasing works of amateur as well as most reputed writers. From Nobel Laureates & Man Booker Prize Winners to budding writers, every literature enthusiast visits Diggi Palace for this literature fiesta. This is one of the most famous festivals of Rajasthan and offers a lovely scope for spectators from Rajasthan and other parts of the world to gain knowledge from and share ideas with contemporary legendary stalwarts.
Key attractions: Book releases, seminars, debates, chat shows, and poetry sessions
Dates for JLF 2020: 23rd January – 27th January
Suggested Read: 18 Charming Places To Visit In January In India
4. Elephant Fair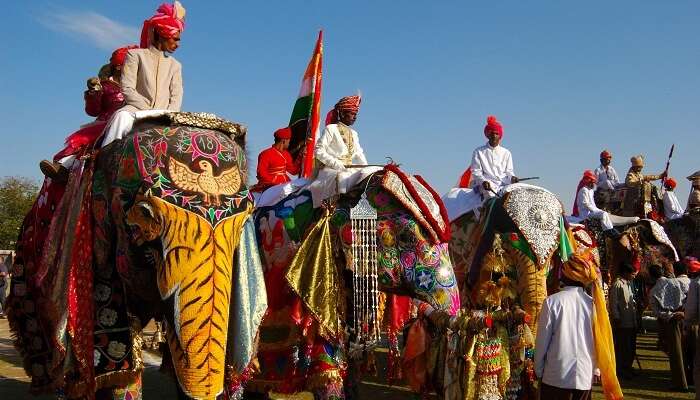 Where: Jaipur
Jaipur Elephant Festival, held every year at Jaipur Polo Ground on the day of Holi, is one of the most famous traditional festivals of Rajasthan. Elephants are decorated with colorful jhools (saddle cloth) & heavy jewelry and presented for races, shows, & competitions. Female elephants are even made to wear anklets.
Key attractions: Polo Match and Tug of War between elephants
Date for Elephant Fair 2020: 10th March
5. Winter Festival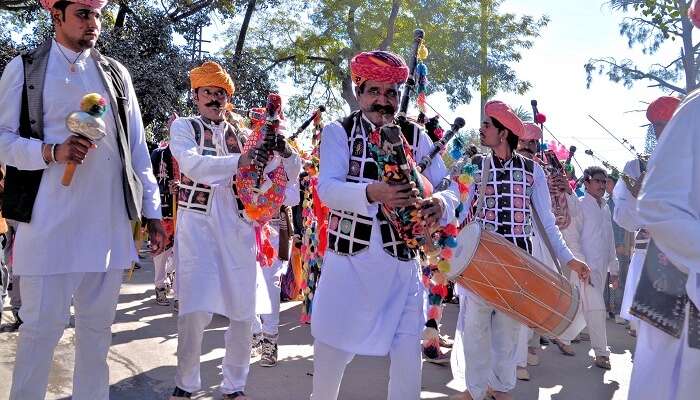 Where: Mount Abu
The Winter Festival brings together artisans and artists from different corners of the state to showcase various forms of art, handicrafts, food, and culture. Among the most famous fairs and festivals of Rajasthan, the festival also includes stunning fireworks and poetry sessions.
Key attractions: Deep Daan and kite flying & rowing competitions
Dates for Winter Festival 2020: TBA
Suggested Read: 15 Winter Festivals In India You Must Attend
6. Summer Festival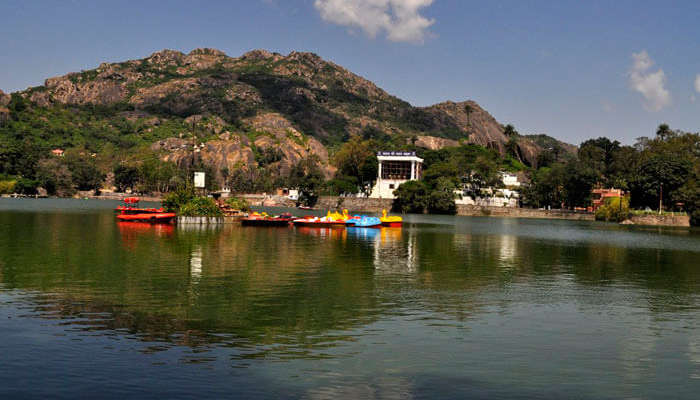 Where: Mount Abu
The Summer Festival starts on the day of Buddha Poornima and rejoices Rajasthani folk culture & traditions for three days. Along with cultural concerts, the festival also organises horse racing, skating races, tug of war, boating races in Nakki Lake, and live band shows.
Key attractions: Sham-e-Qawwali, Gair, Ghoomar, and Daph
Dates for Summer Festival 2020: 8th May – 10th May
Suggested Read: 10 Beautiful Lakes In Rajasthan You Must Visit On Your Next Trip
7. Brij Holi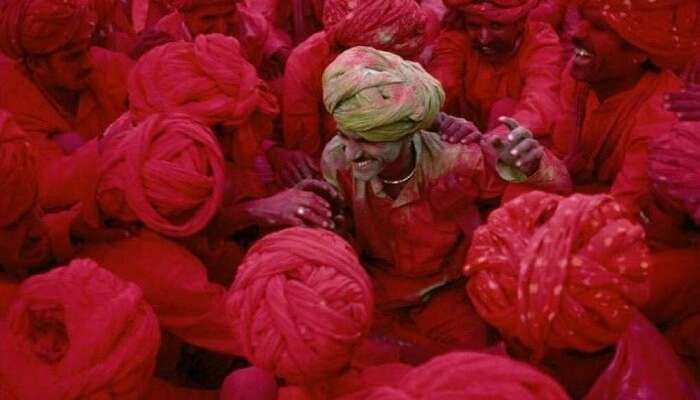 Where: Bharatpur
Celebrated few days before Holi, this special Brij Holi is celebrated with worship of Lord Krishna, dance, music, and splashing of colors. This is one of the most famous fairs and festivals of Rajasthan. Local people take a dip in the ghats of Banganga River before offering prayer to the Radha Krishna Temple.
Key attractions: Enactment of Raslila
Dates for Brij Holi 2020: 9th March – 10th March
8. Urs Festival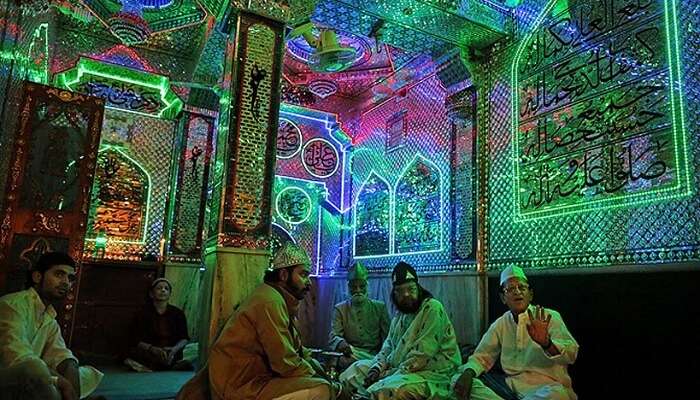 Where: Ajmer
The Urs festival is celebrated at the holy tomb of Sufi Saint Khwaja Moinuddin Chisti, memorializing his emblematic unification with Allah (God). Observed every year from 1st to 6th day of Rajab (7th Islamic month), this is one of the religious festivals of Rajasthan and attracts followers from all over the world. Here, the tomb is cleaned with rosewater & draped with an embroidered silk cloth. This is followed by prayers and offerings.
Key attractions: Sajjada Nashin white flag hoisting, Qawwalis, and Mehfil sessions
Date for Urs 2020: TBA
9. Pushkar Camel Fair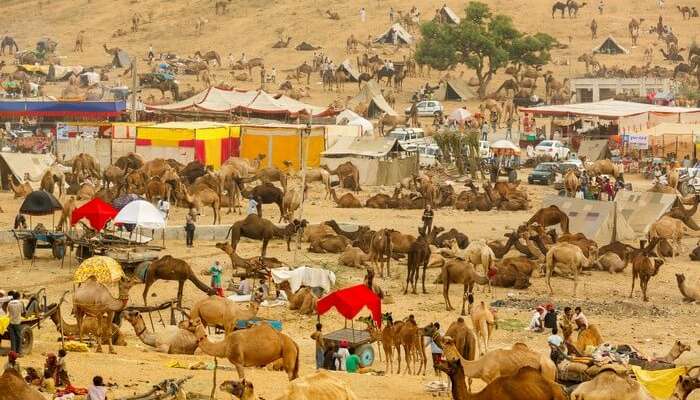 Where: Pushkar
This is one of the most traditional festivals in Rajasthan, where thousands and thousands of camels gather for trading. This one of its kind carnival is celebrated with music, dance and magic shows, acrobats, snake charmers and carousel rides.
Key attractions: Parade & beauty contests of well-decorated camels, hot-air balloon ride, moustache competition, and handicraft bazaar
Dates for Pushkar Camel Fair 2020: 22nd November – 30th November
Suggested Read: 13 Scintillating Places To Visit In Pushkar
10. Rajasthan International Folk Festival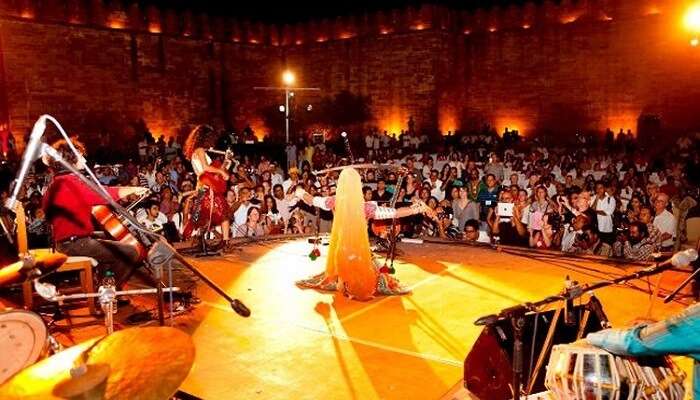 Where: Mehrangarh Fort, Jodhpur
The Jodhpur RIFF is an annual festival that has been organized in Jodhpur since 2007. It aims to promote traditional folk music and arts. It is held every year on the Sharad Purnima – the brightest full moon of the year – at the Mehrangarh Fort in Jodhpur.
Key attractions: Folk music & dance, jazz night, early morning ragas, and various interactive sessions
Dates for Shree Festival 2020: 29th October – 2nd November 
Suggested Read: 10 Famous Festivals In October In India In 2016: Mark Your Calendar Now!
11. Kolayat Fair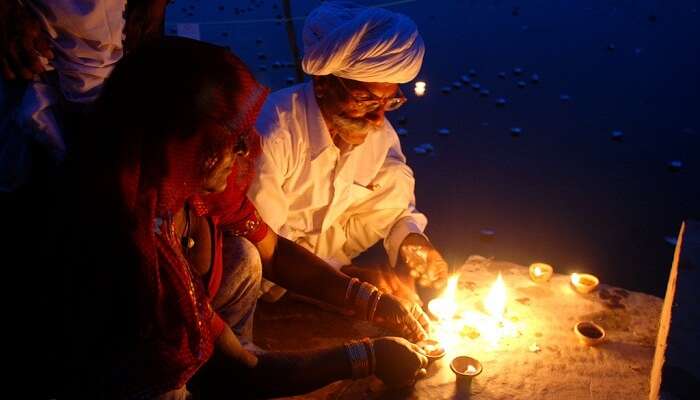 Where: Kolayat, Bikaner
Popularly known as the Kapil Muni Fair, this mesmerising carnival is one of the most popular festivals in Rajasthan. During this event, all the 52 ghats are beautifully decorated. People offer sweetmeats, milk pudding, and sugar drops to the idols of the deity. Devotees also take dip in the holy Kolayat Lake.
Key attractions: Floating of oil lamps by the believers and cattle trading
Dates for Kolayat Fair 2020: TBA
---
Planning your holiday in Rajasthan but confused about what to do? These Rajasthan travel stories help you find your best trip ever!
Real travel stories. Real stays. Handy tips to help you make the right choice.
---
12. Mewar Festival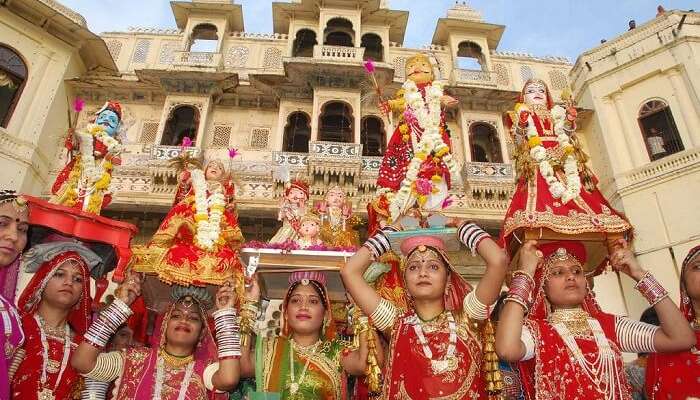 Where: Udaipur
To celebrate the onset of spring, Mewar Festival of Rajasthan is organised in Udaipur with grandeur and splendour. This is the world's 2nd Living Heritage Festival and one of the most popular fairs and festivals of Rajasthan. It is celebrated with folk music, dance, food, and festivities.
Key attractions: Musical shows, classical dance, seminars on preservation of city monuments, sumptuous food stalls by professional chefs, and marvellous firework display
Dates for Mewar Festival 2020: 27th March – 29th March
13. Kumbhalgarh Festival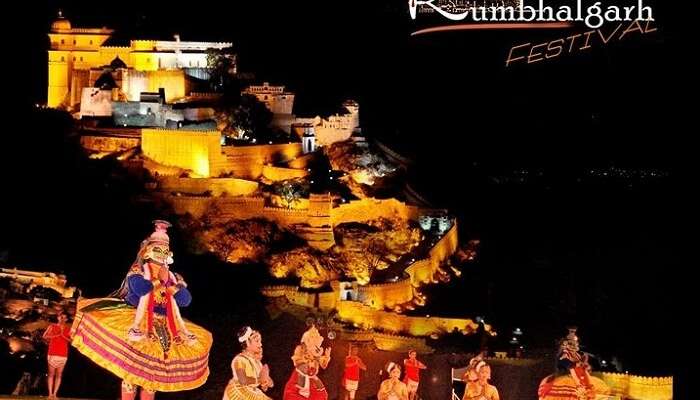 Where: Kumbhalgarh, Udaipur
Kumbhalgarh Festival is known for its vibrant musical shows, extravagant dance recitals by local artists, and spectacular firework displays. This famous festival of Rajasthan is held with the Kumbhalgarh Fort in the backdrop. The cultural feast is truly a paradise for art and culture enthusiasts.
Key attractions: Mehendi and turban tying contests
Dates for Kumbhalgarh Festival 2020: TBA
14. Bundi Festival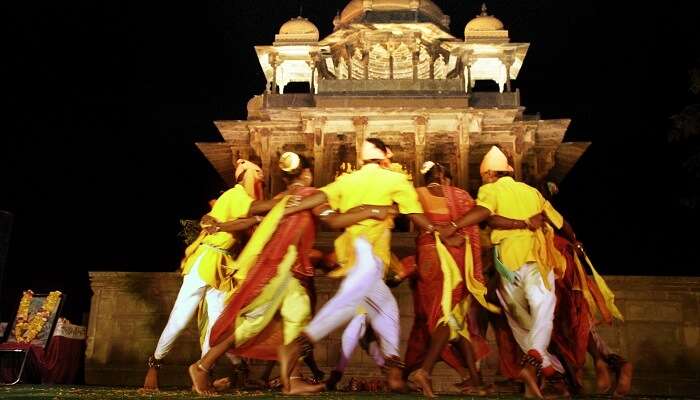 Where: Bundi
Bundi Utsav is a 3-day-long cultural extravaganza. The marvellous carnival organized by RTDC includes a majestic procession. Ethnic sports, folk dance performances, cultural events, and competitions are the primary highlights of the festival.
Key attractions: Competitions of bridal makeup, mustache, turban tying, kabaddi, horse riding, and camel race
Dates for Bundi Festival 2020: TBA
Suggested Read: 15 Festivals In November In India That Call For An Early Winter Vacay
15. Matsya Festival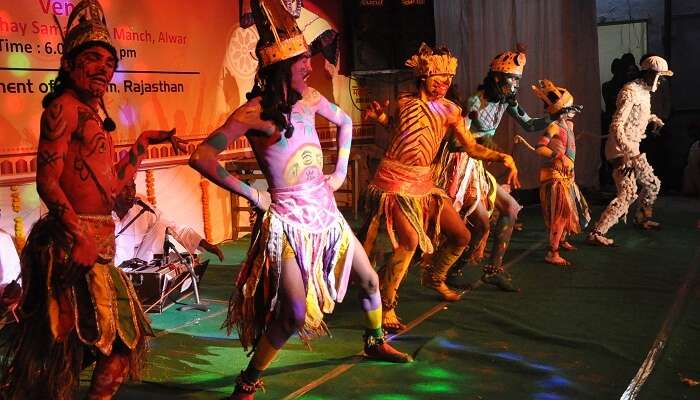 Where: Alwar
Another famous festival of Rajasthan, Matsya festival is a two-day festival celebrated in the month of November in Alwar. It is attended by plenty of natives and foreign tourists.
Key attractions: Hot air ballooning, parasailing, zorbing, yoga, and stunning adventure-filled army exhibition
Date for Matsya Festival 2020: TBA
Suggested Read: Best Hotels In Bikaner That Will Leave An Indelible Mark On Your Desert Vacation
16. Desert Festival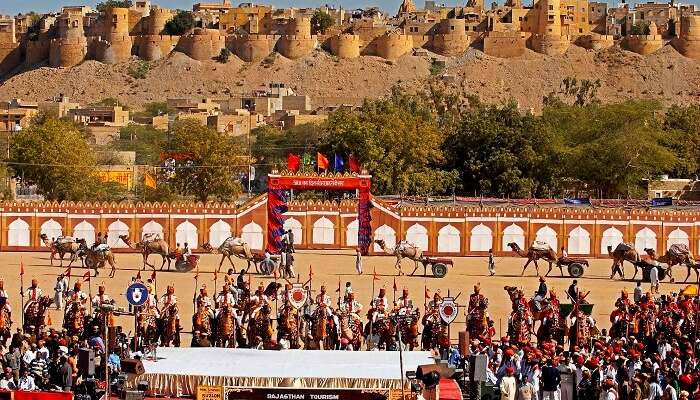 Where: Jaisalmer
Desert Festival is the main festival of Rajasthan. It is a cultural carnival celebrated amid the sand dunes of the expansive Thar Desert. The Rajasthani folk culture is showcased through dance, music, gymnastic, camel polo, camel races, and other thrilling sports.
Key attractions: Gigs by a local nomadic group, rally from Jaisalmer Fort to Shahid Poonam Singh Stadium, Gair & Fire Dance, Tug of War, Turban tying, and other contests
Dates for Desert Festival 2020: 7th February – 9th February
Suggested Read: 5 Places To Visit In Rajasthan In January Which Has Something More Than Just The Palaces!
17. Nagaur Cattle Fair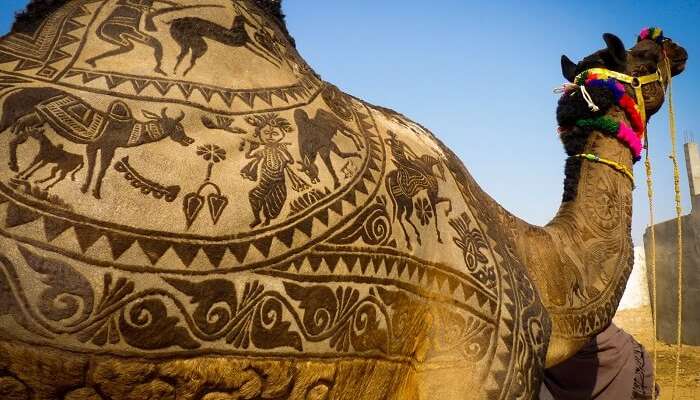 Where: Nagaur
As the name suggests, this annual fair is meant primarily for cattle trading. Almost 70,000 bullocks, camels, and horses are traded. The cattle are extravagantly adorned and their owners dress up with multicolored turbans and long moustaches. Along with animals, spices are traded. Jugglers, puppeteers, and storytellers are also seen here.
Key attractions: Mirchi Bazaar (largest red chilli market of India) and sale of wooden items, iron crafts, and camel leather accessories
Dates for Cattle Fair 2020: 30th January – 2nd February
18. Baneshwar Festival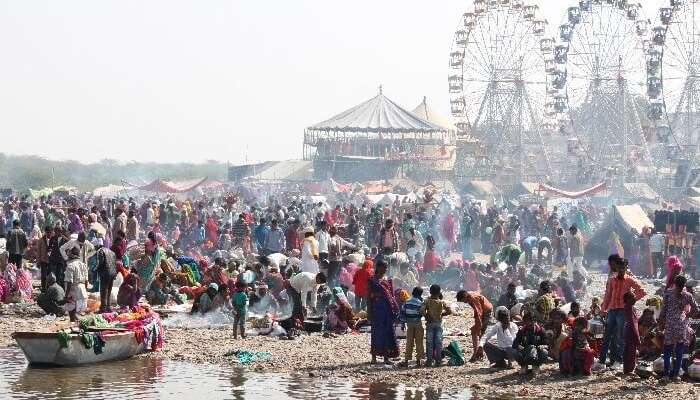 Where: Dungarpur
Baneshwar Festival is one of the popular tribal and cultural festivals of Rajasthan. Organised in the Baneshwar temple of Dungarpur, the festival is of most significance to the Bhills tribe. The tribe comes here all the way from Gujarat, Rajasthan, and Madhya Pradesh to take a holy dip at the convergence of Mahi and Som River.
Key attractions: Animal shows and puppet dance
Dates for Baneshwar Festival 2020: 5th February – 9th February
Suggested Read: Honeymoon In Rajasthan: 6 Things To Do And Attractions For Couple
19. Chandrabhaga Fair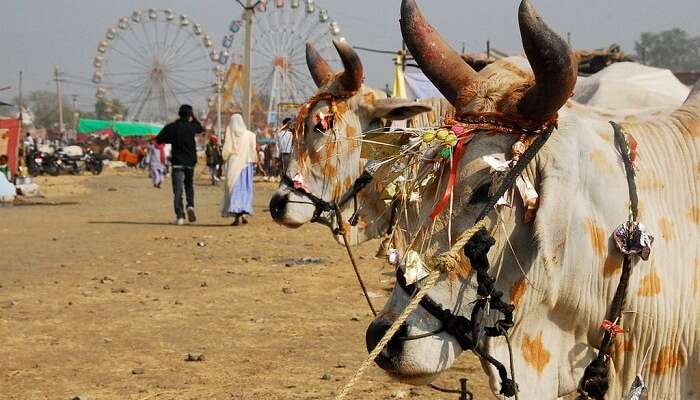 Where: Jhalawar
This religious cum cattle fair pulls travelers, cattle herders, pilgrims, and explorers from all over the country to assemble on the banks of river Chandrabhaga for a holy dip and prayer. However, for most locals, it holds a greater significance for cattle trading.
Key attractions: Deep Daan, Shobha yatra, cattle fair & trading, and various competitions
Dates for Chandrabhaga Fair 2020: TBA
20. Kota Adventure Festival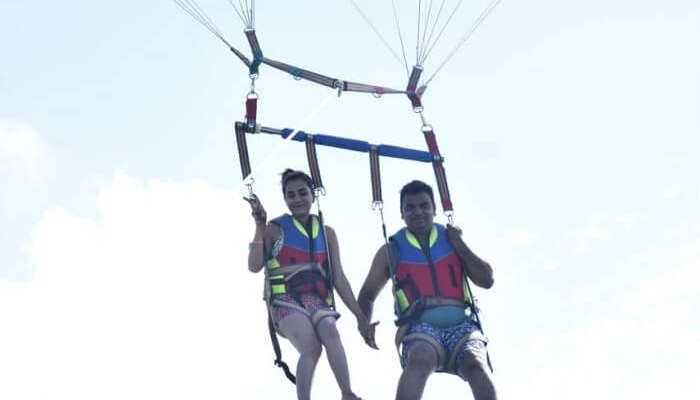 Where: Kota
Kota is a heaven for adventure enthusiasts from all over the world. People visit this festival to rejoice a wide range of thrilling adventure sports and also take part in rural expeditions by the banks of River Chambal. Be a part of one of this amazing Rajasthan festivals 2020 and have a great time here in Kota. 
Key attractions: Parasailing, rafting, windsurfing, water skiing, kayaking, rock climbing, trekking, gliding, and fishing
Dates for Kota Adventure Festival 2020: TBA
Suggested Read: 14 Places To Visit In Rajasthan In Monsoon In 2020 For Those Who Love Rains!
21. Gangaur Festival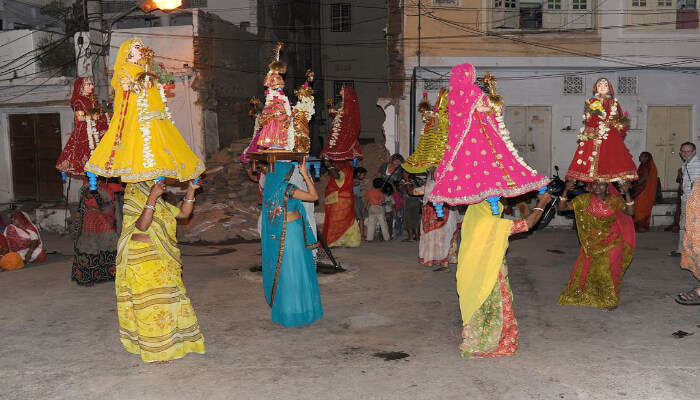 Where: Jaipur
One of the famous festivals in Rajasthan, Gangaur festival is celebrated in the honour of Goddess Parvati. It is celebrated with a lot of enthusiasm by both married and unmarried women in Rajasthan. People participate in the processions of a decked up Goddess Gauri. It is often accompanied by elephant processions, folk dances and end with fireworks. This colourful affair lasts for 18 days and is one of the most celebrated festivals in Rajasthan.
Key attractions: Colourful processions, folk dances, women singing songs
Dates for Gangaur Festival 2020: 10th – 27th March 2020
22. Mahashivratri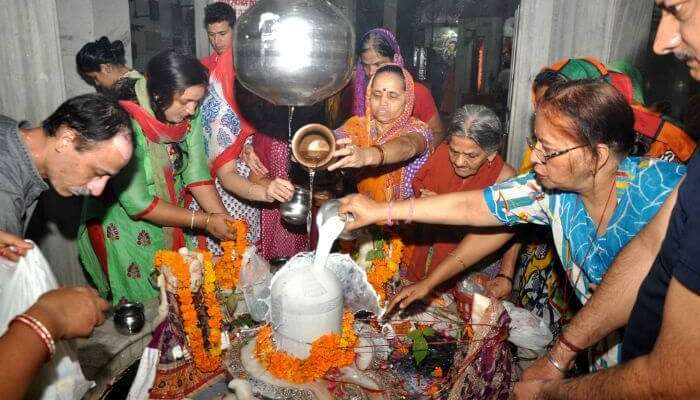 Where: All over Rajasthan
Mahashivratri is a Hindu festival celebrated in the honour of Lord Shiva. One of the auspicious Rajasthan festivals 2020, it is celebrated all over India and is a holiday in most states. There are lots of mythological beliefs associated with this festival. Lord Shiva is facilitated with flowers, honey and bel leaves and most of the women observe fast on this day.
Key attractions: Colourful decoration of Shiv temple
Dates for Mahashivratri 2020: 21 February 2020 (Date may vary)
Suggested Read: 10 Best Things To Do In Bikaner That Will Make Your Rajasthan Holiday One-Of-Its-Kind!
23. Ashwa Poojan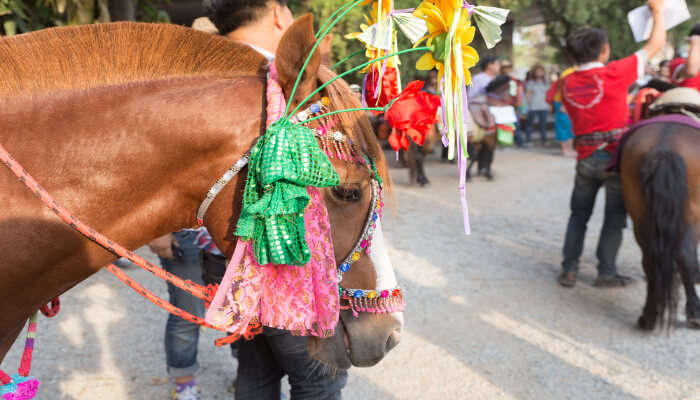 Where: Udaipur
Ashwa Poojan is the regal festival of worshipping the horse organized in Udaipur on the 9th day of Navratri. This is the most famous festival of Rajasthan that acknowledges relationship between honour and horse. The horse is worshipped by the eldest member of the house followed by a delicious Rajasthani cuisine treat.
Key attractions: Worshipping the Horse
Dates for Ashwa Poojan 2020: TBA
24. Kabir Yatra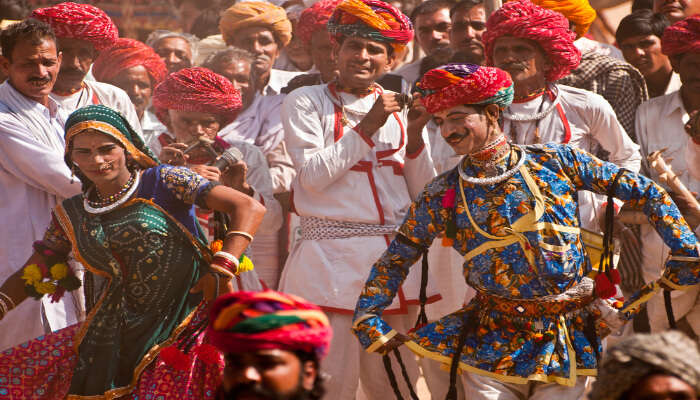 Where: Bikaner
Kabir Yatra is one of a kind festival that celebrates the folk music of Rajasthan. It is a travelling music festival all over Rajasthan that is great for travellers who would like to enjoy the state's folk music. What makes the festival unique is that the 6 days journey in and around Bikaner acts as a stage for the local musicians to express their skills and talents.
Key attractions: Folk music of Rajasthan
Dates for Kabir Yatra 2020: TBA
Suggested Read: Popular Cafes In Bikaner To Hangout With Your People On A Rajasthan Trip In 2020
25. Ramdevra Fair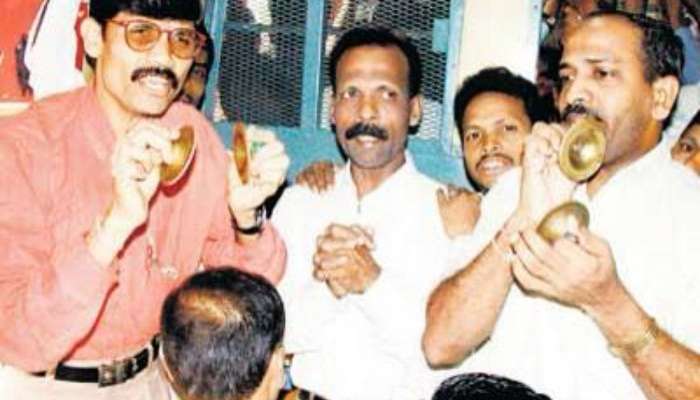 Where: Jaisalmer
Ramdevra Fair is a significant fair held in memory of Baba Ram Dev in a small village in Jaisalmer. Every year, it attracts devotees at Ramdevji's temple, where his samadhi exists too. People from different religions come to the temple and offer prayers. What makes the fair significant is that people from different walks of life come and unite together to be a part of the celebrations.
Key attractions: Melodious bhajans and kirtan
Dates for Ramdevra Fair 2020: August – September (Tentative)
Further Read: 16 Famous Festivals Of India
Now that you know the dates and celebration rituals of the festivals in Rajasthan for this and the coming year, which ones would you be attending? Taking place all throughout the year, you will surely enjoy these events. Go ahead and plan your trip to Rajasthan, and take part in Rajasthan festivals. 
| | | | |
| --- | --- | --- | --- |
| Date | Teams | Timings | Ticket Price |
| | |
| --- | --- |
| Name Of The Festivals | Festival Dates |
Frequently Asked Questions About Festivals In Rajasthan
Q. Which are the festivals of Rajasthan?
A. There are numerous festivals that are organized in Rajasthan every year. The best festivals of Rajasthan include Rajasthan International Folk Festival, Pushkar Fair, Teej Festival, Gangaur Festival, Jaipur Literature Festival, Nagaur Fair, and Summer & Winter Festivals.
Q. Which is the popular festival of Rajasthan?
A. The most popular festival of Rajasthan is Teej. The festival brings numerous celebrations in the form of traditional songs and dance, delicious food, and worshipping Goddess Teej.
Q. What are the best places to visit in Rajasthan?
A. There are numerous beautiful places to visit in Rajasthan such as Jaisalmer, Jaipur, Jodhpur, Sawai Madhopur, Pushkar, Udaipur, Ajmer, and Bundi.
Q. How is Diwali celebrated in Rajasthan?
A. In Rajasthan, Diwali is celebrated for 5 consecutive days. It starts with Dhanteras and completes on Bhaidooj. People celebrate Chhoti Diwali, Badi Diwali, and Parwa along with the mentioned festivals, making a 5-day celebration of Diwali.
Q. Which is the biggest river in Rajasthan?
A. Banas is the largest river in Rajasthan. It flows along the eastern borders of Rajasthan.
Q. What are the interesting things to do in Rajasthan?
A. You can go for zipping lining, wildlife safari, hot air ballooning, desert camping, vintage car rally and eat delicious local food of Rajasthan while staying here.
Q. Which dance is famous in Rajasthan?
A. Rajasthan is known for its folk music and dance. Ghoomar is the most popular folk dance of Rajasthan followed by numerous other interesting and energetic dance forms including Kalbeliya, Kathputli, Bhopa, Teratali, Chang, Tejaji, and Kachchhighori.
Q. What is a Rajasthani dress called?
A. The traditional attire of Rajasthan is called Ghagra Choli. Ghagra is a long pleated skirt and choli is the blouse. The attire is known for its vibrant colors.
---
Looking To Book A Holiday Package?
Book memorable holidays on TravelTriangle with 650+ verified travel agents for 65+ domestic and international destinations.
---
People Also Read
Festivals In Karnataka Festivals In Gujarat Festivals In Kerala
Comments
comments