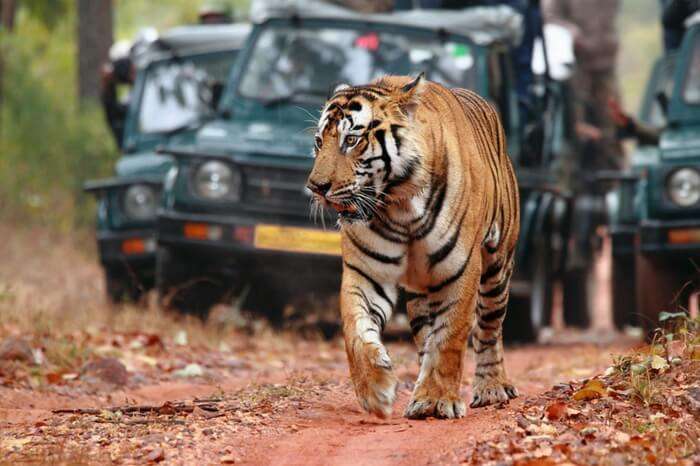 Tucked in the breathtaking stretch of Vindhya and Aravali range in the Sawai Madhopur district of Eastern Rajasthan is Ranthambhore National Park- one of the biggest tiger reserves in India. The park is the natural habitat of hundreds of uncommon plants and rare animals , especially wild tigers, which are present here in a large number (total 31 as of July 2016). Spread over an area of 392 sq km of the deep forest with canals and waterfalls, Ranthambore National Park from Delhi is an ideal weekend getaway and a perfect location for wildlife photography.
How To Reach Ranthambore National Park
By air: The nearest airport to Ranthambore National Park is Sanganer airport in Jaipur, which is 176 km and a 3.5-hour drive from the park.
By road: Distance by road: Delhi – 480 km, Jaipur – 180 km. The drive from Jaipur to Ranthambore National Park takes 3.5 hours. The drive from New Delhi to Ranthambore via Jaipur takes approximately 8 hours.
By train: Sawai Madhopur (10 km) is the nearest railhead. Distance from Delhi – 362 km, Bombay- 1027 km, Jaipur – 132 km
For route details, see the zone-wise map of Ranthambore National Park.
Best Time To Visit Ranthambore National Park
The Ranthambore National Park in Rajasthan remains open for visitors from October to June and remains stays closed from July to September because of the rainy season. However, November to April is the best time to visit Ranthambore when the weather is favorable and big cats are on the prowl. You could also find some of the rare migratory birds who flock to the park during winter.
Ranthambore National Park Timings For Tiger Safari:
October to February: 07:00 am to 10:30 am | 02:30 pm to 06:00 pm
February to March: 06:30 am to 10:00 am | 02:30 pm to 06:00 pm
April to June: 06:00 am to 09:30 am | 03:00 pm to 07:00 pm
---
Rajasthan Holiday Packages On TravelTriangle
Explore Rajasthan, the land of Maharajas. Experience its royal cultural heritage, luxurious hotels, camel safaris, pristine lakes, and magnificent forts and palaces. Cover the best of Jaipur, Udaipur, Jodhpur, Jaisalmer, Pushkar and Ranthambhore at best prices with TravelTriangle.
---
History Of Ranthambore National Park
Like most jungle areas, Ranthambore was under the control of the Shikar Khana of Jaipur and Karauli families. However, the state realized that such power was doing more harm than good, and appointed a Superintendent of Forests in 1925. 28 years later, Rajasthan Forest Act was brought into force to stop the practice of sale and purchase of forest produces. And two years later, the area was declared as Sawai Madhopur Sanctuary.
It was only in 1973 that illegal poaching forced the government to collaborate with World Wildlife Fund to initiate Project Tiger Scheme- a stringent action towards saving the tigers. In 1982, Sawai Madhopur Sanctuary was declared as a national park, and in 1983, forests to the north of the park were declared as Keladevi Sanctuary and made a part of Ranthambore Tiger Project. The project of conservation of tigers got stronger in 1983 with an inclusion forests that lie to the south of the park and got named as Sawai Mansingh Sanctuary.
The repetitive effort from the government saw a substantial jump in the population of tigers and by 2001, the Park became home to nearly 40 tigers, which was at that time one of the highest in the world. Since 2005 poaching has almost stopped only after tough vigil from government and several arrests, and Ranthambore has been a wonderful haven for the big cats.
Must Read: 43 Famous Historical Places In India To Visit In 2022
Flora And Fauna Of Ranthambore National Park
Ranthambore national park is a home to abundant flora and fauna which are best to be explored while taking a tour of the jungle. Make sure to not miss out on that.
1. Flora: Presenting A Myriad Of Greenery In The Park
The park is located in the proximity of the Thar, which means scant rainfall. This is the reason why the 300 species of plants that are found in the park are mainly dry deciduous plants. A major portion of forests in Ranthambore National Park includes Banyan and Peepal trees while Dhok is mostly found on the hill slope and forms 80 percent of the forest cover. The leaves of Dhok are the primary diet for deer, antelope, and nilgai. Among others, the park has Mango, Jamun (Indian blackberry) trees. Babul, Gurjan, Gum, Kadam, Khajur, Khair, Mahua, Kulu, Ronj, Salar and Tendu can also be spotted easily amid the lush greenery of Ranthambore.
Watch Out For: Ber, Tamarind, and Chhila– a tree that sets the forest alight with the bright orange red color thus offering a wonderful sight to behold
2. Fauna: Spot Some Of The Rarest Animals Alive
Ranthambore National Park prides itself in being home to some of the fiercest predators alive. They are rare and it's a matter of chance to spot them unaware and playful. Apart from tigers, other members of the big cat family can also be seen among the animals found in Ranthambore National Park. The park also houses a bunch of reptiles like Snub Nosed Marsh Crocodiles, Desert Monitor Lizards, Banded Kraits, Indian Pythons, North Indian Flap Shelled Turtles, Saw-scaled Vipers, and the Indian Chamaeleon.
Watch Out For: Bengal Tiger, Leopard Cat, Fishing Cat, Jungle Cat, Sloth Bear, Striped Hyena, Desert Fox, Palm Civet, Indian Gazelle (chinkara), Rat Snakes, Russel's Vipers, and Cobras
Look up in the sky and you will find plenty of birds encircling the territory. Serpent eagles, as alert, as they are, scan the ground from a distant position and are a treat to watch. Having close to 300 species of birds, the birdlife in the park is another prospect to look out for. For a keen birdwatcher, there can't be a place as fascinating as this.
Watch Out For: Cormorant, Painted Spurfowl, Sarus Crane, Bronzed Winged Jacana, Sandpiper, Nightjar, Painted Sandgrouse, and Great Horned Owl
Must Read: 18 Places You Need To Visit For The Best Wildlife Experience In India
Places Of Attraction In Ranthambore National Park
A glorious past and royal ruins make Ranthambore National Park more than just a wildlife habitat. The place is located in the royal sojourn of Sawai Madhopur which narrates the tale of its glorious past. Buildings and forts around the park narrate stories of their regal past, something that has been inherited by people here. Some of the attractions of the park are,
1. Ranthambore Fort: A UNESCO World Heritage Site
Located 5 km inside the wildlife reserve, the Ranthambore Fort overlooks the entire park. Perched on a 700-foot hill, this marvel of the Chauhan dynasty has been recognized by UNESCO as one of the world heritage sites. It is certainly one of the most popular places to visit near Ranthambore National Park.
Timings: 6 am – 6 pm
2. Bakula: Spot The Tigers Amid The Dense Forest
One of the densely vegetated places in Ranthambore, Bakula region contains various pools and water-holes in the forest area. The forest cover and easy availability of water are the main reason behind the presence of abundant wildlife there. Which means if you timed your safari perfectly, you may end up clicking some awe-inspiring pictures of some feisty tigresses with their young cubs. Bakula also makes for a great laid-back retreat for the animals residing in and around the area.
Suggested Read: 14 Places To Visit Near Ranthambore To Embrace The Ancientness Of Rajasthan In 2022!
3. Kachida Valley: Dotted By Greenery And Sloth Bears
Known to be mostly inhabited by panthers and bears, the Kachida valley lies on the outskirts of the Ranthambore National Park. Enclosed by low jagged hills, and dotted by revitalizing greenery, the valley is one of the picturesque and a must-visit place in Ranthambore. Try looking out for deer and wild boars that can be easily spotted in the region. Sloth Bears can also be found strolling the area in pursuit of honeycombs and fruits.
The afternoon is the ideal time to go on a jeep safari to this place.
4. Padam Talao: Catch The Animals Cooling Off By The Lake
Being the largest lake in the wildlife reserve, Padam Talao serves as the primary source of water for the wild animals living in the Ranthambore National Park. The lake area is frequented by most of the animals who come here to quench their thirst.
Early morning is the right time to visit the lake when a large number of animals come out to drink water. Brace yourself to get a glance of the rare Chinkara here. Water lilies make for the real beauty of the lake, which is also the reason behind the lake's name Padam- a flower.
Note: Also visit Rajbagh Talao, and Malik Talao
Suggested Read: 10 Haunted Places In Rajasthan That Will Scare The Daylights Out Of You In 2022
5. Lakarda And Anantpura: Spot Some Rare Predators
Lakarda and Anantpura are other exciting places located in the north and north-western region of the park. It is here that you can find the Indian Sloth Bear, a large number of porcupines, and monkeys. Indian Striped Hyenas can be found venturing around in this area of the park. They are otherwise thinly populated and have a very small population in the jungle, which makes Lakarda and Anantpura a place to watch out.
Suggested Read: 67 Places To Visit In Rajasthan: Get A Glimpse Of Rajputana Splendor In 2022!
Interesting Things To Do In Ranthambore National park
The colossal Ranthambore National Park is not just about adoring the enthralling locales or feasting your eyes with the beautiful escapades of Sawai Madhopur. You can also indulge in other recreational activities that are a value for your time and money.
1. Tiger Safari In Ranthambore National Park
Go for the Ranthambore National Park safari. It is considered as the most enthralling things to do in the park. Famous as this place is for large varieties of tigers, it's never easy to find them unless you time your outing perfectly.
Take an early morning gypsy safari to stand a chance of spotting them in their natural habitat, which you would realise soon as you spot a fresh pugmark. Try looking out for Machli – the legendary tigress of Ranthambore also known as Lady of the Lakes and Crocodile Killer. You can either opt for a 6-seater Gypsy Safari or the 20-seater Canter Safari to stand a chance of spot them while the tigers come out to quench their thirst.
Preferable timings:
6 am to 10 am |  2 pm to 6 pm
Ranthambore National Park safari charges:
Private jeep- INR 17700 per jeep per safari onwards
Shared jeep- INR 2900 per person per safari onwards
Shared canter- INR 1700 per person per safari onwards
An advice here, mornings are always better to take a safari during the summers and evenings are preferable in the winters.
2. Take A Bird Watching Tour
Ranthambore boasts of over 330 different kinds of birds and the list continues to increase. For a keen birder, the park is a paradise. Ideally, a 3-4 day tour is required for an observer to watch and click pictures of over 100 species of birds. Take your time and plan your stay in one of the best hotels in Ranthambore National Park. Keeping birds in mind, there are plenty of restrictions placed inside. Therefore, be mindful and stick to the norms!
Some great areas to take a bird watching tour are:
Surwal Lake
Mansarovar Lake
Misradhara gate to the base of the Ranthambhore Fort
Amlidih on the Banas river
Helipad near Sherpur village
Must Read: Bharatpur Bird Sanctuary: Your Perfect Date With Nature
3. Go Shopping At Dastkar Craft Centre
Dastkar Craft Centre is an ideal place for someone with a refined taste for local handicrafts and love for intricate woven work. The workshop cum outlet is located, near Khem Villas and is certainly worth a visit. The organization empowers low-caste village women, who make a living by selling textile and embroidery work. Women of the village are also known to design attractive handicrafts which include saris, scarves, bags, and bedspreads. Going there and buying some souvenir for your family and friends could be one of the highlights of your Ranthambore trip.
4. Visit Ranthambore Schools of Art
Promoting wildlife conservation through drawings, the Ranthambore School of Art is another exciting place to visit and go through the ideas devised by the people there to save tigers. At the school, you get to see and adore the efforts made by children to spread awareness around saving the royal animal.
The school promotes conservation through art and sells signature photos to its visitors. A fixed share of the earnings goes towards the conservation of tigers. You could also buy a painting or do your bit in spreading a word about the conservation of wildlife that faces a severe threat.
Tips for your visit to Ranthambore National Park
Check the weather report two days before, and pack accordingly. Summers are usually very hot, so carry the lightest fabrics you have. In winters, carry enough warm clothes, especially if you are planning a morning safari.
Always carry water, hat, shades, and mosquito repellents, especially in October and March. To avoid tanning, it is advised to carry sunscreen.
Keep away from wild animals and always move under the instruction of the guide. Also, causing damage to any flora or fauna species in the park is a serious offense.
Video cameras are allowed inside the park. The Ranthambore National Park entry fee is INR 600 fee per entry for Indian tourists and INR 900 for foreign nationals.
Photography tips: Early morning or late evening is the right time when sunlight is not too strong and you can click amazing pictures.
Must Read: Ranthambore Trip: An Adventurous Date With The Tigers
Ranthambore is one intriguing place that instills an oozing spirit in its visitor. Explore the diverse flora and fauna of the Ranthambore National Park that brings positivity and energy to a worn-out soul. Now that you are aware of the basic details, gear up for some real time experience by booking your fascinating holiday to Rajasthan!
---
Looking To Book A Holiday Package?
Book memorable holidays on TravelTriangle with 650+ verified travel agents for 65+ domestic and international destinations.
---