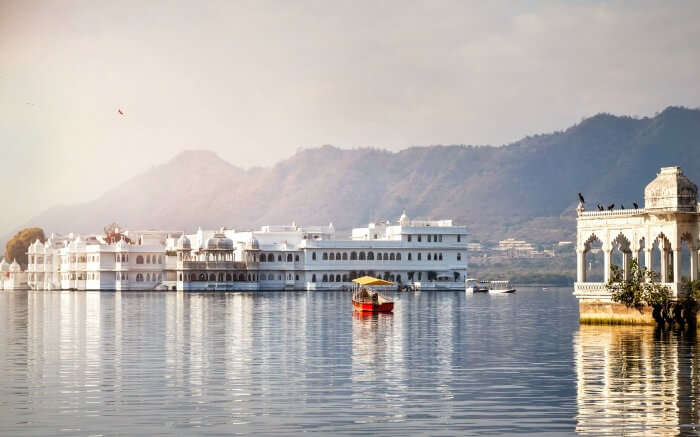 Rajasthan's forts and palaces stand strong even today and speak of a glorious past. Their architecture and beauty are truly marvelous, and the grandeur is known to have made eyes sparkle, and heart skip a beat. As you wander through narrow passages, and run your fingers on curlicued carvings on the walls, you can feel the kind of craftsmanship that well intro their construction.
The only problem tourists face is not being sure of which all to include in their itinerary. To help them, here is a list of most inspiring palaces and forts in Rajasthan so that next time you take a Rajasthan tour, you know what you want to see!
23 Historic Palaces And Forts In Rajasthan
Here is a list of forts and palaces that you just cannot miss out on your next trip to Rajasthan. Get those traditional vibes!
1. Amer Fort, Jaipur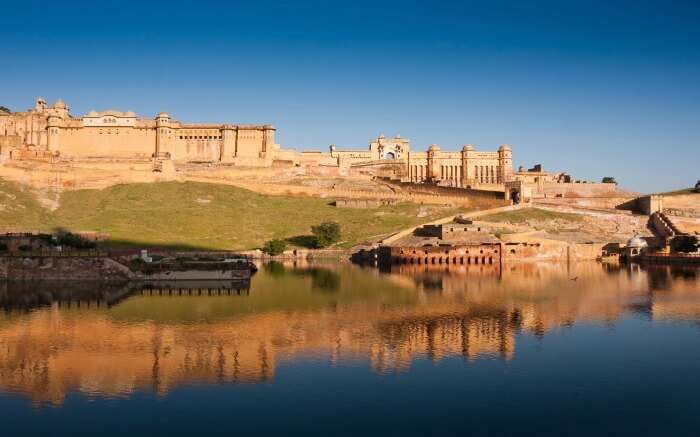 Amer Fort is a fort cum palace that greets you with warm Rajasthani folk music and mesmerizes you with its beauty. Precision of carvings and embedment of stones prove that it is a finely-crafted marvel. Being perched on a hillock of Aravali Range, Amer Fort has been regarded as a UNESCO World Heritage Site along with other hill forts of Rajasthan.
Highlights of the fort: Elephant rides, incredible view of the city, Diwan-e-khas, Diwan-e-aam, Sukh Niwas and Sheesh Mahal
Entry fee: INR 100 per person (Indians) and INR 10 per person(Indian students) | INR 500 per person (Foreigner) and INR 100 per person (Foreign students)
Timings: 8:00 am to 6:00 pm | Light show: 7:00 pm to 9:00 pm
Tourist attractions near Amer Fort: Jal Mahal, City Palace Jaipur, Hawa Mahal and Nahargarh Palace
---
Rajasthan Holiday Packages On TravelTriangle
Explore Rajasthan, the land of Maharajas. Experience its royal cultural heritage, luxurious hotels, camel safaris, pristine lakes, and magnificent forts and palaces. Cover the best of Jaipur, Udaipur, Jodhpur, Jaisalmer, Pushkar and Ranthambhore at best prices with TravelTriangle.
---
2. Mehrangarh Fort,Jodhpur

Overlooking the Blue City of Jodhpur from a height from 125 meters, Mehrangarh Fort was commissioned back in 1460 by Rao Jodha. This rigid yet fascinating structure has been featured in many movies, like The Dark Knight Rises and Awarapan. The fort has many palaces that flaunt immaculate carving and the signature interiors of the regal Rajasthan in the past.
Highlights of Mehrangarh Fort: View of the Blue City, seven gates called Pol, museum (housing armoury, paintings, documents, etc. ), temples and palaces
Entry fee: INR 70 per person (Indians) | INR 600 per person (Foreigners)
Timings: 9:00 am to 5:00 pm
Tourist attractions near MehrangarhFort: Jaswant Thada, Balsamand Lake, Umaid Bhavan Palace and Kaylana Lake are among the best places to visit in Jodhpur.
Must Read: Shopping In Jodhpur: From Places To Products Here Is The Best
3. Jaisalmer Fort, Jaisalmer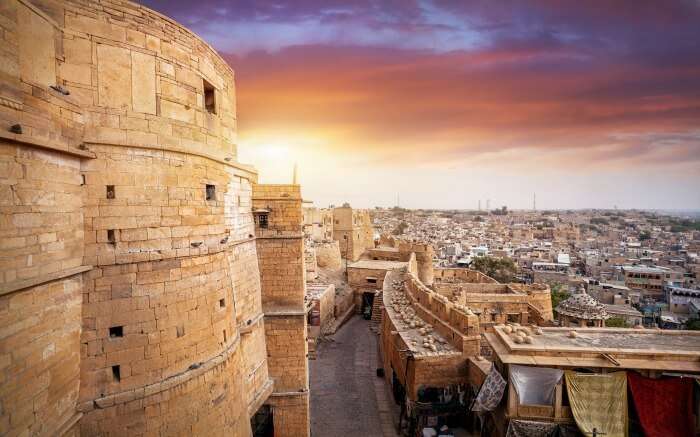 One of the largest forts in India, Jaisalmer Fort was built in 1156 AD by King Rawal Jaisal. Merging with the golden desertscape of Jaisalmer, it is often regarded as Sonar Quila or the Golden Fort. The fort is nestled on a hill, 76 meters above the city and is located in the heart of Jodhpur.
Highlights of Jaisalmer Fort: Four grand entrances, Royal Palace, Lakshminath Temple, Jaisalmer Fort Palace Museum and Heritage Centre and palaces of the merchants
Entry fee: Entry is free for the fort. However, camera charges (INR 50 for still and INR 100 for video) are applicable for entering Jaisalmer Fort Palace Museum and Heritage Centre
Timings: 9:00 am to 6:00 pm
Tourist attractions to visit near Jaisalmer Fort: Bada Bagh and Salim Singh Ki Haveli are two of the best places to visit in Jaisalmer.
4. Ranthambore Fort, Ranthambore National Park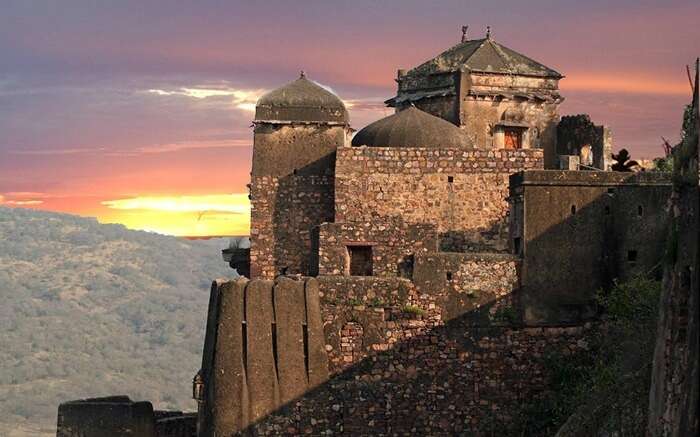 One of the most popular forts in Rajasthan, Ranthambore Fort is located in the largest national park of Rajasthan, Ranthambore National Park. Snuggled in the warmth of wilderness, Ranthambore Fort was built in the middle of tenth century. However, the exact date of its construction is yet disputed.
Like the other hill forts of Rajasthan, the entrance of Ranthambore Fort is led through stairwell and looks upon a vast expanse of the verdant vicinity.
Highlights of Ranthambore Fort: Jungle safari in Ranthambore National Park, breathtaking views of the area, Jain Temple and Lord Sumatinath Temple
Entry fee: INR 25 per person (Indians) | INR 200 per person (Foreigners) – Same as Ranthambore National Park
Timings: 6:30 am to 10:00 am and 1:30 pm to 5:30 pm
Tourist attractions near Ranthambore Fort: Raj Bagh Ruins, Malik Talao, Kachida Valley, Surwal Lake and Jogi Mahal
Must Read: Ranthambore National Park: The Biggest Habitat Of Nature's Most Ferocious Predator
5. Chittorgarh Fort, Chittorgarh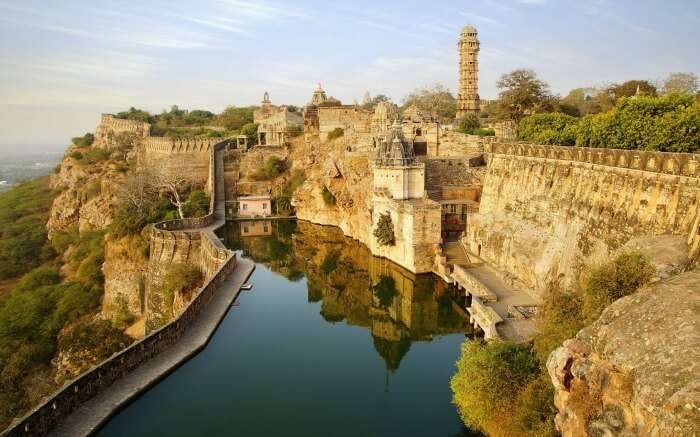 Built on 180 meters-high hill, Chittorgarh Fort is spread over an expansive area of 700 acres with seven massive gateways called Pol. It is also often known as Water Fort, as there are about 22 water bodies inside the fort.
Interestingly, the Chittorgarh Fort has been destroyed thrice and has witnessed the reign of three rulers – Allauddin Khilji, Bahadur Shah and Maharana Udai Singh.
Highlights of Chittorgarh Fort: Kirti Stambha, Vijay Stambha, Padmini's Palace, Gaumukh Reservoir, Fateh Prakash Palace, Rana Kumbha Palace, Meera Temple and annual Jauhar Mela
Entry fees: INR 5 per person (Indians) | INR 100 per person (Foreigners)
Timings: 9:45 am to 5:15 pm
Tourist attractions near Chittorgarh Fort: Bassi Wildlife Sanctuary
6. Taragarh Fort, Bundi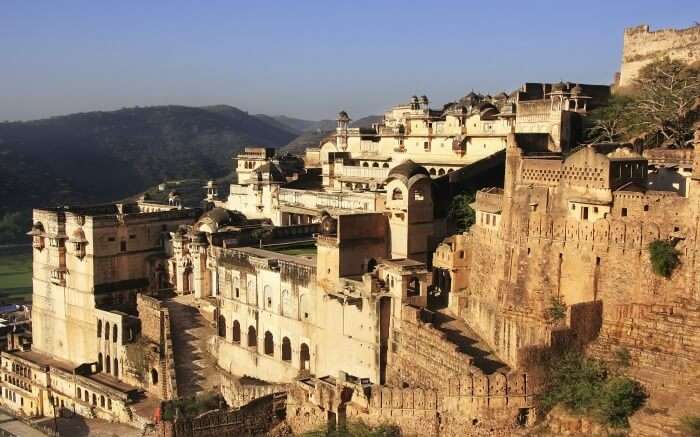 Counted among the best forts in Rajasthan, Taragarh Fort served as a center for military activities during the Mughal rule in Ajmer. Also, it was known for its tunnels that went through the entire hill it stands on.
Built in 1354 AD, the fort offers an impressive panoramic view of the area. Its three main gateways – Gagudi Ki Phatak, Lakshmi Pol and Phuta Darwaza – are key tourist attractions here.
Highlights of the fort: Gateways, impressive view of the area, tunnels, reservoirs made by chiselling the rock, Rani Mahal and Miran Saheb Ki Dargah
Entry fee: None
Timings: 9:30 am to 6:30 pm
Tourist attractions near Taragarh Fort: Sukh Mahal, 84-pillared Cenotaphs and Dhabai Kund
7. Gagron Fort,Jhalawar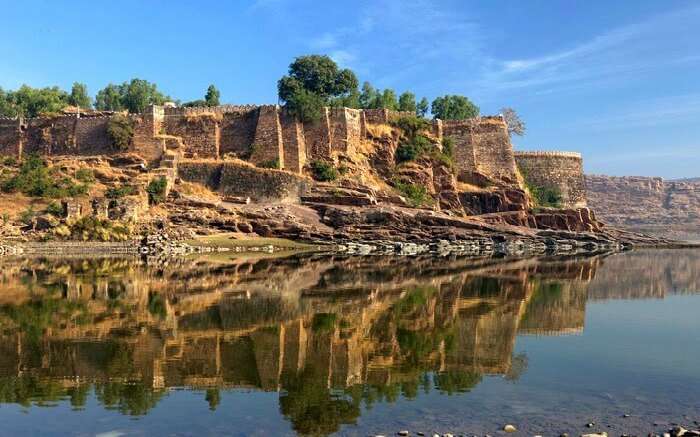 Sitting on a hill, in the middle of a river, Gagron Fort is a specimen of architecture that speaks of strength and displays various aspects of Rajasthani signature style. In the 12th century, it was built by Dor (Doda) Rajputs, but later, Mughals ruled the fort for many generations. In all, the fort witnessed 14 battles and still stands strong.
Gagron Fort is also in the list of UNESCO Hill Forts of Rajasthan.
Highlights of Gagron Fort: Glistening river on three sides
Entry fee: None
Timings: 8:00 am to 7:00 pm
Tourist attractions near Gagron Fort: Prithvi Vilas Palace, Bhawani Natya Sabha and Chandrabhaga Temples
8. Kumbhalgarh Fort, Rajsamand

Birthplaces of the great Mewar Ruler,  Maharana Pratap, Kumbhalgarh Fort is one of the most popular and best forts in Rajasthan. It was built by Maharana Kumbha in 15th century, after whom the fort is named.
Interestingly, Kumbhalgarh is also revered for having second-longest wall in the world, covering an area of 36 km sq. The route to the fort too is an interesting one, as ravines and thick woods greet you. If you are planning a visit here, pick a nice stay from the best hotels in Kumbhalgarh and explore the fort at leisure.
Highlights of Kumbhalgarh Fort: 36 km long fortified walls, Badal Mahal, fantastic panoramic vista of locale, seven massive gateways, Jain Temple and Hindu Temple
Entry fee: INR 10 per person (Indians) | INR 100 per person (Foreigners)
Timings: 9:00 am to 6:00 pm
Tourist attractions near Kumbhalgarh Fort: Rajsamand Lake
9. JunagarhFort, Bikaner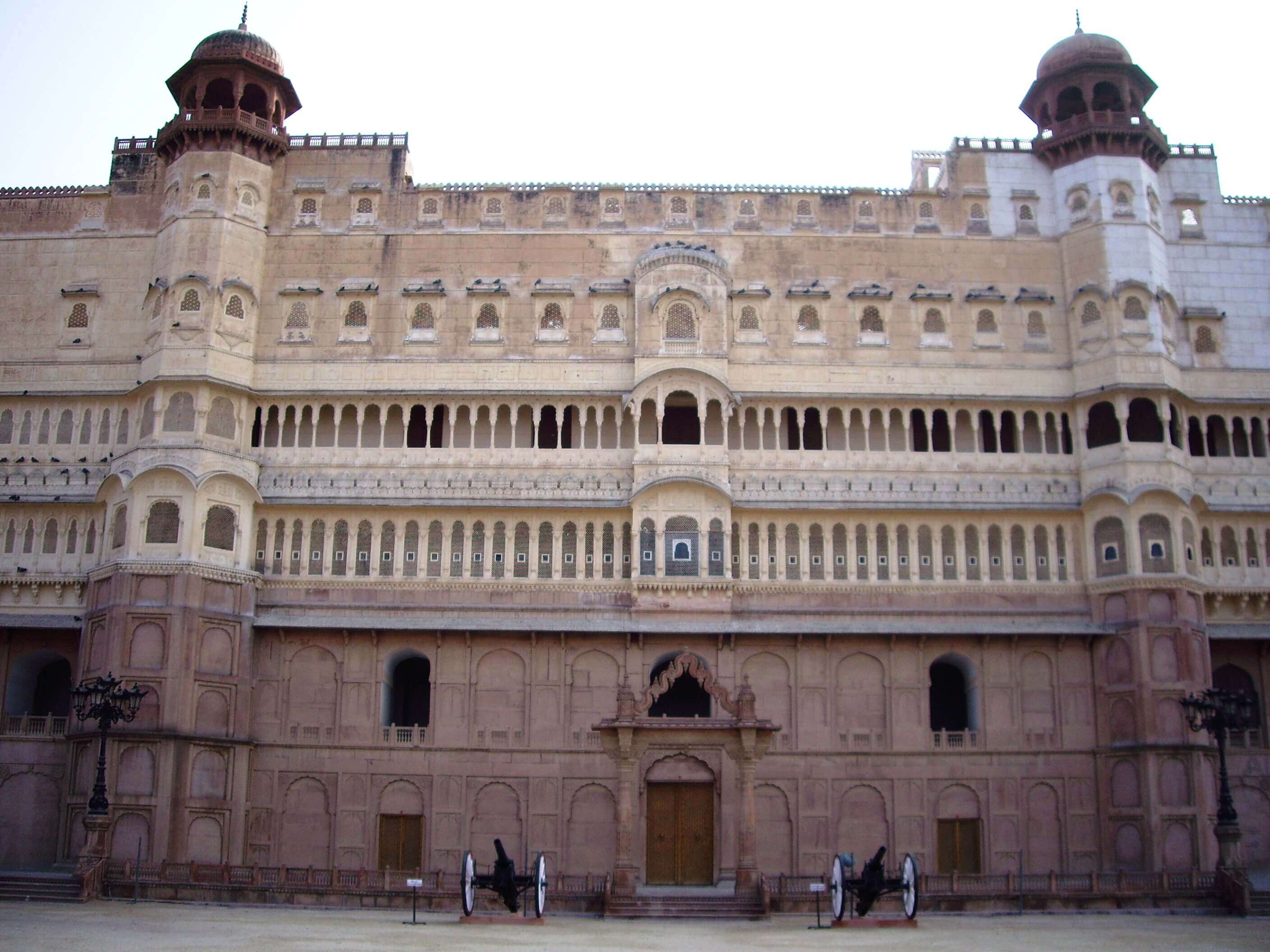 Among the most immaculately crafted Rajasthan heritage forts, Junagarh deserves a special mention. This fort in Bikaner, is one of the few forts of Rajasthan which aren't built on a ridge. Junagarh Fort, being the beauty it is and was, stole hearts of many rulers, which led to many attacks to conquer it. However, nobody won except Kamran Mirza (Son of Babar) who did it for merely a day.
Highlights of Junagarh Fort: Grand gateways, Fort Museum, Lakshmi Narayan Temple, Karan Mahal, Phool Mahal, Chandra Mahal, Ganga Mahal, Badal Mahal and Anup Mahal
Entry fee: INR 50 (Indians) | INR 300 (Foreigners)
Timings: 10:00 am to 4:30 pm
Tourist attractions near Junagarh Fort: National Research Centre on Camel
10. Bala Quila, Alwar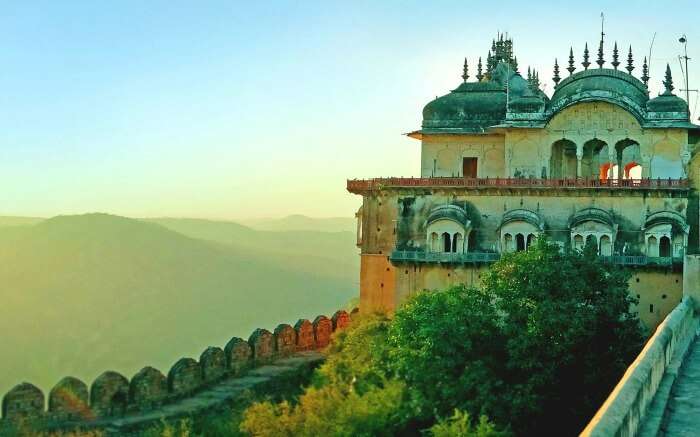 Bala Quila, or Alwar Fort is an important landmark of the Alwar city and is located atop a hill in the Aravali Range. A 16th century fort, it has been under the rule of Jats, Maratha, Mughals and Kachwaha Rajputs. Salim Mahal, inside the fort, is where Jahangir stayed for sometime before getting caught by his father, Akbar.
Highlights of Bala Quila: Get to spot beautiful peacocks along the way, lovely route, magnificent view of the area
Entry fee: None
Timings: 10:00 am to 4:30 pm
Note: During monsoon, the route to Bala Quila gets difficult, and makes it difficult to explore the fort
---
Planning your holiday in Rajasthan but confused about what to do? These Rajasthan travel stories help you find your best trip ever!
Real travel stories. Real stays. Handy tips to help you make the right choice.
---
11. Jal Mahal,Jaipur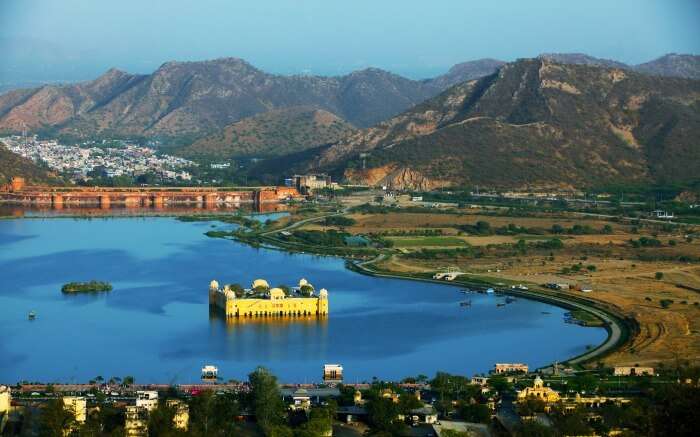 In 1750, Jal Mahal was built by Maharaja Jai Singh for picnics with his family. Silently sitting in the middle of Mansagar Lake, it is pretty much like a star everyone loves to glance at. The palace has five stories with chhatris and cenotaphs, exhibiting rich Rajput and Mughal style of architecture.
After restoration work in 2005, this little historical marvel got a new face altogether. Today not just the fort looks magnificent but a lot many migratory birds find home here.
Highlights of Jal Mahal: Birds like Flamingo and Common Moorhen are found around, lovely backdrop of the Aravali Hills
Entry fee: None
Timings: Since one cannot enter the palace, and only marvel it from a distance there are no timings for that
Tourist attractions near Jal Mahal: Amer Fort, Nahargarh Fort, Hawa Mahal and City Palace
12. Hawa Mahal,Jaipur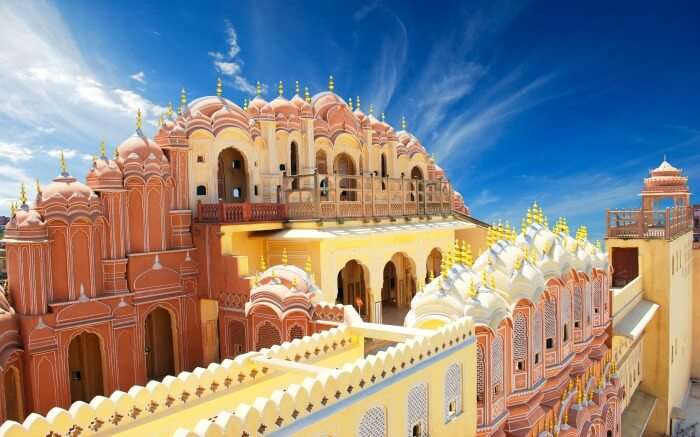 Hawa Mahal is among the most clicked Rajasthan forts and palaces. Its iconic honeycomb-structured windows totally steal the show. It was built in the year 1799 by Maharaja Sawai Pratap Singh. The windows, or jharokhas, in its facade were built for the queens and princesses so that they could enjoy looking at the hustle and bustle around the palace, without being seen.
Today, the palace is in the market area (Sireh Deori) where you can buy colorful trinkets, handlooms and everything that reminds of Rajasthani artistry.
Highlights of Hawa Mahal: Intricately designed windows in facade, main market around the palace, colorful glass work inside
Entry fee: INR 50 per head (Indians) | INR 200 per head (Foreigners)
Timings: 9:00 am to 5:30 pm
13. Jaipur City Palace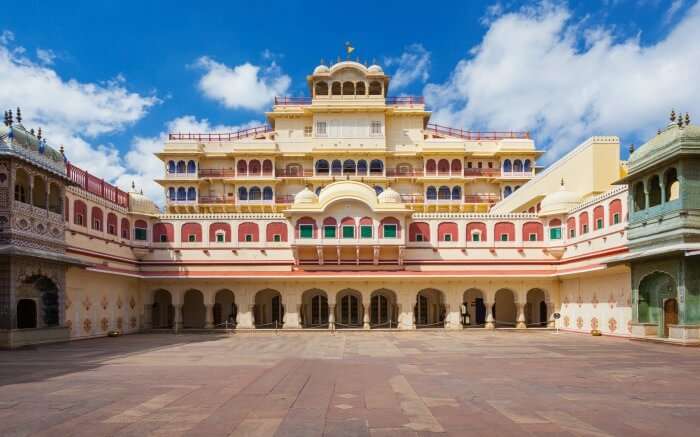 Former seat of Maharaja of Jaipur, City Palace is known for its Chandra Mahal and Mubarak Mahal. The palace was built by Sawai Jai Singh II sometime between 1729 and 1732. Chandra Mahal still serves as a residence for a royal family, but some part of it has been converted into a museum. Right from palaces to temples inside City Palace, nothing fails to captivate.
Highlights of City Palace Jaipur: Chandra Mahal, Mubarak Mahal, Diwan-i-khas, Pritam Niwas Chowk, Maharani Palace, Govind Ji Palace and Bhaggi Khana
Entry fee: INR 75 per person (for Indians) | INR 300 per person (Foreigners)
Timings: 9:30 am to 5:00 pm
Tourist attractions near City Palace Jaipur: Nahargarh Fort, Amer Fort, Hawa Mahal and Jal Mahal
Must Read: 53 Tourist Places In Jaipur To Visit For An Experience Like Never Before!
14. Lake Palace, Udaipur

Elevating the charm of Venice of the East, Lake Palace is among the best heritage hotels without doubt. Honeymoon couples shouldn't miss on this. The Lake Palace dates back to 1743 and now it's a luxury property with 83 rooms that will make you revisit the olden era with the comfort of modern facilities.
Highlights of Lake Palace Udaipur: Houses the second largest freshwater man made lake in Asia, vintage and classic car collection.
Entry fee: No entry fee
Timings: Open 24 hours
15. Udaipur City Palace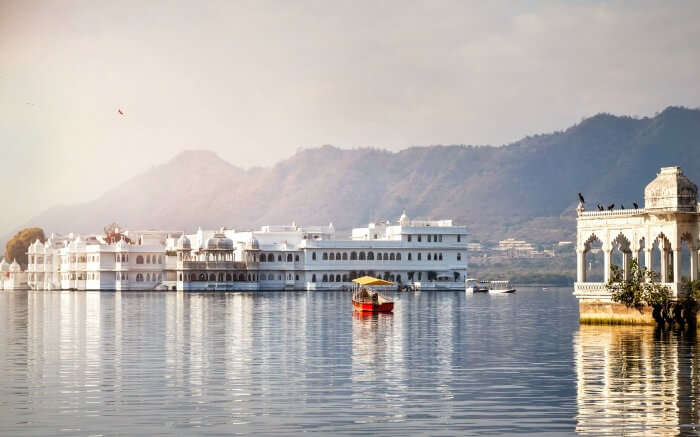 Dominating the lakescape of Udaipur, City Palace of Udaipur is among the most notable Rajasthan forts and palaces. This striking white palace complements the blue waters of Udaipur. Built by Maharana Udai Singh 1559, the City Palace boasts of having the largest palace complex in Rajasthan with a fusion of Chinese, European and Medieval architecture.
Highlights of City Palace Udaipur: Jagdish Temple, gateways, Amar Vilas, Zenana Mahal and museum Bada Mahal
Entry fee: INR 250 per person (Adults) | INR 100 per person (Children)
Timings: 9:00 am to 5:00 pm
16. Umaid Bhawan Palace, Jodhpur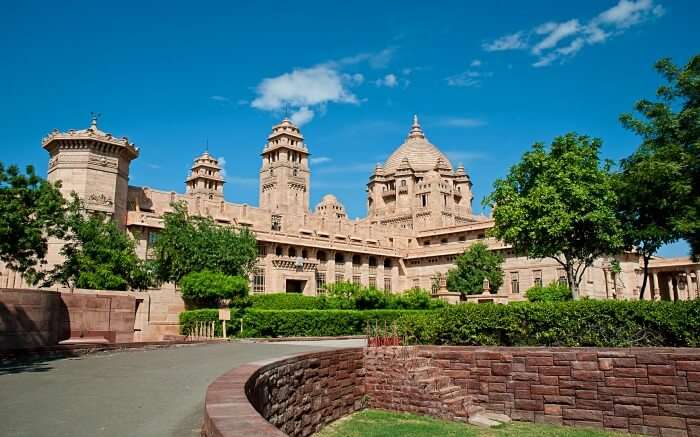 Initially a huge palace boasting of the historicaal heritage, this palace was converted into a hotel where you can now feel like a maharaja with world-class amenities. The hotel is managed by Taj Group of Hotels and boasts of 347 opulent rooms. Umaid Bhawan Palace has also well-deservingly won the World's Best Hotel by TripAdvisor recently and it certainly is a place you cannot miss.
Highlights of Umaid Bhawan Palace Jodhpur: Beautiful gardens,
Entry fee: INR 30 for Indians, INR 100 for foreigners
Timings: 10 AM-4:30 PM
17. Alwar City Palace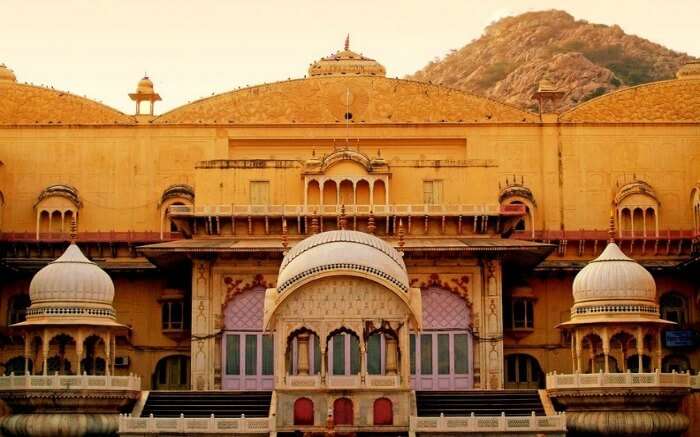 Also known as Vinay Vilas Palace, Alwar Palace is an epitome of the lovely blend of Indo-Islamic architecture. The palace is enveloped by Aravali Range and is among the most beautiful Rajasthan forts and palaces.
The entrance has balconies on both sides, and as you step further you'll come across Krishna Temple on all four sides. The museum inside this 1793 palace is a treasure trove of miniature paintings and also houses armours, artifacts, coins and a silver table.
Highlights of City Palace Alwar: Museum, Moosi Rani Ki Chhatri, Durbar Hall, Krishna Temples and regal entry gates
Entry Fee: INR 5 per person (Indians) | INR 5 per person (Foreigners)
Timings: 10:00 am to 4:30 pm (except fridays)
18. Neemrana Fort, Delhi-Jaipur Highway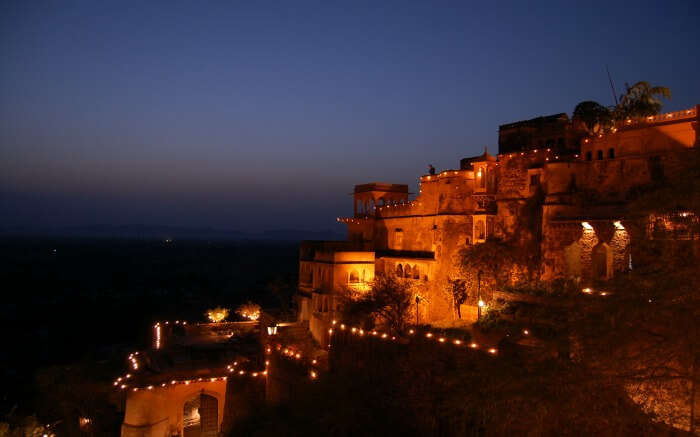 There is an ancient town in India particularly famous because of Neemrana Fort, so you can imagine how beautiful it would be and what a great experience you are in for. Delhiite's favorite weekend getaway, Neemrana Fort is the epitome of comfort and heritage. This is one of India's oldest heritage properties, where you can enjoy riding vintage cars too.
Highlights of Neemrana Fort: Ziplining, vintage car tour
Entry Fee: INR 1700 (weekdays) INR 2000 (weekends)
19. Deogarh Mahal, Deogarh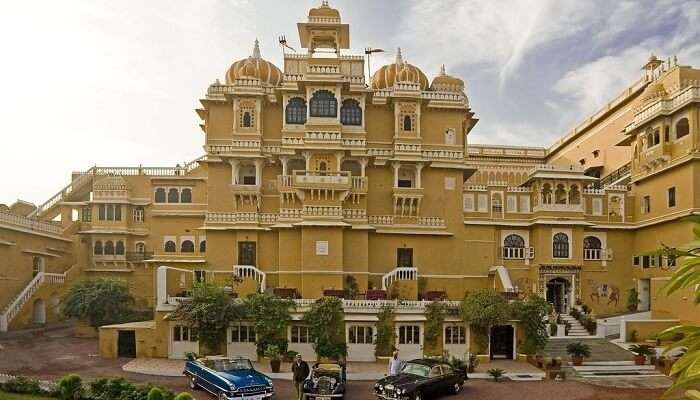 This beautiful Mahal built atop Aravali hills with its spectacular courtyard is a very romantic palace encircled by a serene lake. Famous for its shining mirrors and murals, this is one of the best and most beautiful forts in Rajasthan for stay. One can have those royal feels and a typical Rajasthani vibes.
Highlights of Deogarh Mahal: Maharana Suite and a bedroom and bathroom designed like a 1920s train.
Timings: Open 24 hours
20. Lalgarh Palace, Udaipur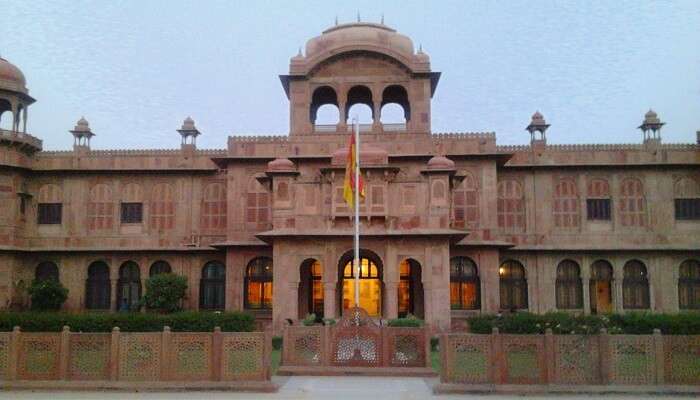 Established in the 1900s this palace in Udaipur is a favourite among visitors. With an Indo-Saracenic style of architecture this palace offers mesmerising views and captivating landscapes. In 1972 two sings of the palace were converted into hotels and if you are looking out for a traditional venue then its one of the best forts in Rajasthan for wedding.
Highlights of Lalgarh Palace: Grand structure, billiard rooms and smoking rooms
Timings: 10 AM-5 PM
21. Rambagh Palace, Jaipur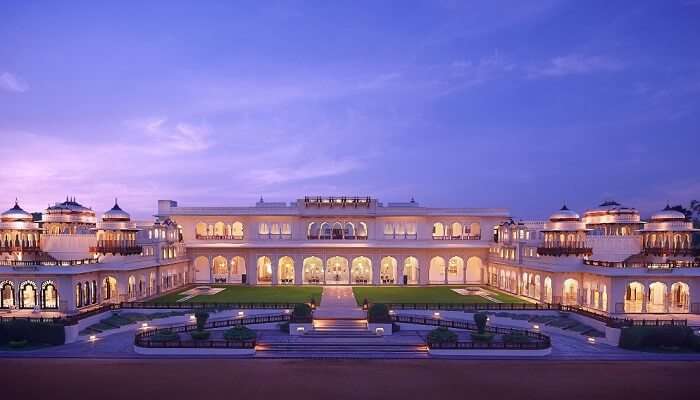 With a very fascinating history behind it, the Rambagh Palace in Jaipur was home to the Maharaja of Jaipur once. However, post-independence the Indian government overtook it and the royal family started feeling that the maintenance of the palace was becoming very costly. So, it was decided that the place will be turned into a heritage hotel and it's one of the best ones now.
Highlights of Rambagh Palace: Located in an upscale area of Jaipur, gorgeous grounds
Timings: Open 24 hours
22. Udai Bilas Palace,Dungarpur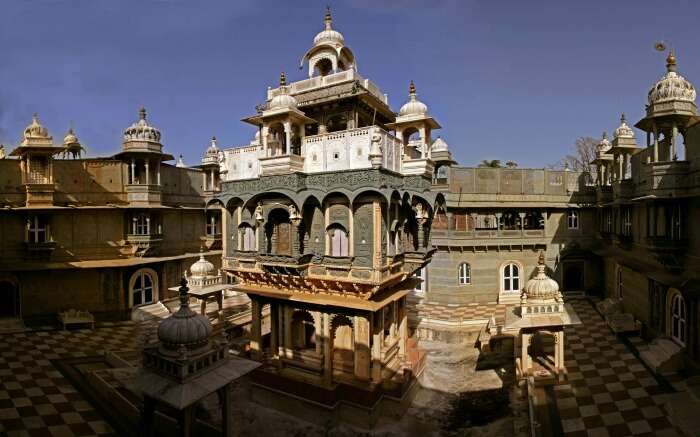 This palace located amidst pristine blue waters of Gaibsagar Lake is the perfect example of what ancient princely India was like. This palace is the best place to recreate and rejuvenate. With its splendid Rajputana architecture, this palace is what you cannot miss on your trip to Rajasthan.
Highlights of Udai Bilas Palace:
Timings: Miniature paintings, stone carvings
23. Jag Mandir Palace, Udaipur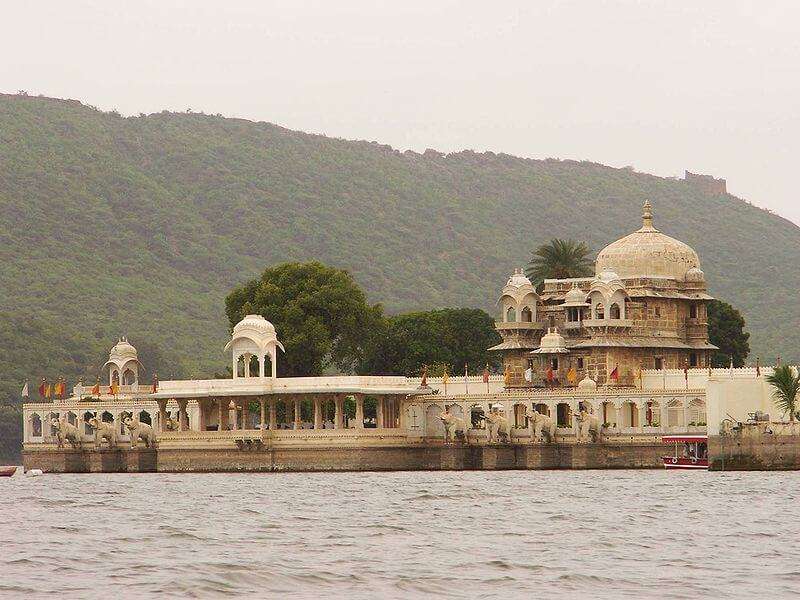 Built on an island in Lake Pichola, the Jag Mandir Palace also known as the "Lake Garden Palace" is one of the most beautiful palaces in Rajasthan. Constructed by three Maharanas of the Sisodia Rajputs of Mewar Kingdom, this palace should definitely be on your list. The palace was used by the family as a summer resort and as a place to hold parties.
Highlights of Jag Mandir Palace: Large elephants made from white marble, Lake Pichola
Timings: 10 AM-6 PM
Further Read: 10 Haunted Places In Rajasthan That Will Scare The Daylights Out Of You
We know you are feeling that you cannot miss any of these out. Still, which ones of these Rajasthan heritage forts and palaces are you heading to? You can decide and plan your trip to the beautiful state and get those amazing traditional vibes. If you are ready then check out these customizable options and plan your trip to Rajasthan with TravelTriangle.
Disclaimer: TravelTriangle claims no credit for images featured on our blog site unless otherwise noted. All visual content is copyrighted to its respectful owners. We try to link back to original sources whenever possible. If you own the rights to any of the images, and do not wish them to appear on TravelTriangle, please contact us and they will be promptly removed. We believe in providing proper attribution to the original author, artist or photographer.
Please Note: Any information published by TravelTriangle in any form of content is not intended to be a substitute for any kind of medical advice, and one must not take any action before consulting a professional medical expert of their own choice.
Frequently Asked Questions About Forts In Rajasthan
Which is the most beautiful city in Rajasthan?
Pushkar is believed to be the most beautiful city in Rajasthan. It is famous for its annual camel fair and is also one of the most ancient cities of India.
What are the top things to do in Rajasthan?
There are numerous exciting things to do in Rajasthan which can make your trip a memorable one. You can go zip lining, enjoy a safari ride, hot air balloon ride, desert camping or have a blast at Chokhi Dhani.
When is a good time to visit Rajasthan?
The best time to visit Rajasthan is from November to February because of the pleasant temperature it becomes easy to explore the city. During the rest of the year, the weather remains humid.
Which fort in Rajasthan is also known by the name of the Dharadhargarh?
Jaigarh Fort is also known by the name of Dharadhargarh. It was built in 1726 by Jai Singh II to protect the Amber Fort.
Is Rajasthan safe for tourists?
Rajasthan is a safe and secure place for tourists. You can find many solo travellers coming in as well. Apart from being one of the safest places for tourist, it is the most visited tourist destination in India.
Which fort in Rajasthan is also known as Sonar Quila or the Golden fort?
Jaisalmer Fort is known as Sonar Quila or the Golden fort owing to the yellow impression of the walls. This world heritage site was built in the 12th century by Raja Jaiswal.
What can I buy in Jaipur?
There is a variety of things to buy in Jaipur. You can shop for precious gemstones, wooden sculptures and souvenirs, joothis, textile goods and more.
Where can I watch the sunset in Jaipur?
The best sunset views in Jaipur can be seen DCM Ajmeri Gate Flyover, Amer Fort, Jal Mahal and Nahargarh Fort.
---