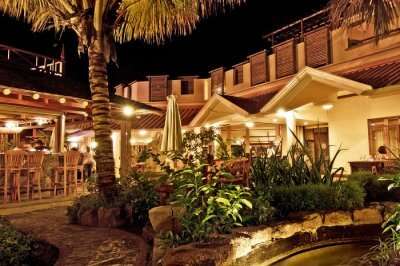 Overview
Aanari Hotel & Spa Flic en Flac Mauritius is one of the best 4-star locations offering a relaxing yet adventurous getaway. It is strategically located near the Flic en Flac beach which makes it a beachfront hotel. Aanari Hotel & Spa is the true holiday destination in a tropical paradise exclusively for couples and families. The Amrita spa of the hotel revives its guests with exotic spa treatments. Amenities like a flat-screen TV, minibar and a private bathroom with free toiletries are featured in all the rooms. The rooms at Aanari Hotel & Spa Flic en Flac are luxurious and comfortable, to say the least. They offer rooms with remarkable sea or mountain views and are equipped with top-class amenities for couples and families. Be it about sharing intimacy with a loved one or spending some quality time with the family, the hotel promises a delightful stay with an enriching experience.
Amenities
Apart from offering the natural beauty that it has outdoors, the indoor facilities of Aanari Hotel & Spa Flic en Flac Mauritius make for a far more memorable experience. One can relax at the sauna and spa, use the fitness center or try their luck at the hotel's own casino. The outdoor swimming pool becomes an attraction when it features a two-tiered sundeck. Facilities like room service, free wifi, airport transportation, concierge, dry cleaning and meeting rooms are also available at the hotel. Free parking is also available on the hotel's premises.
Dining
The property has two restaurants namely Mei Yan Restaurant which serves Chinese cuisine and Colonial Garden which offers international a la carte menu and a bar, The Colonial Bar. Guests have a choice to have their meals inside the restaurants or in the garden with a prominent view of the ocean. Situated along the ocean, one can simply relax at the Flic en Flac beach that is only at a 70m walking distance from the hotel. With excellent facilities and a natural charm that is complementary, Aanari Hotel & Spa Flic en Flac Mauritius is definitely a living experience that shouldn't be missed.
The hotel is inspired by the history of Mauritius, The environment is quiet, soothing, and everything that one would want to get away from the hustle and bustle of the city. With a grand view of the blue waters, hills and luxuriant nature, a pleasurable and comfortable stay at the Aanari Hotel & Spa Flic en Flac Mauritius is all that one could ask for.
Hotel Accommodation
Superior Double or Twin Rooms
Deluxe Double or Twin Rooms
Club Double Rooms
Club Double Rooms
Family Club Rooms
The Aanari Hotel & Spa Flic en Flac Mauritius has a complex with two wings that house 50 rooms. The types of rooms that guests can choose from our Superior or Deluxe rooms, or among the club and family club rooms. There are 16 superior rooms that will offer all the basic amenities that one might need for his stay here. The Deluxe rooms have a beautiful teak wood furnishing. They have private washrooms attached with bathtubs as well. The club room has more amenities of luxury such as open bar and spa services to ensure at most comfort. The family club room has a separate room for children attached to the main room which is great for families.
Hotel Highlights
The Amrita Spa at Aanari Hotel & Spa Flic en Flac Mauritius offers beyond a relaxing and welcoming environment
The hotel offers exclusive Family Club rooms that are luxurious with a separate room for children
Guests are offered personalized and premium services, such as an open bar from 3 pm to 6 pm
Extravagant underwater life experience and all kinds of water sports
Amazing seafood specialties at Mei Yan, which is also famous for their Peking Duck
Indian Restaurants Near The Hotel
Roti Aka Vinoda
Menu Des Iles
Le Bistro Morisyen
FAQs
Q1. How far is the airport from the hotel?
A. The hotel is located 50 km (45 min drive) from the Sir Seewoosagur Ramgoolam International Airport.
Q2. What kind of dining experience can one expect at the hotel restaurant?
A. One can enjoy live music every evening at the Colonial Bar. For a prominent view of the sea and mountains, one must opt for the outdoor breakfast buffet at the Colonial Garden.
Q3. What are the closest tourist attractions from the hotel?
A. Popular tourist attractions like the Flic en Flac beach and the Pasadena Village are walking distance from the hotel.
Q4. What kind of underwater sports can one indulge in?
A. One can enjoy fishing, scuba, and snorkeling, deep sea diving are a few exciting water activities that Flic en Flac offers.
Q5. What other adventures does the island offer apart from an underwater experience?
A. The island is also famous for its wildlife preserve.
Aanari Hotel & Spa Flic en Flac Mauritius does complete justice to the lavish green tropical paradise– by offering a soothing and relaxing environment that remains unmatched. The stunning views of the mountains and sea add to the charming decoration that adorns the hotel so perfectly. The hotel's contemporary décor blended with modern architecture is truly a fascinating experience. All their stylishly-decorated rooms are spacious and equipped with the best indoor facilities. Their premium spa services and facilities are definitely something to look forward to, along with their outdoor pool and casino for guests. Both the bar and restaurants are renowned for their delectable dishes prepared by some of the best chefs. Overall, Aanari Hotel & Spa Flic en Flac Mauritius has something completely different and unique to offer and is a flawless choice for those looking for a reasonable premium accommodation in the heart of Flic en Flac.