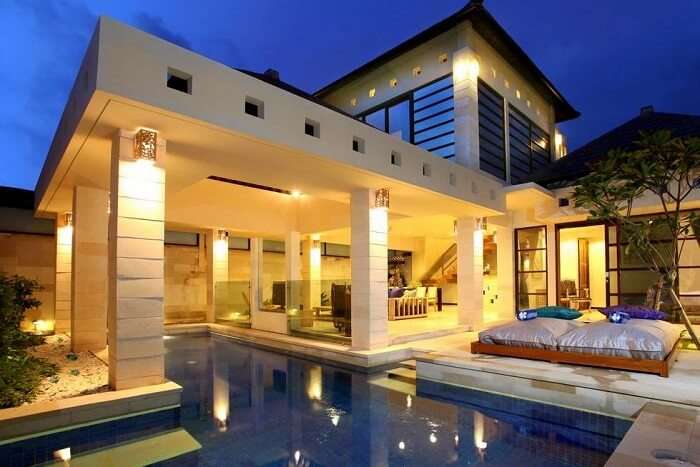 Overview
Alma Villas Seminyak is a 4-star hotel located in the Petitenget market area and is just 3 km away from Batu Belig Beach on the south-western coast of Bali. Located in the upmarket area, one can easily visit the prominent shops, malls and tourist attractions of Bali. Moreover, this hotel is closely situated to a large number of fashionable lounges and lively nightspots. Alma Villas is located in a calm private lane and offers the travelers a peaceful experience. It is appropriate for families and couples who are seeking to spend their holidays close to a beach. The structure of the Alma Villas Seminyak and its amazing accommodation features such as a 51-inch plasma TV entertainment system in the living room and a private pool with a sundeck in every villa will leave you amazed. The hotel is located at a distance of 14.5 km from the airport.
Amenities
The Alma Villas Seminyak has a number of remarkable offerings for its guests. At this hotel, one can relax at the private swimming pool, enjoy the view of the garden, loosen up with in-villa massage, take a day-trip by renting motorbike or car with driver on request and relish dishes with a cook on request. This hotel has an elegant feature kitchen with breakfast in the room facility. Other facilities and services such as free Wi-Fi, babysitting on request, ironing service, shuttle service, laundry service on request and free parking are also available.
Dining
At Alma Villas Seminyak, one will get the facility of a fully equipped kitchen. Moreover, the guests can also get the facility of breakfast in the room. Travelers can also order Indonesian and Western dishes with the help of room service and enjoy a fine dining experience in their dining area.
The guests will definitely have a one-of-a-kind experience during their stay at this hotel. Staying in this top-of-the-line villa will give its guests a homely feel and a number of good memories.
Villa Accommodation
Two-Bedroom Villa with Private Pool
Three-Bedroom Villa with Private Pool
The modern bedroom villas of Alma Villas Seminyak are segregated into Two-Bedroom Villa with Private Pool and Three-Bedroom Villa with Private Pool. These villas are well furnished and properly structured with an aim to provide its guests a state-of-the-art experience. In these bedroom villas, there are king-sized beds, bathroom, living room with facilities such as 51-inch Plasma TV entertainment system equipped with DVD, dining room and free Wi-Fi. Each bedroom villa has a private swimming pool and a lush green garden. All bathrooms in each bedroom villa are equipped with towels and other essential toiletries.
Villa Highlights
Revitalizing experience with in-villa massage
Guests can relax at the private swimming pool
Private garden and calming greenery
Rent a motorbike or a car with driver
Visitors can request for a cook
Guests can also place a request for babysitting
Visit the main shops and malls in Bali
Indian Restaurants Near The Villa
Man Frydays Seminyak
Chai'ba Street Kitchen and Bar
Spice Mantraa.
FAQs
Q1. What is the distance between the hotel and the International airport?
A. The hotel is situated at a distance 13.2 km from Ngurah Rai International Airport.
Q2. Can guests avail airport transfer service from the hotel?
A. Yes, the hotel provides airport transportation to all its guests.
Q3. How can guests enjoy themselves during their stay at the hotel?
A. Guests staying at the Alma Villas Seminyak can opt to do things such as, enjoy the facility of in-house massage in the hotel, relax at the private swimming pool. Tourists can also opt to visit the main shops, malls and tourist attractions of Bali which are located near the hotel's location.
Q4. Is car with driver service at this hotel?
A. Yes, one can opt to request the hotel desk for a car with driver service.
Q5. Is babysitting facility available at this hotel?
A. Yes, babysitting facility is available on request.
The Alma Villas Seminyak is all-in-all a great hotel situated near the Batu Belig Beach in the south-western coast of Bali. This hotel gives its guests a beautiful and comfortable experience with its world-class facilities such as household staff, fully equipped kitchen, private swimming pool, and garden. The guests will undoubtedly find immense peacefulness in the bedroom villas of this hotel, which have king-sized beds. Within each bedroom villa, there is a separate living room where the guests can have a nice relaxation period on the comfy sofa and enjoy watching a movie on a big 51-inch plasma television entertainment system. The guests will definitely feel revitalized after staying in this hotel and forget all their thoughts and worries. The guests can also opt to cruise around the scenic locations of Bali by renting a motorbike or a car. Guests can also visit the popular shops and malls of Bali and buy some popular artifacts. Tourists can visit the nearby Batu Belig Beach and enjoy the wide view of the Indian Ocean. Tourists can further sit on the sandy shores and enjoy the mesmerizing view of the sea. By opting to stay in this hotel, tourists will be getting an all-rounded experience of Bali, which will include enjoying the luxurious features of the hotel, falling in love with the beautiful sight of a nearby beach and get amazed with the prominent market of Bali.