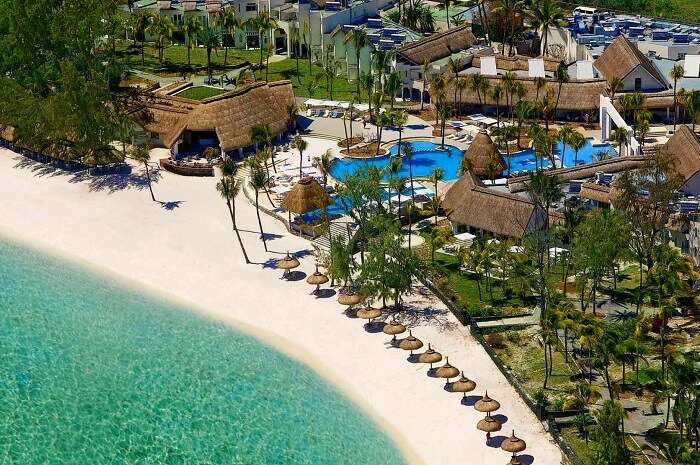 Overview
Hotel Ambre Belle Mare Mauritius is a 4-star resort located on the Belle Mare beach on the eastern coast of Mauritius. Being a sun resort, the hotel offers some breathtaking views of the white sandy beaches. The hotel is nestled between the coral reef lagoon and lush tropical gardens. The serene & warm atmosphere of hotel Ambre Mauritius Belle Mare is just perfect especially for those looking for a relaxing and rejuvenating experience in the lap of nature. Hotel Ambre Belle Mare Mauritius is ideal for honeymooners and couples as the resort permits guests above 16 years of age. The architecture of the hotel and its multiple accommodation options like pool suites and garden facing rooms will leave guests spellbound.
Amenities
At Ambre Hotel Belle Mare, there are a variety of experiences awaiting guests. At hotel Ambre Belle Mare Mauritius, one can head to the spa, avail one of the sessions of yoga or tai chi, enjoy water sports or beach soccer, go for golf or experience authentic Mauritius through bicycle tours. The Ambre hotel Belle Mare Mauritius also has 2 bars, with an adjoining nightclub in 1.
Dining
At the hotel Ambre Belle Mare Mauritius, the dining experience is phenomenal. The hotel has 3 restaurants, namely- Dolce Vita, Indigo, and La Plage. At Indigo, continental breakfast buffets begin from 4:00 for the early risers, while a full English breakfast is offered from 7:00 to 10:30. With live cooking stations and a plethora of options to choose from, Indigo at hotel Ambre Mauritius Belle Mare is a delight to check out. Dolce Vita offers Italian delicacies like house-made antipasti, pizzas, and pasta, along with a variety of other options on the menu. One can go for lunch from 12:30 to 15:00 or for dinner from 18:30 to 22:00. For those who like to dine at the beach, La Plage at hotel Ambre Belle Mare at Mauritius is perfect. They offer local Mauritian specialties apart from Mediterranean options, all by the white sandy beach. They also have a beach bar service for the beach loungers.
The experience at the Hotel Ambre Mauritius is truly one on its own. Coming back to a comfortable room after a full day of activities, you are sure to be relaxed and rejuvenated. Enveloped in luxury and the beautiful scenery that the hotel offers you, you will have a great time here.
Resort Accommodation
Ambre Suite
Junior Suite
Superior Sea-Facing
Superior Garden
Deluxe Beach Room
Deluxe Sea Facing
Deluxe Sea Facing with Terrace/ Balcony
Courtyard Rooms
The adults-only retreat of hotel Ambre Belle Mare Mauritius is a 250-room resort & spa, along with 2 suites and 17 junior suites. At the Mauritius hotel Ambre Belle Mare, there are 8 categories of rooms at offering for guests. They have Ambre suites, Junior suites, Superior sea facing, Superior garden, Deluxe beach room, Deluxe sea facing- ones with a balcony/terrace and ones without, and Courtyard rooms as options for guests. Most of them allowing the stunning ocean view and oceanfront. Some of the rooms also offer a beautiful garden view for the green lovers. All rooms are equipped with complimentary wifi and individually controlled air conditioners, along with a host of other amenities for the convenience and comfort of guests.
Resort Highlights
Enjoy dining at 3 different restaurants offering a range of cuisines
Enjoy spa experiences like candle massage body wraps etc
Fitness lovers can go for tai chi, yoga, beach soccer etc
Guests have the option of going on a bicycle excursion
Guest can enjoy kayaking, windsurfing, boarding on the lagoon waters
The resort has access to 3 of the island's most coveted golf courses
Indian Restaurants Near The Resort
Kesar Indian Restaurant
La Chaumière Masala Restaurant
Sitar Indian Restaurant
FAQs
Q1. How far is the hotel from the international airport?
A. The hotel is approximately 1 hour 10 minutes drive from Sir Seewoosagur Ramgoolam International airport.
Q2. Does the hotel have a pickup service from the airport?
A. Yes, the hotel provides airport transportation to all guest.
Q3. What are the things to do in and around the hotel?
A. Hotel Ambre Belle Mare Mauritius offers guests a variety of activities and experiences, ranging from water sports to golf, to tai chi and yoga, apart from a spa with a menu. Guests can also go to Pamplemousses botanical gardens, one of the oldest botanical gardens of the southern hemisphere or go for an expedition at Ile aux Aigrettes nature reserve.
Q4. Is the breakfast included in the price?
A. Yes, the price is inclusive of a breakfast for all guests at Le Marche at Indigo restaurant of hotel Ambre Belle Mare Mauritius. The breakfast buffet is served from 4:00 for the early risers.
Q5. Are there any special offers that guests can avail?
A. Yes, hotel Ambre Belle Mare Mauritius has offered for honeymooners and couples alike. There are seasonal offers as well and guests staying for 4 nights or longer can also avail some offers.
For those who want a holistic experience, Ambre hotel Belle Mare Mauritius is the perfect destination. A 4-star with a stunning view of the Indian ocean is not something one would want to give a miss. A hotel with the best of facilities and amenities, guests get to witness adventure and luxury in the lap of nature. The main intent of a stay at the Ambre Mauritius is to make its guests feel rejuvenated and the accommodation of the hotel combined with facilities like a spa, pool, and water activities truly ensures that. With its bars and restaurants by the white sandy beach, Ambre hotel Belle Mare offers the perfect tropical essence of Mauritius. The Spa menu allows guests to have a rejuvenating, relaxing experience while the sports facilities like yoga and tai chi and tennis courts allow guests to stay fit even during holidays. All in all, at hotel Ambre Belle Mare Mauritius one can get the best of the sun, sand, and luxury and a stay experience that guests would remember for the rest of their lives. Ambre Mauritius is one of the finest luxury properties in the tropical nation for those who want to experience luxury on a budget.