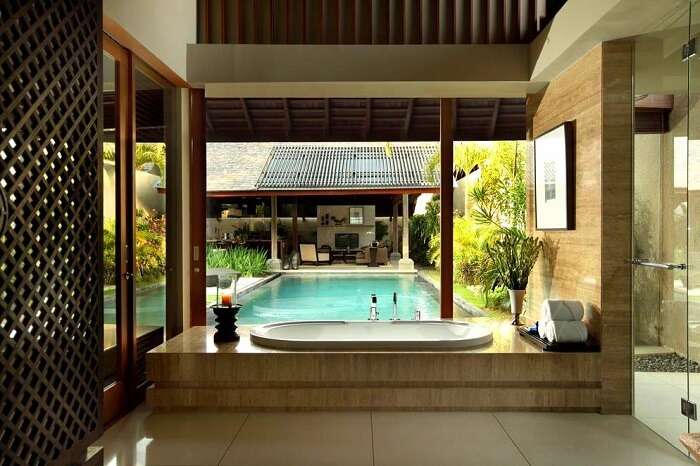 Overview
Ametis Villa Canggu is one of the best 5-star properties in Canggu, which is located 35 minutes away from Kuta in Bali, Indonesia. With its home-like surroundings comprising mesmerizing views of rice fields and the nearby black sand beach, the hotel offers a comfortable shelter for families and couples. This hotel features an outdoor private pool and Ruby spa for its guests to get deeply relaxed, thus bringing their body and mind to peace. Ametis Villa Canggu has an interconnected semi-outdoor living and dining room with a gourmet kitchen. This luxury lifestyle villa hotel boasts of its attractive design and modern-day amenities. Further, its warm hospitality and incomparable amenities help in offering memories for the lifetime. Its proximity to the nearby tourist attractions and public transport terminals makes it the right choice to explore Canggu.
Amenities
Ametis Villa Canggu proudly boasts of a private swimming pool, spa inspired bathroom, shower booth, and bathtub. It also features a restaurant and a lounge within the hotel premises for the convenience of the guests. Besides, the hotel maintains a parking area, 24×7 front, and travel desks and foreign exchange counters. Besides, the hotel maintains a 24-hour private butler service, return airport transfer and a parking area. All the hotel rooms are buffed-up with top-of-the-line amenities and complimentary Wi-Fi. It also offers airport shuttle service, chargeable laundry service, doctor-on-call services, and daily housekeeping. Further, guests are provided opportunities for spa and adventurous activities.
Dining
Ametis Villa Canggu features exceptional restaurants and bars offering delightful culinary experiences throughout the day and the ideal settings for the night. The hotel maintains a restaurant and lounge which goes by the name of Eternal. It offers a range of delicious International and Balinese dishes. It also offers signature exotic cocktails and mocktails as well. The hotel also has a separate lounge known as the Ametis Lounge, which has a wide range of offerings ranging from afternoon tea to exotic pre-dinner cocktails. Apart from the restaurant and lounges, Ametis Villa Canggu also offers in-villa dining to provide its guests with a 24-hour private dining experience.
While surrendering oneself to the tranquillity of the place, let go of all the stress and anxieties and indulge in a range of well-being activities arranged by Ametis Villa Canggu. Reiki healing and therapeutic healing offered by Ruby spa are likely to engage one in a total mind-body workout. Also, the hotel is known for striking the right balance between lavishness with contemporary richness.
Villa Accommodation
Premiere Villa
Imperial Villa
Grand Villa
Inter-Connecting Villa
The resort with friendly staff has a total of 16 elegant and carefully decorated rooms. It offers rooms under various categories, including Premiere Villa, Imperial Villa, Grand Villa, and Inter-Connecting Villa. One should choose to stay in this lifestyle villa, so as to easily reach the Batu Bolong beach, which is just 300 meters away and enjoy the scintillating view of the sea. Moreover, each villa features a spaciously landscaped compound. If one is traveling with friends or family then he or she must choose Inter-connecting villas that offer two rooms, which are separated by a sliding door. All villas come with a private swimming pool. All the villas are equipped with a flat-screen television that features entertainment channels, refrigerator, a safety deposit box, mini bar and Tea and coffee making facilities, as well as Wi-Fi access.
Villa Highlights
Have an unforgettable gastronomic affair at the hotel's restaurant
Experience various water activities such as surfing, snorkeling, and fishing
Outdoor activities such as trekking and horse riding are available
Explore Canggu by mountain bike.
Relax with Ruby spa programme of Zen healing and wellness practices
Try signature cocktails and mocktails at the bar
Indian Restaurants Near The Villa
Tiffin Bali
Sarong Restaurant
Man Frydays Seminyak
FAQs
Q1. What is the distance between the hotel and the international airport?
A. Ametis Villa is located around 1-hour drive from Ngurah Rai International Airport.
Q2. Does the hotel provide airport pickup service?
A. Yes, the hotel provides airport shuttle services to its guests.
Q3. What are the recreational activities one can indulge in and around the hotel?
A. The hotel offers a variety of cheerful activities ranging from water sports and spa treatments. One can enjoy spa care sessions within the hotel premises. Guests can explore the natural beauty of place by opting for cycling and trekking.
Q4. Does the hotel provide free breakfast to its guests?
A. Yes, the room tariff is inclusive of the breakfast for all guests.
Q5. Does the hotel provide special offers for the guests to avail?
A. Yes, the hotel provides special offers for staying at 2 or 3 bedroom villa and also offers luxury benefits such as daily 90-minute spa. It also offers 35 percent off on the Grand Private Pool Villa.
Set against the shining Indian Ocean, Ametis Villa Canggu is a perfect place for nature lovers! Here, experience the beauty of raw nature and find solace while being surrounded by vibrant greenery and soothing ambiance. The hotel is also known for offering warm hospitality with friendly staff. One can enjoy stunning views of the refreshing waters of the private swimming pool. Whether it's a spa treatment or water sports, the guests have endless ways to unwind. Guests can also indulge themselves in outdoor activities such as playing golf and tennis or visit Elephant Safari Park, Bali Bird Park Safari or Bali Safari and Marine Park. Meanwhile, adults can enjoy the hotel's lounges to experience the nightlife of the place. Unravel the underwater life with scuba diving and snorkeling. Whether relishing an exquisite meal at a restaurant or witnessing the remarkable sunset, Ametis Villa Canggu ensures that its guests get an exclusive slice of paradise.