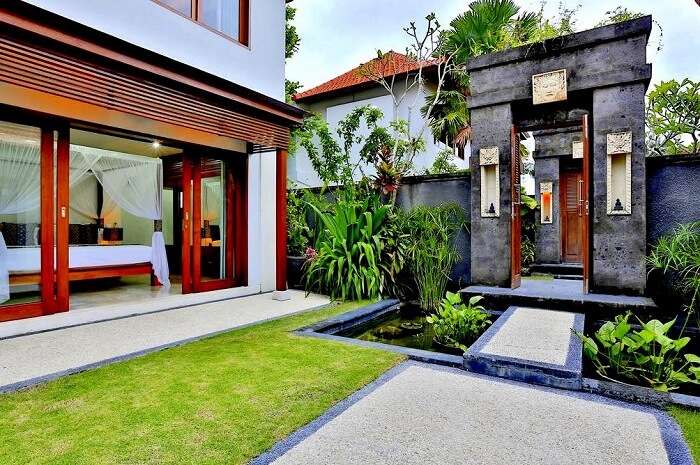 Overview
Amore Villas Canggu is one of the most impressive 5-star properties in Canggu that never fail to charm its guests. With tranquil gardens with traditional Balinese Bale's overlooking private swimming pools, the hotel offers a comfortable shelter for couples and families, who are looking forward to enjoying life's richer offerings with a unique fusion of global contemporary style and traditional Balinese hospitality. This luxury villa hotel features a 25-meter pool, gym, and spa for its guests to get some peaceful time for rejuvenating themselves. The luxury villa hotel also boasts of its attractive design and modern-day amenities. Further, its warm hospitality and incomparable amenities help offer memories for the lifetime. Its proximity to the nearby tourist attractions and public transport terminals makes it the right choice to explore Canggu, Bali in Indonesia.
Amenities
Amore Villas Canggu proudly boasts of facilities such as a gym, private pools, and spa. It also features a large 8 seat dining room. Besides, the hotel maintains a free parking area, 24×7 front desk, and travel desks. All the hotel rooms are equipped with state-of-the-art amenities and complimentary Wi-Fi. It also offers shuttle service on a chargeable basis, laundry service on a chargeable basis, daily housekeeping and ironing services. Further, guests are provided certain activities on a chargeable basis such as spa, fitness classes, and outdoor games such as horseback riding, bowling and tennis court.
Dining
Each bedroom villa in Amore Villas Canggu features a well structured separate kitchen with modern state of the art appliances along with a private chef, who will be preparing and serving food of one's choice at all times during one's stay ranging from romantic candlelit dinners to larger dinner parties. Moreover, guests will be able to discover numerous restaurants near the hotel.
While surrendering oneself to the tranquillity of the place, let go of all the stress and anxieties and indulge in a range of well-being activities arranged by Amore Villas Canggu. Gym and Bali spa treatments are likely to engage one in a total mind-body workout. Also, the hotel is known for striking the right balance between lavishness with contemporary richness.
Villa Accommodation
One-Bedroom Villa with Pool View
Four-Bedroom Villa with Private Pool
The resort with friendly staff has a total of 4 elegant and carefully decorated rooms. It offers rooms under various categories, including One-Bedroom Villa with Pool view, Four-Bedroom Villa with Private pool. All rooms are well air-conditioned and have open living rooms. One should choose Bedroom Villa according to one's needs and enjoy the spectacular view of the private pool. If the guest is looking for a stay with family or friends comprising of 7 to 8 members, he or she should go for the Four-Bedroom Villa with Private pool. This bedroom villa will be an ideal pick for guests looking for an open space comprising green surroundings and a pool view. Moreover, each bedroom villa of the Amore Villas Canggu has a super-king size bed, which offers a great view of the rice paddy fields. All the rooms are equipped with 42-inch plasma screens, baggage storage, and free Wi-Fi. Moreover, these rooms have spacious opulent en-suite bathrooms which feature quality fittings and built-in bathtubs.
Villa Highlights
Experience the best of Balinese hospitality
Relish delicious food prepared by a private chef
Relax the body with Bali spa treatment and release your tension
Enjoy the beautiful views of the paddy fields of Berawa Canggu village
Fitness enthusiasts can work out in the gym
Swim in the private outdoor pool
Indian Restaurants Near The Villa
Tiffin Bali
Sarong Restaurant
Man Frydays
FAQs
Q1. What is the distance between the hotel and the nearest airport?
A. Amore Villas is located around 1-hour drive from Ngurah Rai International Airport.
Q2. Can one get pickup service from the airport?
A. Yes, the hotel provides airport shuttle services to its guests on a chargeable basis.
Q3. What are the entertainment options in and around the hotel?
A. The hotel offers a variety of cheerful activities ranging from outdoor activities and spa treatment. One can enjoy spa and beauty care sessions within the hotel premises.
Q4. Does the hotel offer complimentary breakfast?
A. No, the breakfast is not included in the fare at the hotel.
Q5. Can honeymooners avail any discount from the hotel?
A. Yes, this hotel has the facility of a conference room.
Set against the breath-taking Indian Ocean, Amore Villas Canggu is a perfect place for nature lovers! Here, experience the beauty of raw nature and find solace while being surrounded by vibrant greenery and soothing ambiance. Whether it's a spa treatment, beauty session or gym, the guests have endless ways to unwind. Guests can also indulge themselves in getting beauty treatments such as facials, manicures, and pedicures from beauty therapists at economical prices in the Villa Spa. Moreover, guests can also have a comprehensive range of treatments in-house, by appointment, from head and shoulder Bali spa massages through to full body, in a variety of traditional styles by the skilled massage team. Whether relishing an exquisite meal at a nearby beachside restaurant or witnessing the remarkable sunset, Amore Villas Canggu ensures that its guests get an exclusive slice of paradise.