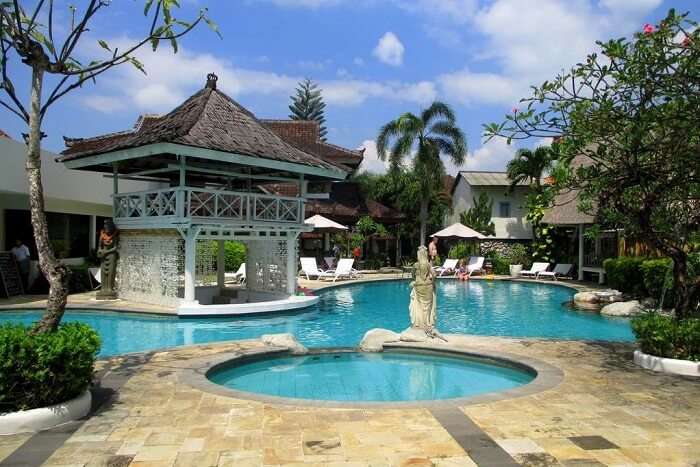 Overview
Ananda Resort Seminyak, a 3-star property, is merely a 15-minute walk from Seminyak beach, one of the Bali's most stylish and upscale beach areas. This place is perfect for those coming to Bali looking for a serene escape from the city streets, be it a couple or family. Apart from warm hospitality, guests can also look forward to rejuvenating themselves in the midst of nature. The property offers a wide range of facilities and amenities for providing a comfortable stay to its guests. Some of them include a large outdoor swimming pool, lush green garden, complimentary Wi-Fi and a sun terrace. As far as the accommodation options are concerned, the resort offers a multitude of room preferences to cater to different requirements of the travelers. In addition, Ananda Resort is located in close proximity to the city's must-visit areas, like Kuta Beach, which makes it all the more appealing.
Amenities
In order to offer an unforgettable experience to its guests, Ananda Resort Seminyak provides a wide variety of facilities and services. Travelers can enjoy the sunshine at the outdoor swimming pool or relax at the well-equipped sun terrace. Guests can also make use of parking, 24-hour front desk and luggage storage facilities. For added convenience, the property also arranges airport shuttles at an additional charge. Similarly, day tours and vehicle rentals are also offered, but they come at an additional cost. One can savor Indonesian, western and international dishes at the on-site restaurant or head to the bar for grabbing refreshing beverages.
Dining
Ananda Resort Seminyak offers a satiating experience in a contemporary and stylish setting. It features an on-site restaurant wherein one can relish a variety of delicacies ranging from Indonesian to western to international cuisines. Guests can also select their favorite drinks from a wide variety of beverages that the resort's bar has to offer. Alternatively, one can also head to the center of Seminyak in order to explore a plethora of dining options.
Developed to offer a memorable experience, Ananda Resort Seminyak is a perfect place to let your hair down and that too at a price, which won't burn a hole in your pocket! It is a place which is close to the serene Seminyak Beach and the vibrant Seminyak Square Shopping Mall. Ananda Resort is a sure-shot destination for all those expecting a hassle-free stay coupled with scrumptious food in a scenic environment.
Resort Accommodation
Superior Bungalow
Deluxe Rooms
Family Suites
The modern rooms at the Ananda Resort Seminyak offer a comfortable stay to its guests. The beautifully crafted accommodations exude warmth and style, thereby providing a relaxed environment. Travelers can choose from three accommodation options, which are Superior Bungalows, Deluxe Rooms, and Family Suites. Superior Bungalows are equipped with flat-screen TV, safety deposit box, refrigerator and coffee machine. It also has an en-suite bathroom with a shower and free toiletries. Deluxe Rooms feature flat-screen cable TV, daybed and safety deposit box, apart from en-suite bathroom having requisite amenities. Additionally, a private balcony or terrace extends the room space, thus offering an outdoor area to relax and enjoy scenic views of the pool. Family suites offer flat-screen cable TV, safety deposit box, and wardrobe to its guests. It also has a separate kitchen plus an en-suite bathroom having shower facilities and complimentary toiletries. All the accommodations at Ananda Resort Seminyak are equipped with free internet facility.
Resort Highlights
Gorge on a variety of Indonesian, western and international cuisines at the on-site restaurant
Unwind and relax at the large outdoor swimming pool and sun terrace
Sip refreshing beverages at the on-site bar
The resort is located in close proximity to Seminyak and Kuta Beach
The property is easily accessible to the Ngurah Rai International Airport
Indian Restaurants Near The Resort
Indian Tandoor
Chai'Ba Street Kitchen & Bar
Gateway Of India
FAQs
Q1. What is the distance between the hotel and the international airport?
A. The property is nearly 11 km away from Ngurah Rai International Airport.
Q2. Can guests avail airport transfer service from the hotel?
A. Yes, it provides airport shuttle facility to all the guests but at an additional charge.
Q3. How can guests enjoy themselves during their stay at the hotel?
A. Guests can choose from a variety of options for rejuvenation in and around Ananda Resort Seminyak. It offers a large outdoor swimming pool, garden and sun terrace. One can also head to Seminyak Square Shopping Mall or check out nearby clubs like Hard Rock Cafe and Potato Head Beach Club.
Q4. Does the hotel offer complimentary breakfast?
A. Yes, the price is inclusive of a breakfast for all the guests.
Q5. Does the resort provide room service?
A. Yes, the 3-star establishment offers 24-hour room service to its guests for a comfortable stay.
For all the travelers who want to escape the reality and find themselves, Ananda Resort Seminyak is an ideal place to be! Located at a close proximity to the Seminyak Beach, the property is capable of satisfying the different needs of its guests with comfort and first-class amenities. Representing an ideal combination of modernity and style, the property has a lot on its platter, be it comfort, delicious food or a wide variety of facilities. Take a plunge at the outdoor swimming pool or go for a stroll at the lush green garden. One can also not afford to miss the delicious food at the on-site restaurant as well as refreshing drinks at the bar. The spacious rooms at the property are designed to offer peace and tranquility after a tiresome expedition. The ease of access to must-visit areas of Bali from the hotel is definitely a plus point for all those who love to explore. The impeccable hospitality coupled with a multitude of facilities makes Ananda Resort Seminyak an apt choice for accommodation when visiting the beautiful city of Bali.