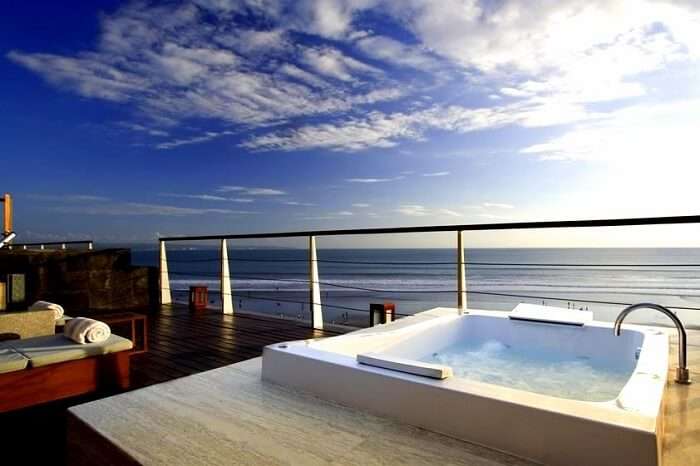 Overview
Anantara Seminyak Bali Resort is a 5-star resort located in close proximity to the Seminyak Beach and offers stunning views of the Indian Ocean. This boutique style resort is ideal for people looking forward to a relaxing and rejuvenating vacation in the midst of nature. Anantara Seminyak Bali Resort is perfect for honeymooners, couples as well as families. One can revitalize senses by taking a plunge into the infinity-edge pool or grab refreshing cocktails at the rooftop lounge facility. Treat the mind, body, and spirit by indulging in signature spa treatments and Kerokan therapy. This elegant resort is a treat for sore eyes as it is tastefully designed and is a perfect balance of modern trend and traditional style. Travelers can de-stress by opting for a personal wellness programme offered by the resort. For all the fitness freaks, the resort features a well-equipped fitness center. The exquisite property is located at a convenient distance of 30 minutes from the Ngurah Rai International Airport.
Amenities
At Anantara Seminyak Bali Resort, guests can experience world-class facilities and services. Enjoy the tranquil waters of the infinity-edge pool or head to the rooftop lounge for choosing refreshing and exotic drinks. Guests can also avail complimentary Wi-Fi facility on the premises. In addition, for all the fitness freaks, the resort offers a comprehensive fitness center. One can also head to the spa and avail signature spa treatments like Anantara Signature Massage and Kerokan Therapy. For an adrenaline rush, indulge in river rafting and unleash your adventurous side by taking part in kite-flying sessions. Moreover, foodies can also learn new culinary skills and mouth-watering Indonesian recipes at Spice Spoons.
Dining
Anantara Seminyak Bali Resort boasts of a multitude of dining options to cater to different tastes and preferences of its guests. One can savor scrumptious dishes or sip refreshing drinks at the on-site restaurants and bars. Guests can enjoy delectable Asian dishes at the Moonlight Kitchen and Bar while enjoying the picturesque views of the sea. They can also sip refreshing drinks at the lounge bar while listening to the foot-tapping beats of the DJ. Enjoy the breathtaking views of ocean sunsets and relish a variety of delectable international dishes. Additionally, cool down with a wide range of exotic drinks at the S.O.S Restaurant.
The resort offers a lifetime experience to its guests. Spectacular views from the rooftop lounge and tranquil waters of the swimming pool are sure to make feel one refreshed and re-energized. Overlooking the beautiful Indian Ocean, the resort promises a wonderful escape from everyday chaos.
Resort Accommodation
Anantara Suites
Anantara Pool Access Suites
Anantara Ocean Suites
Seminyak Suites
Seminyak Ocean Suites
Penthouse
Anantara Seminyak Bali Resort offers a variety of accommodation options to its guests. In total, there are 59 rooms available, which are categorized as Anantara Suites, Anantara Pool Access Suites, Anantara Ocean Suites, Seminyak Suites, Seminyak Ocean Suites, in addition to 1 Penthouse. All the accommodation options feature contemporary decor and are elegantly designed. Additionally, the rooms are equipped with complimentary internet facility. Some of these spacious suites feature a private terrace or balcony, while some offer sweeping views of the sea and sunset. The Penthouse, which is designed in rooftop style, features a stunning infinity pool wherein guests can relax and enjoy spectacular panoramas.
Resort Highlights
Dive into the infinity-edge pool or plan a Bali sunset tour
Relax and rejuvenate at the contemporary rooftop lounge
Travelers can also invigorate senses at the resort's spa center
Unleash an adventurous side by indulging in river rafting
Guests can enjoy scuba diving adventure or watch a Balinese drama
Anantara Seminyak Bali Resort offers a well-equipped gym
Indian Restaurants Near The Hotel
Chai'Ba Street Kitchen & Bar
Tiffin Bali
Queen's Tandoor – Seminyak
FAQs
Q1. How much time does it take to reach the international airport?
A. It takes nearly 30 minutes to reach Ngurah Rai International Airport from the property.
Q2. Does the hotel provide airport transportation facility?
A. Private shuttles are offered from the airport to the resort.
Q3. What are the things in which one can indulge in during the stay?
A. Anantara Seminyak Bali Resort offers a multitude of activities for guests' recreation like kite flying, spa services or Balinese drama. One can also enjoy the natural beauty on a Bali sunset tour or be in awe of the coral life during the scuba diving adventure.
Q4. Does the hotel have an on-site restaurant?
A. Yes, the resort has two on-site restaurants, which serve a variety of delectable dishes for a complete gastronomic experience of its guests.
Q5. Does the hotel provide any special offer?
A. Yes, Anantara Seminyak Bali Resort provides special offers for enhancing guests' experience. If a traveler is staying for three nights or more in a suite, he/she will be offered a free one-hour Anantara Signature massage, which is valid for two persons per stay.
For all those who want a break from the everyday hustle and bustle, Anantara Seminyak Bali Resort is a perfect place to plan a vacation. Situated in the midst of nature, the resort refreshes mind, body, and spirit. Travelers can experience world-class services and facilities at the property. Its location near various must-visit places in Bali makes it a favorable destination for those who simply love to explore. The resort, which is a perfect blend of luxury, comfort, and simplicity, offers a fine-dining and gastronomic experience to its guests. One can savor a variety of delectable cuisines or sip refreshing beverages at the roof-top lounge. Anantara Seminyak Bali Resort takes care of every small detail, thereby making its guests feel extremely comfortable and relaxed. The calm waters of the infinity-edge pool are a sure-shot method to refresh one's senses. In addition, the resort offers stylish rooms, wherein the guests can unwind following a tiresome day. All these features make this resort an idyllic place for a holistic experience in the lap of nature.