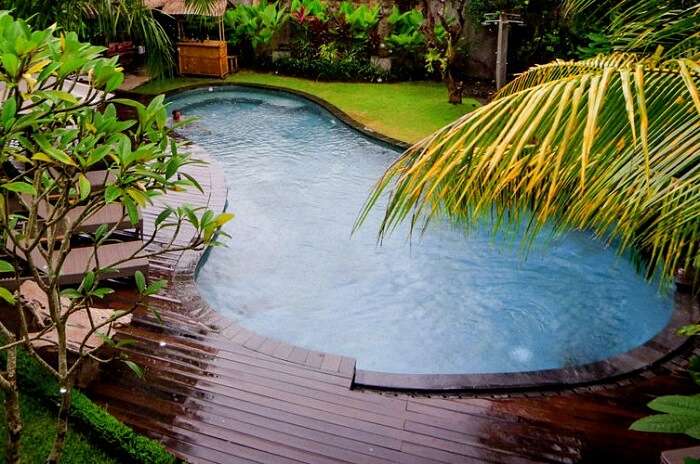 Overview
Anulekha Resort and Villa is a 4-star property located in Ubud, which is also known as Bali's cultural heart. Situated in the village of Silungan, the elegant boutique resort has something for everyone. Overlooking lush rice fields and tropical greenery, the resort proves to be an ideal place to unwind and relax far away from the everyday commotion. These are some of the features which make Anulekha Resort and Villa a perfect place for people of all age groups, be it honeymooners, couples or families. Take a plunge in the infinity-edge swimming pool or give a treat to your sense at the resort's Abyan Spa. Alleviate stress and anxiety by going for a stroll at the resort's spacious landscaped garden, which is full of native flora. Working along the lines of a conventional Balinese Banjar, Anulekha Resort and Villa offers the finest services and amenities to its guests in order to make their stay memorable. The resort offers stylish rooms dedicated to suit the different preferences of its guests. Ngurah Rai International Airport is 90 minutes away from the resort. It is also situated at close proximity to several must-visit regions such as Bali Zoo and Arma Museum, thus making the resort one of the most favorable destinations.
Amenities
At Anulekha Resort and Villa, guests can look forward to enjoying the finer things in life! One can spend the day blissfully at the outdoor pool, unwind at the resort's Abyan spa or engage in a complete mind-body workout at the yoga sessions. Guests can also opt for relishing gastronomic delights at the resort's in-house dining facility, Silungan Restaurant, or have a relaxing session at the poolside while sipping afternoon tea/coffee. Let your hair down at the Balinese Dance Class or explore the Balinese living and culture while indulging in rice paddy trekking.
Dining
Silungan Restaurant, the resort's on-site dining facility, offers a gastronomic experience in a contemporary setting. Overlooking breathtaking views of the pool, rice fields, and lush green garden, the restaurant offers a wide variety of mouth-watering dishes. Diners can indulge in an array of scrumptious Indonesian and international culinary specialties while enjoying stunning views of Bali's famous sunset.
Anulekha Resort and Villa offers countless opportunities for creating myriad memories whether one is taking a stroll in the garden or enjoying the sunset or taking a plunge in the pool. The resort provides stunning four-star, wide-ranging accommodation facilities, and services, thus catering to a variety of needs of its guests.
Resort Accommodation
Deluxe Rooms
Private Pool Villas
Anulekha Resort and Villa offers two types of rooms to its guests, which comprise 16-unit Deluxe Rooms and 9-unit Private Pool Villas. The inviting Deluxe Rooms feature a king size bed and LED TV. Guests can enjoy lush green environment from the private terrace or balcony. The rooms also have en-suite bathrooms featuring a semi-open shower and requisite amenities. Get pampered in the plush Private Pool Villas, which feature a large bedroom for a comfortable experience. The villas comprise LED TV with DVD players for travelers' entertainment. Furthermore, these villas comprise extra features for providing additional comfort to the guests, including dining with kitchenette.
Resort Highlights
Enjoy a romantic candlelight dinner at the pool-side or at villa courtyard
Shake a leg at the Balinese Dance class
Experience breathtaking views of Mt. Batur Volcano during the sunrise trek
Unwind and relax at the yoga classes
Head to Abyan Spa for a rejuvenating session
Dive in the large outdoor pool and relieve your senses
Grab the opportunity to learn the traditional Balinese Gamelan Rindik
Indian Restaurants Near The Resort
Indian Delites
Ganesha Ek Sanskriti Authentic Indian Restaurant and Bar
Queen's Of India-Ubud
FAQs
Q1. How much time it is required to get to the international airport from the hotel?
A. It takes nearly 90 minutes to reach Ngurah Rai International Airport from the property.
Q2. Does this hotel offer a pick-up service from the airport?
A. Yes, the resort offers airport transportation to its guests but at an additional cost.
Q3. Are there any things to do in and around the hotel?
A. At Anulekha Resort and Villa, guests can look forward to a variety of experiences. Unwind at the artistically designed large swimming pool or head to Abyan Spa for a holistic experience. The resort also offers several activities ranging from Balinese dance classes to Mt. Batur sunrise trek, to Ubud cooking classes to Ubud cycling and rice paddy trekking. One can also visit nearby attractions like Ubud Coco Mart, Ubud Palace, Ubud Traditional Market, and art galleries.
Q4. Does the hotel provide spa facility or yoga classes?
A. Yes, guests can relax at the resort's Abyan spa or refresh the mind, body, and spirit at the yoga sessions.
Q5. What are the special offers that guests can avail during their stay at the hotel?
A. Yes, the Anulekha Resort and Villa offers special offers be it for honeymooners or couples. Enjoy 2 nights/3 days stay in Deluxe Rooms or one bedroom Private Pool Villa. Guests can also avail flash deals during their stay at the resort.
For those wanting an idyllic location to unwind, Anulekha Resort and Villa is a perfect place to plan a holiday. At the 4-star resort, modern Balinese design blends perfectly with regional artistry to offer a perfect amalgamation of style and comfort. Its location in the breathtaking village of Silungan makes it all the more alluring. Expect exemplary services and facilities in addition to scrumptious delicacies served with a cordial Balinese smile. While enjoying holidays, learn to prepare delicious recipes of Bali or relax your senses besides the cool, serene waters of the swimming pool. The accommodation options at the resort offer a relaxing ambiance after a day's tiring excursion. Altogether, Anulekha Resort and Villa is a place where one can nourish mind, body, and soul. An ideal blend of tranquility and warm hospitality makes this place a perfect location to escape the chaos of everyday life.