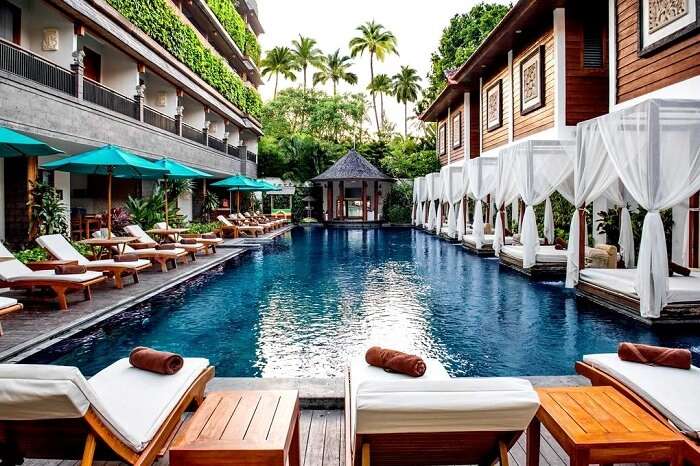 Overview
Astagina Resort Villa and Spa Legian is a 4-star luxury garden resort located in one of the most popular areas for tourists in Bali, Legian. The resort is an Eco Paradise that has been deemed as the best luxury garden resort by World Luxury Hotel Awards (2017). The design of the rooms shows a mix of modern, traditional and contemporary styles. It is a great destination for couples or families, catering to the various needs of the two different travelers. The property is placed between lush green gardens so the guests can have scenic views from their rooms. It provides both resort and villa accommodations to choose from. Astagina Resort Villa and Spa Legian is in close proximity to Double Six beach and is centrally located in Legian. There are several restaurants and bars in close proximity to the property as well.
Astagina Resort Villa and Spa Legian has a wide range of facilities to make the stay as comfortable as possible. The main swimming pool has relaxing cabanas built around it. It is 28 meters in length and the guests can sunbathe on the timber deck as well. The property has another smaller pool for kids to swim and splash around in. Kids will also be entertained by the mini waterfall. Free wi-fi is offered to all guests. There is a spa, restaurant, and bar as well where guests can relax and forget about their busy lives.
Moka Restaurant located on the premises offers delicious Mediterranean, Asian and Western cuisines. It also serves coffee in the day and can cater to 60 people at a time. The staff can also arrange a special dinner for the couple who opt for it. They set up a table with a special menu in the garden. Dju's Pool Bar is where guests can have a variety of cocktails or mocktails by the poolside. Light snacks can also be enjoyed along with rejuvenating drinks. It also caters to children by providing homemade milkshakes and a children's menu.
Being at the top of the list of luxury garden resorts, Astagina Resort Villa and Spa Legian holds a certain standard for itself and for its guests. It has something for everyone, be it business travelers or families or couples. The staff is dedicated to making sure that the guests have the best time.
Villa Accommodation
Deluxe Terrace
Suite
Two Bedroom Suite
One Bedroom Garden Villa
One Bedroom Pool Villa
Two Bedroom Garden Villa
Two Bedroom Pool Villa
Three Bedroom Pool Villa
Astagina Resort Villa and Spa Legian has 61 resort rooms and 12 private villas. The resort rooms have teakwood parquet floors that emphasize the elegance of the whole resort. They have private balconies opening to pool views or garden views. All the rooms have a TV, tea coffee making facility, safe deposit box, bathroom amenities, and daily bottled water. Parents can also request for baby cribs. The villas offer all basic amenities along with mini-bar and kitchenette. They are equipped with bathtubs and rain showers. Free wi-fi is also offered. They can host weddings or meetings on prior requests. So, couples who want to tie the knot can use the beautiful open garden to conduct the ceremony.
Villa Highlights
Astagina Resort Villa and Spa Legian offers free wi-fi to all guests.
Choice of pool view or garden view rooms
Spa with several packages
Weddings and meetings can also be organized
Villa and resort room options
Special arrangement for romantic dinners
Close proximity to the beach
Indian restaurants Near The Villa
Atithi
Queens Tandoor
Gateway of Indian
FAQs
Q1. How much distance one needs to cover to reach the International Airport?
A. Astagina Resort Villa and Spa Legian is about 9 km from Ngurah Rai International Airport.
Q2. Can guests avail the airport shuttle service?
A. Yes, the resort provides airport pick-up service but at an additional cost.
Q3. How can guests spend their leisure time in and around the hotel?
A. Guests can indulge in various activities like swimming, yoga, massages, facial treatments, and sunbathing. They can opt for cooking classes, rent bikes or let their children play in the indoor play area. Astagina Resort Villa and Spa Legian is walking distance from Double Six beach and is located in the heart of Legian. The Legian street is a great place to explore Bali culture, shop, eat and drink.
Q4. Is complimentary breakfast available at the hotel?
A. No, breakfast is not included in the price.
Q5. Does the hotel offer special prices and discounts?
A. Yes, there are several special offers available on the official website. They have a Summer Promotion going on for the summer of 2018, an all-inclusive package deal and a honeymoon package coming soon.
Astagina Resort Villa and Spa Legian is a serene resort that holds up to its accreditation. All kinds of travelers will feel at home here. Guests get the choice to pick whether they want a resort room setting or a villa for themselves, which is quite uncommon. The property boasts of beautiful surroundings and luxurious interiors. The kid's pool is a nice addition to the property as it is a perfect place for parents to sit back, relax and let kids be kids. Those who opt for villas can also choose whether they want a pool facing or garden facing accommodation. Large families can also feel right at home in the three bedroom villas. The resort has a lot to offer to the guests, making their stay a memorable one. Astagina Resort Villa and Spa Legian's location in the heart of Legian is a major plus point for all visitors. Legion street is on every tourist's wish list as it hosts a variety of things to do like shopping, sightseeing, eating and getting to know the local Bali culture.