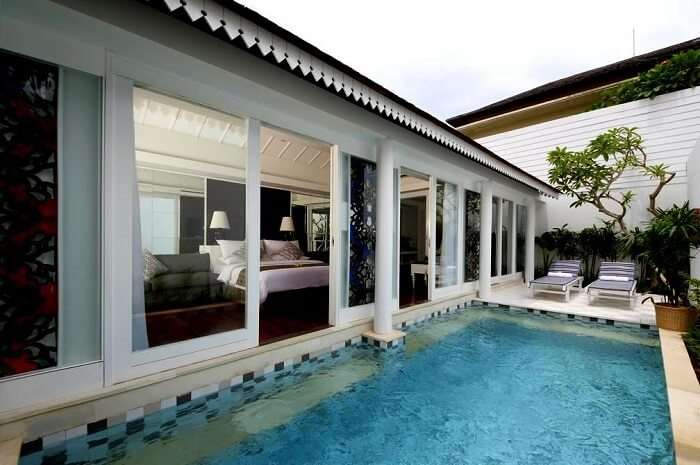 Overview
Astana Batubelig Villa Semiyak, set in the center of a lush green garden, is located at the south-west coast of Bali. This 4-star hotel is a perfect place for those who want to spend their holidays with family and friends. The property showcases tropical theme and the airy architecture with resort living touch. The property is just a 5-minute walk from the beach. Situated at Petitenget, Astana Batubelig Villa Seminyak offers private pools with eye-catching garden views and also provides free Wi-Fi for the convenience of its patrons. Other than this, the property offers complete seclusion with charming villa living lifestyle. Moreover, it is about 12 km away from Ngurah Rai International Airport and 9 km away from Nelayan beach where one can enjoy a number of activities.
Amenities
Apart from having a number of inviting features, the property also takes good care of its guests by offering a wide range of services. The hotel maintains private pools and a spa and wellness center. Astana Batubelig Villas with 24-hours help desk to receive and handle your requests as soon as possible. It also offers a café and free Wi-Fi and parking privileges. Free return shuttles are also provided to Seminyak, Kuta, and Legian areas. Bicycles are available free for guests' use, while laundry services are also provided. The management looks after your personal needs by providing babysitting or childcare facility and maintains free cribs or infant beds.
Dining
The hotel takes care of your dining needs and maintains a cafe where one can enjoy a variety of snacks and beverages. Astana Batubelig Villa provides free continental breakfast to its patrons. Moreover, meals can be self-prepared in the villas, or enjoy the hotel's café. More dining choices are located in the neighborhood, including well-known restaurants and bars where the travelers can live the nightlife of Seminyak. A 3-minute walk from Naughty Nuri's Restaurant, the villas is a 10-minute drive from the very famous Seminyak Square and Ku De Ta Restaurant which serves a variety of cuisines.
Astana Batubelig Villa Seminyak is an ideal place to have a relaxing as well as a peaceful experience. Indulge in a number of activities and soothe your eyes with the tropical garden views provided by the hotel. Situated at a walking distance away from the beach, the hotel offers quality service to the guests.
Villa Accommodation
1 Bedroom Villa
Honeymoon Villa
Astana Batubelig Villa Seminyak offers a comfortable stay to its guests. It maintains 16 rooms arranged over 1-floor villas featuring full kitchens and inviting private pools. Villas at Astana Batubelig have large bathrooms including a bathtub and a separate shower. They have Villa having 1 Bedroom and Villa for honeymoon couples. Some of the rooms also offer a beautiful garden view for the green lovers. The bedroom features direct pool access and a sofa on each side of the bed. All the rooms are equipped with modern amenities including a flat-screen TV and DVD player. Other than this, free Wi-Fi facility can also be availed by the guests.
Villa Highlights
Enjoy beautiful tropical views during your stay
Guests can enjoy themselves at the private pools
Indulge in activities like bicycle riding arranged by the hotel
Enjoy a stroll along the sandy beach near the hotel
Free parking service is also provided to the guests
Indoor sports like table tennis can also be enjoyed
Relax your senses and soothe your mind at the spa and wellness centre
Indian Restaurants Near The Villa
Tiffin Bali
Chai'ba Street Kitchen & Bar
Atithi Indian Contemporary Resto & Bar
FAQs
Q1. What is the distance between the hotel and the international airport?
A. Astana Batubelig Villa Seminyak is an approximately 40-minute drive from Ngurah Rai International Airport.
Q2. Does the hotel offer airport shuttle service?
A. Yes, the hotel provides an airport shuttle to all guests.
Q3. What are some of the leisure activities to do in and around the hotel?
A. Astana Batubelig Villa Seminyak allows its patrons to indulge in a number of activities and experiences, ranging from water sports like White Water Rafting. Guests can visit the Legian art market or Kuta Centre through a free shuttle service provided by the hotel.
Q4. Does the hotel provide free breakfast to its guests?
A. Yes, the price is inclusive of a breakfast for all the guests at the hotel. Moreover, there are a number of famous food-sites from where one can grab delicious breakfast.
Q5. Does this hotel offer discounts on family or couple packages?
A. Yes, the hotel offers favors to newlywed couples by providing romantic dining service according to their preference and therefore keeps their privacy in mind.
This 4-star hotel is a perfect destination if one is planning to spend some quality time with family and friends. For those who want a never-forgetting experience, Astana Batubelig Villa Seminyak is where one should head to enjoy stunning views of tropical gardens. It is a hotel with the fine facilities and amenities where guests get to witness adventure and luxury in the lap of nature. The hotel allows its patrons to feel rejuvenated and the accommodation of the hotel combined with facilities like a spa, pool, and indoor sports like tennis will surely be quite inviting. With its bars, cafes, and restaurants by the white sandy beach overlooking the Indian Ocean, this hotel ensures a comfortable stay to the guests.
On the whole, at Astana Batubelig Villa Seminyak one can get the best of the sun, sand, comfort and a peaceful stay that guests would remember for the rest of their lives Astana Batubelig Villa Seminyak is one of the best opulence properties in the tropical nation for those who want to experience lavishness on a budget. So, pack your bags to create countless memories and to get a lifetime experience filled with joy and elation.