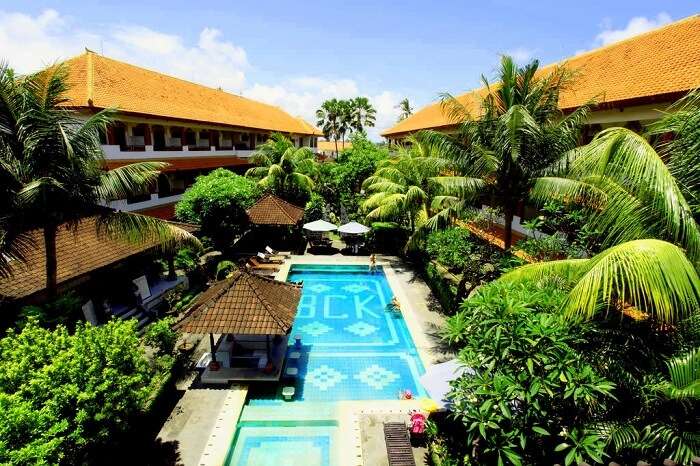 Overview
Bakung Sari Resort and Spa Kuta is a beautifully built 3-star hotel situated in Kuta and about 10-minute walk from Kuta Beach. The property is a beach-side hotel which comes with all the comfort and peace. Filled with greenery and fresh air, the hotel is just perfect for those who are seeking to spend some time with their family and friends and also for the honeymooners. Moreover, Bakung Sari Resort and Spa Kuta comes with a large inviting outdoor swimming pool where guests can have a refreshing and exciting dive. Being at Bali, the island of the Gods, this property encourages the traditional art with its Balinese architecture which provides comfort to adults and children. The hotel is about a 15-minutes drive from Denpasar International airport and a 9-minute drive from Ngurah Rai International airport. Moreover, it just steps away from the city's numerous attractions such as Kuta Beach, Nightlife and Made's Warung Kuta.
Amenities
When it comes to providing services, Bakung Sari Resort and Spa Kuta offers gentle hospitality having a friendly staff, appointed to take the best care of the guests. The services include massage service, chemist/drugstore, concierge, Wi-Fi, facsimile service, 24-hours reception, laundry service/ dry cleaning, 24-hours room service and postal service. The tour desk offers assistance with planning excursions and day trips. The hotel has a large swimming pool and allows its guest to avail car parking facility. Babysitting and doctor on call service are also there to take good care of the patrons.
Dining
The hotel allows its guests to choose their fuel by providing a range of delicious cuisines. The restaurant serves local, European and Chinese cuisine. It also offers a traditional Bali Feast featuring roast dishes and dance performances. Guest can also wet their taste buds with vegetarian dishes. With a capacity of 100 persons, Bakungsari Resort and Spa offers mouth-watering Indonesian and Continental delicacies. Other than that, breakfast is also served at the hotel. One can truly enjoy the warmth of the Balinese style bar which provides refreshing beverages and alcoholic drinks with light snacks.
Bakung Sari Resort and Spa Kuta is an ideal place if you want to get away from the hustle-bustle of city life to get a peaceful experience. Avail a range of services provided by the hotel and gets a refreshing holiday by enjoying the massage services.
Resort Accommodation
Superior Rooms
Deluxe Rooms
Bakungsari Resort & Spa Kuta offers 101 budget-friendly guest rooms which are categorized as standard and superior rooms in a three stories building of showcasing Balinese architecture, overlooking a lush green tropical garden and outdoor swimming pool. All rooms are equipped with an air-conditioner and a seating area with a TV and a refrigerator. Some rooms offer beautiful views of terrace and garden. Each room comes with a private bathroom including free toiletries and a shower with running hot and cold water facility. Moreover, a mini bar and an international direct dial telephone are also there for the convenience of the guests. The rooms are simple but comfortable for those looking for a budget holiday in Bali to get pampered.
Resort Highlights
Guests can enjoy themselves at the large outdoor pool
Enjoy beautiful tropical garden views during your stay
Indulge in some of the beach activities near the hotel
The hotel provides car rental service to the guests
Guests can indulge in a pampering treatment at the hotel's full-service sp
Wet your taste buds with refreshing and alcoholic drinks
Enjoy a variety of dishes at the multi-cuisine restaurant
Indian Restaurants Near The Resort
Atithi Indian Contemporary Resto & Bar
Chai'ba Street Kitchen & Bar
Ganesha Ek Sanskriti Kuta
FAQs
Q1. How much time is taken to reach the hotel from the airport?
A. Bakung Sari Resort & Spa is an approximately 9-minute drive from Ngurah Rai International Airport.
Q2. Does the hotel offer car rental service?
A. Yes, the hotel provides car rental service to all guests.
Q3. What are the activities that one can enjoy in and around the hotel?
A. Bakung Sari Resort & Spa allows its patrons to indulge in a number of activities. Guests can visit Matahari Square which is just a 5-minute walk from the hotel. Also, Waterbom Park is only 1-km away.
Q4. Does the hotel provide free Wi-Fi?
A. Yes, the hotel provides Wi-Fi in and outside the rooms.
Q5. Does the hotel have any beneficial offer for the guests?
A. Yes, the hotel offers Volcano and Lake Batur Tour. In this, one can get a chance to visit Batu Bulan for watching Barong and Kris Dance, Balinese traditional Batik and weaving at Tohpati. Mas village for enjoying its Balinese art of wood carving.
If the guests are searching for a holistic experience, Bakungsari Resort and Spa Kuta is the perfect destination. This 3-star hotel with a stunning view of the crystalline water is not something one would want to give a miss. Heal your mind and soul and experience comfort in the lap of nature. The purpose of a stay at the Bakungsari Resort and Spa Kuta is to make its guests feel homely and refreshing. The facilities provided by the hotels include a spa and wellness center, and a large outdoor pool. The Spa menu allows guests to have a rejuvenating, relaxing experience while one can take a deep dive of refreshment in the pool. One can indulge in a range of beach activities as the hotel is near the Kuta beach. Live the homely experience while staying at Bakungsari Resort and Spa Kuta and store it in your memories forever. Take a break from the rush of lives to visit the island of gods so that one won't miss taking home countless unforgotten and amazing moments.