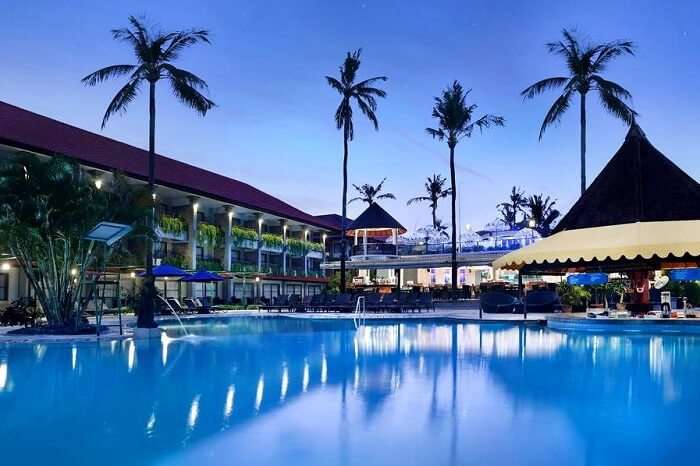 Overview
Bali Dynasty Resort Kuta is an impressive 4-star property which is often recognized for its warm Balinese hospitality. Located in South Kuta Bali, it is a premier beachside resort which is considered an ideal accommodation option for both family travelers as well as couples looking to spend some romantic time with their partners. With three swimming pools, a well-equipped fitness center and a luxurious spa, meeting/banquet facilities, well-maintained rooms, and high-class services, the hotel turn out to be a suitable choice for guests of all ages. Its close proximity to the airport and some of the well-known attractions of the place sets it apart from other hotel choices in the list of the travelers.
Amenities
Apart from boasting of an exotic location, serene and pristine surroundings, there is a range of activities that the Bali Dynasty Resort Kuta features to ensure a comfortable and luxurious stay to its guests. The three swimming pools of the hotel provide a chance to swim to the bottom of the pool and feel relaxed. The spa of the hotel aims to soothe the spirit of the guests and improve their mental and physical well being. Moreover, the hotel houses a fitness center to make sure that the guests do not compromise with their fitness routine. It also provides its guests with a variety of services like a 24-hour front desk, tour desk, and baggage storage. In addition, guests can enjoy access to the internet at free of cost along with complimentary shuttle service. Notably, they can indulge in activities like playing darts and ping-pong for some recreational purpose.
Dining
With six restaurants and five bars, Bali Dynasty Resort Kuta takes it guests to a flavourful journey of mouth-watering delicacies and mood-friendly cocktail recipes. The restaurants and bars of the hotel include Sen5es, H2O, Golden Lotus, Café Piazza, Queen's of India, D Lounge, Gracie Kelly's (Irish Pub), The Upper Deck @H2O Sunset Bar and Sunken Bar. The restaurants of the hotel that offer delightful culinary experiences complemented with a taste of global flavors. Ranging from Chinese, Irish, Italian, Western, Asian, Indian and Al Fresco, there is a variety of cuisines for the guests to savor from. Moreover, an inventive selection of booze available at the bars is enough to lighten the mood of the guests and elevate the drinking experience.
With its brilliant hospitality, exotic location and efficient facilities, a stay at the Bali Dynasty Resort is an experience in itself. The resort is a great place to stay while holidaying with friends or family.
Resort Accommodation
Superior
Deluxe
Deluxe Terrace
Deluxe Family Package
Deluxe Pool View
Family Garden View
Family Studio
Kids Suite
Family Pool View
Executive Suite
Luxury Tent Villa
Family Suite
Bali Dynasty Resort Kuta comprises 313 well-kept rooms, including suites that have been aesthetically designed to meet the expectations of the travelers worldwide. The rooms of the resort have been categorized into Superior, Deluxe, Deluxe Terrace, Deluxe Family Package, Deluxe Pool View, Family Garden View, Family Studio, Kids Suite, Family Pool View, Executive Suite, Luxury Tent Villa, and Family Suite. The rooms and suites offer a spectacular garden and pool view that elevates the experience of staying at the hotel premises. Each room has a flat-screen LCD satellite-channel TV with DVD player. Every room is equipped with 24 hours room service, in-room safety box, mini refrigerator, tea/coffee making facilities and free Wi-Fi. It also provides attached bathrooms with shower facilities.
Resort Highlights
• Experience a luxurious and a warm stay at the hotel
• Get mesmerized by the beachside views surrounding the hotel
• Recreate fun with children and friends with several interesting activities
• Let go of your stress with relaxing and rejuvenating spa treatments
• Enjoy a culinary ride with a range of delicacies
• Revitalize yourself with an exotic range of cocktails and mocktails
• Relive an experience which will become a beautiful memory in retrospection
Indian Restaurants Near The Resort
Chai'Ba Street Kitchen and Bar
Gateway Of India
Queen's Tandoor
FAQs
Q1. How much time is required to get to the International Airport from the hotel?
A. Bali Dynasty Resort Kuta is located around 7 minutes drive from Ngurah Rai International Airport.
Q2. Does the hotel offer airport pick up and drop service?
A. Yes, Bali Dynasty Resort Kuta provides airport shuttle services for the guests' convenience.
Q3. What are the activities to do in and around the hotel?
A. Guests can indulge themselves in a variety of things during their stay at Bali Dynasty Resort Kuta. Starting from playing ping-pong and darts to be a part of evening entertainment and happy hour, there is everything at the resort that can keep the entertainment of the guests intact.
Q4. Does the hotel provide currency exchange facility?
A. Yes, the hotel provides a currency exchange facility.
Q5. Can the guests avail any discount or offer at this hotel?
A. Yes, there are several offers that guests can avail while booking accommodation at the property. Some of the hot deals available at present include Bali Bird Adventure, Deluxe with Late Check-Out, Deluxe with Late Check-Out, Deluxe Family Package, Early Bird Promo, and Jakarta Post.
Bali Dynasty Resort Kuta is the resort that serves as a magnet for world travelers who are inclined towards a lavish stay experience. Presenting an opportunity to indulge in luxury and comfort of the utmost value, the resort aims to cater to the expectations of the guests of all ages. From fine dining to casual dining, there are a variety of options for the guests to choose from as per their own preferences. Also, the spa, gym and other amenities of the hotel have never failed to pamper the guests. Without compromising with any of the basic provisions, the resort promises to offer a stay that can be relived through memories. Also, the curiosity of experiencing a living near to the beach makes it a preferable option among tourists. Bali Dynasty Resort Kuta not only enhances the experience of living with its high-class amenities but also supplements it with a variety of things to do in and around the hotel.