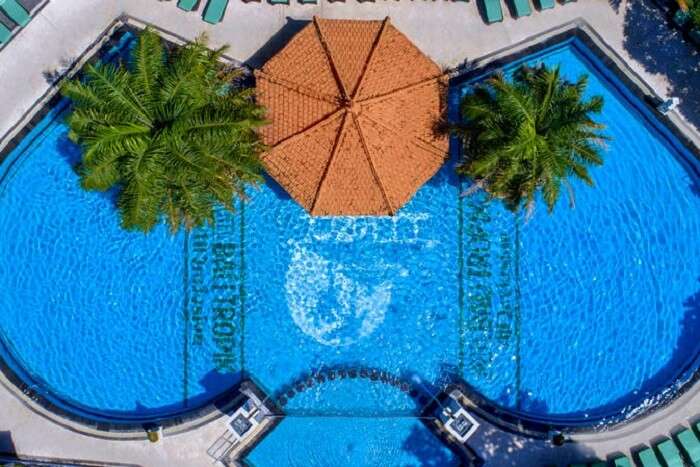 Overview
Bali Tropic Resort & Spa Nusa Dua is a 5-star hotel located directly and very centrally on the world famous Nusa Dua beach on the south coast of Bali Island, Indonesia. The property is an exclusive beach hotel offering breathtaking views of the warm and astonishing Indian Ocean. Set between Frangipani and Bougainville and the wonderful climate make the property an ideal place for those who are looking to spend some quality time with their partners. Located on the beach, the hotel maintains a rooftop terrace and an outdoor swimming pool. Built in a delicate blend of Balinese's and modern architecture, it is nestled within lush green tropical gardens. It has unique accommodation options with great hospitality. Bali Tropic Resort & Spa Nusa Dua is a 25-minute drive from Ngurah Rai International Airport and is only a 5-minute drive from the Bali Collection shopping area.
Amenities
Apart from this, this magical hotel also takes good care of its guests by offering a wide range of services. Bali Tropic Resort and Spa Nusa Dua feature an inviting outdoor pool and a spacious rooftop terrace. Located among the tropical gardens, the hotel offers a wide variety of water sports like water surfing and white water rafting. Moreover, it also maintains a gym where guests can head for a workout or one can enjoy a pampering and soothing body treatment by taking massages at the spa. Not just this, it offers aqua gym activities, a garden chess, and a Kids Club.
Dining
Moreover, this property is providing multiple restaurants namely – Cempaka Restaurant, Soka Restaurant, and Ratna Restaurant. One can enjoy an open-air seafood and meat grill dining by the beach at the Ratna Restaurant, while Soka features International mouth-watering cuisines. Cempaka Restaurant serves a wide variety of Indonesian and Balinese cuisine which occasionally opens for breakfast and dinner. The hotel maintains Ratna Bar, Rijasa Lobby Bar, Sriwedari Sunken Bar and Cempaka Bar which serves delicious beverages to the guests. Daily buffet breakfast is served by Soka restaurant. Room service is also available according to the preference of the guests.
Tags: Indonesian Cuisines, Balinese Cuisine, International Cuisine, Seafood, BBQ, Bar, Open-Air Dining
One can have a complete destination resort experience at the Bali Tropic Resort and Spa. Situated in an amazing location, the property is truly one on its own which ensures a relaxed and rejuvenated stay. This is a hotel which provides you comfort with luxury.
Resort Accommodation
Deluxe Room
Royal Room
Deluxe Bungalow Room
Suite Room
Designed in Balinese traditional architecture, the resort provides a range of accommodation options to its guests. It has Deluxe Rooms, Royal Rooms, Deluxe Bungalow Rooms and Suite Rooms. The resort's spacious and well-appointed rooms feature private balconies which overlook the flourishing tropical gardens. The beautifully designed rooms are equipped with flat-screen TVs and tea/coffee making facilities. Each room has a separate bathroom including a shower. International direct Dialling telephone, personal electronic safe, yukata, and slippers are also provided. Other than this, all the rooms have a private balcony which offers views of either the ocean or the garden. Moreover, free Wi-Fi facility can be availed by the guests.
Resort Highlights
Enjoy culinary experiences combined with the stunning view of Indian Ocean
Guests can enjoy themselves at the rooftop terrace and an outdoor pool
Fitness enthusiasts can work out at the fitness center
Visit the games room and nearby Golf Club to experience enthusiastic holidays
Indulge in beach sports like scuba diving and white water rafting
Heal your body and get a therapeutic massage at the hotel spa
Enjoy tasty beverages at the hotel bars
Enjoy the walk with your partner at the wet sand beach
Indian Restaurants Near The Resort
NU Delhi
Bumbu Delhi Indian Restaurant
Malaika Secret Moksha
FAQs
Q1. How far is the international airport from the hotel?
A. Bali Tropic Resort and Spa is an approximately 25-minute drive from Ngurah Rai International Airport
Q2. Does the hotel provide airport pickup service?
A. Yes, the hotel provides an airport shuttle to all guests.
Q3. What things can be done inside and outside the hotel?
A. Bali Tropic Resort and Spa allows its patrons to indulge in a number of activities ranging from water sports like water rafting to scuba diving. Guests can visit the Bali Collection shopping area.
Q4. Does the hotel offer a fitness center?
A. Yes, the hotel has a fitness center where gym enthusiasts can go for a workout.
Q5. Are there any special offers that guests can avail?
A. Yes, the hotel offers favors to newlywed couples by providing daily breakfast and tropical fruit basket and honeymoon cake upon arrival.
This 5-star hotel is a perfect destination if you are seeking for a memorable experience. Bali Tropic Resort and Spa is where one should head with family and even with the partners to enjoy stunning views of tropical gardens and the astonishing Indian Ocean. It is a hotel which provides luxurious facilities and takes the best care of your comfort. Witness adventure and luxury in the lap of nature and spend your vacation in the beautiful hotel. The hotel allows its patrons to feel homely. On the whole, at Bali Tropic Resort and Spa Nusa Dua one can get the best of the sun and sand, and comfort with a peaceful stay so that the guests would remember for a lifetime. It is one of the best opulence properties in the tropical nation encouraging Balinese architecture for those who want to experience lavishness. So, pack your bags to create countless memories.