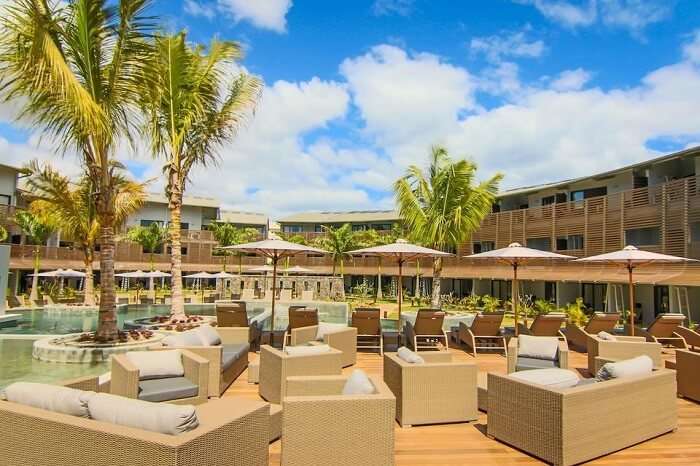 Overview
The Be Cosy Hotel Trou Aux Biches is part of the Be Apart group of apartment hotels and is a 3-star property. Located in the heart of the seaside village Trou Aux Biches, Mauritius with the Trou Aux Biches beach this hotel is a typical tropical beach hotel. This location because of its peace ut particularly liked by the couples.
A large in-house outdoor pool is the star factor of the hotel. The hotel also provides a kitchen area for its guests so that they can cook whatever they feel like. Facilities like daily housekeeping, tour desk, rental cars, laundry, free wifi are provided by the hotel. The hotel has 102 rooms ranging from studios to family apartments, all air-conditioned and fully equipped for a comfortable, cost-effective stay. A range of self-catering rooms at Be Cosy Hotel Trou Aux Biches to accommodate 1 to 5 guests are offered, each with a complete set of amenities and a contemporary look and feel.
Amenities
The hotel goes the extra mile to provide efficient, flexible services for its guests. An airport shuttle picks up and drops off guests, and check-in time can be made flexible upon request. Free activities are also arranged for guests at the Be Cosy Hotel Trou Aux Biches hotel boathouse, while motorized water sports, snorkeling, glass bottom boating, and waterskiing are included in the room tariff and can be enjoyed at the beach. Bed linen and towels are provided free of cost, while beach towels, kayaks, and laundry service are available upon request for a fee. Vehicle parking is also available.
Dining
Be Cosy Hotel Trou Aux Biches has a restaurant named Spoon Restaurant and a bar named Be Thirsty where breakfast, lunch, and dinner are served. It also offers the bed and breakfast or half board meal plans on request and with supplement. A nearby supermarket to the Be Cosy Hotel Trou Aux Biches hotel allows guests to cook their own meals in the kitchenette, while continental breakfast, lunch, and dinner are also provided at an additional cost – special dietary requirements can also be highlighted so that food offerings can be modified. Guests can relax by the swimming pool in the center of the complex, and also enjoy the local cuisine and drinks at the restaurant.
Be Cozy puts at one's disposal well-appointed spaces and a range of flexible services to make one's experience a unique moment and allow him to enjoy the privacy of an apartment while enjoying the convenience of a hotel.
Apartment Accommodation
Studio
3 Guest Apartments
4 Guest Apartments
The accommodation at Be Cosy Hotel Trou Aux Biches hotel consists of 102 apartments ready to live, from the Studio to a family apartment air-conditioned and fully equipped, located close to the center of the life of the North Coast. Adapted to the traveler's need the rooms are a simple and economical answer for the holiday needs. For a stay with family or friends, the hotel offers apartments for 1 to 5 people. Resolutely contemporary, this apartment hotel offers cozy apartments: kitchenette, office area, bathroom. In the center of the residence, swimming pool and palm trees add charm and friendliness.
Apartment Highlights
A private outdoor pool and sundeck allow guests to while summer mornings away
Massages can be arranged in the hotel
The poolside Be Thirsty Bar offers a wide variety of cocktails and drinks
Grand Baie Area, with its shops, restaurants and thriving nightlife, is just 15 minutes away
Boathouse activities and water sports on the beach are available for free to all guests
The hotel arranges for taxis and buses to take guests on sightseeing tours at reasonable rates
A room can be booked for an 8-hour period (maximum 2 guests)
Indian Restaurants Near The Apartment
House Of India
Cabanne des Fruits de Mer
Blu-Vital Fast Food Snack
FAQs
Q1. What are guests required to present at the time of check-in?
A. Guests need to make a deposit by cash or credit card and present a government ID. The minimum age for check-in is 18 years.
Q2. How far is the beach from the Be Cosy Hotel Trou Aux Biches?
A. Trou Aux Biches beach is a 1-minute walk from the hotel.
Q3. What are some of the other places to visit nearby?
A. Mont Choisy Beach, Mauritius Aquarium, Blue Water Diving Center, Cannonier Beach are all short drives away. Maheshwarnath, a Hindu temple, is a 15-minute walk from the hotel.
Q4. Is breakfast included in the room tariff?
A. Continental breakfast is available daily at a surcharge.
Q5. How far is Be Cosy Hotel Trou Aux Biches from the airport?
A. The hotel is a 64-minute drive from the Sir Seewoosagur Ramgoolam Airport.
Be Cosy Hotel Trou Aux Biches offers comfort with convenience at a highly affordable price point. The rooftop terrace where breakfast is served offers guests a lovely view of the beach. The staff members all speak fluent English and are extremely welcoming –they can help guests obtain the best prices for experiences like fishing, submarine rides, and undersea walks. The managers personally welcome guests and help them out in any way required. A souvenir shop on the premises allows guests to buy clothing, accessories, and gifts to take away as mementos of their stay. With a great location, impeccable service and highly flexible options, Be Cosy Hotel truly lives up to its name and assures guests a cozy, unforgettable beachside experience!