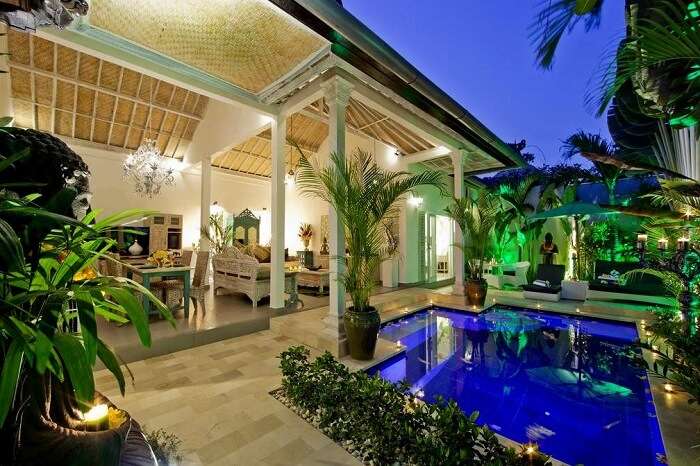 Overview
Bermimpi Bali Villas Seminyak is a luxury 4-star accommodation option, nestled in the upmarket Seminyak Beach resort area. These luxury villa residences feature a collection of contemporary villas, with their own private pool. Bermimpi Bali Villas offers a romantic retreat in the tropical Balinese courtyards, thus rendering them ideal for couples looking for a placid vacation. People, who wish to spend time away from the stressful city life in the lap of nature to rejuvenate their senses, should not miss out on these luxurious villas. This lavish accommodation takes great care of the comfort of its guests by offering various amenities like spa services, air conditioner, laundry service, and babysitting service. By incorporating the availability of a well-equipped kitchen, childcare service, and extra beds, this accommodation makes you feel right at home.
Amenities
Along with the incomparable facilities offered by this villa accommodation, the warm hospitality and attentive services of their housekeeping team further add to a memorable experience. These individually designed villas come with various amenities like a traditional Bali balé gazebo, a 4-poster bed, and a well-equipped kitchen. Guests also have the opportunity to avail the spa services or pool-side massage service of the accommodation and have a relaxing experience. The accommodation offers various other services like concierge service, air conditioner, separate dining area, free toiletries, and premium bedding. The guests can enjoy a hearty and delicious home-cooked breakfast every morning, which is a complimentary service offered by the villa.
Dining
Bermimpi Bali Villas Seminyak offers the luxury of a personal villa host, who provides the visitors with a healthy & delicious home-cooked breakfast, every morning. This complimentary service can be availed from 8:00 am to 10:30 am. Guests can enjoy this hearty breakfast in the privacy of their villa. For the convenience of guests, the villa has the facility of 24-hour food delivery. The well-maintained kitchen of this villa accommodation makes it an ideal choice for families. Guests can find all the requisites in this kitchen like refrigerator, microwave, stovetop, tea/coffee maker. This well-equipped kitchen is perfect for guests, who wish to cook their own healthy food at any time they please. Further, guests can explore Indonesian cuisines at various restaurants located near Bermimpi Bali Villas.
This hidden treasure nestled in a quiet pocket of Oberoi offers the perfect opportunity to visitors to experience the charm of staying in a luxury villa. Located at a 10-minute walk from Seminyak Beach, Bermimpi Bali Villas Seminyak offers an unmatched relaxing opportunity for visitors. After taking a refreshing dip in the outdoor pool, you can ask for on-site spa treatments or relax under the sun-loungers by the pool.
Villa Accommodation
One-Bedroom Villa
Two-Bedroom Villa
Accommodations at Bermimpi Bali Villas Seminyak provide the guests with a holistic and memorable experience. The four villas of the accommodation are categorized in two, namely One-Bedroom Villa and Two-Bedroom Villa. The villas are surrounded by Balinese courtyard gardens and feature a private pool for the relaxation of guests. The rooms, which are intricately designed with modern Balinese architecture, offer one of the most romantic stays in Bali. This holiday destination is ideal for people, who are looking for a comfortable and luxurious accommodation. The comfort of the guests is further ensured by the presence of basic amenities like a work desk, air conditioner, ceiling fan, LCD Cable TV and a kitchen.
Villa Highlights
Spend some tranquil time in the surrounding tropical gardens
Relax by availing the massage service and beauty treatment
Enjoy the home-made breakfast served in your villa every morning
Have a fun-filled time in the outdoor pool or private pool
Marvel at the beauty of Balinese courtyard gardens of the villa
Visit some famous nearby eateries like Caviar Cafe and Warong Miyabi
Indian Restaurants Near The Villa
Queen's Tandoor
Gateway of India
Atithi
FAQs
Q1. How much time does it take to reach the international airport?
A. Bermimpi Bali Villas Seminyak is a 30-minute drive from Ngurah Rai International Airport.
Q2. Does the accommodation offer a childcare facility?
A. Yes, for the comfort of family travelers, childcare facility is provided by the villa.
Q3. What are the things in which one can indulge in during the stay?
A. There are a number of entertainment options provided by the villa such as iPod docking station, DVD player, etc. Guests can also spend some amusing time in the swimming pool of the villa. Also, the central location of the villa allows the guests to easily access places like Ubud, Sanur or Bedugal.
Q4. Do guests have to pay extra for the breakfast facility?
A. No, the accommodation price is inclusive of the delicious home-made breakfast served at the villa.
Q5. Are there any special offers or deals offered by the hotel to the tourists?
A. Yes, Bermimpi Bali Villas has a number of inviting offers for its guests.
Travelers, who wish to enjoy in their private villa in Bali with hospitable Balinese staff to look after their comfort, should book their accommodation in Bermimpi Bali Villas Seminyak. To maintain the beauty of Balinese tropical gardens surrounding the villa, guests will be appointed a personal gardener along with their personal host. Enjoying a secluded location blessed with tranquillity, these luxury villas are the perfect romantic getaway that offers a piece of paradise to the visitors. The central location of the villa provides the guests with a perfect opportunity to explore Seminyak. One can easily navigate all the famous cafes, restaurants, spa, resorts and shopping venues of the area. And, if someone wishes to get a glimpse of the local Balinese culture and explore Bali's landscape, then this villa accommodation serves as a great base to start your Bali day tours and excursions.