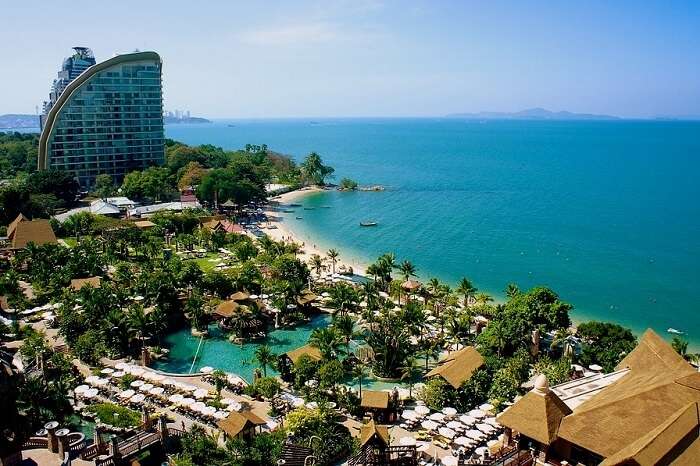 Overview
Famous as the multicultural center of Thailand Pattaya boasts of some excellent places to stay and eat in an area that is also a family-friendly resort coast. With many exciting activities to do and amazing places to explore, centrally Pattaya is a preferred tourist spot to stay and as such there are some amazing boutique city hotel Pattaya. Everyone who comes here is looking for sun, sand, and sea but when someone lives in the center of this amazing town they can experience the rich and vibrant culture that flows through the city.
Most of the boutique city hotel Pattaya are located close to the beach so that one can walk to the beach just as easily without having to burn a hole in the pocket to stay at the beach front property. Boutique city hotel Pattaya can transport its guests into a world of green lawns and well-manicured gardens along with airy and bright massage parlors to ensure that one can experience all of Thailand from inside the comfort of the hotel itself. This article will give a good insight into what one can expect from the boutique hotels in Pattaya when traveling here.
Special Experiences
Being a town by the beach, Pattaya, like all other seaside towns in Thailand offers an amazing array of water sports activities some of which are provided right inside the hotel by properties like the Mercure Pattaya Ocean Resort. With some hotels being away from the beach and not directly connected to it, saltwater pools are provided where guests can enjoy the feeling of being in the ocean without having to leave the comfort of the hotel. For added excitement in Pattaya Boutique hotels like Mercure Pattaya Ocean Resort, there are thrilling water slides that open in one of the various swimming pools on the property. To give the guests mesmerizing views of the area around the hotel, Mera Mare Pattaya offers its guests a chance to take a relaxing swim in the Infinity pool at the hotel. Boutique hotel Pattaya go a long way to ensure that their guests have an unforgettable stay at their property.
Facilities
Though this town has been a resort town and a much-loved destination since 1960, the boutique city hotel Pattaya here are decked with state of the art technology and the most modern amenities to ensure that the stay here is smooth and hassle-free. Room services, television with all the international networks, Air-conditioned rooms, ATM and currency exchange facilities. Tours and classes about the culture of this amazing land can be enjoyed at Baraquda Pattaya – MGallery by Sofitel Hotel. This entire property is also wheelchair accessible so that differently abled guests can also enjoy themselves as much as anyone else. Boutique city hotel Pattaya like the Siam@Siam Design Hotel Pattaya also have rooftop swimming pools with bars where one can sip on delicious drinks while enjoying stunning views of the Pattaya skyline.
Dining
Almost all the boutique city hotel Pattaya, offer their guests a delicious menu with multiple choices all prepared by well-trained chefs who make sure that all their creations leave everyone's taste bud wanting for more. Hotels like the Holiday Inn Pattaya boasts of multiple on-site dining options where one can enjoy cuisines ranging from authentic Thai flavors to international food that can take the diners on an unforgettable journey of flavors. There are coffee shops where one can munch on the delicious snacks and refreshing coffee as and when travelers wish, as well as breakfast buffets with so many choices that guests are sure to have a great start to the day. Bars with live entertainment are another common site throughout boutique city hotel Pattaya.
FAQs
Q1. When are these hotels in Pattaya most crowded?
A. The best time to visit Pattaya is between November to February and as such these hotels are the most crowded during this period. It is advisable to book rooms well in advance if the travel during these months is planned.
Q2. What are some of the best hotels to look at when traveling to Pattaya?
A. Apart from the hotels mentioned above, Wave Hotel Pattaya, Intimate Hotel by Tim Boutique, Four Seasons Place, The Agate Pattaya Boutique Resort, Veranda Resort Pattaya – MGallery by Sofitel are some of the hotels that one can take a look at.
Q3. Are these boutique hotels child-friendly?
A. Most of the hotels here are child-friendly with special kids meals on the menu and kids entertainment channels on television. Childcare and babysitting facilities are also provided by the hotels at a nominal extra cost.
Q4. Can guests hire cars for sightseeing from the hotel?
A. Some hotels do have car hire services but guests can always as the concierge to arrange for a taxi or a tour vehicle to pick up from the hotel and plan a sightseeing tour.
Q5. What languages do the staff at these hotels communicate in?
A. The staff in these hotels understand English and Thai languages as a rule, while other languages like French or German can be understood by a few. Most hotels have a translator well versed in multiple languages that one can call for if they have trouble communicating with the staff.
With warm, welcoming smiles, the staff at these boutique hotels in Pattaya will definitely make travelers feel comfortable and completely at ease here in these hotels. The hotel has a number of exciting experiences to offer to its guests. Apart from this, the hotels also have excellent dining options that guests can indulge in. One can also enjoy some entertaining live music at the restaurant and bars. One is sure to enjoy a fun-filled vacation at this exotic destination. With a proximity to the beach, most of these hotels offer thrilling water sports at the hotel itself. With great amenities, one is sure to have a more than comfortable stay at the hotels.