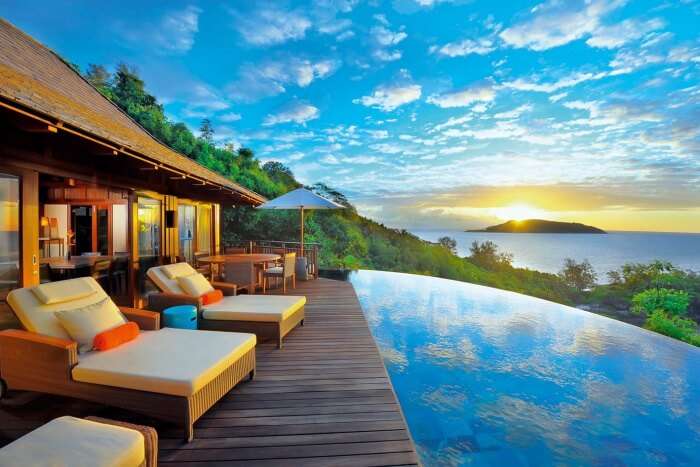 Overview
Seychelles is the home to the most splendid beaches of the world, and the best way to enjoy a stay is to stay in the boutique hotels Mahe Seychelles. Amongst the many beaches that are exquisite is the Anse Source D'Argent which is located on the La Digue island of Seychelles. This beach is unique because the sand is pink in color and is one of the most photographed locations in the world. The backdrop is breathtaking with huge granite boulders and azure waters of the Indian Ocean. The lands and waters of Seychelles are untouched by humans and remains a tourist destination virtually. Praslin Island is just a ferry away from Mahe and is known as the original Garden of Eden of the world. There are several such places in Seychelles, and it cannot be put into a nutshell. The boutique hotels Mahe Seychelles offer world class services to its visitors with all amenities including Wi-Fi connection and private pools and dining rooms. A guest in these resorts can splurge in luxury and pampering of the resort staff. The staff is well versed in English language and is trained especially to give a royal treatment to its visitors.
Special Experiences
Luxury, world-class experience and bliss can only be attained in boutique hotels  Mahe Seychelles. Le Repaire Boutique Hotel and Restaurant is located on the beach overlooking the sea. It offers private balconies in each room, and there is a small outdoor swimming pool. It is quite close to La Digue village center where there are several shops and restaurants to eat. It is an excellent option for budget travelers. Kempinski Seychelles is a 4-star resort in the south of Mahe and spacious, luxurious private rooms with beautiful furniture and well-planned décor. Café Lazare offers a mouthwatering spread of breakfast which is included in the hotel package. The resort offers other amenities like indoor air conditioning throughout the year, Wi-Fi, iPod charging stations, free guide to take the guests around and cab facilities. They also have airport transfer facilities. With such amenities of comfort, one cannot refuse a stay in Seychelles at the boutique hotels in Mahe Seychelles.
Facilities
There are world-class facilities available in the boutique hotels Mahe Seychelles to be exploited for the visitors. If one is looking for unique amenities in this world's best beach destination the Le Meridien Fisherman's Cove is one of the best. This 4-star resort has a very high rating in the tourist community. It has been rated the best for its unique amenities like a private patio and a private garden with a sea facing view. Every garden has a hammock to enjoy the drinks by the seaside and excellent room service too. This is all the ideal resort for honeymooners who seek that much-prized privacy. It has a restaurant for breakfast buffets and two restaurants for dining. Guests can enjoy a variety of beauty treatments at the Zen spa. Overlooking the Beau Vallon Beach, the guests can directly get into the sea for a swim and get back to their rooms. All the rooms have a private beach entrance apart from this all other amenities like flat screen televisions, high-speed internet connectivity, and private tours for its guests.
Dining
Several boutique hotels Mahe Seychelles for their visitors that are not guests of their resort too. MAIA Luxury Resort & Spa is a secluded property right on the Anne Louis Beach. It has a beautiful restaurant with a brilliant backdrop of the sea, sand and the mountains. Guests can check in to enjoy the pool facing the beach and continue to stay for dinner. This is an ideal way to spend time at the resort and enjoy the plethora of activities offered by the resort by the beach side. Food is mostly Italian and continental, and fresh seafood is served at all times. For a 4-star dining experience, the Banyan Tree Seychelles is an ideal place to check in. The interiors of the resort are a perfect match for the exterior environment of Seychelles. The food is pricey and bit on the expensive side, but it can be reserved for a special occasion. All types of cuisines are available at this resort.
FAQs
Q1. Which is the best Island to stay in Seychelles?
A. Mahe is very popular among tourists because of its connectivity to all the other islands of Seychelles. Usually, it is always bustling with tourists 12 months of a year and yet can offer a lot of privacy with its private beach resorts.
Q2. Is there Wi-Fi connectivity in Seychelles?
A. Seychelles is very modern when it comes to modern amenities like high-speed connectivity. Almost all resorts provide high-speed connectivity for free of cost during the stay. It is a part of the package.
Q3. What kind of sea life is found in Seychelles?
A. Plenty of sea life like Giant turtles, sharks, dolphins, and whales are easily visible from the shores of Seychelles beaches.
Q4. How many resorts are there in Seychelles?
A. There are too many resorts that one might lose their count in Seychelles. However, there are some that are top rated for their amenities and services.
Q5. Which are the best boutique hotels in Mahe Seychelles to stay in Seychelles?
A. Some of the best boutique hotels are Hilton, Banyan Tree, Raffles and a few more. Some are, and some are luxury spas.
No matter which boutique hotels  Mahe Seychelles a tourist chooses, an unforgettable experience is guaranteed. The real experience of Seychelles is when one chooses the right place to stay. Seychelles is a major beach destination, and the visitors are promised of a fantastic beach experience. There is not much to see and experience in terms of historic sites and architecture. So the tourists need the best boutique hotels Mahe Seychelles to make the best of the vacation. Seychelles is best known for the unique flora and fauna, beautiful granite mountains, azure seas, and the most extensive coral reefs. It is also best known for adventure sea activities like scuba diving, underwater swimming to see the coral reefs and beautiful sea life.