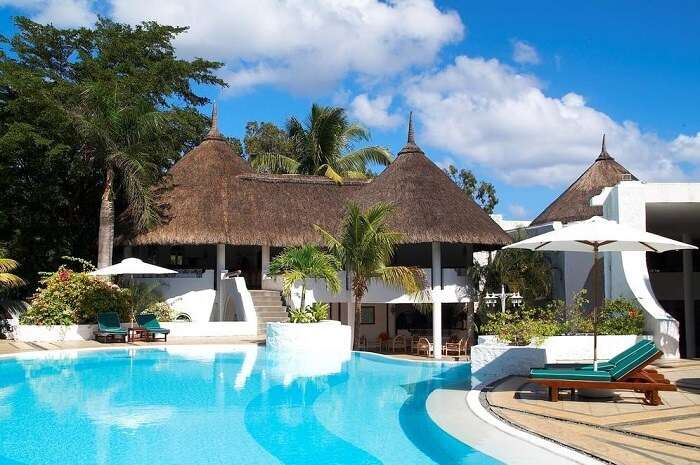 Overview
Located in the beach town of Trou aux Biches on the northern coast of the Island nation, Casuarina Hotel Trou Aux Biches is a 4-star paradise for every vacation lover. Constructed under the supervision of the most iconic architect of Mauritius this beachfront resort is housed in its own private beach. The white limestone walls and thatched roofs, along with the garden greens and tropical flowers, altogether decorated with eco-friendly materials make the hotel a beautiful natural haven for families and honeymooners. At Casuarina resort and spa, one gets to experience relaxation in the lap of luxury at the Balinese-style spa. Guests have so many options to choose from when it comes to recreation and activities. One can also go for a quick swim in the pool or hit the fitness center. The hotel has a unique tropical architecture with an estate boasting of 94 rooms offered for guests.
Amenities
The Casuarina Spa at the Casuarina Hotel Trou Aux Biches is an exquisite property that offers Balinese-style spa at this hotel for guests who like to relax and rejuvenate. Guests can go for aromatherapy massages or opt for beauty treatment services like manicure, pedicure, threading etc. The hotel takes good care of its tiny-tot guests and has arranged for a kids' club within the hotel premises. Complimentary water sports at Casuarina Hotel for the adventure-hungry souls is also available. They also have special packages for couples and honeymooners.
Dining
The dining scene here, at Casuarina Hotel Trou Aux Biches, is exceptional with 3 restaurants namely Le Boucanier, Tree Top Restaurant, and Finger's Restaurant. Le Boucanier at Casuarina resort and spa offers local delicacies and Creole cuisine to guests, while the Tree Top Restaurant offers a romantic set up with a variety of spicy Indian dishes and seafood fare. Finger's restaurant is the perfect snack restaurant where one can have finger foods after a quick dip in the pool. The hotel also has a poolside bar to cater to the cravings of all.
The Casuarina hotel situated at the 3-km long Trou aux Biches beach offers the perfect exotic holiday to its guests with the white sandy beach and crystal clear blue waters of the lagoon.
Resort Accommodation
Superior Double Rooms
Bungalows
Deluxe Double Rooms
Privilege Double Rooms
Casuarina Hotel Trou Aux Biches has a total of 94 rooms, catering to different accommodation needs of guests. The hotel has 4 categories of accommodations, namely Superior rooms, privilege rooms, deluxe rooms and family cottages, some of these overlooking the ponds and tropical gardens and some others giving a splendid view of the blue lagoons of Trou aux Biches. Deluxe rooms, Privilege rooms and Superior rooms are ideal for a family/group of 2-3. Family cottages are equipped with separate kitchenette, living room, dining room and a room for kids with bunk beds apart from a room with a queen sized bed for couples.
Resort Highlights
Enjoy a phenomenal dining experience at the 3 restaurants and a bar of the hotel
Indulge in rejuvenating experiences at the spa
Five-star diving center integrated inside the hotel for amateurs and experienced divers
Customized packages for couples and honeymooners
Water sports like kayaking, free water skiing, snorkeling, paddling, and hobby cat
Free access to the Kids' Club
Fitness club for fitness freaks, tennis courts and games room for table tennis, Ping pong etc.
Indian Restaurants Near The Resort
House Of India
Cabanne des Fruits de Mer
Kiosque Magique
FAQs
Q1. How far is the hotel from the airport?
A. Casuarina Hotel is an hour and 15 minutes away from Sir Seewoosagur Ramgoolam International Airport.
Q2. Do guests have access to Wifi at Casuarina hotel Trou aux Biches?
A. Yes, guests have free wifi access in the hotel premises.
Q3. How is the climate in Trou aux Biches?
A. Between November and April, the temperatures range from 25 to 35-degree Celsius while from May to October the temperatures are between 18 to 25-degree Celsius.
Q4. What are the accepted modes of payment?
A. Cash & credit cards are accepted- Maestro, Mastercard, Visa, American Express, Diners Club International.
Q5. How to get around Mauritius?
A. One can take a public bus, taxi, scooter or bike.
Tropical architecture, lush gardens, white sand beaches, and blue crystal lagoons, Casuarina Hotel is going to leave a deep impression on guests, making them want to come back for more. Situated at one of the world's most famous spot for diving, Casuarina resort and spa will help quench the thirst for adventure for the daredevils. But that's not all. There are other water sports like kayaking, pedaling, free water skiing and hobby cat too. The dining experience at Casuarina resort & the spa is the best one can ask for- offering Creole to Indian and even finger foods, right by the poolside. With a team of experienced professionals serving guests for more than 20 years now, guests get to witness a truly authentic Mauritian culture and hospitality. All in all, Casuarina Hotel Trou Aux Biches offers guests the perfect amalgamation of culture, luxury, adventure, and rejuvenation, making them want to visit again.